Was kann Mexico City in Sachen Mode? Recap der Mercedes-Benz Fashion Week Mexico
Zugegeben: Man kommt nicht im Traum darauf, Mexico City in einer Reihe mit den großen Modestädten wie Mailand, Paris oder London zu nennen. Aber genau das macht es ja so spannend, das Entdecken von fernen und international noch unbekannteren Talenten. NYLON war zu Gast bei der Mercedes-Benz Fashion Week Mexico und hat die spannendsten Designer der Millionen-Metropole ausgecheckt. Hier kommen die Highlights…
Ist das etwa Steffi Giesinger in der Fron Row? Tatsächlich. Das deutsche Model kam mit ihrem Freund Marcus Butler, um selbst zu sehen, was die Mercedes-Benz Fashion Week Mexico so kann. Ist ja schon eher ein Insider-Tipp. Alle zwei Jahre findet die Modewoche statt und ist verteilt auf acht verschiedene Locations in der Stadt. Mehr als 20 der besten lokalen Designtalente werden jede Saison vorgestellt. Und hier haben wir uns die rausgepickt, die bei uns ganz besonders hängen geblieben sind. Let's go: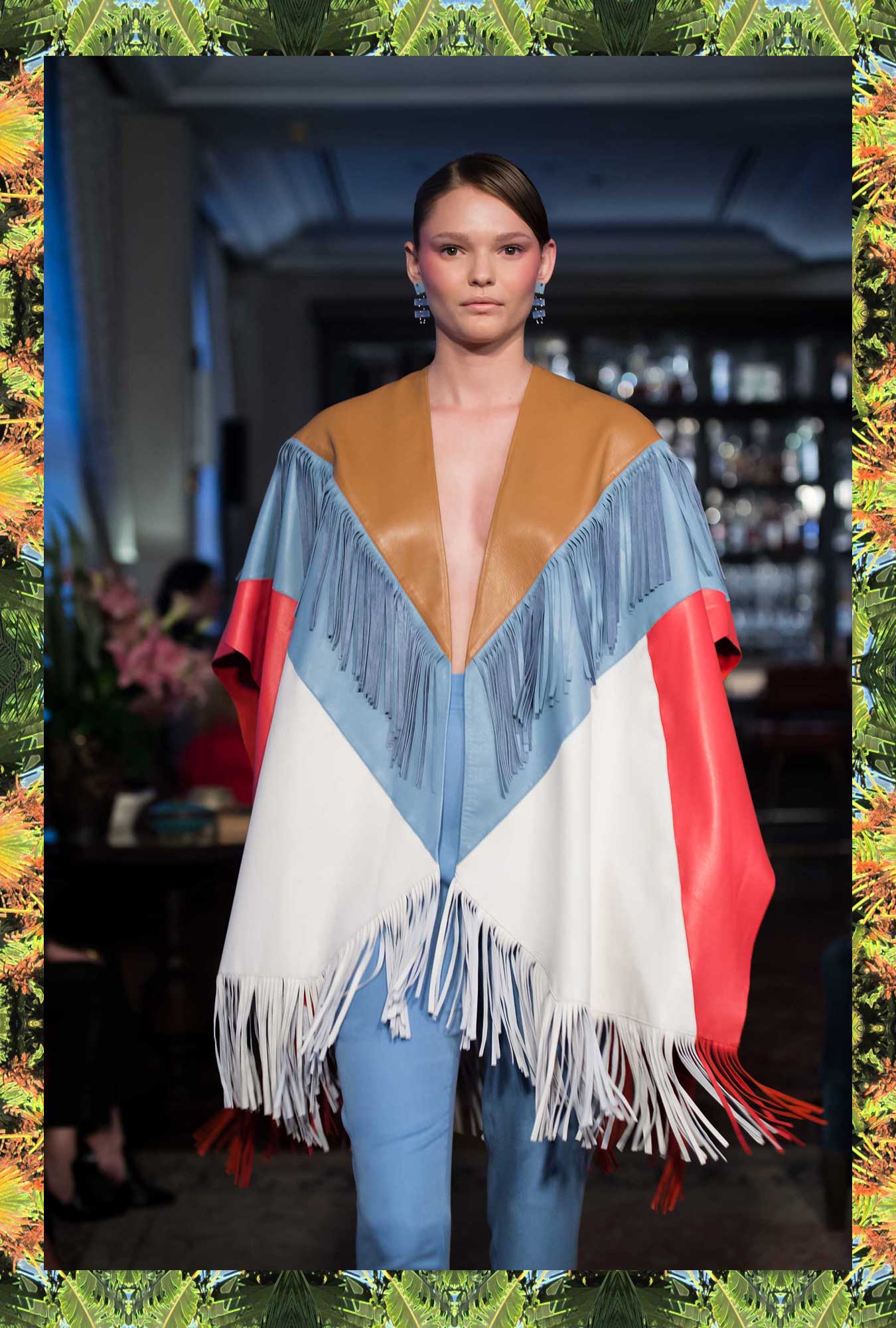 Traditionelles Lederhandwerk
Cynthia Buttenkamper hat viele Wow-Teile in ihrer Kollektion "Landscapes SS20", der Fransen-Poncho in vier unterschiedlichen Lederfarben ist aber sicherlich das Highlight. Cynthia hat ihre Brand 2011 gegründet uns steht seither für tragbare Mode in einem Mix aus internationalem Flear und mexikanischer Tradition. Ihr Lederhandwerk und die Custom-Design-Drucke werden in Mexiko nach alter Schule produziert und in ein modernes Gewand verwandelt. Deshalb gewann sie bestimmt auch Vogue who's next Mexico 2018.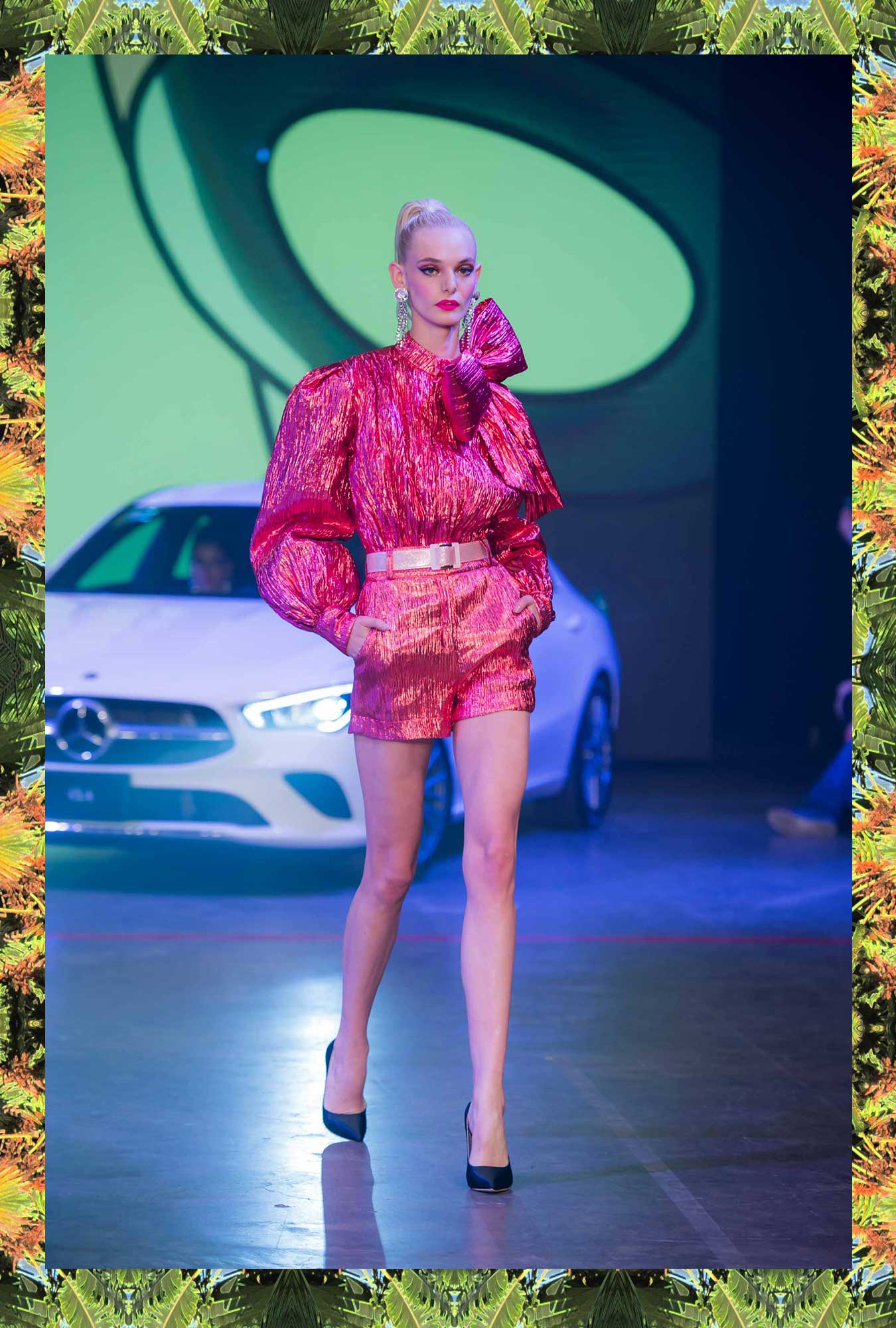 Empowering Story
Benito Santos Mexico hat die neue Kollektion "Barbie" gewidmet, weil – und jetzt wird's rührend – Benito als Kind aufgrund der damals vorherrschenden kulturellen Vorstellung in Mexiko nicht mit Barbies spielen durfte. Benito lebt heute mit seinen Designs alles aus, was für ihn Freiheit bedeutet. Präsentiert wurde die Show von Mercedes-Benz, deswegen liefen die Barbie-Versionen in Rüsche, Pailette und Feder um mehrere Mercedes-Modelle des CLA. Benito ist in Mexiko ungefähr das, was hier Guido Maria Kretschmar ist: Promi-Magnet und die Frauen lieben ihn. 2014 gewann er Mexico's National Fashion Award und stattet seither auch sehr prominete Damen aus. Zum Beispiel die ehemalige First Lady Angélica Rivera.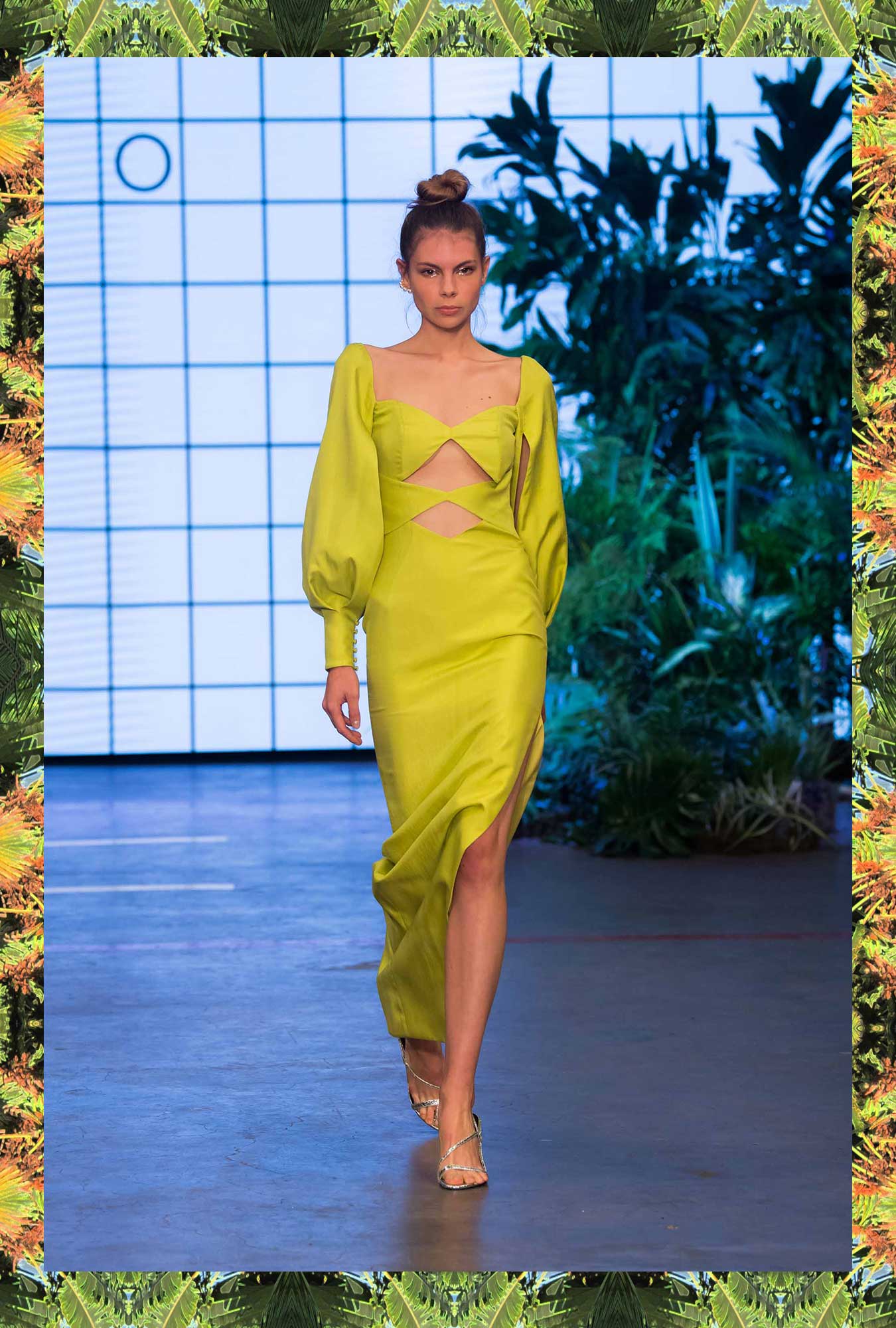 Feminine af!
Super sexy und zeitgleich elegant, das kann der Designer Kris Goyri. In seiner Kollektion "Balam" dreht sich alles um fließende Textilien wie Seide oder Chiffon, Cut-Outs und Assemytrie. Er beweist mal wieder, dass das schicke Kleid für den Abend nicht immer schwarz sein muss: Orange, Kobaltblau, Smaragdgrün, Ceiba-Grün, um nur ein paar seiner Power-Farben zu nennen. "Balam" ist übrigens das mayasprachliche Wort für Jaguar und in der Dschungel-Kulisse sahen die Looks auch wirklich tierisch aus.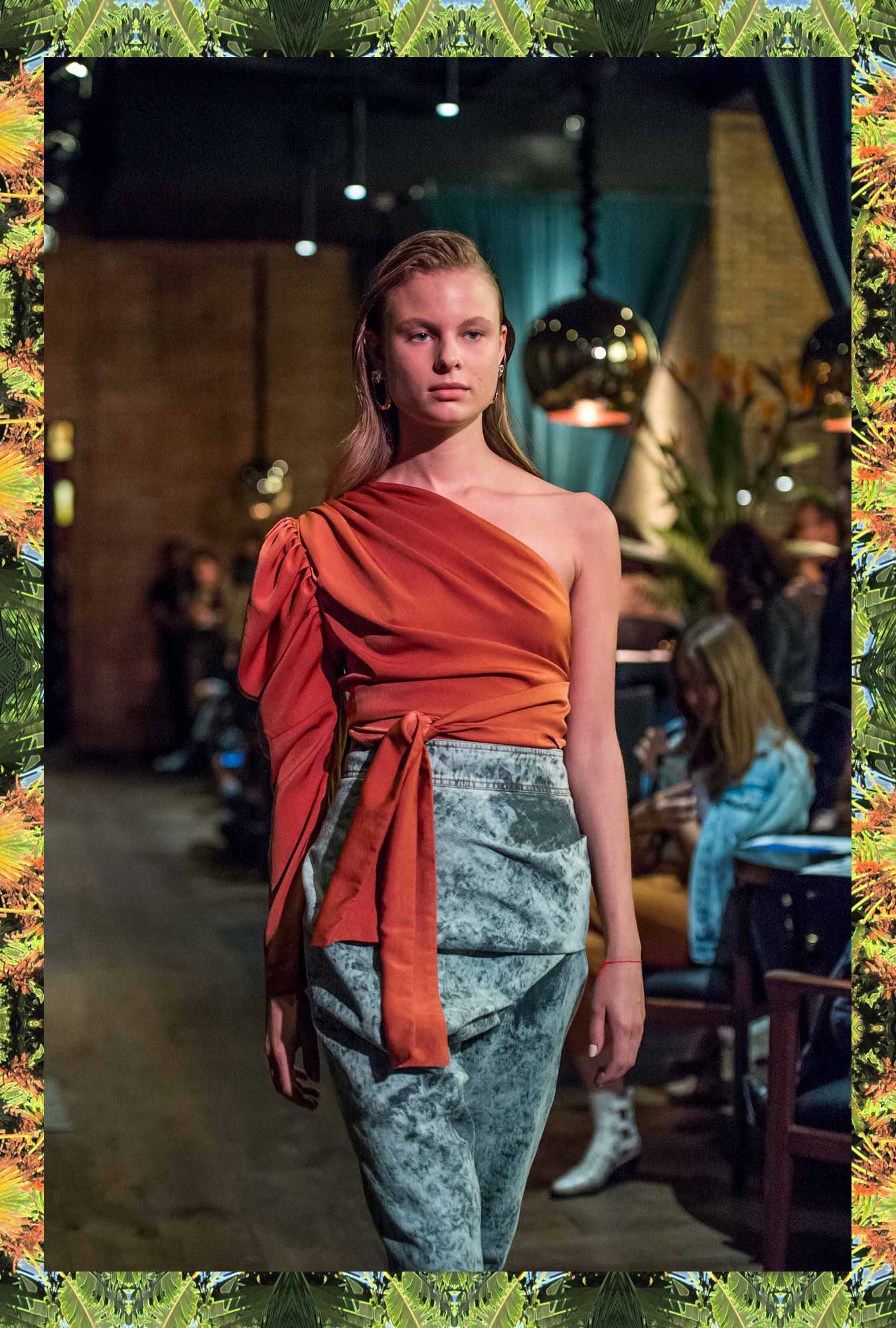 Sophisticated wardrobe…
…beschreibt Sandra Weil ihre Mode selbst. Ihre "Paradise"-Linie SS20 ist reich an tropischen Details wie kleine bunte Stickereien oder gleich opulentere Drucke, die Lust auf heiße Urlaubsnächte machen. Auffallend sind bei Sandra die Details und der allgegenwärtige Mix aus Sexyness, Tragekomfort und Funktionalität – sprich eingenähte Bustiers und Taschen an Kleidern machen selbst die fancy Looks tragbar und easy to handle.
Einfach mal abseits des Mainstreams
Wie ihr lest, gibt es in Mexiko Stadt so einige Designer, die Aufmerksamkeit verdient haben. Neben Steffi Giesiniger ließ sich deshalb auch Model und Musikerin Rina Samawaya auf den Trip ein: Sie war Teil des dritten Aufschlags der Mercedes-Benz Fashion Story How to. Hier lernen ausgewählte Kreative (@uglyworldwide war auch schon dran 😍 ) einen Tag lang unter der Führung von Experten eine neue Fähigkeit und zeigen anschließend, wie diese funktioniert. Trommelwirbel fürs Experiment in Mexiko: "How to redefine Beauty" lautete das Thema von Rina. Zusammen mit Makeup-Artists Lyle Reimer und Sweet Mutuals sowie der Hair-Stylistin Evanie Frausto erarbeiteten sie eine neue Ära von Beauty. Von konzeptionell bis hin zu Avantgarde – Rina präsentierte uns Schönheit als Form von Individualität und Selbstbewusstsein.
Nach Fertigstellung eines jeden Looks fanden Foto- und Videoshootings von Sawayama im Kreis mexikanischer Models, die die vielen Facetten von Schönheit illustrierten, statt. Alle trugen hierbei die Kollektionen der MBFT Designer Julia Seemann, Amesh Wijesekera, Sandra Weil, Vivetta, DB Berdan, Benito Santos, Nobi Talai and William Fan.
Wir sind ganz verliebt in Rina und ihrer modernen, offenen und aktivistischen Einstellung zum Thema Schönheit. Das inspirierende Interview folgt in Kürze auf Nylonmag.de.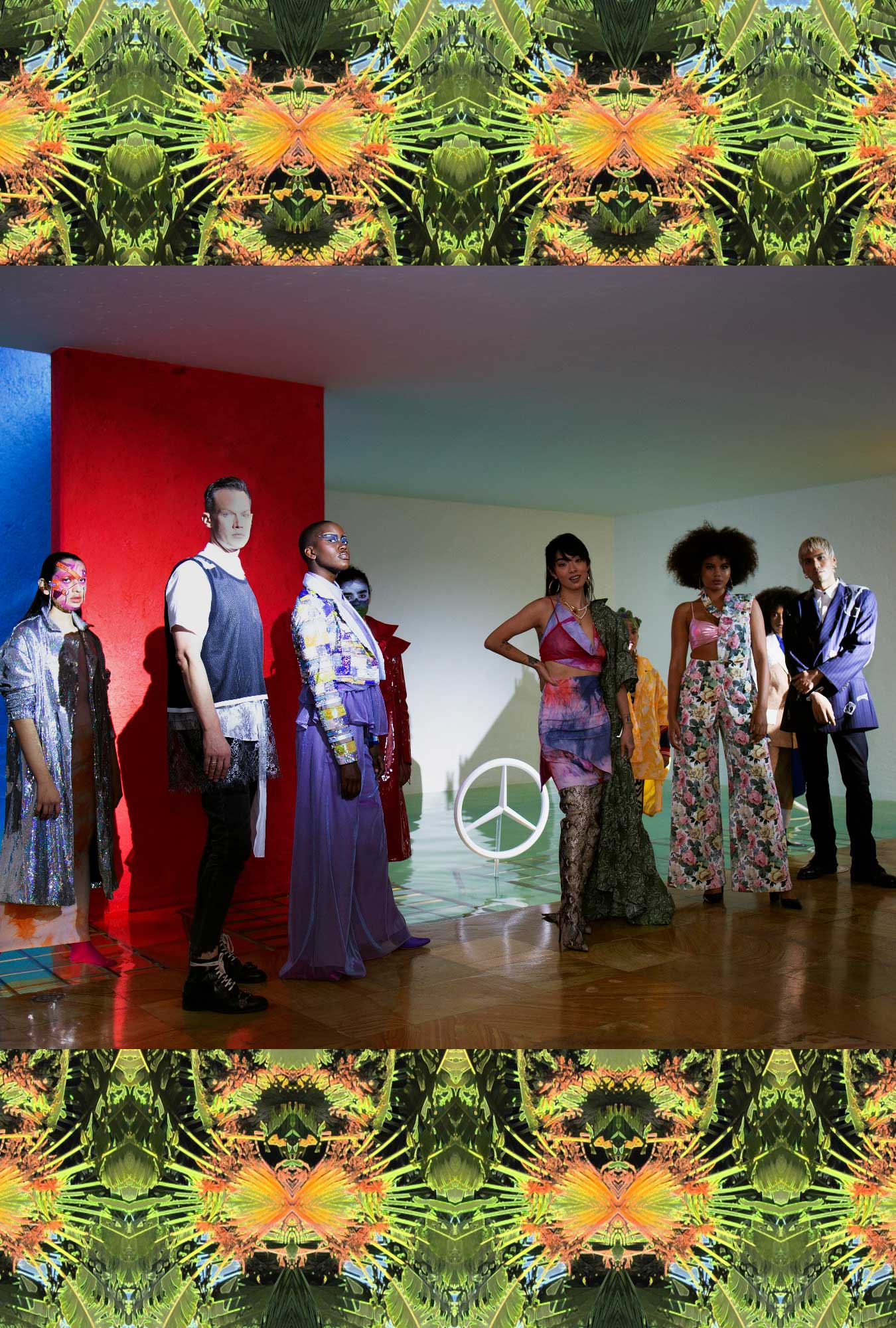 Mehr Fashion-Updates? Dann hier entlang:
Die Fashion News der Woche
Die Paris Fashion Week 2019
Wie Rihanna Fashion Week Königin wurde