Design und Funktionalität vereint in einer Jacke: Hinter den Kulissen von Peak Performance
Auf der Suche nach der nächsten Winterjacke verzweifeln wir gerne mal an der Diskrepanz zwischen coolem Design und tatsächlicher vor-Frost-rettender Funktionalität. Die schwedische Brand Peak Performance bringt beides in ihrer Urban Collection zusammen. Und lässt dabei auch Großstadt und Gletscher verschmelzen.
Eine Großstadt nennt man gerne auch mal "heißes Pflaster", "Großstadtdschungel", "Schmelztiegel". All diese Begriffe beschreiben die Hitze und Hektik einer Metropole zwar bestens – aber uns ist klar, dass ein Kampf mit Temperaturen in der Großstadt auch ziemlich eisig verlaufen kann: Wer zum Ende des Jahres das Haus verlässt und dabei auf Glatteis und Eiswinde stößt, weiß, dass Gletschergebiet und "Big City Life" manchmal eben gar nicht weit auseinanderliegen.
Vom Bergdorf auf die urbane Eisbahn
An genau dieser spiegelglatten Stelle tritt die schwedische Brand Peak Performance auf den Plan, um uns wieder Halt zu geben – und zwar metaphorisch wie physisch. Wir sprechen von Daunenjacken in Shapes wie Parkas und Puffer Jackets mit glänzenden Farbsplashs oder in schneeweißen, monochromen Winter-Looks. Seit der Gründung 1986 wissen die Köpfe hinter der Marke worum es geht, wenn sie von Kälte sprechen: Peak Performance entstand durch die Idee dreier Skifahrer im Bergdorf Åre. Mittlerweile hat das Team sein Headquarter aber nach Stockholm verlegt und damit den – Pun intended – metaphorischen Sprung zu urbanen Styles geschaffen.
Die Peak Performance Jacke als Antwort auf Fragen um Funktionalität und Design
Denken wir uns an diesem Punkt also noch einmal zwischen Skyscraper und hektische Straßen, wenn uns am Bahngleis die kalten Winde entgegenschlagen. Als "Überlebende" in der Großstadt-Eiszeit ist es nicht immer einfach, sich gleichzeitig warm zu halten und dennoch nicht den Look einer Bergexpedition zu imitieren (not that there's anything wrong with that!). Hier setzt Peak Performance an: Es gilt, Craftsmanship mit Design zu verbinden und sie quasi als gleichberechtigte Facetten in der Look-Kreation zu respektieren. Beide Seiten müssen sich nämlich keinesfalls ausschließen, findet Sofia Gromark Norinder, Design Manager bei Peak Performance im NYLON-Interview: "Das Handwerk und Mode sind zwei starke Stimmen, die wir in unsere Arbeit einbeziehen. Für uns in der "Active"-Welt bedeutet das, den perfekten Stoff auszuwählen, für ein leichtes Gewicht zu sorgen und die Stücke atmen zu lassen. Es geht um die richtige Menge an Daunen (zurückverfolgbar produziert), um funktionelle Details und darum, immer Nachhaltigkeit im Hinterkopf zu behalten. Eine Jacke ist die Antwort auf die Frage, wie ein Kleidungsstück in Sachen Komfort und Funktionalität performen muss, um einen aktiven Lifestyle zu stärken."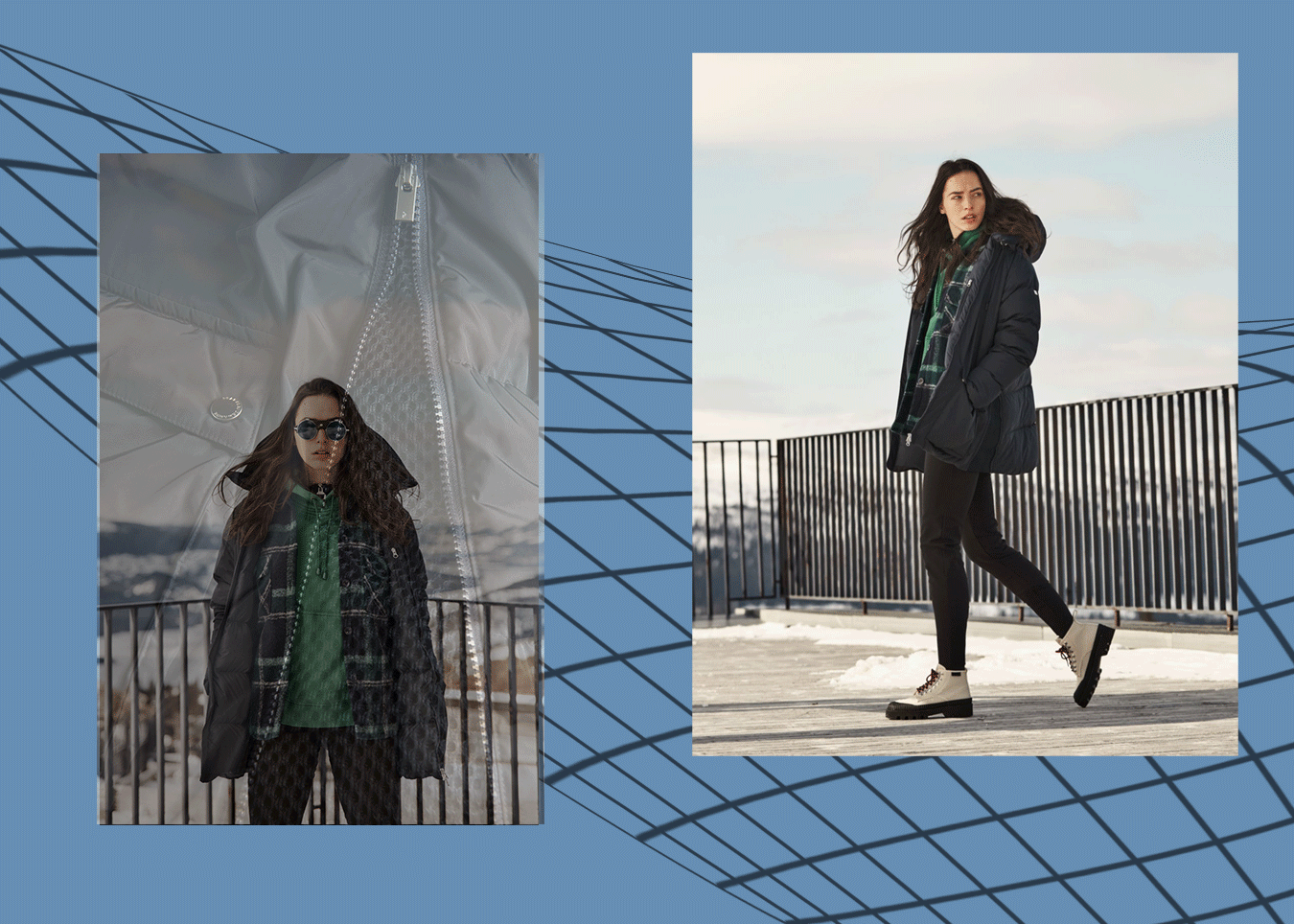 Wenn schon ein einzelnes Kleidungsstück so eine Meta-Designfrage beantworten soll, wird klar, dass der Brandname bei Peak Performance nicht von ungefähr kommt. Perfektion anzustreben dürfte niemandem von uns ein Fremdwort sein, aber wie passt ein Kampagnenslogan à la "Driven By Perfection" in eine Zeit, in der gerade Unperfektheiten und Makel zelebriert werden? "Die Perfektion liegt im Detail und den technischen Eigenschaften eines Kleidungsstücks", sagt Sofia Gromark Norinder. "Wir verwenden hochqualitative Stoffe, die wir mit Bedacht ausgewählt haben. Hierbei ist die Performance der Materialien essentiell, alles muss hochentwickelt sein, um unter verschiedenen Bedingungen zu ,überleben'. Für uns bedeutet ,unperfekt' wiederum, wie du dein Outfit zusammenstellst und trägst. Die Urban Line erlaubt die Kombination von hochtechnischen Stücken mit solchen, die wir schon jeden Tag tragen. Das sorgt für einen spannenden Kontrast und ein hohes Maß an Individualität. Plus: Keine Regeln, wenn's um Farben geht!" Gerade Letzteres dürfte in Designs wie der blauen Puffer-Jacket "Clara" (unserem nicht-so-geheimen Redaktions-Favorite) deutlich werden. Mit irisierendem Blau und einer glatten Oberfläche bleibt sie zwar Puffer-Jacket-Vorbildern treu, sorgt aber durch mehr Länge für einen Mantel-ähnlichen Look – und hält dadurch ganz nebenbei auch wärmer als so manches Blouson. Casual.
Bei unseren Designs geht es um eine Übersetzung der Vergangenheit ins gegenwärtige Leben, nicht darum, die Vergangenheit zu imitieren. – Sofia Gromark Norinder, Design Manager bei Peak Performance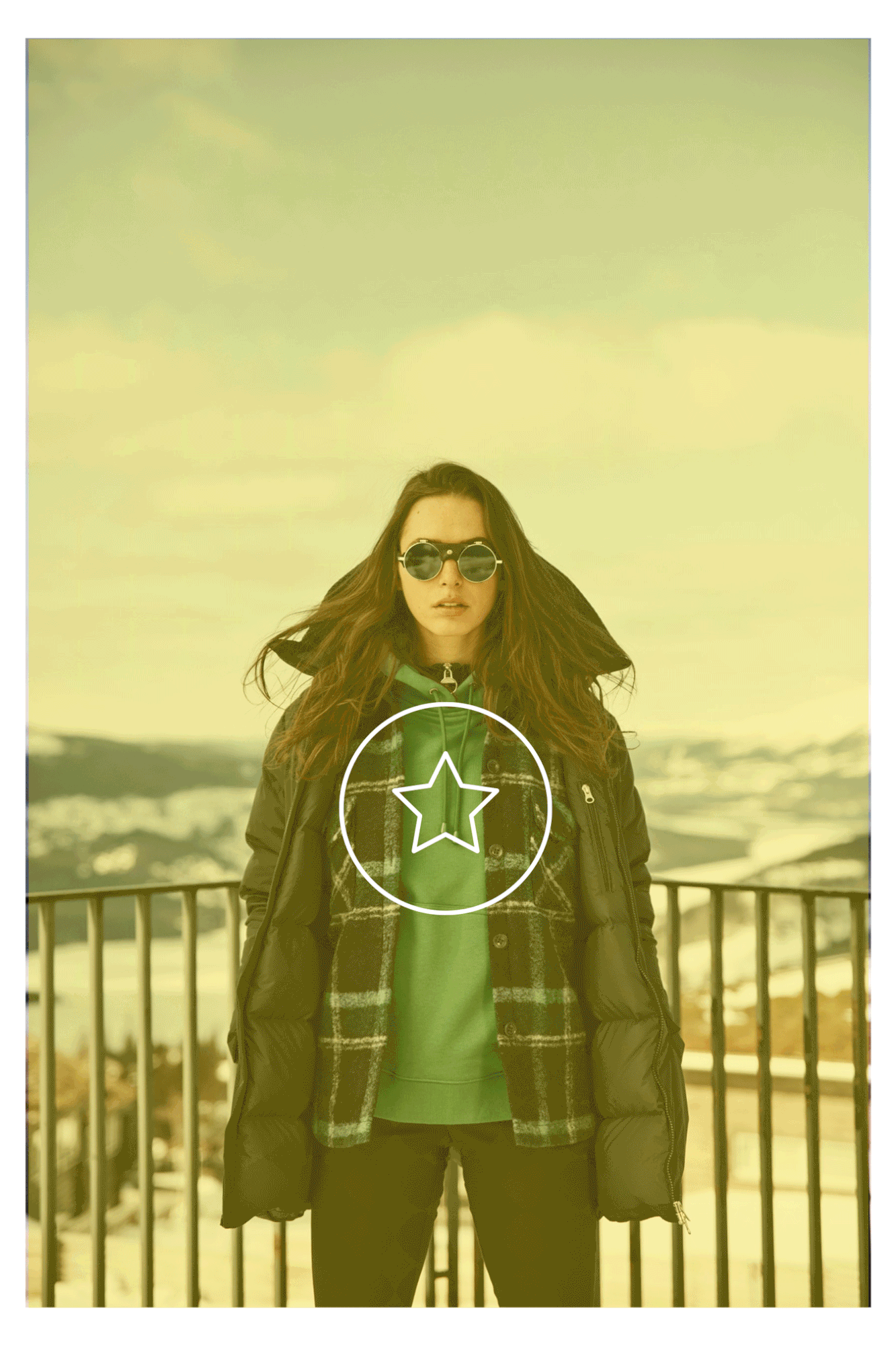 Mit Designs wie "Clara" hat es Peak Performance also geschafft, von der Skipiste auf die Schienen des Alltags umzusiedeln. Das bedeutet in keinem Fall, dass die Outdoor-Wurzeln außer Acht gelassen werden – schließlich sollen die Jacken uns nicht nur auf der Expedition ins Büro, sondern auch auf dem tatsächlichen Weg in die Berge begleiten. Für das Designteam steht aber immer der Fortschritt im Vordergrund, in dem sich ein Kleidungsstück an die Lebensbedingungen anpasst, verrät Sofia. "Das technische Know-How begleitet uns ohnehin konstant. Es geht darum, die Vergangenheit ins tägliche Leben zu übersetzen und nicht zu versuchen, Geschichte zu imitieren".
Die konkreten Schritte: So entsteht ein Design von Peak Performance
Jetzt mal kurz Punkt. Klingt alles ganz schön theoretisch, oder? Design und Funktionalität werden bei Peak Performance verbunden, alles klar. Wie das in der Praxis aussieht, haben wir für euch natürlich auch noch recherchiert – vom Blatt Papier bis zum Reißverschluss, literally. Für ein Design beginnt das Team rund um Sofia zunächst einmal wie wir mit diesem Artikel: Recherche, Recherche, Recherche. Daraufhin stellen die Designer ihre Ergebnisse zusammen und starten mit dem, na ja, Design-Prozess. Anschließend steigt das Schnitt- und Produktionsteam ein, um einen Prototypen anzufertigen – Perfektionismus eben. Reicht aber noch nicht: Bevor es an das finale Design geht, gibt es einzelne Feldversuche an Taschen, Kapuzen, Reißverschlüssen, Nähten.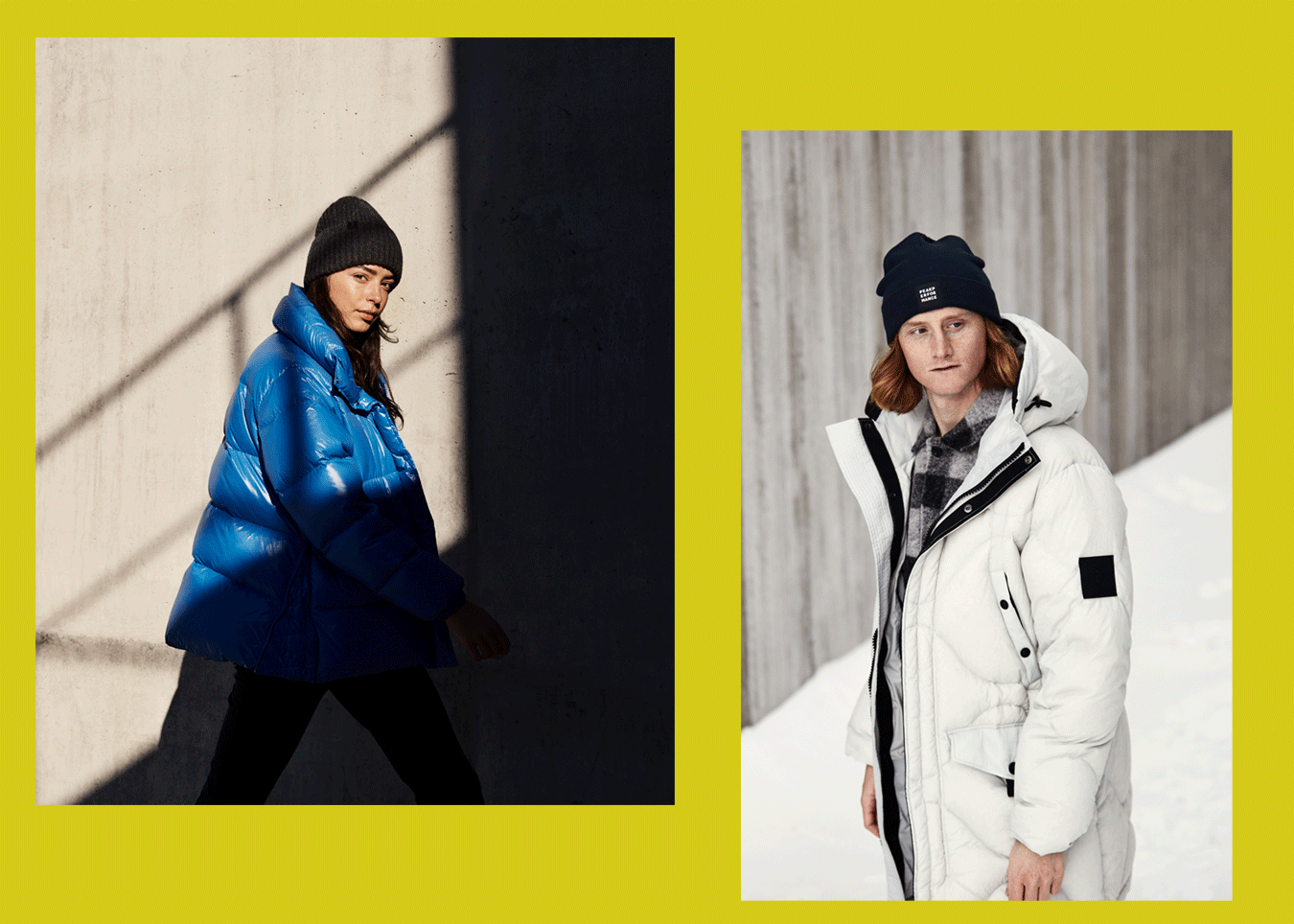 Für uns sind Handwerkskunst und Mode keine Gegenteile, sondern zwei "starke Stimmen", die wir immer wieder in unsere Arbeiten einbeziehen. Für uns in der Active-Welt bedeutet das, den perfekten Stoff auszuwählen, für ein leichtes Gewicht zu sorgen und die Stücke atmen zu lassen. Die Jacke ist die Antwort auf die Frage, wie ein Kleidungsstück in Sachen Komfort und Funktionalität performen muss, um einen aktiven Lifestyle zu stärken. – Sofia Gromark Norinder
Am Ende der Entwicklungskette stehen dann die Jackenmodelle der Urban Line, wie die Puffer Jacket "Clara", die Parkas "Stella", "X10" oder "Offence". Im Mood-Video sehen wir sie auf hohen Bergen, zwischen schneebehangenen Wäldern und auf verlassenen Straßen. Der Kragen legt sich um den Hals und der Reißverschluss lässt den letzten Hauch Kälte draußen. In der Praxis schließen wir sie um uns, wenn uns der eisige Wind auf dem Weg zur Bahnhaltestelle entgegenschlägt. Funktionalität und Design schließen sich nicht aus, wissen wir – genau so, wie der "Großstadtdschungel" eben eine Eislandschaft sein kann. Sorgen macht das allerdings nicht. Wir sind schließlich vorbereitet, als wären wir in einem schwedischen Bergdorf, oder?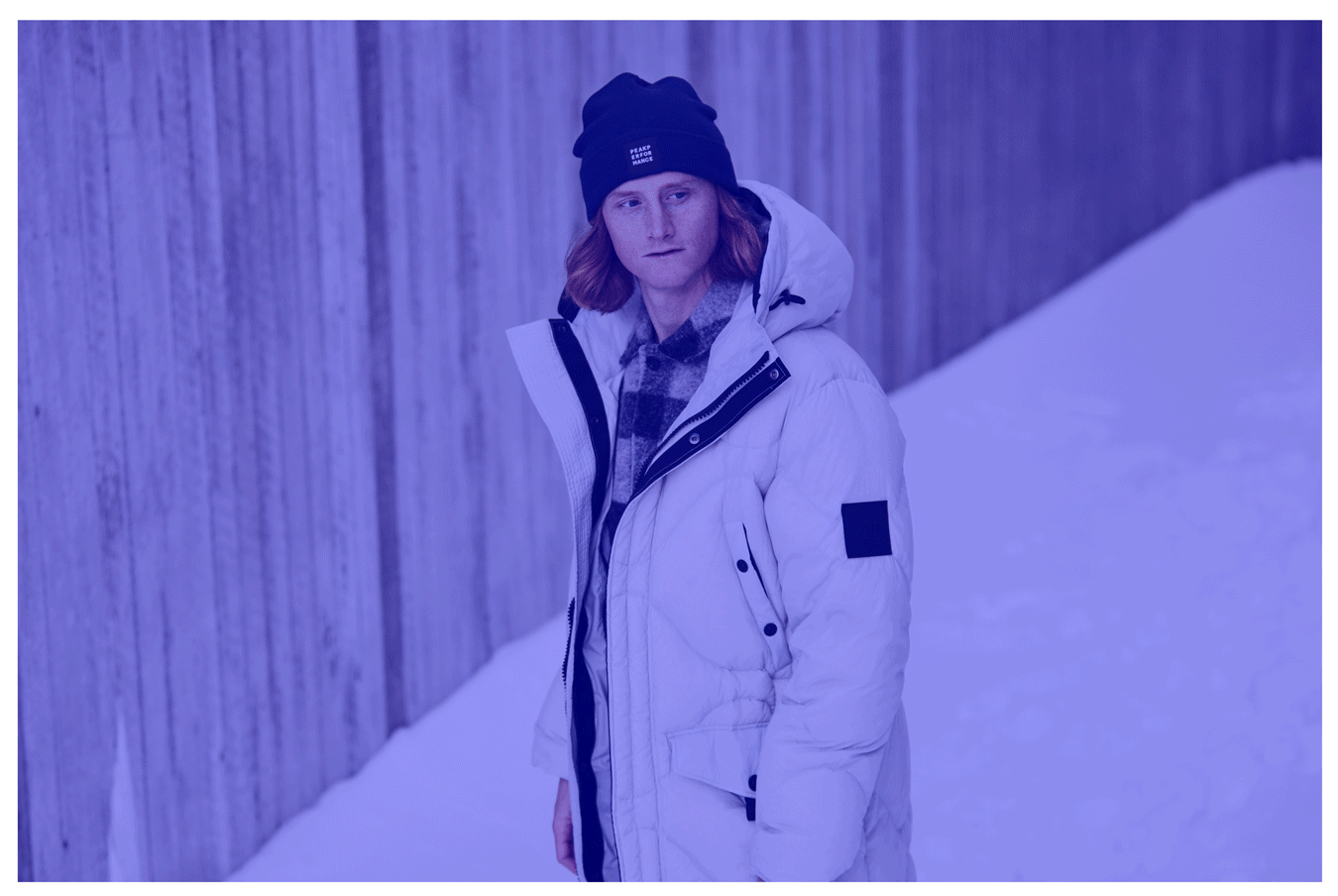 Mehr Looks – diesmal mit Sport-Inspo und Artwork-Challenge:
Center Stage – oder wie ein Wiener Städtetrip zur Tanzperformance wird
Your Colorway aus Musik bis Fotografie: 6 Künstler gestalten ihre eigenen CROCS
Step Up: Diese Sport-Looks channeln die Aerobic-Stars der 80er