Wie Rihanna Fashion Week Königin wurde & warum Virgil Abloh Pause macht: Fashion News der Woche
Man könnte aus New York Fashion Week auch Rihanna Fashion Week machen, oder?  Warum sie und Zendaya gefeiert werden, welche Collab zum Nachdenken anregt und warum Virgil Abloh eine Pause braucht: Das sind die Fashion News der Woche.
All hail Queen Rihanna: So berichten Promis von der Savage x Fenty Show
wow this was legit one of the most memorable nights of my entire existence. thank you to the queen herself @rihanna for allowing me to be a part of HISTORY!!!!! YOU SET THE BAR YOU HEAR ME ✨ I love you beyond. shit can't nobody tell me nothing. Thank you GOD pic.twitter.com/VEka2eu6le

— Normani (@Normani) 11. September 2019

Eigentlich kann man kaum beschreiben, wie Rihanna Fashion Week Königin wurde – jedenfalls fällt es bei der Zusammenfassung ihrer Savage x Fenty Show zur New York Fashion Week schwer. Handys wurden eingeschlossen, von der tatsächlichen Show gibt es nur wenige offizielle Bilder. Und trotzdem ist und bleibt das Event in dieser Woche Hauptgesprächsthema und macht die Modewoche zur "Rihanna Fashion Week". Dabei dreht sich der Gossip mittlerweile ein wenig im Kreis – für mehr Details müssen wir uns nämlich noch exakt eine Woche gedulden, bis die Show zum Stream auf Amazon verfügbar sein wird. Warum auch immer wir so lange warten müssen, ein paar Promis haben augenscheinlich mit uns gefühlt und auf Social Media schon ihre Begeisterung zur Show geteilt. "Es war eine der denkwürdigsten Nächte meines gesamten Lebens", schrieb Normani auf Twitter. "Das war die sexieste, kraftvollste, inklusivste und "boss ass" Fashion Show, bei der ich mein LEBTAG war", postete Kehlani. Und NYLON-Feature-Star Bishop Briggs lobte das, wofür Savage x Fenty ab jetzt noch einmal mehr stehen wird: "Es macht mich SO glücklich, all die verschiedenen Shapes, Körpergrößen und Hautfarben auf dem Laufsteg zu sehen. So sollte es immer sein!!!!!". Dem haben wir nichts mehr hinzuzufügen. Thx, Rihanna.
Abloh is off: Virgil Abloh nimmt eine Auszeit von der Modewelt
Sieh dir diesen Beitrag auf Instagram an
…und wir können's ihm absolut nicht übelnehmen. Schon jemand, der nicht wie Abloh unzählige Design-Verpflichtungen und Collabs am Laufen hat, dürfte von "all things Fashion" ab und zu ganz schön genervt sein. Wie muss es da einem der relevantesten Designer unserer Zeit gehen? Bevor wir aber in eine kleine Mitleidstour verfallen, an dieser Stelle erst einmal mehr zu den Motiven des Designers – die sind nämlich ein wenig ernster als eine "kein Bock mehr"-Attitude. In einem Statement gegenüber The Business of Fashion nannte Ablohs Team gesundheitliche Gründe als Auslöser für die Pause. Eine ernsthafte Erkrankung soll es aber nicht sein, wie das MixMag berichtet: In einem Telefonat mit der US-Vogue habe der Designer gesagt, er sei einfach "müde" und habe sich dafür entschieden, einen Arzt aufzusuchen. Dieser habe ihm dann gesagt, dass die Geschwindigkeit, mit der er seinen Körper durch Reisen und Projekte gepusht habe, schlichtweg schlecht für seine Gesundheit sei. Virgil Abloh arbeitet – vielleicht das erste Mal in seinem Leben – also für die nächsten drei Monate im Home Office. Bei seiner Show zur Pariser Fashion Week wird er nicht anwesend sein. Ob er stattdessen mit den Füßen hochgelegt auf dem Sofa chillt? Wohl eher nicht. Gute Besserung, anyway!
Die Kunst von Power im Kleiderschrank: Tommy x Zendaya
Von der heimischen Couch noch einmal zurück zur New York Fashion Week. Bei der Tommy x Zendaya Show gehörte nicht nur die Front Row zu den best-dressed Reihen, auch die Designs auf dem Laufsteg haben für Applaus gesorgt. In der zweiten Collab zwischen Schauspielerin und Marke ging es einmal mehr um die 70s, genauer um das Thema Power Dressing. Anzüge, Mäntel, Kleider und "boss-like" Blazer-Kombinationen teleportieren die kraftvolle Message ins Jetzt und machen uns in Burgunder-Tönen oder weichem Grau bereit für den Herbst. "Es geht darum, neu zu definieren, was Power-Dressing in der heutigen Welt bedeutet", sagt Zendaya selbst über die Kollektion mit Tommy Hilfiger. "Ich bin gespannt, wie Fans auf der ganzen Welt jeden Stil so interpretieren, dass er für sie einzigartig ist." Für den Designer selbst ist Power-Dressing aber längst nicht mehr nur ein rein materielles Thema. "Das Konzept hat sich heute zu einem Geisteszustand entwickelt (…). Bei dieser zweiten Zusammenarbeit geht es darum, alle zu ermutigen, ihre Einzigartigkeit anzunehmen und ihre Individualität in ihren eigenen Begriffen zu feiern", so Hilfiger. Für die nächste Runde der Collab könnten wir dann noch eine Titel-Erweiterung vorschlagen: Nicht nur Power-Dressing soll es sein, sondern Power BEING.
"Sehe ich nicht türkisch aus?": Ausstellung BOLD x Esra Gülmen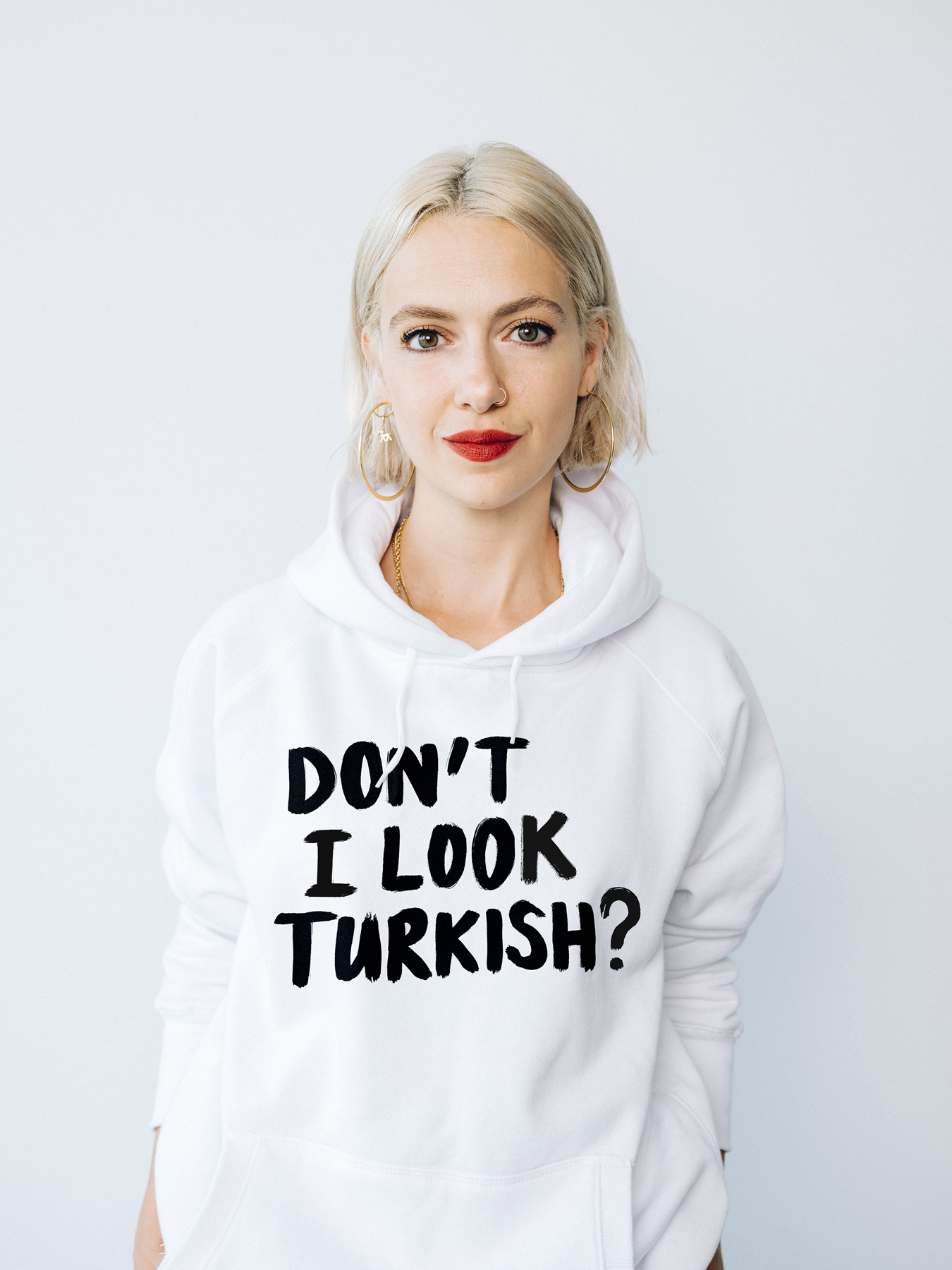 Würde die Berliner Künstlerin Esra Gülmen die Frage stellen, ob sie denn türkisch aussähe, wahrscheinlich wäre die Antwort oft ein klares Nein. Fragen muss sie so etwas aber gar nicht erst – allgemeines Schubladendenken und schnelle Kategorisierung erledigen das schon. Ignorante Sätze wie "Wo kommst du eigentlich her? Aber so siehst Du ja gar nicht aus…!" haben die in Istanbul geborene und aufgewachsene Künstlerin deshalb zur Collab mit der Berliner Agentur BOLD bewogen. Im Rahmen der Berlin Art Week zeigt Gülmen im neuen Berliner BOLD Space (Linienstraße 221) für eine Woche 17 Originalarbeiten aus ihrer Serie "The brilliant questions I got asked because I'm Turkish". Für alle, die die Message auch nach der Ausstellung noch weitertragen wollen, haben BOLD und Gülmen zwei Sweater entworfen, die die oben genannte Frage ziemlich unverblümt stellen: "Don't I look Turkish?" bzw. "Don't I look German?" steht in schwarzer Schrift auf weiße Hoodies gepinselt (ab 59€ hier). Übrigens: Bei der Ausstellungseröffnung heute Abend performt auch NYLON Boyfriend Material Noah Becker. Danach könnt ihr die Ausstellung vom 14. bis 19. September täglich von 12-16 Uhr besuchen – und vielleicht das innere Schubladendenken noch einmal hinterfragen.
…und noch ein kleiner Fun Fact, ebenfalls von der New York Fashion Week:
Sieh dir diesen Beitrag auf Instagram an
Gigi Hadid hat bei der Show von Marc Jacobs ihre Wadenmuskeln präsentiert und tatsächlich den gesamten Catwalk auf Zehenspitzen zurückgelegt – und genau deshalb fühlen wir uns jetzt offiziell schlecht, demnächst irgendwelche Ausreden bei der Arbeit zu erfinden. Das ganze Video und die Story hinter dem "unsichtbaren" High Heel findet ihr hier.
Titelbild: Getty Images für Savage x Fenty Show über NYLON.com // Text Savage x Fenty: Robin Micha & Jenna Igneri