Food-Woche mit Moschino und TikTok-Debatte bei Prada-Show: Fashion News
Die Mailänder Fashion Week sorgt für Food-Alarm im Hause Moschino und eine TikTok-Debatte bei Prada. Außerdem wird Victoria's Secret verkauft, Buffalo London jettet nach Miami und ein deutscher Rap-Star droppt nachhaltige Fleece-Designs.
Food-Woche bei Moschino? Lizzo bei den Brit Awards & Cakewalk
Sieh dir diesen Beitrag auf Instagram an
Man könnte platt sagen, Jeremy Scott sei bei seinen letzten Designentwürfen ziemlich hungrig gewesen. Viel wahrer ist aber, dass der Moschino-Chefdesigner in dieser Woche erneut seinen Spaß an Mode bewiesen hat. Zuerst servierte uns Lizzo bei den diesjährigen Brit Awards sich selbst im Moschino-Kleid als ganze Tafel Schokolade. Für fast noch mehr Gespräch sorgte aber die letzte Moschino-Couture-Show im Rahmen der Mailänder Fashion Week. Während die gesamte Kollektion vom beliebten Modethema der französischen Revolution und Königin Marie Antoinette inspiriert ist, zählen die Kuchen-Kleider sicher zu ihren optischen Höhepunkten. Models wie Joan Smalls liefen in großen Tortenformen über den Runway, die nicht nur die Shape eines Reifrocks aus dem 18. Jahrhundert aufgreifen, sondern natürlich auch Marie Antoinettes (umstrittenes) berühmtes Zitat "Let them eat cake!". Und während Scott Antoinette als unterhaltsame Inspiration sieht, weiß er auch um den ernsthaften Part ihres Zeitalters – und dessen Nähe zum heutigen Weltstand. "Unsere geopolitische Situation ist den 1780er-Jahren sehr nahe: Krawalle in Chile, Brexit, gelbe Westen in Frankreich, konstanter Protest in Hongkong, die Demokratie meines Landes ausgedünnt", heißt es von Scott in einem Repost des 10 Magazine auf Instagram. Als Designer sei es aber außerdem seine Aufgabe, der Gesamtsituation ein wenig Spaß zu verleihen, sagte Scott. Das hat er in dieser Woche sicher getan – und Hunger haben wir jetzt trotzdem auch.
Sieh dir diesen Beitrag auf Instagram an
TikTok-Debatte: Gehört ein Tanzvideo-Star in die Front Row von Prada?
Mit über 28 Millionen Followern ist Charlie D'Amelio (@charlidamelio) derzeit eine der beliebtesten TikTok-Influencerinnen überhaupt. Obwohl sie eigentlich Tanz-Videos produziert, hat ihre Reichweite Charli nun eine Eintrittskarte zur Prada Modenschau während der Mailänder Fashion-Week beschert. Das ganze sorgte für eine kleine TikTok-Debatte. Charli postete aus Mailand unter anderem ein Video, indem sie mit Models auf dem Laufsteg einen ihrer berühmten Dance-Moves aufführt. Viele ihrer Fans freuen sich für sie und kommentieren zum Beispiel: "Yaaas Girl, Slay!", "Sie hat sich das selbst erarbeitet und verdient es total!", "Früher hat sie im Badezimmer getanzt und jetzt mit Prada-Models, wow.", "Erober ruhig die Welt, du hast unsere Erlaubnis.". Andere sehen ihre plötzliches Eroberung der High-Fashion-Welt eher kritisch: "Wenn sie jetzt nur wegen ihrer Tanzvideos auch noch einen Modelvertrag bekommt weine ich.", "Naja, hätte sie den Hype nicht, wäre sie auch nicht dort.", heißt es hier. Sarah Spellings von The Cut schreibt zur TikTok-Debatte zum Beispiel wiederum, dass Stars wie Charli in 10 Jahren wahrscheinlich genauso selbstverständlich auf der Gästeliste der großen Modenschauen stehen werden, wie es Blogger schon längst tun. Wenn wir doch nur in die Zukunft sehen könnten…
Buffalo London entführt uns nach Miami
In der neuen Kampagne "Miami Vibe" von Buffalo London entführen uns drei Girls im 80s-Look imaginär nach Miami. Auf der Wolkensohle chillen sie am Pool, cruisen durch die Nacht und stolzieren durch den Supermarkt. Außerdem mit auf der Reise: das neue Sneakermodell "Eyza". Und natürlich bleibt auch hier der typische 90s-Style mit klobiger Sohle erhalten, wird aber außerdem super clever mit einer Laufsilhouette verbunden. Die Lederschuhe sind dadurch nicht nur bequem bei jedem Stadtbummel –  idealerweise natürlich durch Miami – sondern dank Flammendesign in verschiedenen Colorways buchstäblich "hot". Ob mit dem klassischen Kultschuh oder neuem Dad-Sneaker-Modell: Welcome to Miami.
"There's only one earth": Rapstar Marteria releast heute nachhaltige Modelinie "Back2Green"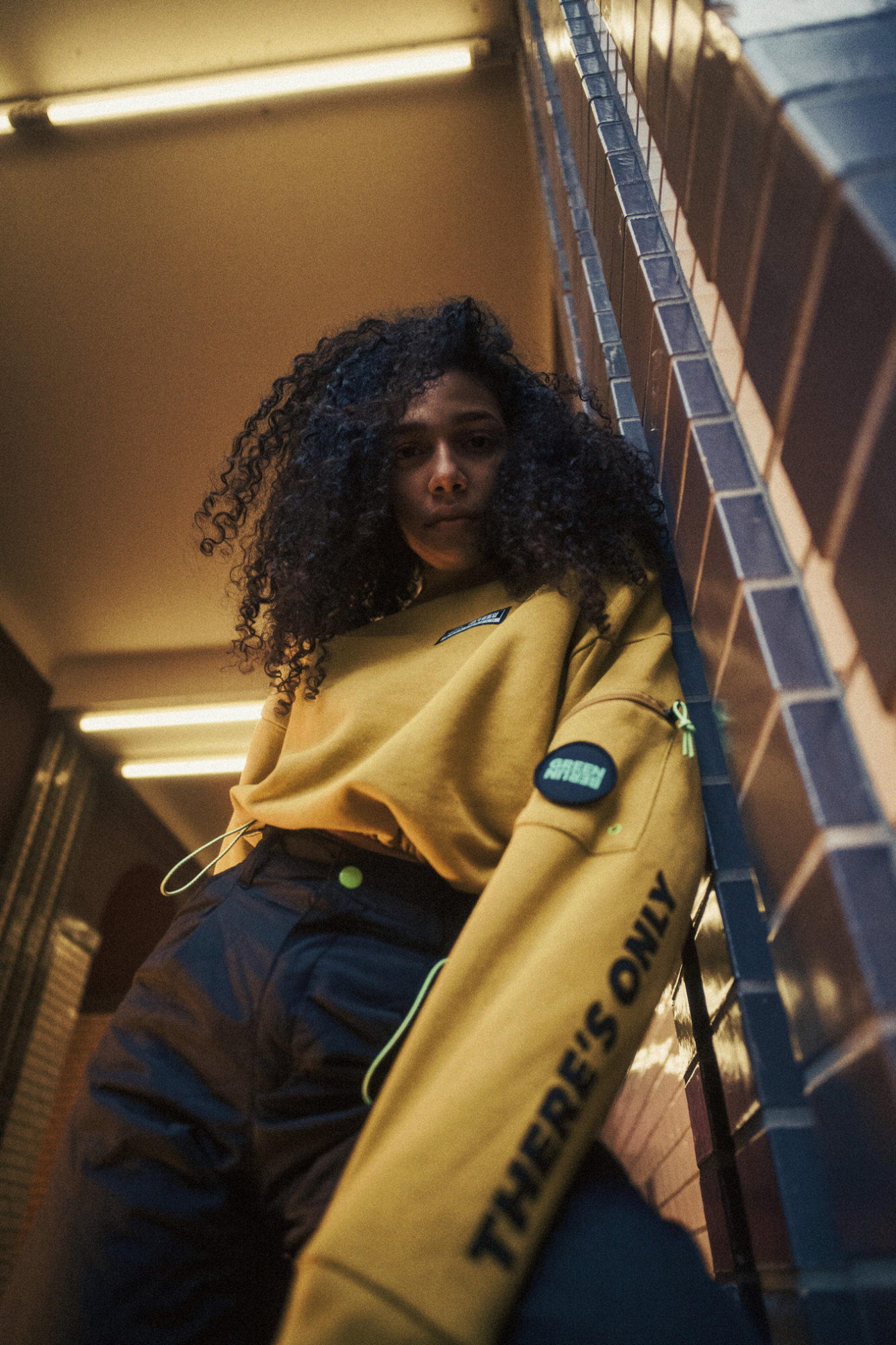 Foto: Chris Schwarz/PR
"Mein Opa war Fischer, mein Vater ist Seemann, ich bin Angler", sagten Morten Laciny a.k.a. Marteria. "Und beim Angeln, beim Tauchen – überall bemerk' ich immer mehr Plastik um mich herum". Der deutsche Rapstar bringt heute eine eigene nachhaltige Kollektion mit dem selbsterklärenden Namen "Green Berlin – Back 2 Green" auf den Markt. Dass unsere Ozeane durch Plastikmüll verschmutzt sind, ist längst klar, aber persönliche Erfahrung prägt Konsumenten und Produzenten noch einmal mehr – so nun also auch Marteria. "Back2Green" soll also zumindest in der Modeproduktion eine Antwort auf Plastikproduktion und Meeresverschmutzung sein. Marteria versucht dabei, allumfassend zu denken: Sein Label fertigt mit nachhaltigen Materialien wie 100% recycletem Polyester-Garn oder GOTS-zertifizierter Bio-Baumwolle und laut eigener Aussage zu fairen Arbeitsbedingungen. Was daraus dann entsteht? 17 saisonübergreifende Stücke, zum Beispiel Windbreaker, Hoodies, Fleece-Kombis. Ihre Statement-Slogans sind ähnlich prägnant und selbsterklärend wie schon der Markenname, manchmal reicht schon der der als Print-Logo. "There's Only One Earth" steht außerdem auf dem Ärmel eines Pullover-Designs. Seht ihr sicher dann, wenn sich die Arme beim nächsten Marteria-Konzert erheben. Ab spätestens morgen gibt's die Kollektion hier.
Engel, wechsel dich: Victoria's Secret hat neue Eigentümer
Sieh dir diesen Beitrag auf Instagram an
Achtung, Wirtschaftsnews: Zwischen 955 Millionen und 1,1 Milliarden Dollar ist die, untertrieben gesagt "strauchelnde", Lingerie-Brand Victoria's Secret ingesamt noch wert. Nun ist sie verkauft, zumindest zur Hälfte. Die Gesellschaft Sycamore Partners hat die größere Hälfte dem ehemaligen Mutterkonzern L Brands abgekauft. 45% bleiben aber nach wie vor in den Händen von L Brands, wie Business of Fashion berichtet. CEO Leslie Wexner tritt trotzdem zurück – neben den transfeindlichen Skandal-Äußerungen von Ex-Marketing-Chef Ed Razek war auch eher durch Sexismusvorwürfe und die Verbindung zum Missbrauchs-beschuldigten Jeffrey Epstein in die Kritik geraten. Die neuen Eigentümer Sycamore haben für den Verkauf ganze 525 Millionen Dollar gezahlt. Beim vergangenen Struggle um das Image der Dessous-Marke klingt das erst mal nach einem ziemlich guten Deal für VS – ob er aber den stark angekratzten Ruhm der Marke retten kann?
Text: Kristin Roloff & Robin Micha // Titelbild: Buffalo London
Bock auf mehr als TikTok-Debatte? Hier könnt ihr weiterlesen: 
Bloß nicht awkward? Wie wir reagieren, wenn wir plötzlich den Ex treffen
Warum Victoria Pedretti von "You" niemals eine manische Elfen-Traumfrau spielen wird
Cloud Nails: So funktioniert der romantische Nageltrend