Warum Victoria Pedretti von "You" niemals eine manische Elfen-Traumfrau spielen wird
Sie ist die Überraschung der zweiten Staffel von "You": Victoria Pedretti ist auch im echten Leben das lebende Anti-Klischee. Im Interview und beim Shooting haben wir uns ein bisschen (menschlich) verliebt, weil sie am laufenden Band Witze reißt.
Während ich die zweite und dritte Tasse Kaffee eingieße, macht Victoria Pedretti ihre Witze. Wir reden über die Golden Globes und "Once Upon A Time… in Hollywood", in dem sie eine kleine Rolle hat, war der große Gewinner des Abends, Bester Film – Komödie oder Musical. Victoria war nicht dabei an dem Abend: "Alles meinetwegen. Der ganze Erfolg dieses Films liegt an mir."
Wenn man Victoria Pedretti so verfolgt, hat man das Gefühl, dass sie nicht lange in der Lage sein wird, diese Art von Witz zu machen. Sie hatte viel mit zwei der größten Erfolge von Netflix in letzter Zeit zu tun, "The Haunting of Hill House" und "You": In beiden Rollen bringt Victoria eine Verwundbarkeit gegenüber komplizierten Charakteren ein, an der das Publikum sofort Gefallen finden muss. Und als eine von nur zwei Schauspielern, die für die zweite Staffel von "Haunting" angekündigt wurden, könnte man sie die aufstrebende Queen von Netflix nennen. Aber sie wird sich vorerst noch in scherzender Selbstverachtung üben. Denn auf das "aufstrebende Queen" antwortet sie mit: "Das ist nett, aber ich glaube nicht wirklich an Oligarchie."
Man vergisst leicht, dass die 24-Jährige gerade mal vor zwei Jahren von der Carnegie Mellon School of Drama in Pittsburgh abgegangen ist. Während eines Schulausflugs nach Los Angeles sprach sie für eine Rolle in "You", als die Heldin der ersten Staffel, Guinevere Beck, vor. Die Rolle ging an Elizabeth Lail, aber um es in den Worten von Victoria zu sagen, war alles Teil eines kosmischen Plans. "Ich hätte Beck nicht spielen können", sagt sie im Rückblick. "Beck ist Elizabeth Lail. Und wenn ich das getan hätte, hätte ich es jetzt nicht tun können und ich hätte 'The Haunting of Hill House' nicht machen können. Es passiert alles so, wie es sein soll."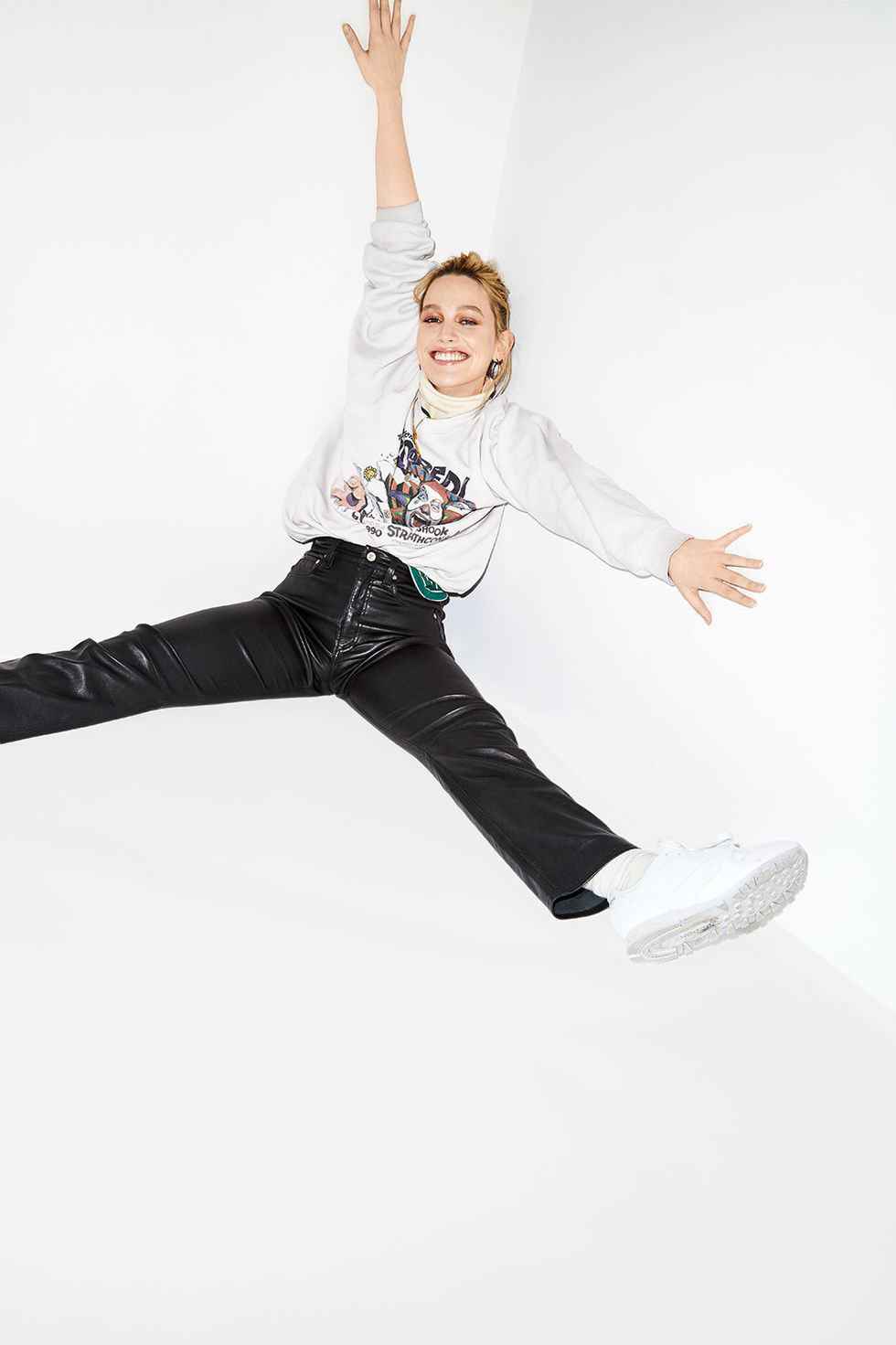 Mit "You" war es dann quasi Liebe auf den zweiten Blick
Stattdessen kam Victoria in der zweiten Staffel des Stalker-Dramas mit Penn Badgley dazu, in der Badgley's Joe in einer neuen Stadt auftritt und ungesund von einer neuen Frau besessen ist. Aber im Gegensatz zu der unschuldigen Beck ist Love kein Mädchen in Not. Als wir die Figur zum ersten Mal sehen, untersucht sie die Gemüseauslage und macht dirty Jokes über Paprika und Vaginas. "Sie ist eine Person, kein Stereotyp", sagt Victoria. Die Schauspielerin spielt mit ihrer Gestik. Während sie diese Unterscheidung macht, krempelt sie die Ärmel ihres Vintage-Sweatshirts hoch, um ihre Hände besser für die Betonung freizumachen. "Ich würde ihr nicht erlauben, etwas so Flaches wie eine manische Elfen-Traumfrau zu sein. Das ist nicht etwas, das es in der realen Welt gibt. Selbst wenn jemand sich selbst so sieht, ist das unmöglich."
Im Laufe der Saison (Achtung Spoiler) wird deutlich, dass der Charakter Love mehr mit dem männlichen Serienmörder der Serie gemeinsam hat, als jedes weibliche Genie-Klischee. Es ist eine Wendung, die das Publikum nie kommen sieht – und ein Paradebeispiel dafür, warum "You" das Internet so geflashed hat.
Victoria war besorgt, dass die Zuschauer vielleicht nicht so sehr an einer mörderischen Liebe interessiert sein könnten, aber nachdem sie die Reaktionen online gelesen hat ("Ich will nicht zugeben, wie viel", sagt sie, "wahrscheinlich mehr, als ich sollte"), fühle sie sich erleichtert. "Es war wirklich nervenaufreibend, vor allem, weil ich ja nicht in der ersten Staffel dabei war", sagt sie. "Wenn man den Platz von jemandem einnimmt, der in den Köpfen vieler Leute eine wirklich geliebte Figur ist, wird es einen Vergleich geben. Ich hatte wirklich Angst, denn die Figur ist wirklich anders [als Beck]. Ich hatte Angst, nicht weil die Liebe nicht liebenswert ist, sondern weil es nicht die Serie ist, die sie erwarten. Es bestand die Möglichkeit, dass die Leute sie nicht mehr mögen würden, wenn sie einmal anfängt, Menschen zu töten, aber die Leute scheinen erstaunlicherweise von ihrem Charakter und diesem Wahnsinn angezogen zu sein. Die fortgeführte Diskussion ist interessant."
Und jetzt spekulieren natürlich alle, was in der dritten Staffel passieren wird. Fürs Protokoll: Victoria Pedretti weiß nichts. Aber sie kann einige populäre Fantheorien kommentieren.
Fakt Love eine Schwangerschaft?
"Glaube ich, dass sie möglicherweise lügt? Ich habe keine Ahnung. Ich habe es nicht so gespielt."
Okay, aber ist die Frau, die Joe von nebenan beobachtet, seine entfremdete Mutter.
"Er sagt: 'Hallo, du.' Warum sollte er das zu seiner Mutter sagen? Oder ist es seine Mutter und er weiß es nicht? Oder seine Mutter hat sich irgendwie aus den Gewohnheiten ihres ganzen Lebens gelöst und lebt nun in der Vorstadt?"
Da geht noch einiges
Zurückhaltung ist ein Anteil von Victoria Pedretti, denn sie ist genauso vage, wenn es darum geht, Details der zweiten Staffel von "The Haunting of Hill House" zu besprechen. Netflix hat uns Folgendes verraten: Die zweite Staffel trägt offiziell den Titel "The Haunting of Bly Manor" und wird eine ganz neue Geschichte und hauptsächlich eine neue Besetzung geben (ab sofort sind Pedretti und Oliver Jackson-Cohen die einzigen wiederkehrenden Schauspieler der ersten Staffel). Die Geschichte, die lose auf "The Turn of the Screw von Henry James" basiert, dreht sich um zwei Waisenkinder, die von einer jungen Gouvernante namens Dani, gespielt von Pedretti, betreut werden. Victoria Pedretti schließt ab: "Ich bin wirklich aufgeregt darüber. In gewisser Weise ist es intensiver als in der ersten Staffel. Auch wenn es die zweite Staffel einer Show ist, in der ich schon einmal mitgespielt habe, ist fast alles anders."
Ein Spoiler lässt sich jedoch nicht verhindern: Victoria Pedretti, eine Brünette, trägt derzeit eine bisher noch nie gesehene honigblonde Haarfarbe. Und zwar für die Rolle der Dani. Sie sagt, dass es natürlich aussieht, und fängt an zu lachen. "Ich weiß nicht, warum das für mich so lustig ist. Ich bin keine Blondine."
Die Serie umfasst noch ein paar Monate Dreh in Vancouver, ansonsten meditiert Victoria über das, was noch kommen wird. Im Moment hat sie noch keine festen Pläne, wie sich ihre Karriere im großen Ganzen abspielen wird – und genau so möchte sie es auch haben. "Es gibt eine Menge Dinge, die ich tun möchte", sagt sie. "Und: Ich habe die erstaunliche Gabe, Dinge zu tun, von denen ich nie dachte, dass ich sie tun könnte. Die Möglichkeiten dessen, was ich mit meinem Leben tun will, haben sich also um ein Vielfaches potenziert."

Text: Lauren McCarthy
Fotos: Aaron Richter
Haare: Rebekah Forecast at The Wall Group 
Make-up: by Mia Jones at The Wall Group

Du bist Fan von "You", dann interessiert dich auch das:
Elizabeth Lail aus Netflix' "You"- "Ich weiß, wie es ist, so verzweifelt geliebt werden zu wollen"