Zum Sterben glücklich: Jesse Jo Stark über Horror, Comic-Art und Support unter Musikerinnen
Im L.A. aus Trap-Beats und Pop-Starlets sticht sie heraus: Jesse Jo Starks düstere Rock-Songs handeln von Tod, Sterblichkeit und Horror und erinnern an verrauchte Clubs der 70er. Warum die 28-Jährige trotzdem nicht in der falschen Zeit geboren ist und sie keine Liebe braucht um sich ganz zu fühlen, verrät sie uns auf dem Weg zum Geldautomaten.
Normalerweise sitzen Musik-Stars aus L.A. für Interviews in der Garderobe, einem sterilen Meetingraum, maximal erwischt man sie in einem Café. Als Jesse Jo Stark den Hörer für unser Telefon-Interview abnimmt, stelle ich mir sie in eben so einem Raum vor. Eigentlich ist sie aber auf dem Weg zum Geldautomaten. Das erfahre ich jedoch erst, als zum Ende unseres Gesprächs Jesses Karte eingezogen wird – und anscheinend niemand ihr helfen will. Ziemlich unglamoröses Rock-Star Leben, oder? Die Sängerin lacht, lenkt mit einer Geschichte und überspielt das kleine Alltags-Drama gekonnt. Jesse Jo Stark ist eben nicht nur jemand, der das Image als mysteriöse, düstere und Rock-geprägte Musikerin pflegt. Sie beherrscht auch das Einmaleins der Medienwelt: Als Influencerin mit 219k Followern, Bella Hadid als BFF und niemand geringerem als Patentante Cher verbindet Jesse Jo Rock'n'Roll mit Hollywood-Glam des 21. Jahrhunderts. Im Rock-Genre hat sich Jesse innerhalb dieser Bubble trotzdem eine eigene Nische geschaffen. Mit viel Horror. So viel, dass sie doch bestimmt vor nichts mehr Angst haben sollte – oder doch?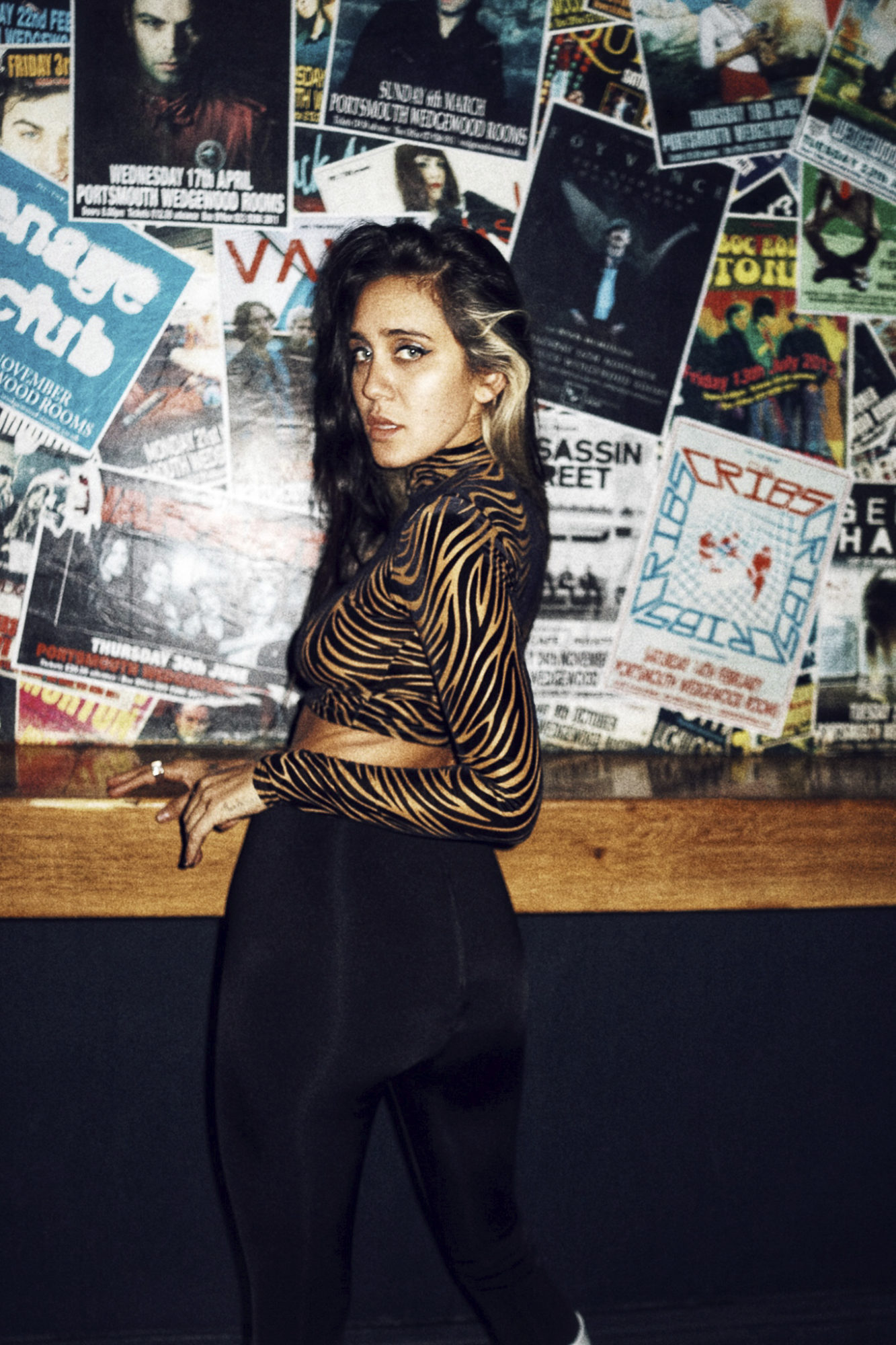 Lässt du dich leicht erschrecken?
Nein. Ich mag es, Angst zu haben, aber ich glaube nicht, dass man mir die so leicht einjagen kann.
Wovor hast du Angst?
Je älter ich werde, desto weniger kann ich mich für Höhen begeistern. Ich fahre trotzdem noch Achterbahn, aber ich würde nicht mit dem Fallschirm aus einem Flugzeug springen wollen.
Deine Songs haben Titel wie "Wish I Was Dead" oder "Rot Away". Warum spielst du gerne mit den Motiven von Sterblichkeit und Tod?
Ich mag den lustigen Twist von Begriffen und daran zu glauben, dass etwas nach diesem Leben kommt. Dass wir alle wieder beieinander sein können. Mir geht es darum, nicht so viel Angst vor dem Tod zu haben, sondern ihn eher anzunehmen. Ich liebe mein Leben und will es weiter so führen wie bisher, aber wir müssen auch lernen mit den den Dingen, vor denen wir Angst haben, umzugehen.
Also erzählen die Songs davon, wie du dich aufs Leben nach dem Tod freust?
Ja, aber es geht vor allem auch um Liebe. Es geht um Seelenverwandte, die so tief drinstecken und deren Liebe nicht durch die Dinge, die da kommen werden, beeinflusst wird. "Wish I Was Dead" ist mehr eine Art Wortspiel: Du bist an deinem Höhepunkt, du fühlst dich so am Leben, und dieses Gefühl ist so überwältigend, dass du ihm fast ein Ende bereiten willst, eben weil es so intensiv ist (lacht).
Häufig nutzen andere Künstler ja eher traditionelle Sinnbilder, um über Liebe zu schreiben. Du spielst mit Tod und Sterblichkeit da schon in einer anderen Liga.
Ich werde einfach vom Tod angezogen. Die Art, wie ich einen Menschen liebe, muss unheimlich sein. Ich bin keine hilflose "Magd", ich stelle Frauen in meiner Bildsprache an allererste Stelle. Ich will nicht darüber sprechen, wie die Liebe mich vervollständigt, ich will erzählen, wie sie mich bestärkt. Wie sie mir das Gefühl gibt, okay und genauso abgefuckt wie die andere Person zu sein.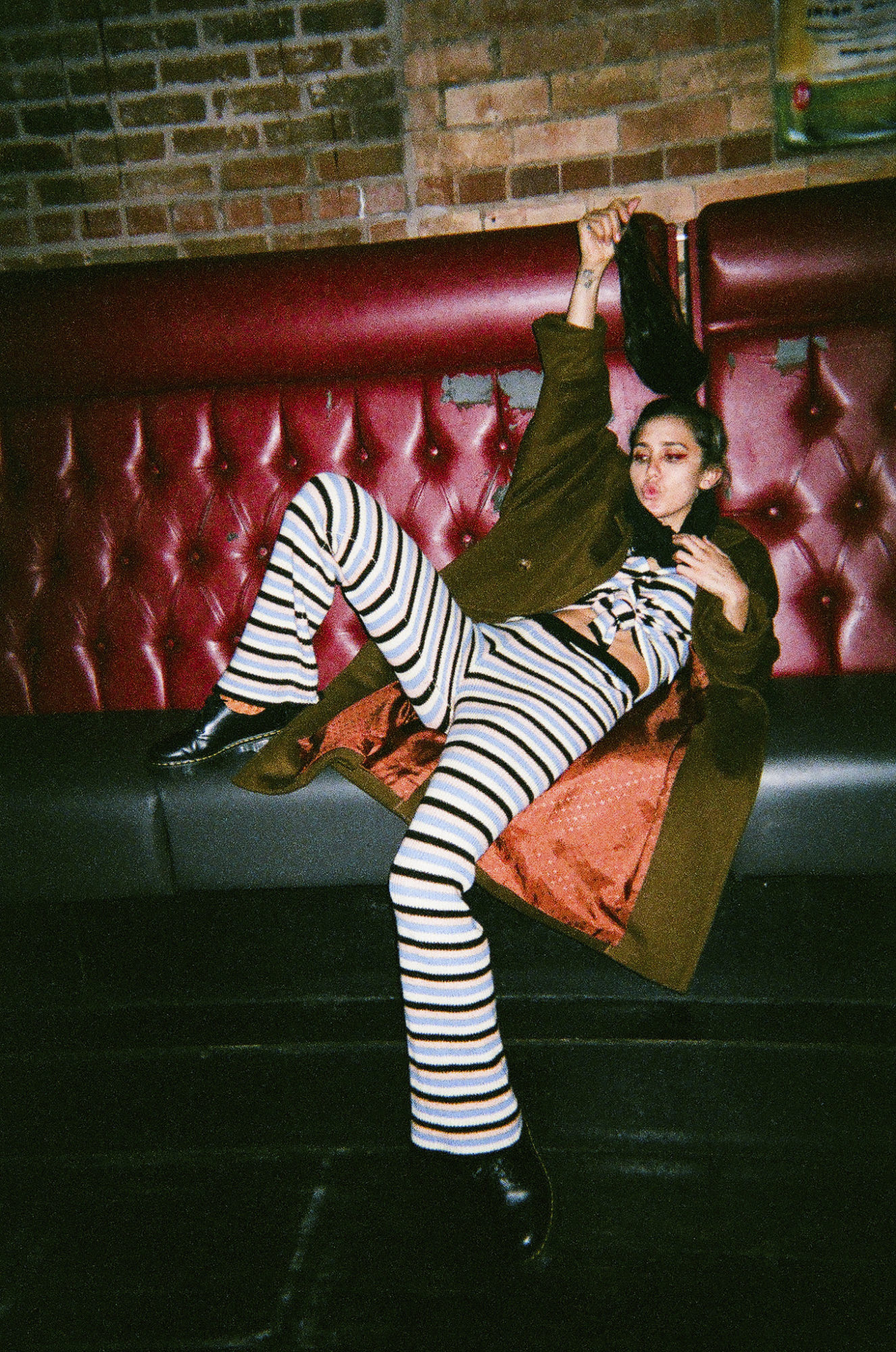 Du hast in vergangenen Interviews schon deine Begeisterung für alles Alte beschrieben und erzählt, wie geschockt zum Beispiel Uber-Fahrer sind, wenn du deine Playlist bei der Fahrt abspielst. Bist du eine alte Seele, verloren in einem jungen Körper und der falschen Zeit?
Ich fühle mich wie eine alte Seele, aber ich glaube nicht, dass ich in der falschen Zeit lebe. Ich bin anders und kann zu dieser Generation trotzdem etwas beitragen. Meine Zeit ist genau die, in der ich sein sollte. Ich finde es wichtig, dass wir alle unseren verschiedenen Wurzeln haben. Ich will nicht nur eine Stimme der Vergangenheit sein, aber ich kann mir nicht helfen, davon inspiriert zu werden. Country und Rock fühlten sich damals so viel realer an als jetzt, und deshalb ist es eher diese Musik, die ich bei der Autofahrt abspiele, anstatt der neuesten Top 40 Charts. Das bedeutet nicht, dass ich die Sachen von heute nicht respektiere, aber sie haben für mich keine Langlebigkeit, weil wir Angst davor haben über das, was wir wirklich denken und fühlen, zu schreiben.
Was ist die Story hinter den Comic-Artworks deiner Cover?
Ich liebe Bilder und mache ungefähr eine Million Fotos. Ich liebe Bilder von mir selbst, gleichzeitig habe ich aber auch das Gefühl, dass wir uns mit Bildern von uns selbst überfrachten. Artworks begeistern mich und bin fasziniert von Menschen, die malen können – ich kann das nicht, ich bin keine gute Illustratorin. Aber ich habe diese Künstlerin online kennengelernt – wir haben uns noch nie gesehen, ich glaube sie lebt in Deutschland – und ich war besessen von ihrer Arbeit. Ich gab ihr also eine ziemlich klare Beschreibung meiner Vorstellungen und sie wusste sie exakt umzusetzen. Ihr war klar, dass ich eher durch die Illustration repräsentiert sein wollte als nur durch ein hübsches Foto von mir.
Das ist so typisch für unsere Zeit – du hast jemanden online gefunden, aber trotzdem ein Vintage-inspiriertes Kunstwerk erschaffen.
Für mich ist das die gute Seite von Social Media: Ich habe jemanden getroffen, den ich auf der Straße niemals kennengelernt hätte. Wir sind ein kreatives Match. Und Teil des gleichen Hub.
Du hast den Song "My Heart's On Fire" im Alter von nur 10 Jahren geschrieben. Welche Spuren dieses Songwritings finden wir heute noch in deiner Musik?
Mein Song "Fire Of Love", den ich 2017 veröffentlicht habe, ist eine Art Erweiterung dieses Songs. Mit der Zeit wurde meine Stimme deutlicher und entwickelte sich. Meine Poesie hat sich auch entwickelt und ich schreibe nun mit tiefgründigerem Maßstab. Komischerweise nutze ich aber noch immer dieselben Gesten und Symbole, die ich in meinem ersten Song verwendet habe.
Was würdest du mit deinem zehnjährigen Selbst besprechen?
Ich habe den Eindruck, dass man anders liebt, wenn man sehr jung ist – man weiß nicht wie, aber es ist irgendwie anders. Aber vermutlich würde ich mein jüngeres Selbst heute fragen: "Warum bist du so furchtlos?"
Zurück also zum Thema Angst: Welches konkrete Thema glaubst du versetzt unsere Gesellschaft gerade in Angst und Schrecken?
Wir fühlen uns nicht mehr sicher. Frauen werden heutzutage auf jeden Fall mehr denn je herausgefordert. Es gibt wieder Angst in der Welt. Nicht, dass sie jemals wirklich verschwunden wäre, aber ich glaube, das besonders Frauen sich wieder vermehrt gefährdet fühlen. Mir ist aber aufgefallen, dass immer mehr Männer für uns Partei ergreifen. Außerdem fühlt sich die junge Generation gerade bestärkt. We don't wanna be fucked with. Aber ich schätze, jemand musste das Biest in uns erwecken.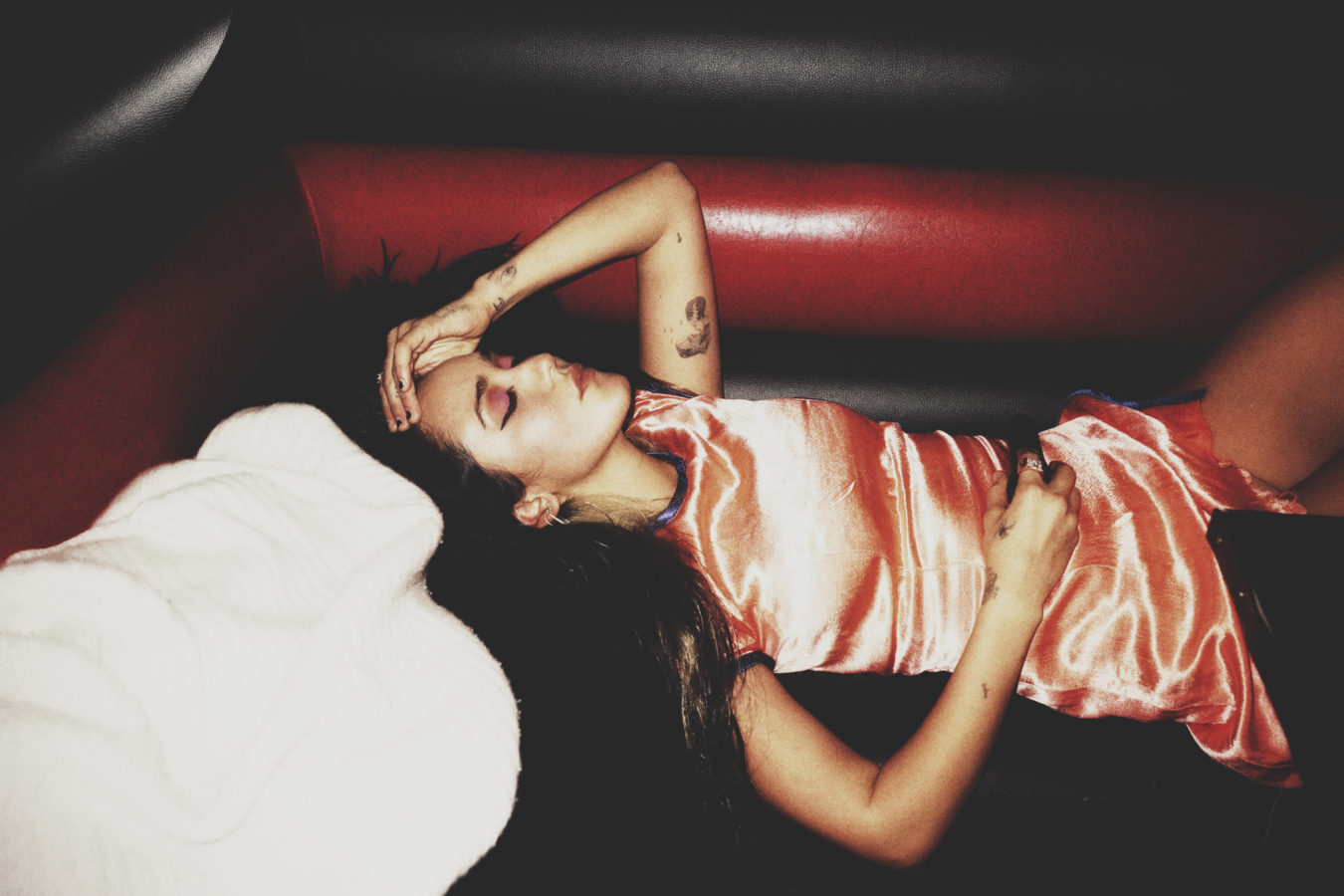 Wenn man über dich recherchiert, findet man viel zu anderen Personen, mit denen du in Verbindung gebracht wirst: Deine Patentante Cher, deine beste Freundin Bella Hadid…siehst du diese Verbindung eher als Vorteil oder als Blockade für deine Karriere?
Beides. Ich glaube, Menschen haben das Bedürfnis zu wissen, woher jemand kommt. Aber dann fragen sie nie direkt danach. Ich bestehe nicht aus den Leuten, die ich kenne. Meine Familie und ihre Erziehung haben mich zu mir selbst gemacht. Wenn mich aber Menschen nach anderen Personen in meinem Leben fragen, gehe ich damit offen um, ich schüre da keinen Hass.  Es gibt noch so viele andere Dinge, die zu einer Person gehören. Nur weil man jemandem aus dem Umfeld einer Person kennt, heißt das nicht, dass man auch sie kennt. Manchmal müssen die Leute aber eben an etwas festhalten.
Was sind deine besten Eigenschaften als Mensch oder Freundin?
Für mich ist es wichtig, dass sich alle, aber besonders Frauen, gegenseitig unterstützen. Bella always had my back, war immer für mich da und wir haben niemals die Karriere der jeweils Anderen beeinträchtigt. Auf Tour mit Sunflower Bean war es mit ihrer Sängerin Julia das Gleiche: Sie ist jünger als ich, hat mich aber mit offenen Armen empfangen. Das ist wichtig, besonders unter Musikerinnen. In Freundschaften sollten wir niemanden zurückzuhalten.
Wie nehmen deine Freunde deine Musik wahr, wenn sie selbst vielleicht nicht Fans von solchen Songs sind?
Niemand schmiert jemandem Honig ums Maul. Meine Musik ist sehr spezifisch, sie ist nicht wirklich Pop. Ich habe aber viele Freunde, die gerne…Pop hören. Meine Freunde unterstützen mich sehr, aber ich finde es toll, wenn sie mich kritisieren. Ich mag es nicht, wenn jemand ständig nur sagt, wie großartig ich mich schlage. Wir müssen alles wahrnehmen und die Wahrheit akzeptieren.