Marc Jacbos lernt Autofahren & Balenciaga-Liebe: Fashion News der Woche
Falls ihr dachtet, ihr seid schlecht im Autofahren: Wartet, bis ihr Marc Jacobs gesehen habt. Außerdem sehen wir Balenciaga-Liebe, gucken heimlich verliebten Paaren zu und gehen für eine Kunst-Collab ins New York der 80er. Hier kommen die Fashion News der Woche!
Balenciaga-Liebe: Pariser Lover auf dem Überwachunsgvideo
Das ist Balenciaga-Liebe: Stellt euch vor, ihr sitzt in einem Wartezimmer, ein weiterer Besucher kommt rein, setzt sich neben euch, nimmt einfach eure Hand. Stellt euch vor, ihr steht mit einer Person im Aufzug, auf einmal küsst sie euch. Stellt euch vor, ihr fangt an, an der Supermarktkasse an, randomly. Ungefähr so geht es den ProtagonistInnen der neuen Winter-Kampagne 2019 von Balenciaga. Der Unterschied: Die Menschen im Kollektionsfilm sind einander doch nicht ganz so fremd, sondern Real-Life-Paare aus Paris. Der Überwachungskamera-Stil soll eine Art Rollenspiel simulieren, in der sich die Models beobachtet fühlen, aber trotzdem offen mit ihrer Zuneigung sind. Unterlegt sind diese Bilder mit Zitaten, in denen die jeweiligen DarstellerInnen ihre Emotionen beschreiben und Beziehungen kategorisieren. Und irgendwie funktioniert der Voyeurismus-Effekt hier so viel besser, als in jeder Reality-Show. Ach ja, die neue Balenciaga-Kollektion sehen wir ganz nebenbei übrigens auch. Und die beweist, dass man in O-shaped Oversize-Mänteln auch wunderbar in Parkhäusern rummachen kann. Und immer seine kleine B-Bag dabei haben sollte. Falls ihr euch das mal gefragt habt.
Marc Jacobs: Designer lernt Auto fahren – und kauft direkt eins
Zugegeben, ob man das Video zu Marc Jacobs' Fahrstunden nun schrecklich finden soll oder einen Lachflash haben will, ist nicht ganz klar. Unterhaltsam sind die fünf Minuten von "Marc Jacobs Is Learning To Drive and Buys A Car" aber in jedem Fall. Der Designer (in einem schon jetzt ICONIC Look aus pinkem Jogginganzug, Adiletten und orangenem Bucket Hat) startet im Video mit Freund und Begleiter Nick in eine seiner zweifellos ersten Fahrstunden. Dass Jacobs dabei das Anschnallen vergisst oder sich nicht wirklich in der Lage sieht, nach Hindernissen Ausschau zu halten, scheint ihn nicht von seiner grundsätzlichen Begeisterung fürs Leben hinterm Steuer abzuhalten. Wie sonst wäre es zu erklären, dass sich der Designer direkt im Anschluss an die Fahrstunde ins Autohaus von Porsche (dezent!) begibt und überlegt, welches Auto er in welcher Sonderausstattung gestalten und kaufen könnte. Und auch wenn Marc Jacobs hier dann wieder voll in seinem Element ist, wären so ein bis zwei Übungsstunden vor dem Kauf vielleicht doch nicht so schlecht. Oder gleich so 325. Aber seht selbst!
H&M lanciert zum ersten Mal eine Kollektion mit einer chinesischen Designerin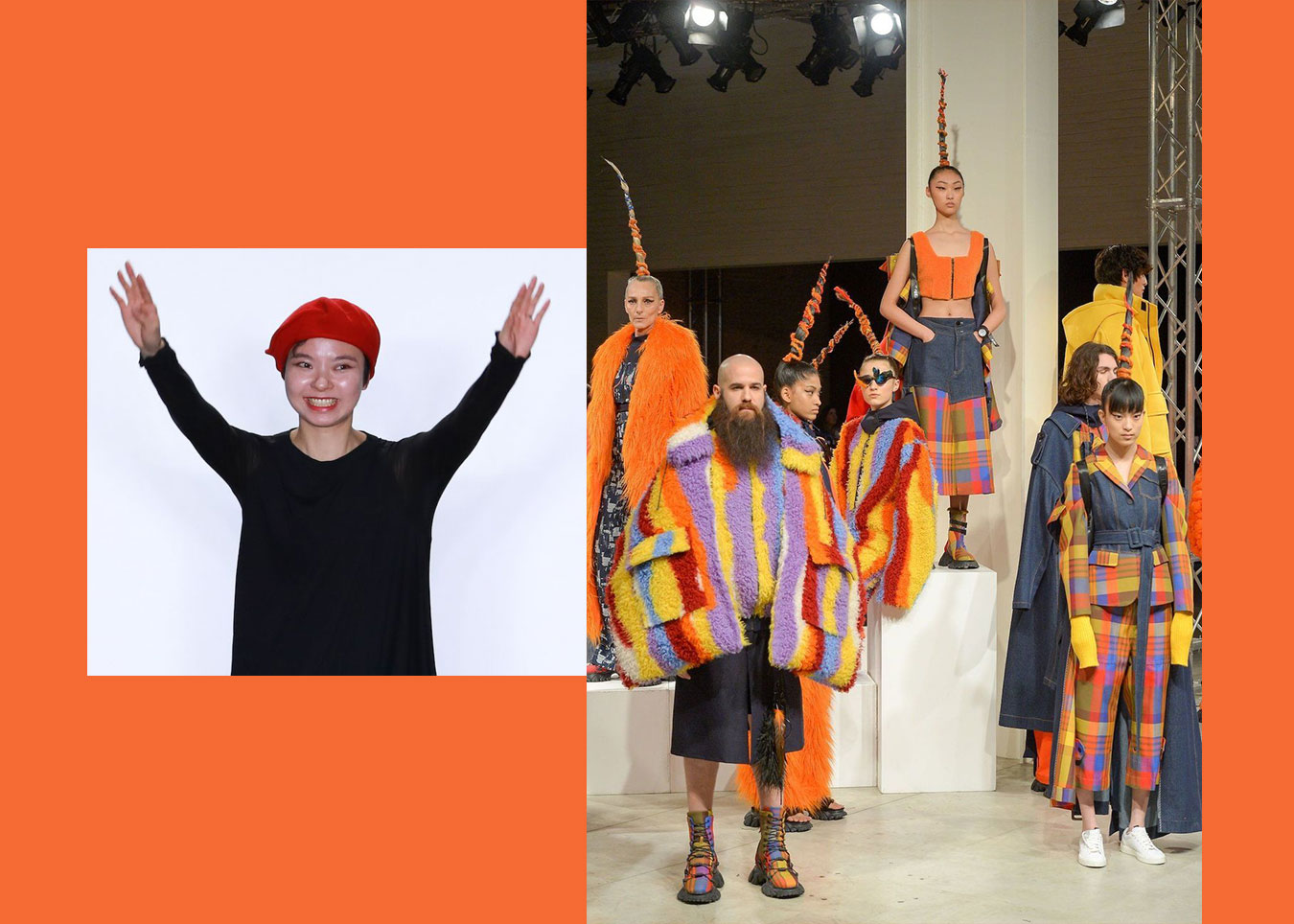 Bilder: Mark von Holden/WWD/Shutterstock (links), Davide Maestri/WWD/Shutterstock (rechts) via NYLON.com 
Die Liste der Marken-Collabs von H&M ist mittlerweile so lang, dass es ziemlich überraschend ist, darunter bisher noch keine chinesischen Designer gefunden zu haben. (Aber then again, White Privelege). Laut WWD gibt aber nun Angel Chen als erste Designerin den Startschuss in diesem Feld. Für ihre im Herbst erscheinende Linie war es Chen wichtig, chinesische Kultur und die Idenität ihrer Marke zu reflektieren. In Nicht-PR-Sprache bedeutet sowas, dass Chen gefeierte Looks aus ihrem Archiv mit neuen Farben, Materialien und Details versehen hat, darunter Elemente wie Pinienbäume, Bambus, Drachen und Kraniche. Ein Beispiel an der Materialfront ist ein Bodysuit aus 100 Prozent recycletem Mesh-Stoff. Chen wollte nämlich ebenfalls darauf achten, ihre Marke auch bei H&M mit Nachhaltigkeit zu verknüpfen. Die bunten Farben, großen Silhouetten und wilden Prints ihrer letzten Kollektionen schließt das aber sicherlich nicht aus. Und wenn wir die aktuelle Hitze überleben, freuen wir uns auch noch im September darüber – wenn die Kollektionen in den Stores eintrifft.
Watching Basquiat: Rucksack-Hommage an den Künstler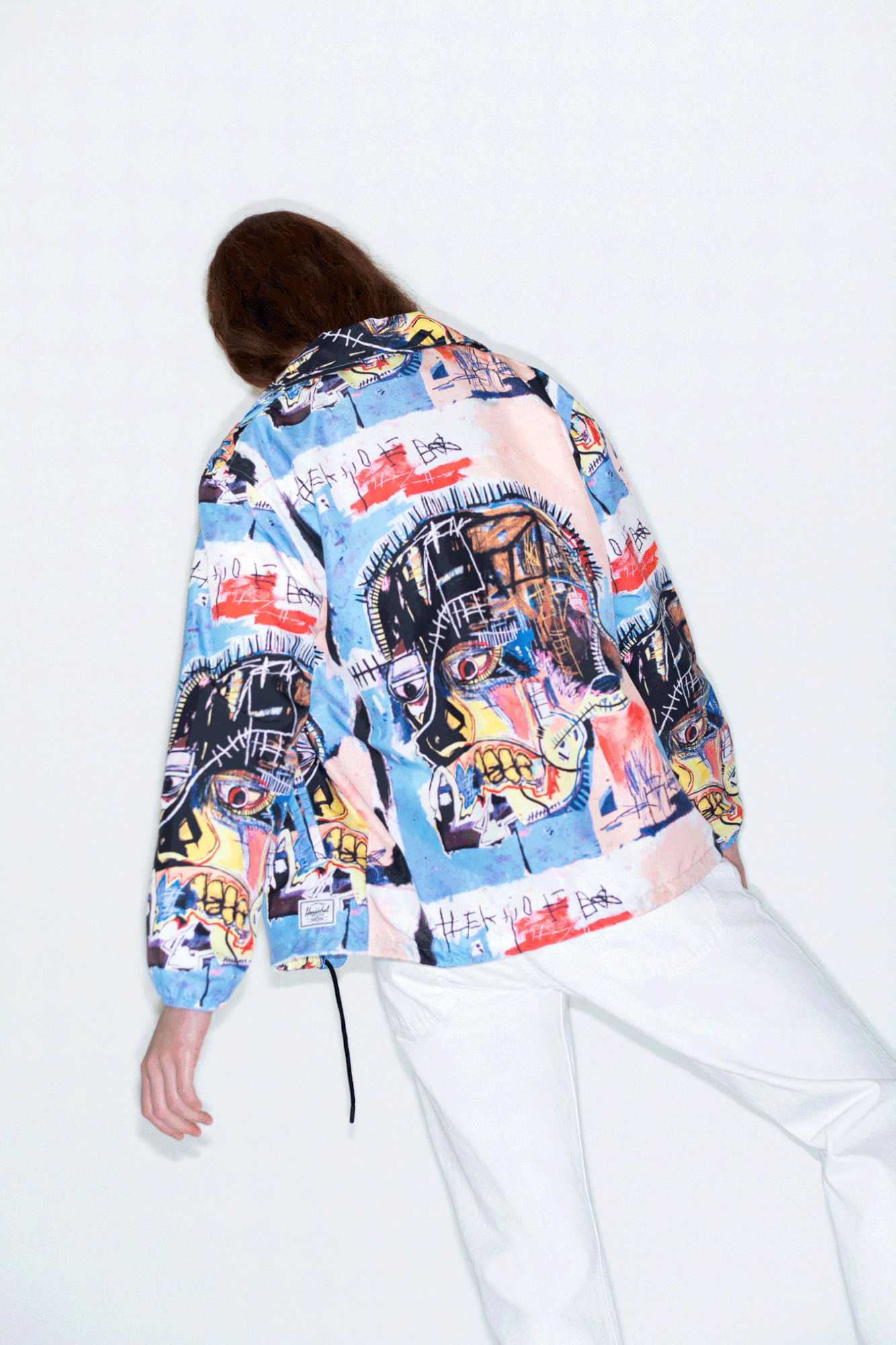 Denkt man an prägende New Yorker Künstler wie Andy Warhol oder Keith Haring, kommen auch irgendwann die an ihre Kunst angelehnten Modedesigns in den Sinn. Und nun darf sich ein weiterer Kollege in diese Reihe eingliedern: Jean-Michel Basquiat. Die vor allem für ihre Accessoires bekannte Marke Herschel widmet dem 1988 verstorbenen Künstler eine ganze Basquiat-Kollektion. Dazu werden seine Kunstwerke "Untitled (Scull/Skull)" von 1981, "Now's The Time" (1985) und "Per Capita" (1981) auf Signature Styles der Marke angewandt. Dazu zählen unter anderem Reisetaschen, Apparel wie eine Jacke oder T-Shirts und weitere Accessoires. Basquiat war im New York der 1980er einer der prägendsten Künstler. Gerade neben seinem Kollegen Keith Haring war er für politisch-poetische Graffiti und starke Farbwelten bekannt. Ob die nun für jeden tragbar sind oder sich ihr künstlerischer Wert im täglichen Outfit verändert, bleibt eine andere Frage. If only Basquiat was around to answer…
Was neben Balenciaga-Liebe und Basquiat-Hommage sonst noch so passiert ist…
Warum Nuras Auftritt mit "House of St. Laurent" auf dem Splash! mehr als ein Statement war
Beyoncés Kostüme sind Preis-nominiert, Zara wird nachhaltig & Billie Eilish zum Model: Fashion News der Woche
FaceApp Challenge: So sehen die NYLON Cover Stars (in) der Zukunft aus