Warum Nuras Auftritt mit "House of St. Laurent" auf dem Splash! mehr als ein Statement war
HipHop als Safe Space für die queere Community? Say what?
Rapperin und NYLON-Coverstar Nura hat das wohl mutigste Statement in 22 Jahren Splash! Festival gesetzt und die HipHop Community mit einer ungewöhnlichen Show aus der Komfortzone gesprengt. Gemeinsam mit dem queeren Voguing-Kollektiv House of St. Laurent schob sie zum Ende ihrer Show eine bunte Performance der Liebe ein und verwirrte damit so manchen Scheuklappen-HipHopper. Oder sollen wir lieber sagen, provozierte?
Die HipHop-Community gilt immerhin als nicht sonderlich d'accord mit der LGBTQ+ Szene. Das soll sich aber ändern, finden die Künstler, die sich aktuell im Rahmen der BETRUE-Initiative mit Nike, in der auch unser Freund Riccardo Simonetti mitwirkt, für mehr Sichtbarkeit und Gleichberechtigung für die Queer-Community einsetzen.
Der Splash!-Auftritt ist für uns jetzt schon legendär. Deshalb haben wir uns mit Nura, Georgina aka Mother Leo St. Laurent und Arigato vom House of St. Laurent verabredet. Wir wollten mehr über die Intention hinter der Show und über den Status Quo der Voguekultur wissen. Let's go!
Ihr seid mit dem House of St. Laurent Europe Teil der internationalen Ballroom-Szene. Ballroom startete als Subkultur vor über 40 Jahren in New York – gerade etabliert sich Voguing aber auch in dem Mainstream, nicht zuletzt durch die Netflix-Serie "Pose". Wie seht ihr den Status-Quo der Ballroom-Kultur? 
Georgina: Ich bin als Pionierin in Deutschland hier. Ich selber habe den Tanzstil 2008 in New York kennengelernt und 2012 nach Deutschland gebracht. Die Ballroom Subkultur gibt es also schon länger und der Mainstream ist wie immer etwas late, aber wir sind dort angekommen. Mal wieder angekommen. Es war ja irgendwann in den 90ern durch die Doku Paris is Burning sowie Madonnas Single Vogue und Malcom McLarens Song Deep in Vogue schon mal ein Hype. Auch ab 2012 wurde Ballroom nochmal ein Thema zum Beispiel durch Madonnas Superbowl Show. Und es ist schön zu sehen, wie das Künstler wie Nura auch heute wieder bzw. noch ernst nehmen und uns so wie wir sind in ihre Show einbaut.
Nura: Der Status ist ausbaufähig. Ich denke heute nach diesem Festivalauftritt von uns gehen sehr viele Leute nach Hause und reden über Voguing. Einige wissen vielleicht noch überhaupt gar nicht, was das ist und müssen es googlen. Und vielleicht ist da auch der ein oder andere dabei, der gerne posiert und für den Voguing sogar etwas ist. Und dann informiert er sich und folgt Menschen aus der Szene in den sozialen Medien. So hat es auch bei mir angefangen und die Subkultur wird sich auch genau so weiter etablieren. Auch in Deutschland. Obwohl hier alles etwas länger braucht. Wir Deutschen sind eigentlich immer pünktlich, aber was so etwas angeht, sind wir noch bisschen spät dran.
Voguing ist Gender-Ausdruck, Freiheit, Enttabuisierung… Was ist es für euch?
Georgina: Die Ballroom-Kultur, zu der Voguing gehört, ist ein Universum für sich alleine, ein Support- und Empowerment System und auch ein Überlebenssystem für Menschen, die sonst abrutschen würden. Es geht also über die persönliche Selbstdarstellung hinaus. Es ist Community und Zusammenhalt. Gleichzeitig aber auch Competition. Es macht einen super tough. Und man muss schon tough sein und zu sich stehen, denn da draußen wird die Mehrheit nicht zu dir stehen.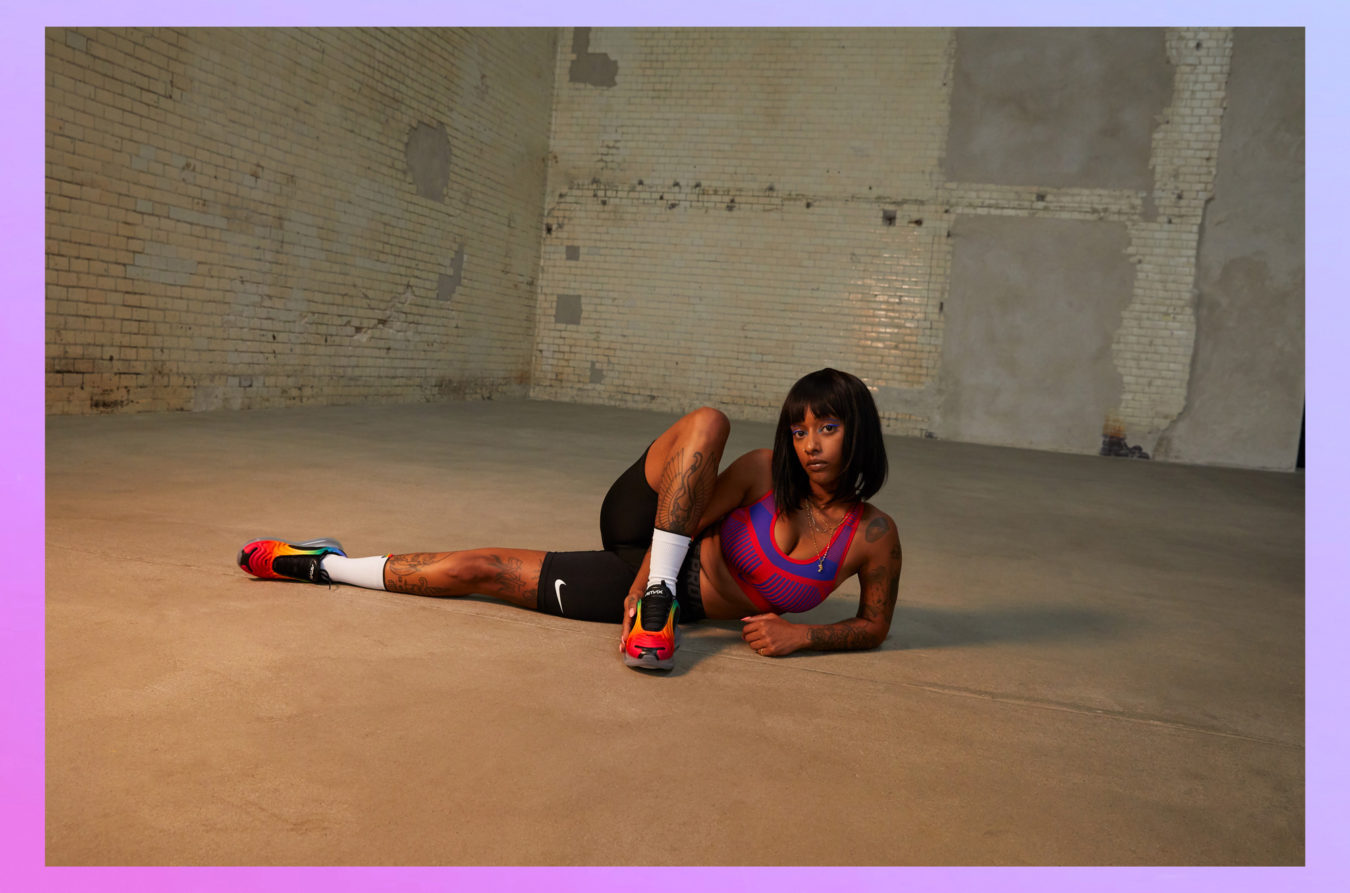 Arigato: Es war damals ein Überlebenskampf sowie Überlebenskunst. Und natürlich ist es auf jeden Fall eine Art, mich auszudrücken. Und die Community ist meine Ersatzfamilie. Für mich ist Voguing aber auch ein Lifestyle bzw. einfach mein Leben. Es gibt so viel Diskriminierung und Ausgrenzung von Menschen verschiedenster Herkunft, Hautfarben und Gender und die Ballroom Community schafft einen Raum, in dem das nicht toleriert wird. Was man wissen und sich bewusst werden sollte ist, dass in der Ballroom Community gewisse Regeln gelten und dass man sich schlau machen sollte, bevor man ein Teil davon werden will.
Nura: Voguing für mich vor allem Sicherheit. Ein Safe Space. Die Leute in dieser Subkultur feiern dich so wie du bist und du kannst nichts falsch machen. Egal was ist, du kannst dich fallen lassen und wirst aufgefangen. Voguing ist Zusammenhalt, Stärkung und ein Sicherheitsgefühl.
Nura, du setzt dich sehr für die Berliner LGBTQI+ – Szene ein. Gibt es einen konkreten Auslöser/Vorfall, weswegen du dich so sehr für die Szene und mittlerweile auch für die Ballroom-Kultur engagierst?
Nura: Es passieren dauernd Dinge, die mich dazu bringen, mich für die Szene einzusetzen. Seit wann das so ist, kann ich nicht sagen. Gefühlt schon immer. Am Anfang weißt du ja nicht, dass du selber Teil dieser Szene bist und denkst, wer bin ich eigentlich? Und dann sprichst du darüber und es nimmt alles seinen Lauf. In der Ballroom-Kultur bin ich eine Newcomerin. 2012 habe ich in einem Berliner Skatepark gechillt und auf einmal kamen schwarz angezogene Menschen mit einem Ghettoblaster und haben angefangen in einer Halfpipe zu voguen. Das war Georginas Gruppe. Damals noch House of Melody. Erst letztes Silvester habe ich sie wiedergesehen und da dachte ich, wir müssen was machen, ich möchte das unterstützen. Für mich ist das selbstverständlich.
Georgina und Arigato, ihr habt es euch als Teil von House St. Laurent Voguing zur Aufgabe gemacht, die Community zusammenzuführen. Was ist euer Antrieb und wer sind deine "Kids", Georgina?
Georgina: Ich bin die "Mother" des Hauses und in dem "House" sind alle meine "Kids", ich sehe uns alle jedoch auf Augenhöhe, obwohl ich in der Führungsposition bin. In der Ballroom-Struktur gibt es eine Familienstruktur und wie in jeder Familie gibt es Verpflichtungen und jeder muss sich einbringen. Der eine putzt, die andere kocht und jeder bringt noch so seine eigenen Projekte mit. Meine Aufgabe ist es, alle zu unterstützen und die Familie zusammenzuhalten.
Arigato: Ich habe mir als Teil des Houses zur Aufgabe gemacht, schwache Leute, damit meinte ich Leute, die in der queeren Community nicht viel zu sagen haben oder gerade neu nach Berlin oder in die Community gekommen sind, eine starke unabhängige Stimme zu geben. Ich merke immer mehr wie sich die Community bekämpft und dafür haben unsere Vorgänger nicht gekämpft. Sie haben für Gleichheit und Gerechtigkeit gekämpft und nicht für Ausgrenzung und Klassifizierung gegenüber der Community. Wenn ich Community sage, meine ich alle nicht typischen CIS weißen heteromativen Menschen – ich rede hier über Leute, die für das Wohl der LGBTQ+ Community kämpfen. Wie schon Georgina sagt: Jeder bringt seine eigenen Stärken, Anregungen, Ideen, Vorschläge und Projekte vielleicht aber auch Probleme und Schwächen mit rein. Somit kann man an allen Ecken und Kanten arbeiten, denn wo es Schwächen gibt, gibt es auch Stärken. Wo es Probleme gibt, gibt es auch Lösungen.
Welche Message möchtet ihr mit eurem Auftritt an alle raushauen?
Nura: Kümmert euch um Schwächere, kümmert euch um Menschen, die ihre eigene Stimme nicht laut machen können. Guckt über den Tellerrand und achtet auf andere. Zeigt Toleranz. Sprecht Ungerechtigkeiten an und handelt. Vergesst dabei nie, dass ihr eine Stimme habt. Es ist 2019, das Zeitalter der sozialen Medien. Informiert euch, damit ihr Empathie zeigen könnt.
Der Auftritt heute war ein Statement. Vor allem im teilweise sehr sexistischen und homophoben HipHop. Seht ihr da eine positive Entwicklung?
Nura: Erst einmal, super schade, dass so ein Statement nach 22 Jahren Splash!-Festival erst jetzt kommt. Aber es entwickelt sich überall etwas. Lil Nas X hat sich gerade geoutet und alle singen seinen Outing Song C7osure. Frank Ocean ist ein akzeptierter schwuler Künstler in der Szene. Trotzdem hat Lil Nas X auch einen Shitstorm bekommen und ein Teil seiner Fans wollte den Song nicht mehr hören. Das ist in meinen Augen lächerlich, der Song ist ja noch der Gleiche. Aber daran sieht man, dass die Szene ähnlich wie die Gesellschaft auch noch braucht. Da muss noch einiges passieren.
Georgina: Es gibt eine Community im HipHop, die queer ist, aber die ist im Mainstream noch nicht angekommen. Da tut sich aber was. Ich denke, bisher spielt Angst noch eine große Rolle. Die Angst vor dem Outing und vor Intoleranz. Aber es gibt genügend Menschen, bei denen man Rat und Hilfe bekommt und die sich für dich stark machen. Zum Beispiel im Ballroom. Und so kann man gemeinsam etwas verändern.
Word. Da sind wir dabei und sagen: Weiter so! <3
In Kooperation mit Nike.