TikTok Star goes High Fashion & ein französischer Red-Carpet-Moment: Die Fashion News der Woche
In dieser wurde der Eiffelturm auf den Red Carpet verschleppt, ein TikTok Star zum Gesicht einer Luxusmarke und die neue Miss Universe kämpft gegen Gewalt an Frauen. Außerdem versorgen uns Rihanna und Alexa Chung mit banging Designer-Looks.
TikTok Star goes High Fashion: Noen Eubanks wird das Gesicht von Celine
Fotos von Hedi Slimane via NYLON.com
TikTok bringt mittlerweile genau so erfolgreiche Social Media Influencer hervor wie Instagram – und die wiederum sind mindestens genauso umschwärmt wie typische Promis oder Models. Das hat auch die französische Luxusmarke Celine erkannt und macht deshalb jetzt den 18-jährigen TikTok-Star Noen Eubanks zum Gesicht der neuen Kampagne. Gar nicht dumm, liebes Celine-Team, denn das wird sicherlich viele Teens da draußen zu potentiellen Kunden machen – wenn sie sich's denn leisten können. Noen kann sich vor Liebeserklärungen nämlich kaum retten.
Wer nicht selbst schon einer der 7,5 Millionen (!) Follower von @noeneubanks ist, dem sei hier ein kurzer Input gegeben, womit Noen zum TikTok Idol wurde: Er ist einer der Pioniere des "E-Boy"-Trends. Heißt, er inszeniert eine exzentrische Modeauswahl in in Lip-Sync-Videos. Übrigens: E-Boys und -Girls haben die Teen-Kultur derart beeinflusst, dass sie häufigsten Suchbegriffe in den Google-Jahresendlisten für 2019 waren. Ganz klar also, dass sich die Modewelt dieser Entwicklung immer mehr anpassen muss. Der erste Schritt bei Celine ist getan. More to come!
Französischer Red-Carpet-Moment: Der Eiffelturm ist Timothée Chalamets neues Lieblingsaccessoire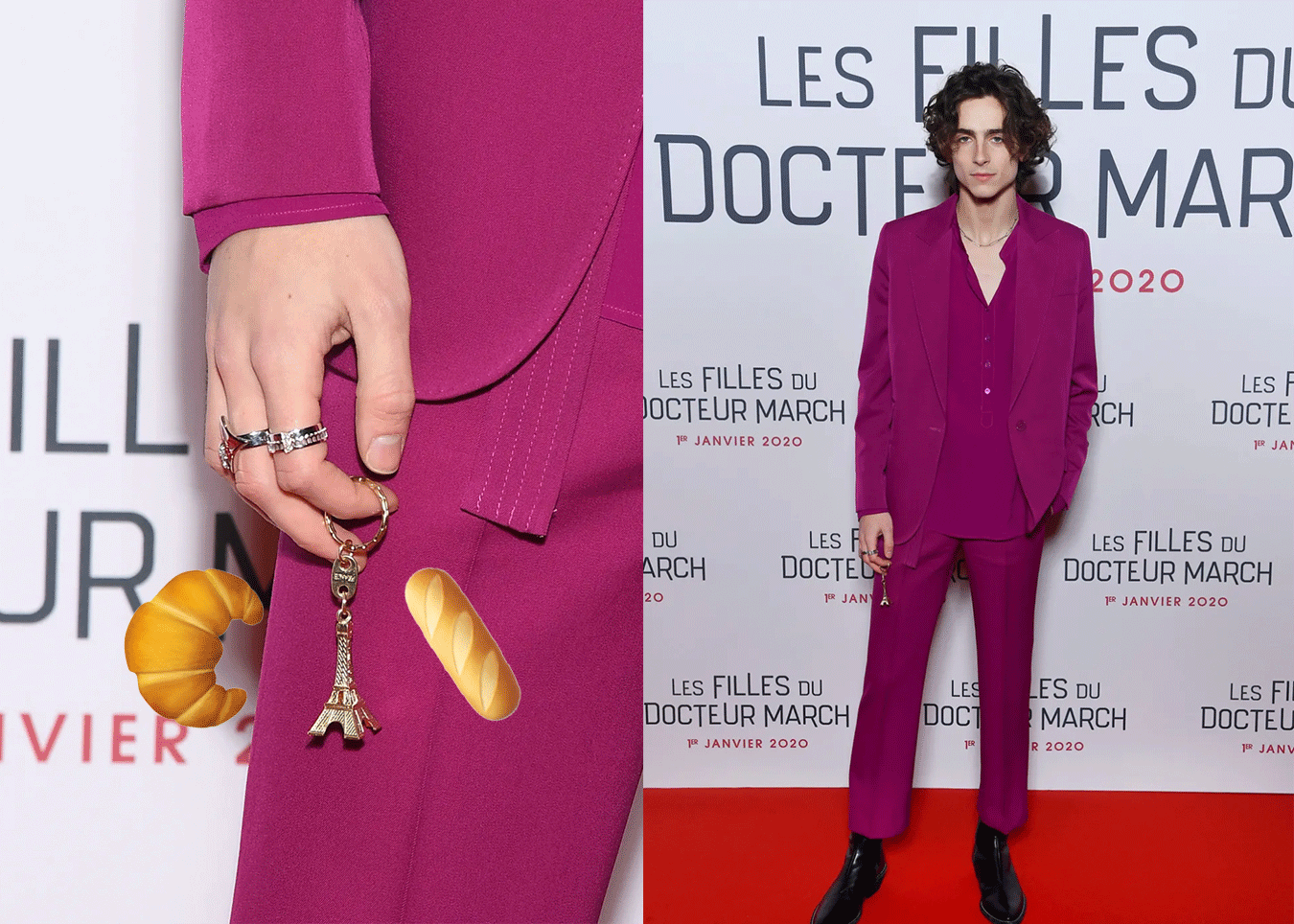 Fotos von Stephane Cardinale/Corbis/Getty Images via nylon.com
Hallo na, Timothée Chalamet – oder sollten wir besser sagen Bonjour Timothée Chalamet? Bei der Promotiontour zum Film "Little Women" in Frankreich hat der US-amerikanische Schauspieler kurzerhand das Pariser Wahrzeichen, den Eiffelturm, in Form eines Schlüsselanhängers zum neuen Trend-Piece gekührt. Schade, dass in diese "Handtasche" wohl noch weniger passt als in die Tiny Bags, die von Stars wie Lizzo in letzter Zeit so fleißig auf den Roten Teppichen ausgeführt werden. Gut, alltagstauglich sieht anders aus, aber eben auch weniger unterhaltsam. Wir fragen uns, ob sich nicht vielleicht sogar ein tiefsinniger Grund oder lustiger Insider hinter dem Accessoire verbirgt? Werden wir wohl nie erfahren. Bei Timothée können wir uns jedenfalls immer darauf verlassen, dass seine Looks überraschen. Er soll übrigens tatsächlich sein eigener Stylist sein – if so, you go, bro!
"Natürliche Schönheit und keine Gewalt!": Die Südafrikanische Miss Universe setzt sich für Frauen ein
Sieh dir diesen Beitrag auf Instagram an
Es ist wohl nicht abzustreiten, dass Schönheitsauszeichnungen wie die der "Miss Universe" die wettbewerbsgewordene Oberflächlichkeit sind. Es kommt aber auch eben immer darauf an, was man aus diesen Veranstaltungen macht und vor allem, wie man die neugewonnene Aufmerksamkeit der Gesellschaft nutzt. So gar nicht oberflächlich scheint beispielsweise die frisch gekührte "Miss Universe 2019" Zozibini Tunzi zu sein. Sie macht sich für ihr Geschlecht stark – aus ganz persönlichen Gründen. Die 26-jährige Aktivistin kommt aus Südafrika, einem Land, in dem extrem hohe Gewalt gegen Frauen herrscht. Das soll nun endlich vorbei sein. Außerdem ist sie eine "stolze Verfechterin natürlicher Schönheit" heißt es auf der Internetseite des Wettbewerbs. Tolle Ziele, finden wir, und sind umso gespannter, welche Taten folgen.
Fenty x A Sai Ta: Rihannas erste Designer-Kooperation
Sieh dir diesen Beitrag auf Instagram an
Rihanna haut nicht nur mit ihrer Musik unvergessliche Meisterwerke raus, sondern auch mit ihren eigenen Labels "Fenty Beauty" und ihrer Modemarke "Fenty". In der neuesten Fashion-Linie kooperiert sie mit einer ihrer absoluten Lieblingsbrands: A Sai Ta. Einen Teil des Ergebnisses seht ihr in den Bildern oben – einen anderen haben aufmerksame RiRi-Fans schon auf ihrem Insta-Account erspäht (siehe unten). Bis jetzt sind verschiedene Tops und Kleider in Bodycon-Batikoptik erhältlich. Und, dürfen wir euch bitte nochmal auf die sweeten Rüschendetails aufmerksam machen? Ihr könnt euch vorstellen, dass man sehr schnell sein muss, wenn man eins der Pieces ergattern will. Wer den exklusiven Verkauf der 24-teiligen Kollektion im Selfridges in London ganz zufällig verpasst hat, kann bis Sommer 2020 auf weitere Teile der Capsule Kollektion hoffen – ein Reminder von uns folgt, keine Sorge!
Sieh dir diesen Beitrag auf Instagram an
Haben sich gesucht und gefunden: Barbour und ALEXACHUNG kooperieren weiterhin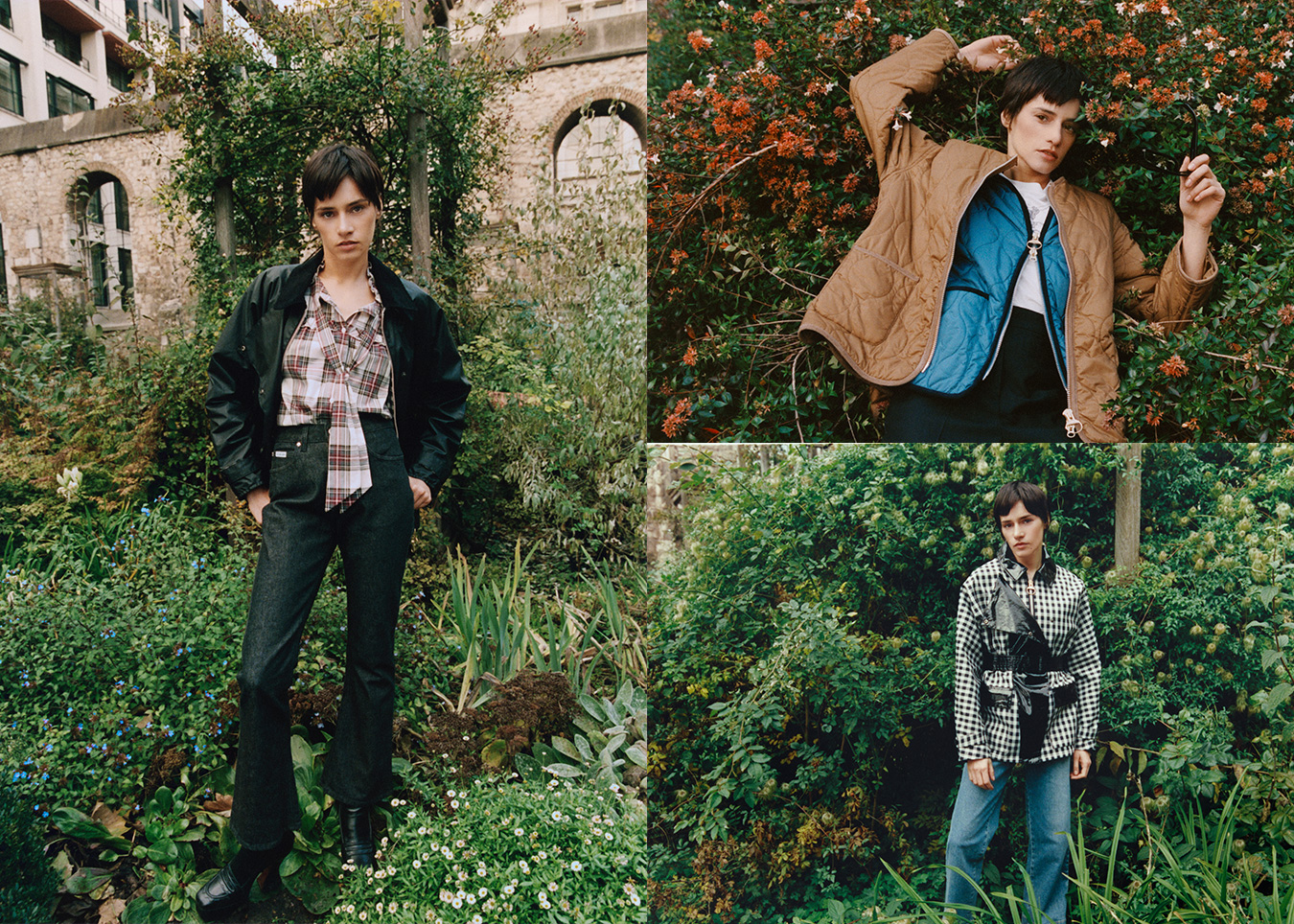 Fotos: PR
Kennt ihr diese Pärchen, von denen man sich einfach sicher ist, dass die sich niemals trennen werden? Ungefähr so wirken auch die Mode-Lovebirds Barbour und ALEXACHUNG. Das scheint einfach zu passen – deswegen gibt's eine neue Kollektion der britischen Labels. Sie ist bereits jetzt erhältlich und versorgt uns im kommenden Frühjahr und Sommer mit Pieces unter dem Motto "For town and country", also für Stadt- sowie Landleben. Die Kleidungsstücke lass sich kurz und knapp so beschreiben: typisch britisch meets feminine – und, na klar, der iconic Style von einer der allerersten Mode-Influencerinnen Alexa Chung ist deutlich sichtbar. Hoffentlich hält diese Collab-Liebe für immer!
Titelbild: Stephane Cardinale/Corbis/Getty Images via nylon.com
Wenn dich Themen wie der TikTok Star interessieren, geht's hier spannend weiter:
5 weibliche Charaktere aus Teenie-Serien, die ihr eigenes Spin-Off verdienen
Der blanke Horror: Wieso werden Teenie-Serien immer düsterer?
Letter to Myself: Riccardo Simonetti schrieb für NYLON einen Brief an sein Teen-Ich