Neue Frisur, neue Ära, neues Ich: Darum bedeuten Frisuren im Pop so viel
Stars wie Dua Lipa ändern ihre Frisur pünktlich zum Albumwechsel, andere bleiben ewig ihrer Frise treu: Warum Popstar-Frisuren eine so große Rolle für das eigene Image spielen – und wie sie uns beeinflussen.
Popstar-Frisuren sind ein ewiges Karussell. In dieser Woche hat sich Dua Lipa die Haare erdbeerrot gefärbt. Zuvor hatte der Ex-NYLON-Coverstar für das zweite Album "Future Nostalgia" den schwarzen Bob gegen Wasserstoff-Blond ausgetauscht und damit einen kleinen Trend ausgelöst. Während The Weeknd seine charakteristischen Dreads für die "Starboy"-Phase ablegte, bereiteten wir uns darauf vor, eine völlig neue Ära für den Künstler einzuleiten.
Sieh dir diesen Beitrag auf Instagram an
Wenn der Preis dafür, relevant zu bleiben, die ständige Weiterentwicklung ist, steht das visuelle Image an vorderster Front – und in den Schlagzeilen. Ein visuelles Element, das so einfach wie Haare ist, hat die Fähigkeit, den Aktienwert eines Künstlers zu erhöhen und zeigt an, was wir mit jeder Neuerscheinung erwarten können – nein, besser wen wir erwarten können. Diese Entscheidungen sind von großer strategischer Bedeutung und beeinflussen im Großen und Ganzen unser eigenes Image. Don't judge a book by its cover sagt man, aber wir tun es trotzdem.
Vor Billie Eilish kamen P!NK und Paramore
Sicherlich ist dies kein neues Phänomen. Lange bevor Billie Eilish die Charts mit einem grüngeschlitzten Vokuhila dominierte und den Trend der blonden Pop-Prinzessinnen durchbrach, tauchte P!nk mit einem kirschroten Pixie und der Bitte auf, nicht mehr mit dem "hübschen Mädchen von nebenan" (Britney Spears) verglichen zu werden. Dann, scheinbar über Nacht, wurde "Misery Business", die 2007er Hit-Single der Pop-Punk-Band Paramore, zur Hymne der Emo-Pop-Bewegung. (Über die nachhaltige Bedeutungs des Tracks berichteten Travis Barker und Machine Gun Kelly letzten Monat auf Zoom). Zur visuellen Begleitung des Songs ließ Frontfrau Hayley Williams ihr Haar so feuerrot färben, dass es einer offenen Flamme ähnelte, mit Layers, die so gezackt waren, dass sie Glas hätten schneiden können.
Sieh dir diesen Beitrag auf Instagram an
Es war die Hölle los, erzählt Williams gegenüber NYLON. Einfach so konnten Williams – damals 17 – und ihr Friseur, Brian O'Connor, fast dafür verantwortlich gemacht werden, dass sie eine ganz neue Ästhetik vorangetrieben hatten: Scene Culture. "Ich habe wirklich das Gefühl, dass Hayleys Haare Teil ihres Brandings wurden", erklärt O'Connor gegenüber NYLON. "Ich wusste nicht, welche Wirkung es hatte, dann ging man zu einer Show und sah ein Meer von Menschen, die genau deine Arbeit nachahmen. Dann kommen die Nachrichten in den sozialen Medien, in denen gefragt wird, was ich für diesen Look benutzt habe und mir wurde klar: "Oh sh*t, das ist eine Sache, die die Leute nachahmen wollen."
Schnelldurchlauf: Social Media will ständige neue Popstar-Frisuren
Es ist sehr wahrscheinlich, dass der "Misery Business"-Look von Williams die Popkultur so fest im Griff hatte, weil sein Debüt mit der schnellen Ausbreitung von Online-Netzwerken zusammenfiel. Soziale Medien haben Wunder bewirkt, wenn es darum geht, Künstler und Publikum miteinander zu verbinden, sagt Katie Smith, die Leiterin eines großen Musiklabels, aber die verbesserte Zugänglichkeit hat die Fans auch auf für eine hyper-produzierte "Verpackung" sensibilisiert. "Wir wollen, dass Künstler uns bewegen, begeistern und kitzeln [authentisch]. Wenn ihre Stimme und Fähigkeiten als Songwriter nicht auf überirdischem Level sind, brauchen sie einen persönlichen Stil und eine starke kreative Botschaft, um ein Teil des Popstar-Fames zu sein. Künstler stecken heute von Kopf bis Fuß so viel Arbeit in ihr Aussehen".
Aber was, wenn es schief geht?
P!nks Irokesenschnitt oder Sinead O'Connors Buzzcut mögen zwar ihren Platz als Popstar-Frisuren gefunden haben, aber wenn man sich zu drastischen Veränderungen verpflichtet, riskiert man auch Ablehnung der Fans. "Manchmal probiert man einen Look aus und der hat nicht so funktioniert, wie sich das Team vorgestellt hat, oder er sah auf Fotos nicht gut aus", fügt Smith hinzu. "Die Artists werden auf der Liste der am schlechtesten/besten gekleideten Künstler*innen ein bisschen den Hintern versohlt bekommen, vielleicht machen manche ein Meme draus, aber dann kommt ein neuer Tag. Macht weiter."

Foto: Jason Merritt/Getty Images via NYLON.com
"Beim Look von Künstlern heißt es: make or break", erinnert sich Cesar Ramirez, Haarstylist von Ciara, Beyoncé und Ariana Grande. "In den sozialen Medien sehnen sich die Menschen so oft nach etwas Neuem, dass Künstler viel zu oft das Bedürfnis verspüren, ihren Look zu verändern", sagt er gegenüber NYLON. "Leider gibt es viele unerfahrene Friseure, die die sprunghaften Veränderungen ermutigen und schlechte Ergebnisse liefern – und eine schlechte Ausführung kann einen Künstler wirklich daneben aussehen lassen, was dem ganzen Projekt schaden kann".
Sieh dir diesen Beitrag auf Instagram an
Nichtsdestotrotz ist ein Makeover manchmal vielmehr eine Aussage für die psychische Gesundheit als ein Publicity-Auftrag. Über Britney Spears' legendäre Kopfrasur heißt es, sie habe damit verhindern wollen, dass Menschen ständig ihre Haare anfassen konnten. Wir sahen mit angehaltenem Atem zu, wie Rihanna ihr Image als "braves Mädchen" ablegte und sich die Haare kurz schneiden ließ, nur um diese Frisure daraufhin dann mit knallroten Hyperfemme-Haaren abzulösen.  Aber nicht jeder Künstler kann sich in einen dramatischen neuen Look stürzen unbeschadet wieder auftauchen. Es ist eben nicht jede*r Rihanna.
Ariana & Co.: Manchmal lohnt sich Beständigkeit
Und während einige, wie Rihanna, mit jeder visuellen Entwicklung nur noch mehr Dampf machen können, haben andere Erfolg in der Beständigkeit gefunden. Es gab Hysterie, als Justin Bieber seinen Bowl Cut zurückbrachte. Ariana Grande hat sich ihren Platz in der Unterhaltungsindustrie mit einem hohen Pferdeschwanz erkämpft. Besonders schwierig wird es aber, wenn eine Frisur zum Erkennungszeichen wird. Hayley Williams behauptet, sie habe es abgelehnt, sich von ihren Haaren "als Geisel" halten zu lassen, obwohl sie sich dadurch in der Branche ausgezeichnet habe. Sie wählte Rot in ihren frühen Teenagerjahren, weil die Farbe "Grunge" ohne den Einsatz von Bleichmitteln kommunizieren konnte (das schüchterte sie zu Recht ein), aber nur Monate nach der Veröffentlichung von "Misery Business" färbte O'Connor ihre Haare kastanienbraun. "Ich glaube, es kam ein Punkt, an dem die Leute einfach anfingen, es zu erwarten, z.B.: Welche helle, laute Farbe wird sie als nächstes tun? Deswegen, glaube ich, wurde sie zur Blondine. Es war, als wäre sie nicht mehr 15 Jahre alt."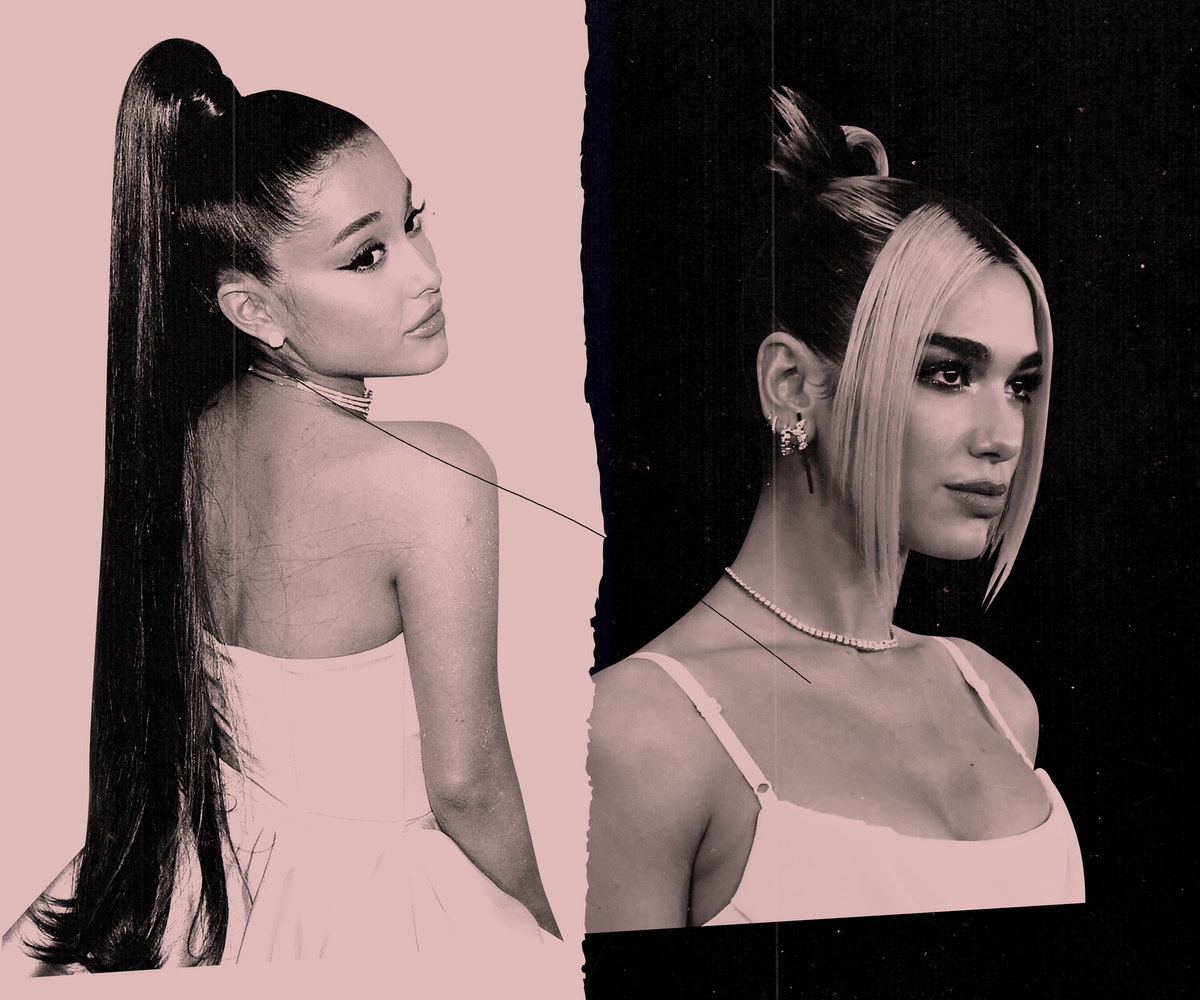 Foto: NYLON.com
Für den NYLON-Friend Kiana Ledé sieht es etwas anders aus. Die Sängerin, deren ehtnisches Erbe unter anderem mexikanische, Native American und europäische Wurzeln umfasst, weiß, dass jeder Stil ein ethnisches Gewicht hat, was sich auf die Identifikation des Publikums mit ihr auswirkt. "Ja, es ist klar, dass eine erkennbare Frisur dazu beitragen kann, dass die Leute mich leichter erkennen oder [unterscheiden] können, aber ich mag es nicht, in der Wahrnehmung der Leute von mir stecken zu bleiben. Also ändere ich ständig meine Frisur", sagt sie. "Das ist das freieste und natürlichste Gefühl, das ich seit langem hatte."
"Haare sind mehr als nur Mode: Sie sind persönlich, politisch, kulturell." – Katie Smith, Musiklabel-Chefin
Von Rosalias Flamenco-inspirierten Baby Hairs bis hin zur Perückenkultur gibt es zahlreiche kulturelle Nuancen und Referenzen im Haarstyling, die Musiklabel-Chefin Smith hervorhebt und die von Künstler*innen und ihren Stylist*innen berücksichtigt werden müssen. "Haare sind mehr als nur Mode: Sie ist persönlich, politisch, kulturell", formuliert sie. "Schaut euch Solange an und was sie die Welt mit ,A Seat at the Table' über Haare gelehrt hat. Es war ein wichtiges Thema."
Sieh dir diesen Beitrag auf Instagram an
"Es ist ein so wichtiges Bildmaterial. Haare sind das Erste, was man sieht, wenn man jemanden sieht", sagt Cesar Ramirez. "Haare sind wie ein Bild, sie sagen mehr als tausend Worte." Das Haar ist lauter als je zuvor, und wenn es darum geht, unseren Zustand als Mensch zu vermitteln, ist es bemerkenswert wortgewandt.
Text: Beatrice Hazlehurst (eingekürzt und zusammengefasst) // Titelbild via NYLON.com
Auch ein neues Image, gefällig? Mehr Tipps für eure eigene Haar-Veränderung: 
Wie mir das ständige Haarefärben emotional geholfen hat
Be Radical: Warum es guttun kann, sich die Haare abzuschneiden
Wie ihr eure roten Haare pflegt