Fight in Style: So revolutionieren die Future Ladies of Wrestling den Kampfsport
Sie nennen sich Future Ladies of Wrestling, steigen mit Glitzer-Capes und Nieten-BHs in den Ring und sind so etwas wie die Real-Life-Version der Netflix-Serie "GLOW". Doch zwischen bunten Shows samt Body Slams und Cobra Clutches verfolgt das Wrestling-Projekt aus den USA eine wichtige Mission.
Text: Andrea Zernial/Melissa Locker
Fotos: Jennifer Juniper Stratford, Katie Stenberg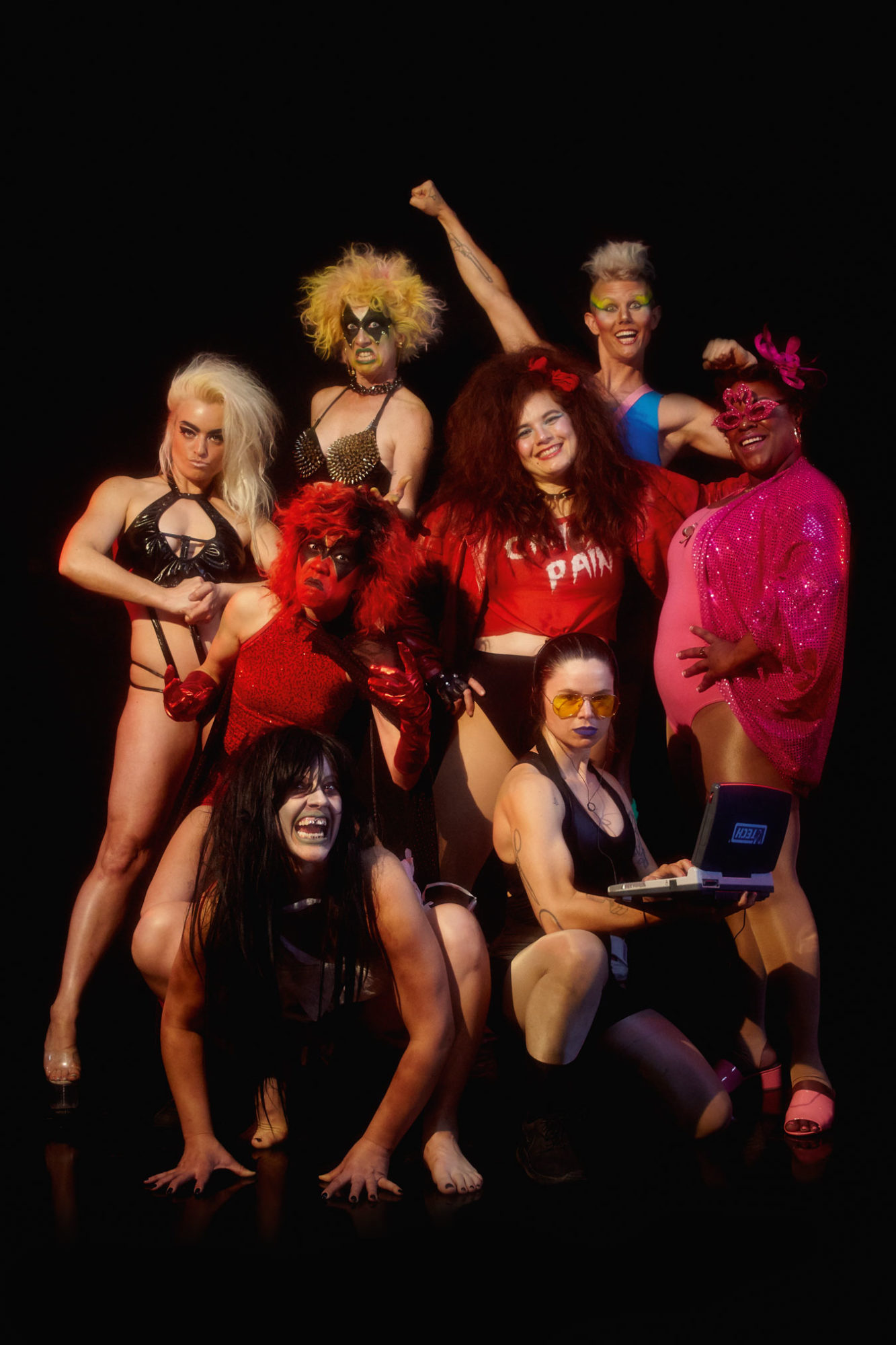 Als Jennifer Juniper Stratford zum ersten Mal im Ring steht, ist das Publikum sprachlos. Das liegt nicht etwa an ihrem Outfit, dem grellen Make-up oder dem platinblonden Pixie Cut, den sie sich extra für den großen Auftritt gestylt hat. Sondern an ihrem Bauch: Jennifer ist im achten Monat, sie erwartet eine Tochter. Und eine schwangere Frau im Ring einer Kampfshow zu sehen, bei der auch Schiedsrichter und Ansager gern mal was abbekommen, das ist sogar für die abgebrühten Wrestling-Fans in Los Angeles ungewöhnlich. Als Zuschauerin an der Seitenlinie zu stehen kommt für Jennifer trotzdem nicht infrage – schließlich ist dies die erste große Show ihres Female-Power-Wrestling-Projekts FLOW. Also klettert sie als Moderatorin des Abends in den Ring, kündigt ihre Wrestlerinnen rund um Personalities wie Candy Pain, Diva Colada oder Hardcore-Tina an – und das Publikum dankt es ihr nach einer kurzen Atempause mit tosendem Applaus.
FLOW = Future Ladies of Wrestling: Mehr wrestlende Frauen – am besten weltweit
Jennifer liebt es, diese Story in Interviews zu erzählen. Nicht nur weil sie weiß, dass sie gut ankommt – die Regisseurin und Gründerin des amerikanischen Filmstudios TeleFantasy ist schließlich Medienprofi. Sondern auch weil sie einen Eindruck davon vermittelt, wie wichtig ihr die Future Ladies of Wrestling aka FLOW sind. Jennifers Mission: mehr Frauen in der überwiegend männlichen Wrestling-Szene, die in den 80ern und 90ern Namen wie Hulk Hogan, Dwayne "The Rock" Johnson oder "The Undertaker" hervorbrachte und vor allem in den USA einen schillernden Durchbruch erlebte, zu etablieren – am besten weltweit.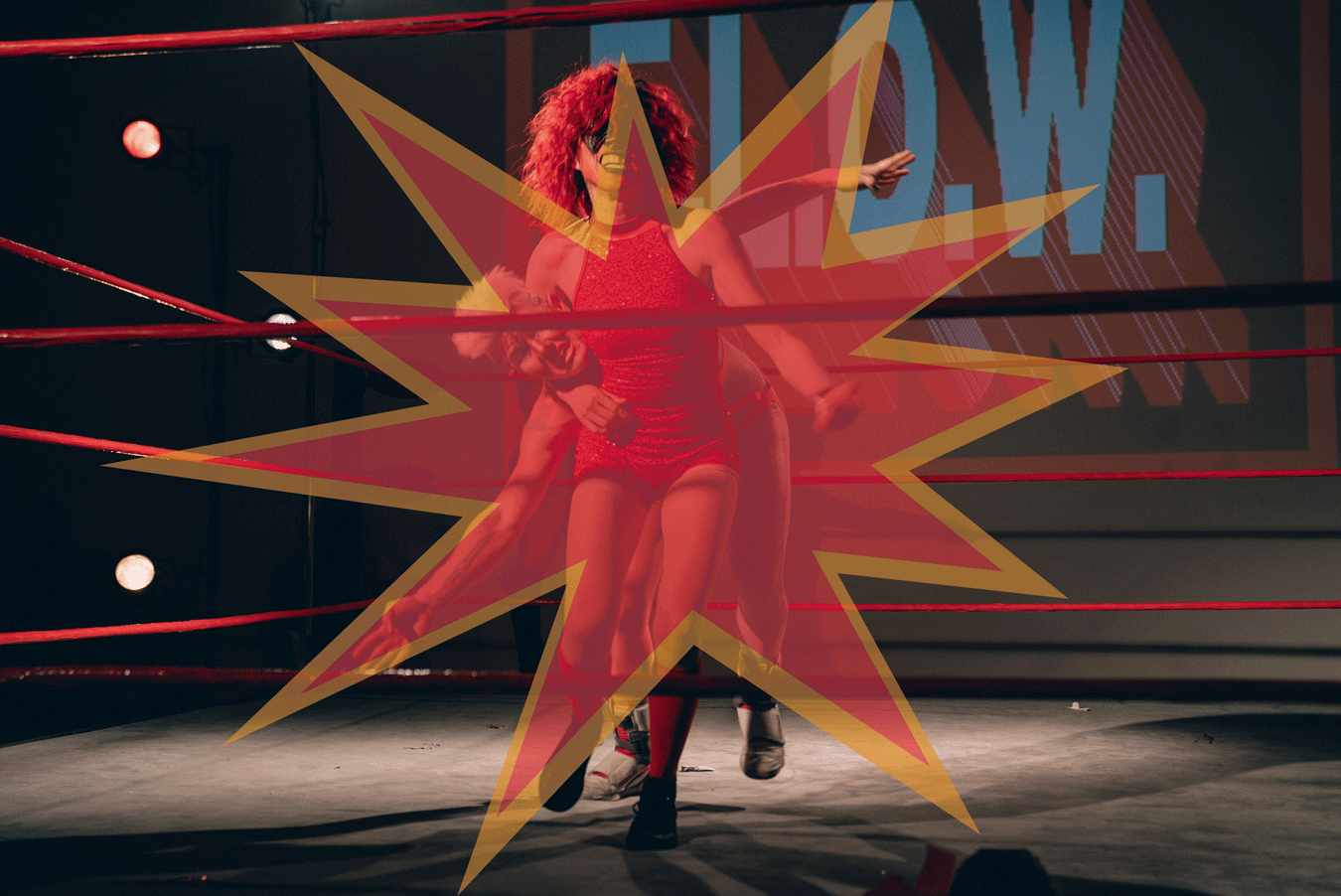 Dass dieser Plan aufgeht, daran hat Jennifer, die für Fotos gern mit haufenweise Dollarscheinen und Zigarre posiert, keine Zweifel. Sie ist ja nicht allein: Da wären zum Beispiel professionelle Sportlerinnen wie Alexa Bliss, die seit 2013 bei der WWE (World Wrestling Entertainment) unter Vertrag steht und schon zweimal die Raw Women's Championship gewann. Die Libanesin Gheeda, die mit 17 Jahren für eine Frauen-Wrestling-Liga in der arabischen Welt kämpft und mit ihrer Geschichte weltweit Schlagzeilen macht. Oder auch die Macher Liz Flahive und Carly Mensch der Netflix-Serie "GLOW", die diesen Sommer mit einer dritten Staffel (vermutlich im Juni) an den Start geht und sogar hierzulande für immer mehr Wrestling-Fans sorgen dürfte. Zwischen jeder Menge Neon, Glitzer und Spandex im 80s-Style erzählt das Comedy-Drama die wahre Geschichte der Gorgeous Ladies of Wrestling, deren Show in den USA zwischen 1985 und 1990 im Fernsehen ausgestrahlt wurde.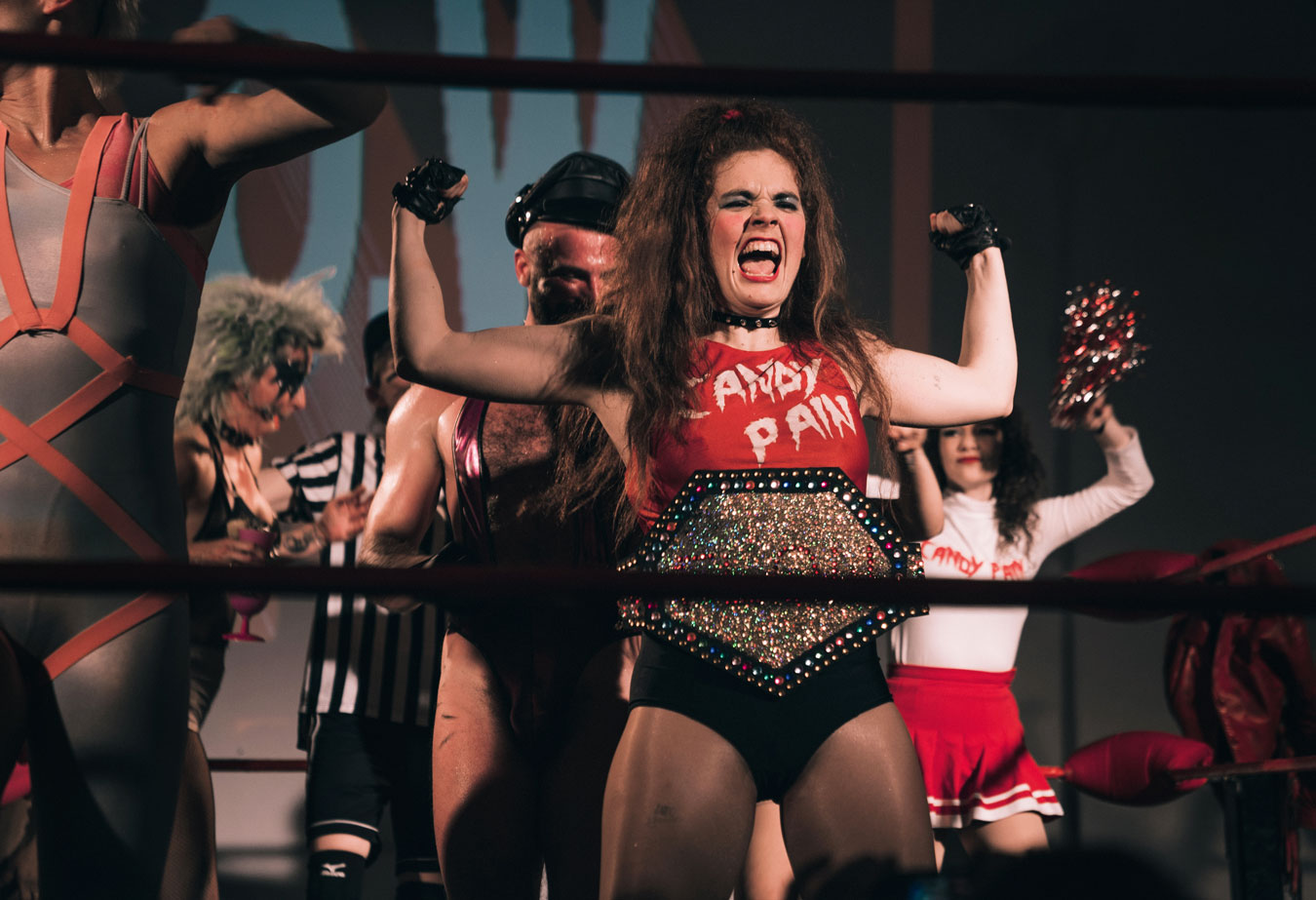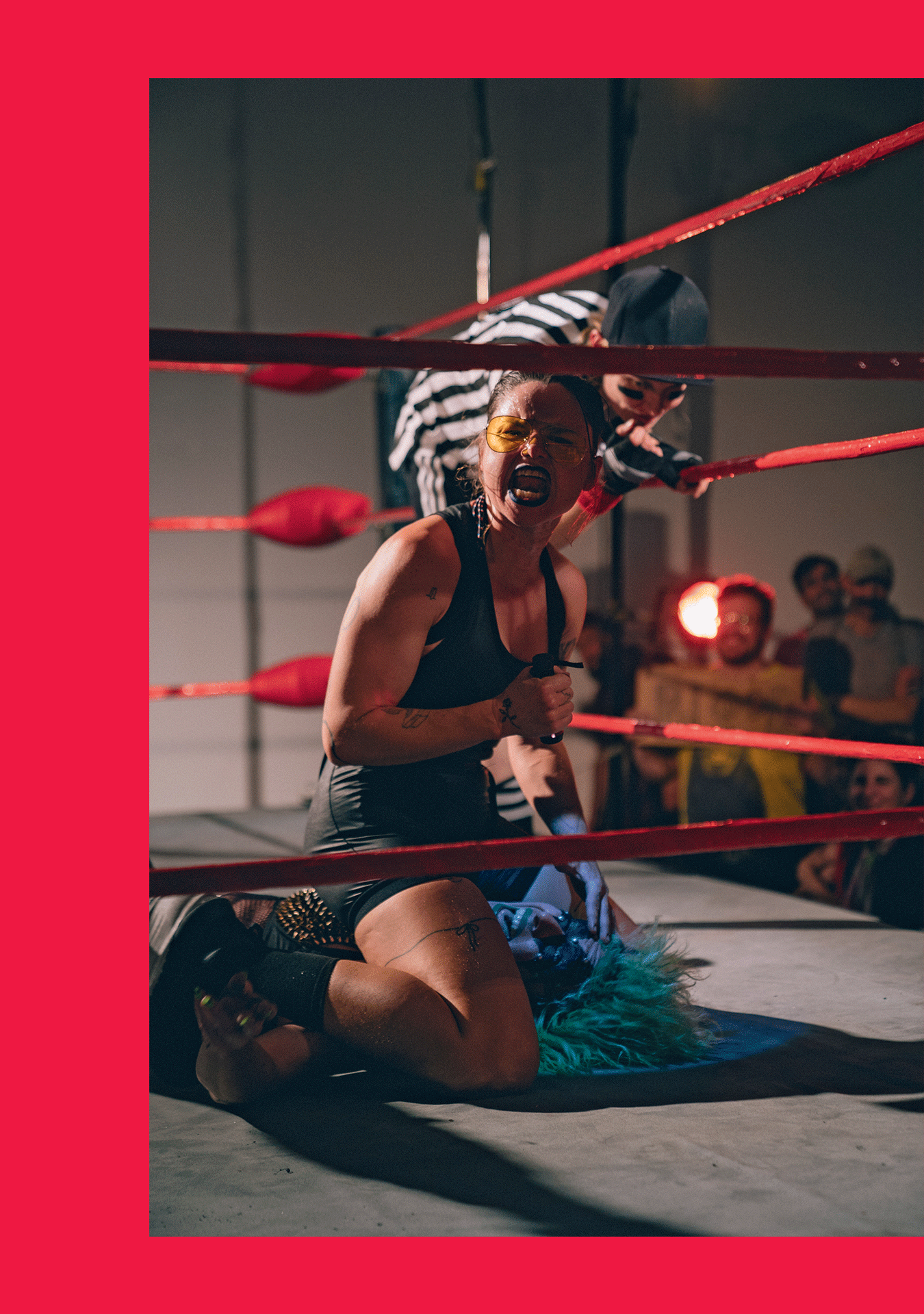 Die eindeutigen Parallelen zwischen den Future Ladies of Wrestling und den Gorgeous Ladies sind kein Zufall: Seit ihrer Kindheit ist Jennifer riesiger Fan von den Wrestlerinnen, die mit Big Hair und Leo-Body in den Ring stiegen. "Meine Mutter, meine Schwester und ich haben uns die Kämpfe immer zusammen angesehen. Wir waren so begeistert davon, dass wir sogar einmal eine der Kämpferinnen, Matilda the Hun, für eine Party angeheuert haben. Sie sollte den Freund meiner Mutter fertigmachen", sagt sie lachend. Doch so groß ihre Liebe zu den Gorgeous Ladies of Wrestling auch ist – dass Netflix ihre Story als Serie bringt, war für Jennifer anfangs ein Problem. "Als ich im September 2016 davon erfuhr, war ich ziemlich deprimiert. Ich stand mit FLOW gerade am Anfang und dachte: ,Oh, großartig, jeder wird denken, wir seien eine Parodie dieser neuen Netflix-Serie'", sagt sie. "Aber mir blieb nichts anderes übrig, als diese Gefühle einfach zu ignorieren und weiterzumachen."
Der Kindheitstraum: "Ich wollte schon immer Wrestlerin sein"
Said and done – schließlich hatte Jennifer schon zu viel Energie in ihr Projekt investiert und kurz zuvor sogar ein Stipendium über 5.000 Dollar dafür eingetrieben. "Ich nahm das Geld, trommelte ein paar coole Girls zusammen und erzählte ihnen von meiner Idee, die sich später FLOW nennen sollte." Die kam sofort ziemlich gut an: "Was dann passierte, war irgendwie seltsam. Anscheinend hatte ich eine Art hellseherische Vorahnung oder so, denn jede Einzelne der Ladies war sofort dabei und sagte so etwas wie: ,Cool, ich wollte schon immer Wrestlerin sein'", erzählt Jennifer weiter.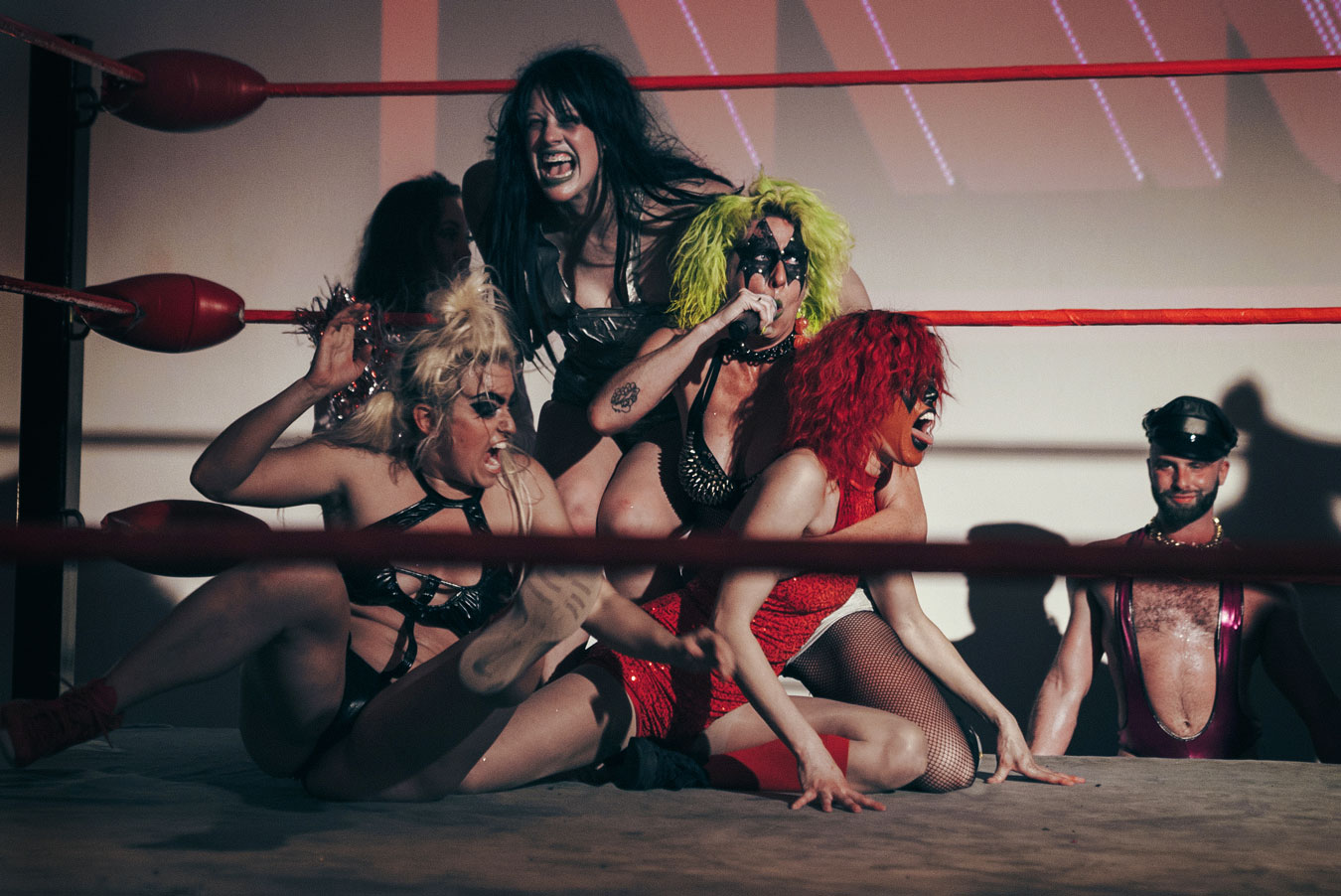 Und weil es gerade so gut lief, entwickelte gleich darauf jede der Frauen eine Wrestling-Persönlichkeit inklusive detaillierter Backstories und typischer Kampfbewegungen. Da wäre zum Beispiel die Geschichte von Chemtrails, die eines Tages mit einer Art Kiss-Make-up und Nieten-BH auf einer Giftmülldeponie aufwachte und übermenschliche Kräfte an sich entdeckte. Lisa 5000 ist ein blonder Cyborg mit Iro, der seine Tage und Nächte damit verbringt, den tödlichen Kampf-Move The Megabyte Swipe zu perfektionieren. Dann gibt es noch Diva Colada, die mit Glitzer-Cape und rosa Body von einem tropischen Planeten auf der Erde landete. Und natürlich Machine, die immer einen Laptop dabeihat. "Ich lasse mir nichts gefallen und werde jeden oder alles, was mir im Weg steht, zu Fall bringen", sagt sie gern mal in Interviews – eine gute Wrestlerin steckt nämlich auch außerhalb des Rings in ihrer Rolle.
Next Step: Trainerinnen braucht der Kampf
Sobald die ersten Wrestlerinnen für FLOW gesetzt waren, machte sich Jennifer auf die Suche nach einer Trainerin, die ihrer Truppe typische Showkampf-Moves wie Cobra Clutches und Body-Slam-Choreografien beibringen sollte. Schließlich geht es beim Wrestling neben schillernden Outfits und crazy Charakteren vor allem um die Frage: Wie greift man den Rivalen möglichst spektakulär an, ohne ihn dabei ernsthaft zu verletzen? Die Antwort kennt Candy Pain: "Ich hatte ein paar Jahre lang in L.A. gerungen und war dort auch als Wresterlin aufgetreten. Jennifer sah mich bei einer Show, in der ich drei Männer am Hollywood Boulevard zusammengeschlagen habe und die Leute dazu brachte, ,Fickt euch!', zu rufen. Das gefiel ihr anscheinend."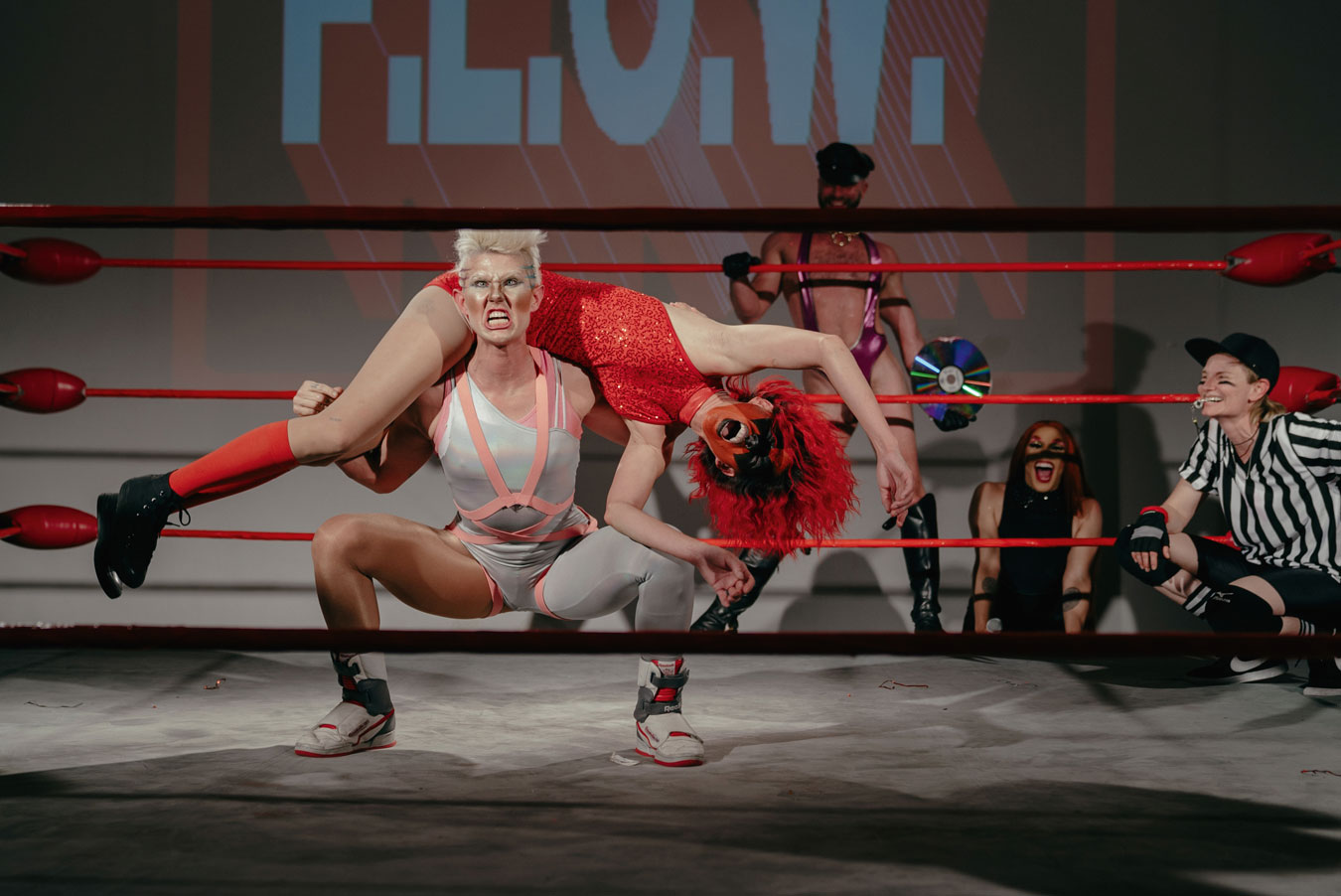 Mittlerweile arbeitet Candy als Kampfkoordinatorin bei FLOW. Doch so hart die Wrestlerinnen auch trainieren, letztendlich lebt ihre Show von dem Spaß, den sie dem Publikum vermitteln. Der ist bei FLOW definitiv vorhanden: "Wir haben anfangs immer nur auf Matten geübt. Als wir dann einen richtigen Wrestling-Ring bekamen und ich ihn zusammenbaute, tauchten die Mädchen auf und flippten einfach total aus", erzählt Jennifer lachend. Und Chemtrails ergänzt: "Es war absolut magisch. Meine Konkurrentin Lisa 5000 gab mir einen Megabyte-Schlag, der mich fast zum Kotzen brachte. Trotzdem war es am Ende das schönste High, das ich jemals auf natürliche Weise erlebt habe."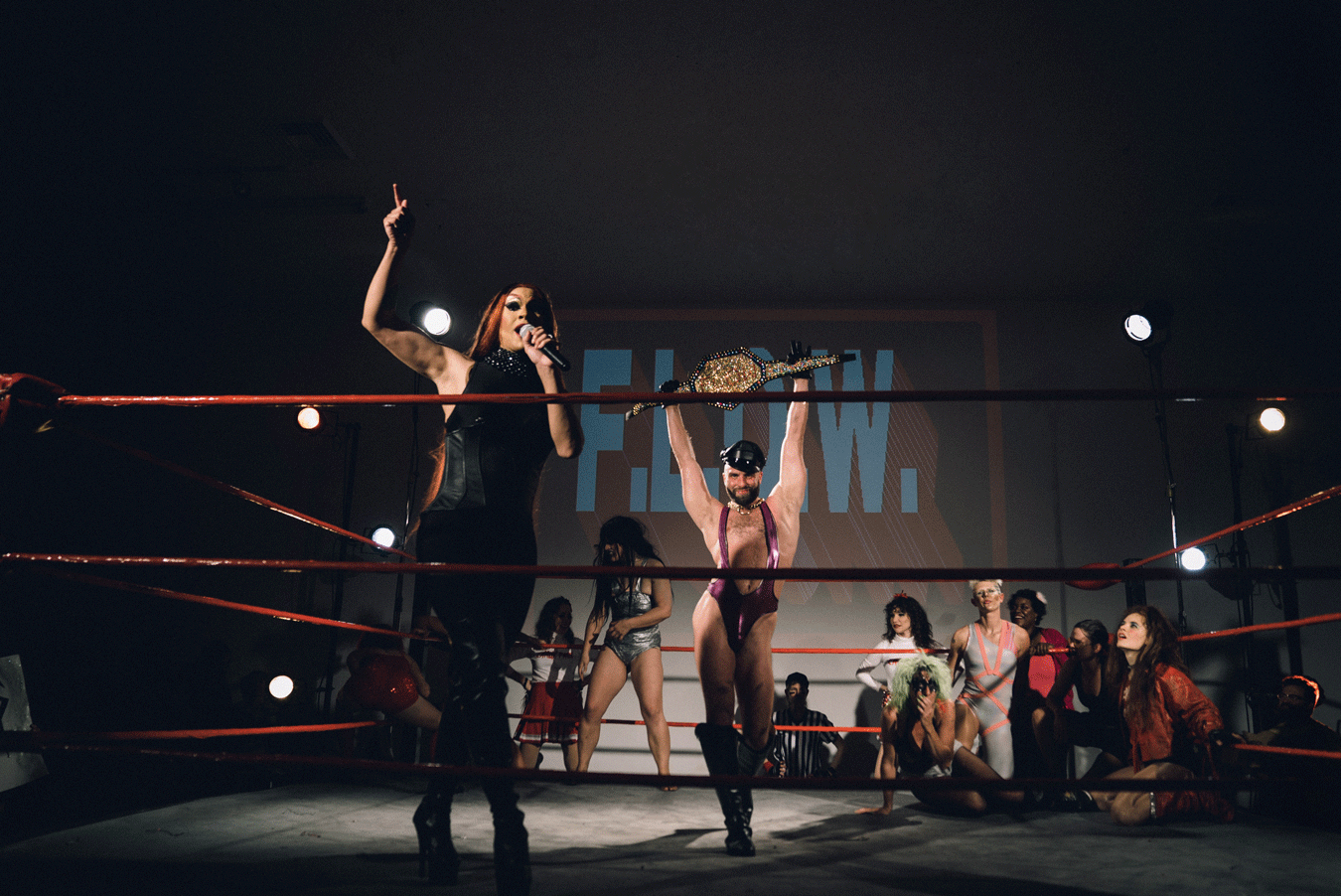 Nachdem alle Wrestling-Moves und die Charaktere der Ladies festgelegt waren, begann Jennifer, die Kämpfe zu filmen und eine Live-Show fürs Internet zu inszenieren. Next Step: der erste Auftritt vor Publikum. Also stellten sie den Ring in einer großen Halle in L.A. auf, schickten Einladungen raus – und wenig später fand sich Stratford bei ihrer ersten Show wieder, im achten Monat schwanger und so was von bereit, die Kämpfe ihrer Ladies anzukündigen. "Es war total elektrisierend", sagt sie heute. "Die Halle war voll und die Zuschauer taten all das, was wir uns vorher erhofft hatten: Sie sangen für ihre Favoriten, brachten Plakate mit und hatten einfach gute Laune. Es war, als würde ein Zauber in diesem Raum voller Menschen liegen."
Der Ring wird international
Die Ladys hatten so viel Spaß, dass sie sich gleich für weitere Live-Shows vor Publikum entschieden. Mit einem wichtigen Unterschied: Dieses Mal war Jennifer als Mutter dabei – zusammen mit ihrer neugeborenen Tochter Xena im Schlepptau. Und es geht noch weiter: Im letzten Jahr haben die Ladys beim Performance-und-Design-Festival "Do Disturb" im Palais de Tokyo in Paris gekämpft, bald soll es wieder nach Europa gehen. Dass zeigt nicht nur, dass Wrestling auch außerhalb der USA funktioniert. Sondern seine Zukunft definitiv weiblich ist.