Iconic Life: Was wir in Sachen Individualität von Slick Woods lernen
Schlägt man "Individualität" nach, steht ihr Name vermutlich ganz oben auf der Liste: Slick Woods hat Unabhängigkeit in Style und einen eigenständigen Look perfektioniert. Ihr Selbstbewusstsein gibt sie in der aktuellen Kampagne von UGG an ihren Sohn weiter – und wir sind bei jedem Move dabei.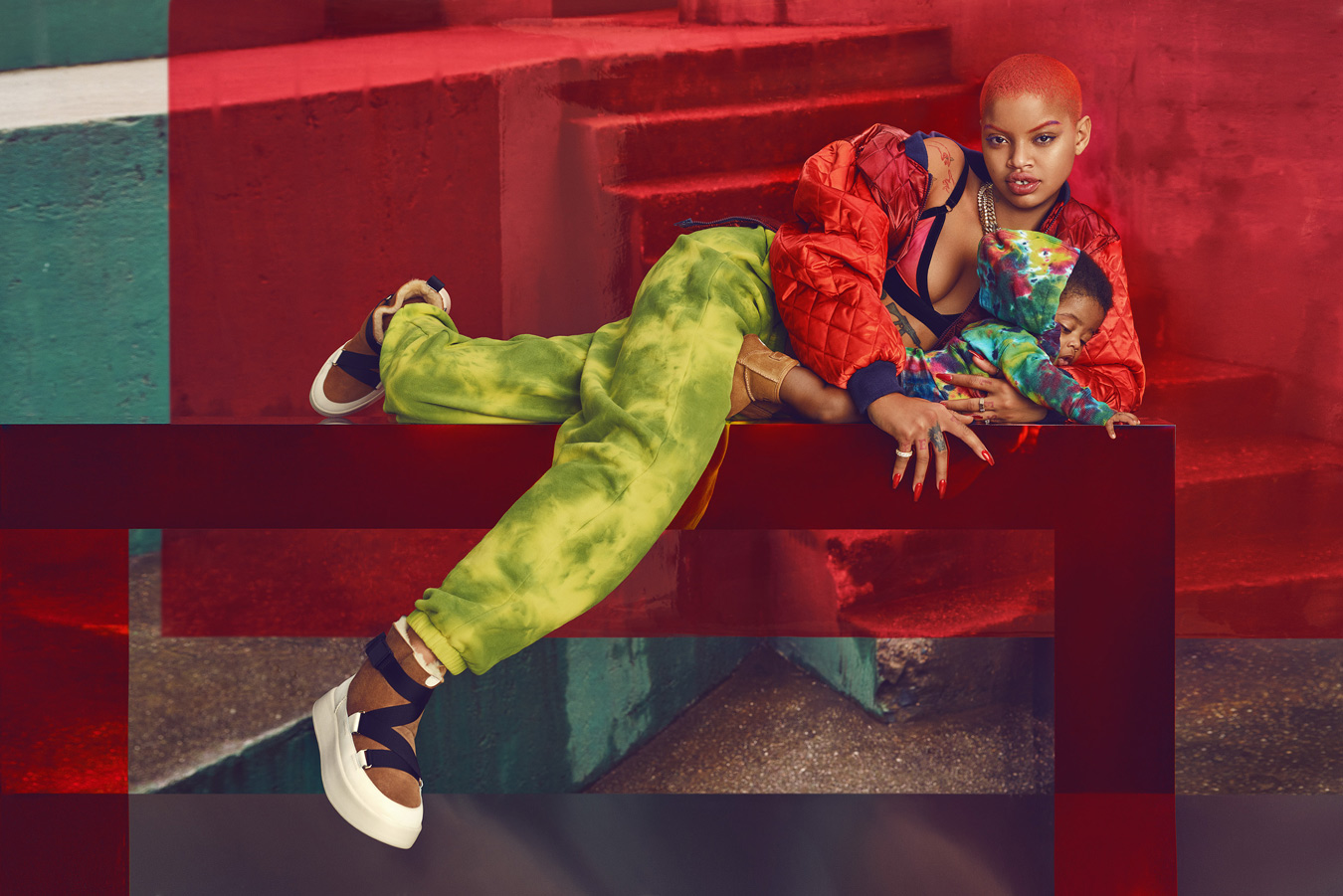 Slick Woods ist so viel mehr als eine Zahnlücke. Sie ist mehr als ihre raspelkurzen Haare und deren wechselnde Farbe, sie ist mehr als die Tattoos auf ihrer Haut und mehr als der gesamte Look, den all diese Eigenschaften zusammen ergeben. Und trotzdem bleibt sie für ihren "special" Look bekannt. Er steht in jeder Faser für Individualität, er verkörpert Statements wie "I don't care" – und er bleibt im Gedächtnis. Das wird auch Slick Woods selbst wissen. Welche konkreten drei Eigenschaften Slick deshalb in der neuen Kampagne "#UGGLife" an ihren Sohn Saphir vorlebt? Starts here.
Charakter
Wer ihre Insta-Captions ("we tried to chill – didn't work") gelesen hat oder nur Sekunden eines Videos anklickt, weiß die "Carelessness" von Slick Woods einzuschätzen. Und nein, das soll jetzt nicht "careless" im Sinne von fahrlässig bedeuten. Wir nehmen die 23-Jährige hier viel eher genau beim Wort: She. Doesn't. Care. (darüber, was andere denken). Wir wissen zwar nicht, wie's im Inneren von Simone Thompson – so heißt Slick Woods bürgerlich – aussieht, aber wagen mal die Vermutung, dass ihr äußeres Selbstbewusstsein auch innerlich einen großen Platz einnimmt. Wer sonst würde mit Babybauch ganz unbefangen auf Runways treten oder sich hinter den Kulissen genauso entspannt geben, wie vor der Kamera? (Seht dazu das Video oben). Eben. Das Motto der UGG-Kampagne, in der Slick und Saphir posieren, lautet "Celebrate the unconventional". Und irgendwie könnte das auch der Titel zu Slicks Leben sein. Oder ihre Insta-Bio, anstatt der "bescheidenen" Beschreibung: "LifeGiver/Astronaut/Backwood Slayer/Retired Trapper/Assassin/Naive Oldhead/Bad ass kid/CryBaby/The ripple that started your wave/UnappreciatedLoverboy". Just sayin'.
"Individuell zu sein bedeutet, du selbst zu sein und dass dir alles andere egal ist" – Slick Woods
Style

Rechts: Jacke von Bershka über zalando.de, ca. 36 €, BH von Chantal Thomass, ca. 90 €, Hose von Off-White über farfetch.com, ca. 505 €, Armband von Rosefield, ca. 45 €
Ob sie nun mit Ketten behangen am Dinner-Tisch sitzt oder neben Sohn Saphir auf dem Bett chillt – deplatziert sieht Slick Woods weder im Chillmodus noch auf der High-Society-Gala aus. Woran das liegt? Ihrem Gespür für, na ja, einzelne Highlights eines Outfits. Mal sind das Boots wie der UGG Classic Boom Buckle, mal Tiny Sunglasses (die vergangenen Sommer sicher einige Posting-Kopien inspiriert haben), mal aber auch einfach nur ein paar Ringe und Ketten, die sie zum Sport-Jersey trägt. Womit wir auch schon beim Kern der Sache wären: Genderklischees sind für Slick selbstverständlich längst begraben. Versteht uns nicht falsch: Oft genug ist der Style des Models klassisch feminin, oft genug – siehe Spielvideos mit Saphir  – aber eben auch nicht. Der Unterschied wird vor allem klar, wenn man sich dieses Throwback-Bild von Slicks Abiball ansieht. Solch ein Level an Entwicklung? Streben wir nach.
Sieh dir diesen Beitrag auf Instagram an
Kunst und Message
"Man sollte sich immer frei ausdrücken können und davon freimachen, was andere zu sagen haben", sagt Slick im Kampagnenvideo von UGG. Welche Bereiche genau sie mit freiem Ausdruck anspricht, verdeutlicht sie nicht, aber eigentlich ist sowieso klar: It's about damn everything. Slick ist in erster Linie Model, lebt ihre künstlerische Seite aber auch mal in spontanen Mal-Sessions oder als Designerin einer eigenen Schmuckkollektion aus. Ihre klare Message dahinter: Das bin ich – und ich bin offen für alles. Und im Grunde ist es doch das, was Individualität heute ausmacht: Sich ein wirklich einzigartiges Puzzle der eigenen Persönlichkeit zu erstellen, statt einfach nur eines von vielen bestehenden Schemata zu übernehmen. Dann ist das der eigene Weg nämlich längst nicht auf einen Begriff oder eine Kategorisierung beschränkt.
Sieh dir diesen Beitrag auf Instagram an
#UGGLife: 13 Modelle für alle Generationen & Individuen
Auch die UGG-Kollektion "#UGGLife" fokussiert sich auf Individualität – und zwar innerhalb von Generationen. Neben Slick und Sohn Saphir posen hier auch NYLON-Babe Sasha Lane und ihr Bruder Sergio, Model-Star Paloma Elsesser und ihre Schwester Ama, die Desiner Mike Eckhaus und Zoe Latta, Schauspieler Luka Sabbat und Vater Clark sowie Musikerin Kim Gordon und ihre Tochter Coco für die von der kalifornischen Flagge inspirierten Kampagnenbilder. In der Kollektion werden Klassiker wie der Classic Short II, Classic Mini II oder Neumel geupdatet und kommen in neuer Generation zum Beispiel als Classic Femme Mini/Short oder Classic Femme Over-The-Knee Boot zurück. Slick Woods hat sich – surprise – für eines der auffälligsten Modelle, den Classic Boom Buckle, entschieden. Und Vielfalt unter den ProtagonistInnen bedeutet eben auch Vielfalt in den Schuhmodellen: Insgesamt beinhaltet die Kollektion 13 Teile. Let's sum up: Es geht also um Familie, es geht um Klassiker und um neue Wege. Es geht um Individuen, wie Slick Woods. Und egal, wofür ihr euch entscheidet, wo ihr in der Findung eurer eigenen Identität gerade steckt, bedenkt: Familie und Individualität schließen sich nicht aus. Das würde sicher auch Slick unterschreiben. Und an neue Generationen weitertragen.
Bezahlte Partnerschaft mit UGG.
Mehr Personalities & Texte rund um Individualität: 
Redefining Beauty: Rina Sawayama über den Kampf gegen Stereotype
16 junge Kreative, die ihr kennenlernen wollt
Nachdem ich aus der Kirche ausgetreten bin, waren Tarotkarten meine Rettung