Raf Simons x The xx, Pirelli-Kalender & T-Shirts zu Häuserpreisen: Fashion News der Woche
T-Shirts, die so viel kosten wie ein Haus. Ein Designer als Fanboy. Plus: der Ugly Christmas Sweater, der keiner ist. Das sind die absurdesten Fashion News seit langem.
Bild von Jugendkultur: Raf Simons x The xx
Bilder: Willy Vanderperre für System Magazine via NYLON.com
Auch einer der renommiertesten Designer kann ein Fanboy sein, klar. Raf Simons jedenfalls zählt sich zum Fandom der britischen Band The xx. Und ja, gemeint ist hier waschechtes Fan-Dasein, nicht das klassische Designer-und-Muse-Verhältnis. Und trotzdem haben Band und Designer mit Raf Simons x The xx nun ein gemeinsames Design-Werk vorgelegt. Zum zehnten Jubiläum Band-Debüts "xx" erscheint am 12. Dezember eine gemeinsame Capsule Collection. Sie besteht aus T-Shirts, Patches, Caps, Buttons und verbindet die Design-Elemente, für die beide Parteien je bereits gefeiert werden. Das ursprüngliche Album-Artwork wird mit "x"-Pins an den Kleidungsstücken befestigt und greift damit den Patchwork-Charakter auf, den Simons vor allem in seinen letzten Menswear-Kollektionen und Kollaborationen hervorhob. In Raf Simons x The xx geht es für den Belgier um Jugendkultur: "Das Album "xx" steht für eine eindeutige Sensibilität, die der damaligen Jugendkultur sehr verbunden ist", sagte Simons laut NYLON US in einer Pressemitteilung. "Sein Erfolg liegt darin, dass das Album in Worte fasst, was in Kids vorgeht, wenn sie Liebe, Herzschmerz und Freundschaften durchleben. Und zwar nicht auf die stereotype Weise, sondern auf eine Art, die viel realer erscheint. Viel authentischer." Klingt gar nicht wie ein Designer, sondern eben wie ein Fanboy.
Diesel: Wohnung als Goodie zum T-Shirt-Kauf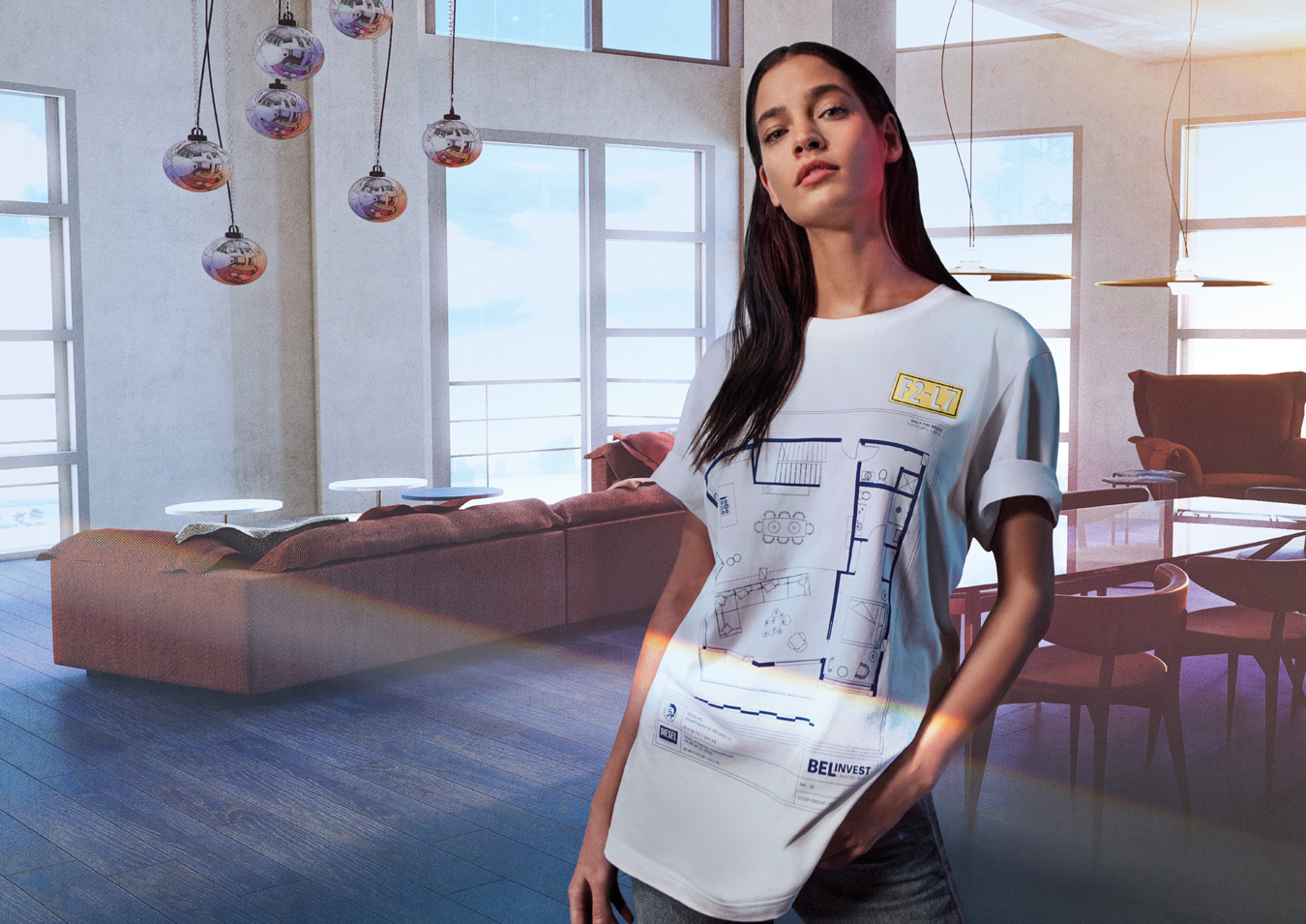 Man kennt das ja: Zwei T-Shirts gibt's zum Preis von einem, beim Einkauf über einen bestimmten Wert winkt der Gutschein oder wenigstens ein kleiner Gratis-Artikel. Besonders Modemarken lassen sich viel einfallen, um Kunden zu binden. Aber habt ihr schon mal ein T-Shirt gekauft und nebenbei noch eine ganze Wohnung in Miami dazubekommen? Schade, wir auch nicht. Wäre aber der Fall, wenn ihr ein Teil der neuen Kollektion von Diesel ein T-Shirt kauft. Die Serie nennt sich passenderweise "The Most Expensive T-Shirts Ever" und liefert beim Shirt-Kauf tatsächlich eine Wohnung im Gebäude "Wynwood Condominium" in Miami dazu. Dafür hat sich die Mode-Brand schon vor einem Jahr mit der Immobilienmarke Bel-Invest zusammengetan und mit dem Condominium in Miami das erste Diesel-Wohnhaus bauen lassen. Nun scheinen die Bauarbeiten fertig und eben die ersten Eigentümer gesucht. Absurd ist dieser Gag allemal, aber eben auch so ironisch, dass wir ihn euch nicht vorenthalten könnten. Also noch mal: Kauft ihr eines der 143 T-Shirts aus der Kollektion, bekommt ihr literally ein.gesamtes. Apartment.dazu. Dessen Grundriss findet ihr natürlich als Aufdruck auf dem Shirt. Ob das alles makaber ist oder nicht, entscheidet ihr selbst. Falls ihr aber nun Millionenbeträge und ein Flugticket nach Florida rumliegen habt, könnte eure Adresse demnächst die 148 NW, 28th ST, Miami sein – dort steht nämlich das Diesel-Home. Safe travels!
Fuck  The Ugly Christmas Sweater, sagt Patrizia Pepe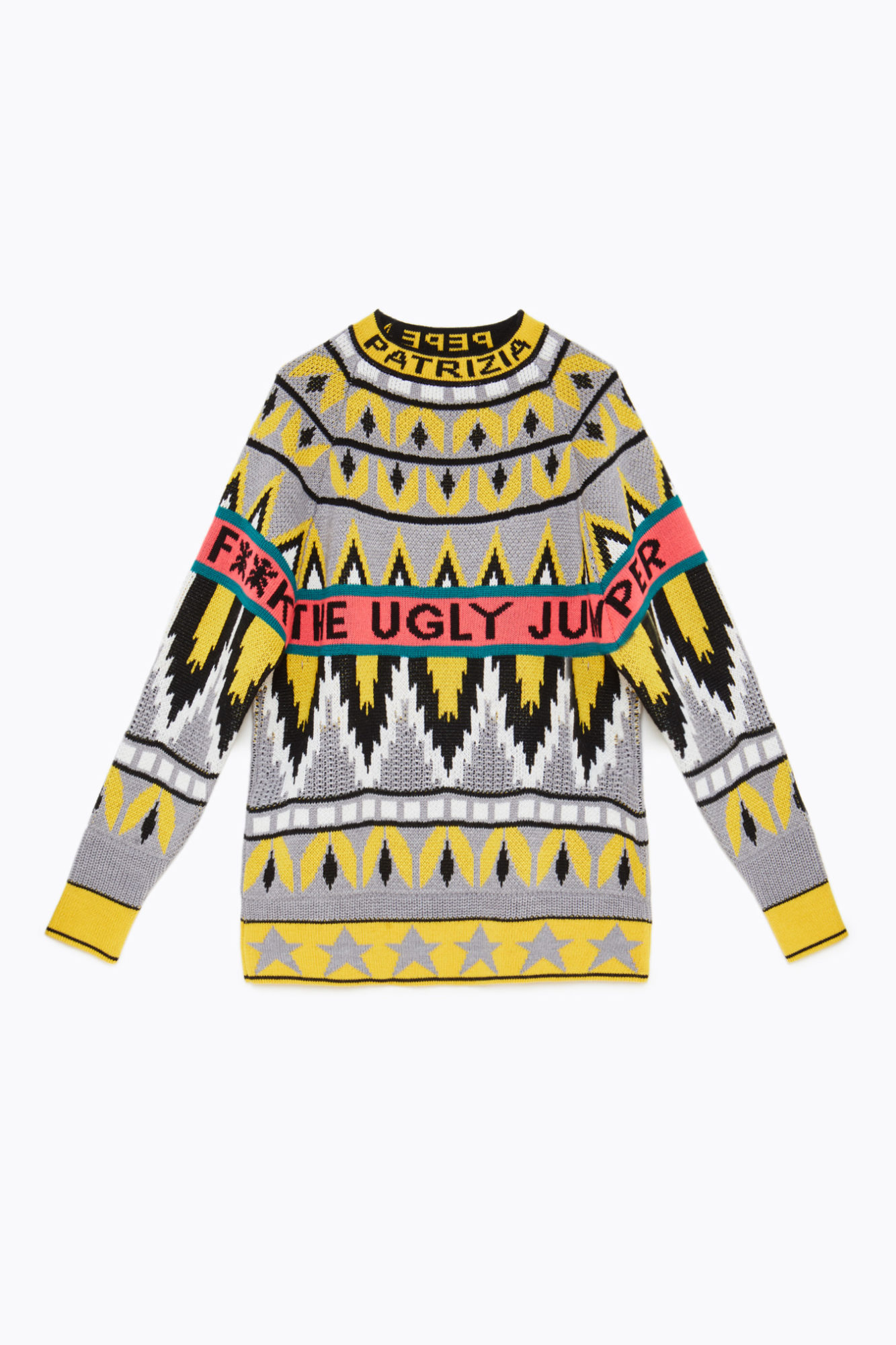 Eigentlich war die Sache mit den Ugly Christmas Sweatern ja vorbei. Vielleicht war es ein Hundgesicht auf Schneeflockenmuster zu viel oder ein Pärchen-Post aus  doppelten Schneemännern, der das Fass zum Überlaufen brachte. Dachte sich wohl auch die italienische Brand Patrizia Pepe, die nun zwar einen Weihnachtspullover rausbringt, aber auch klar ausdrückt, was sie von dem ewigen Trend um hässliche Kuschelware hält. "Fuck The Ugly Jumper" steht in Schwarz auf Neonpink und über gelben Intarsien geschrieben, die den sonst ziemlich typischen Weihnachtspulli schmücken. Gut, vielleicht ist die Abneigung gegenüber der Pullover doch nicht so groß: Neben der pink-gelben Variante (online erhältlich) gibt's für diejenigen, die sich einfach nicht vom typischen Sweater-Look verabschieden können, in ausgewählten Pepe-Stores eine klassischere Variante in Rot-Grün auf Creme. Bleibt nur noch zu hoffen, dass die eigenen Verwandten sich nicht doch für die traditionelle Sweater-Variante entscheiden – könnte zu Missstimmung unterm Baum führen.
Die Gesichter der Julia: Der Pirelli Kalender 2020
Ihr Kleid ist nur ein loses Stück Stoff, das locker über ihrem Körper liegt. An anderer Stelle trägt sie eine weiße Haube, dann wieder ein schwarzes Crop Top, dann ein Kleid mit Reifrock, dann ein Jeanshemd und Sneaker. Die Figur der Julia aus "Romeo und Julia" hat viele Gesichter, wie der neue Pirelli-Kalender von Fotograf Paolo Roversi beweist. Unter dem Titel "Looking For Juliet" ließ sich Roversi von William Shakespeares Werk inspirieren. Indya Moore, Rosalía, Emma Watson, Kristen Stewart und weitere Superstars verkörpern dabei vor der Kamera die "Julia, die in jeder Frau lebt". Zum ersten Mal werden die Kalenderfotos auch von einem Kurzfilm begleitet. Darin geht's nicht nur um die Looks, sondern um die tatsächliche Interpretation der Julia-Rolle: Roversi spielt sich selbst als Regisseur, der die einzelnen Kandidatinnen zur ihrer Rolle interviewt. Im Verlauf des 18-minütigen Films schlüpft jede Kandidatin in ihr Kostüm. Roversi will damit die Grenzen zwischen Realität und Wirklichkeit verwischen. "In jeder Frau lebt eine Julia", sagt er über sein Werk, "und ich werde nie aufhören, sie zu suchen". Eigentlich aber hat der Fotograf sie in diesem Jahr ja aber schon gefunden. In zwölf Versionen.
She Is Coming (Back): Céline Dion im Insta-Werbefilm
Sieh dir diesen Beitrag auf Instagram an
Die Spitze ist erreicht, liebe Fans des 90er-Hypes. Die Spitze, das ist der neueste Instagram-Shopping-Werbespot mit Musikikone Céline Dion. Diese Woche postete die Sängerin den Clip über ihr Profil und kehrt darin in die Kulisse ihres beliebten Musikvideos zum Song "It's All Coming Back To Me Now" zurück. Kurze Zusammenfassung dessen: 1996, düstere Nacht in verlassenem Haus, Blitze, offene Fenster, wehende Vorhänge und eine dramatisch performende Dion im Himmelbett. Fast Forward ins Jetzt und Céline Dion ist innerhalb der letzten Jahre auch modisch zur Ikone geworden. Dass sie jüngeren Popstars auch sonst in nichts nachhängen will, beweist eben jener Spot für Instagram. In der ersten Szene scrollt Céline durch ihren Feed und stößt auf einen Artikel der Website The Cut. Darin werden die besten 90er- und 2000er-Styles angeteasert. Ein Like-Herz später und die Sängerin tanzt in Dad-Sneakern und Glitzer-Collier durch die Kulisse, über ihrem Körper leuchten Marken-Tags auf. Zwischendurch posiert Dion im Cowgirl-Look oder sinkt dramatisch im pinken Fake-Fur zu Boden. Am Ende dann ist die Bestellung vollständig und das Insta-Shopping beendet. Die (nicht ganz so subtile) Meta-Message hinter dem cleveren Spot bezieht sich natürlich auf den Songtitel, "It's All Coming Back To Me Now". And now that it's back – ist die Nostalgie dann vorbei?
Zurück in den Geist von David Bowie mit Etnia Barcelona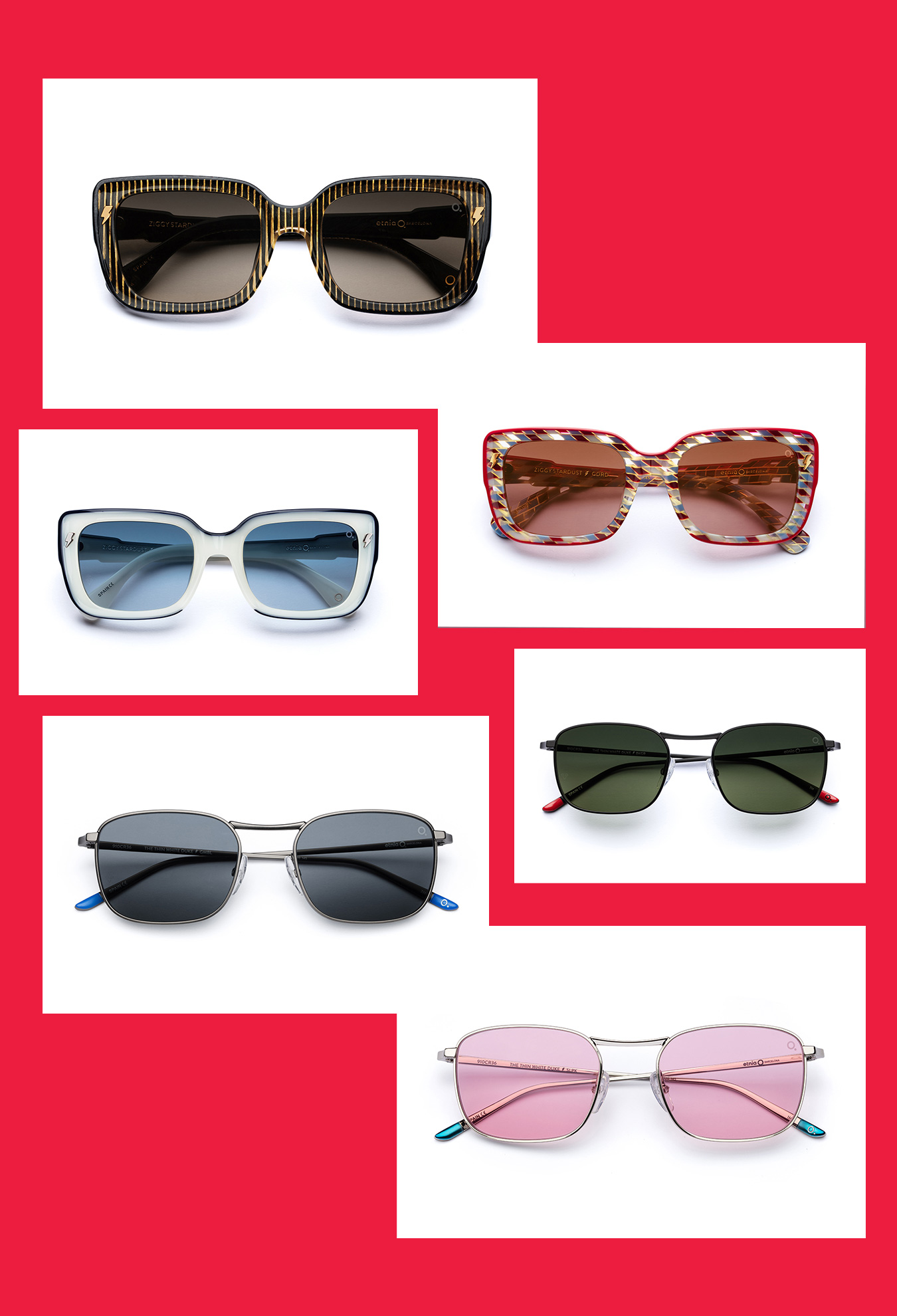 Ein weiterer Fall von Nostalgie ist die aktuelle Sonnenbrillenkollektion des Labels Etnia Barcelona. Hierbei geht's aber nicht um die stilistische Rückkehr einer Dekade, sondern um die Hommage an eine Stilikone: David Bowie dient mit seinen Looks als Inspiration für 6 Sonnenbrillenmodelle. Zwei Styles wurden dafür direkt nach Bowie selbst benannt – die rechteckige, extrovertierte "Ziggy Stardust" (passend zu Bowies Alter Ego) und die klassischere "Thin White Duke" sind in je drei Farben erhältlich. "Ziggy Stardust" erinnert zum Beispiel an Bowies gestreiften Spacesuit, seine eigene Brille der 70er oder einen Lederbody, während die "Duke" einer Brille nachempfunden ist, die Bowie im Film "The Man who Fell To Earth" trug. Etnia Barcelona will nicht nur die verschiedenen Facetten der Ikone Bowie unterstreichen, sondern vor allem seine Individualität. Bowie sei trotz wechselnder Kostüme und Make-Up immer sich selbst treu geblieben, heißt es. Nur unsterblich werden konnte er nicht. Sein Look aber schon.
Nicht ganz so absurde, aber trotzdem spannende Storys: 
The Looks of Lambeck: So wird Sandras Persönlichkeit zum Fashion-Statement
Wie Blogger Michael Späth aus der Sinnkrise in Hollywood ein Modelabel schuf
Hier sind 5 classy Haartrends, die 2020 funktionieren