Keeping up with Ella Anderson: Die Schauspielerin beweist im exklusiven Talk, warum die Zeit als Kinderstar hinter ihr liegt
Die Jungschauspielerin Ella Anderson ist erwachsen geworden. Ihren neuen Grown-up Look zeigt sie uns in diesem exklusiven Editorial. Achja, und ihre Skincare-Routine gibt es noch gratis obendrauf. You're welcome in advance.
Generation Z is here to dominate und eines der besten Beispiele für die Wandelbarkeit, Woke- und Coolness ihrer Altersgruppe ist die Schauspielerin Ella Anderson. Bekannt wurde die 15-Jährige durch Nickelodeon-Shows und Disney-Produktionen. Ihr kommendes Projekt "James the Second" ist düsterer und ernster, als man es von der Jungschauspielerin gewohnt ist und auch so hat sich viel im Leben der Amerikanerin getan. Im exklusiven Talk hat sie uns nicht nur ihre Skincare Routine verraten, sondern auch, dass wir eventuell schon bald Musik von ihr erwarten können. Try to keep up!
Du bist erst 15, hast aber schon früh mit der Schauspielerei angefangen und bist deshalb so etwas wie ein Veteran im Showbusiness. Wie gehst du mit dem Druck um?
Es war eine interessante Reise, meine eigene Stimme zu finden.
Bis vor Kurzem war ich mir diesen Drucks gar nicht bewusst.
Ignorance is bliss,
wie man so sagt. Ich hatte das große Glück, an vielen tollen Projekten mitarbeiten zu können. Das gleichzeitige Erwachsenwerden und Herausfinden, wer man eigentlich ist, war das Schwierige. In einer Welt der Erwachsenen ist es schwer, selbstbewusst genug zu sein, um für das einzutreten, was man will, aber ich bin gesegnet, von einem Team von Menschen umgeben gewesen zu sein, die mir zuhören und mich respektieren.

Korset von Hanaquist, Shirt von Hester by Hester, Blazer & Rock von Lepiacentini


Scheint, als würde sich deine harte Arbeit bezahlt machen, denn bei deinen 2 Millionen Followern bist du ganz schön beliebt und hast auch eine Nominierung als "Favorite Female TV Star" erhalten. Nebenbei hast du noch deine eigenen Beauty-Linie und eine Menge anderer Projekte am laufen. Auf welchen Meilenstein bist du am meisten stolz?
Klar sind die Awards toll, weil sie von den Fans kommen, aber ich messe mein Leben nicht nach Meilensteinen. Und weil ich eine Perfektionistin bin, fällt es mir sowieso schwer, vergangene Leistungen als besonders toll zu bewerten. Obwohl, doch: Mein selbst gesähter Garten erfüllt mich mit Stolz und wenn ich meine Kreativität auslebe, statt mich zu verkopfen.

Ganzer Look von Hester by Hester
Schnelle Speed-Fragerunde! 
Du hast bereits mit Jennifer Aniston, Melissa McCarthy, Kirsten Bell, Loni Love, Kathy Bates, Kristen Wiig, der Autorin Jeannette Walls und so vielen weiteren, inspirierenden Frauen zusammengearbeitet. Kannst du für uns beschreiben, wie sich ein Set mit einer hohen Präsenz von Frauen verändert? 
Ich bin so ein großer Fan von allen Frauen, die ihr aufgezählt habt und möchte die Liste gern noch ergänzen: Greta Gerwig, Olivia Wilde, Sofia Coppola, ich könnte noch ewig weitermachen. Brie Larson hat mein Bild von Frauen in Hollywood maßgeblich verändert. Ich liebe es, alle möglichen Filme zu studieren. Ich zeigte ihr damals meine Liste und erst sie machte mich darauf aufmerksam, dass fast alle Filme darauf von einem männlichen Regisseur stammen. Erst im Gespräch mit ihr wurde mir bewusst, wie wichtig die Rolle eines oder einer Regisseur*in ist – wie viel es ausmacht, aus wessen Blickwinkel eine Geschichte erzählt wird. Ich habe meine Lektion gelernt und konnte aus erster Hand erfahren, wie mächtige Frauen in ihrem Element den Weg für meine Generation ebneten. Frauen bemühen sich bewusst darum, dass wir in allen Bereichen Hollywoods gleich stark vertreten sind. Es braucht viele Menschen, um alte Muster zu durchbrechen, und es ist so schön zu sehen, wie sich Frauen zusammenschließen, um die Norm zu verändern.
Was ich damit sagen will ist: Wir können alle mehr tun, um Frauen in allerhand Bereichen zu unterstützen.

Rock von Hester by Hester, BH von Hester by Hester, Shirt von We11done, Boots: Saint Laurent, Gürtel von Bronx & Banco
In deiner Story konnten unsere Adleraugen etwas sehr Interessantes erspähen: Du hast einen Toningenieur vertagged und einen *psssst* Emoji dazu gepostet. Heißt das, dass wir bald Musik von dir erwarten können?

Ha ha ha., ihr seid ja voll die Detektive!
@18buummm
ist tatsächlich ein Produzent und eine Art "Audio-Gott", er ist aber auch mein älterer Bruder. Aber ja, Julian und ich haben tatsächlich ein Proejkt am Start. Behaltet eure Adleraugen einfach weiterhin offen, dann werdet ihr schon nichts verpassen…

Rock von Hester by Hester, BH von Hester by Hester, Shirt von We11done, Boots: Saint Laurent, Gürtel von Bronx & Banco
Wir kommen nicht darum, jemanden mit einer so flawless Haut wie deiner anzubetteln, uns Beauty-Routine zu verraten.
First of all, thank you. Das ist echt ein super sweetes Kompliment, denn ich muss zugeben ein wenig besessen zu sein, wenn es um meine Haut geht. Deswegen habe ich auch meine Linie Aiko by Ella kreiert. Ich benutze nur natürliche Inhaltsstoffe und über die Jahre habe ich herausgefunden, was meine Haut braucht. Aber das braucht Geduld. Das ist auch mein erster Tipp: Gebt eurer Haut die Möglichkeit, sich an eine Grund-Routine zu gewöhnen und probiert dann nach und nach weitere Produkte aus. Neben meiner eigenen Marke benutze ich persönlich gerade Glossier, Milk und Make-up von Fenty Beauty.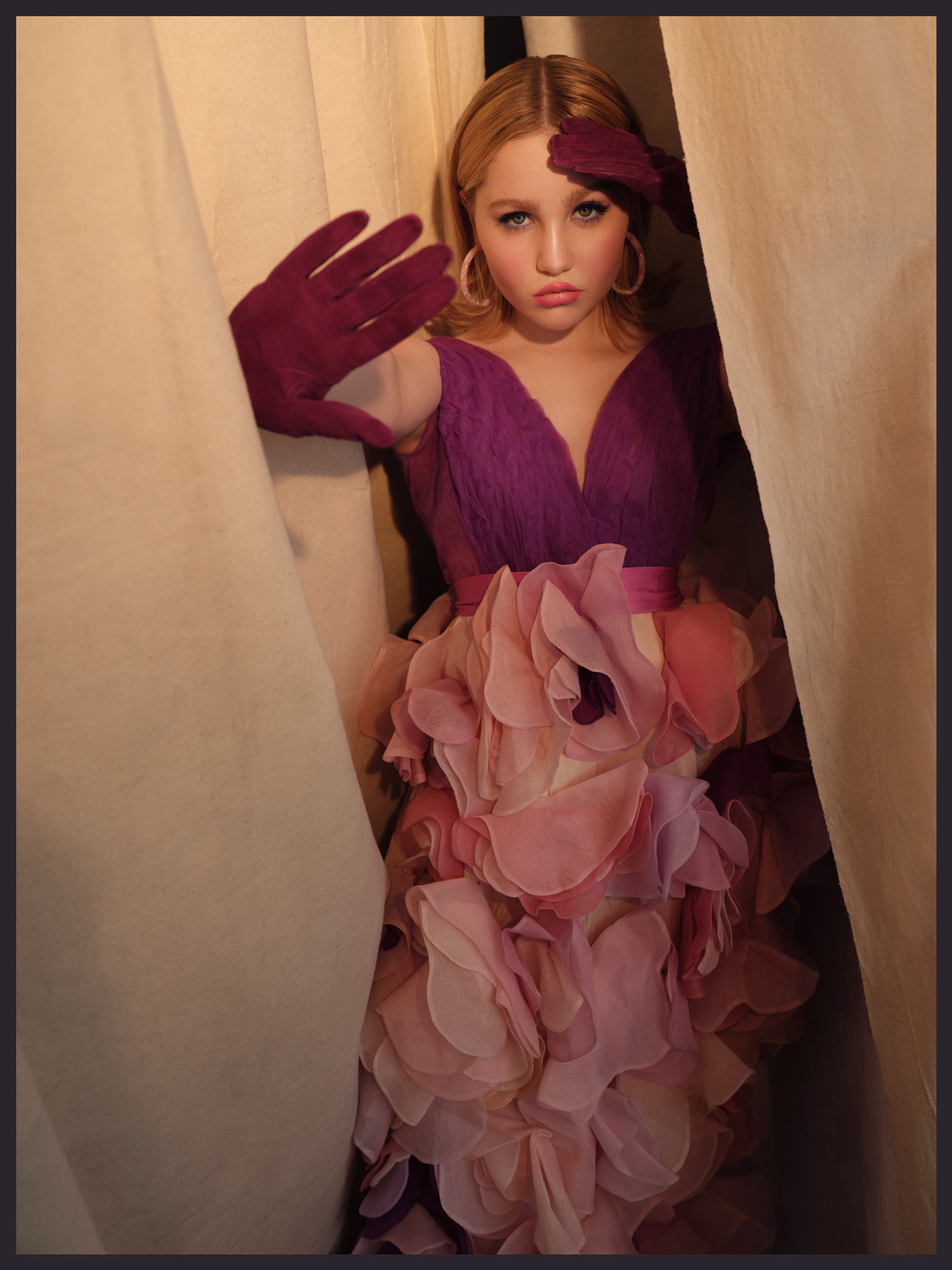 Kleid von Vivienne Hu, Handschuhe von Wing & Weft, Ohrringe von Erickson Beamon
Neben der Schauspielerei malst du gern. Und das ist dem Schminken ja nicht so fern, oder?
Absolut! Ich male und zeichne, seit ich klein bin. In der Selbstisolation habe ich wieder mehr Zeit dafür gefunden und sogar meine Gesichtsmaske bemalt. Etwas auf einem weißen Blatt Papier zu erschaffen und jedes kleinste Detail zu kreieren (ich bin Perfektionistin, remember?), ist für mich eine der direktesten Arten, sich kreativ auszudrücken.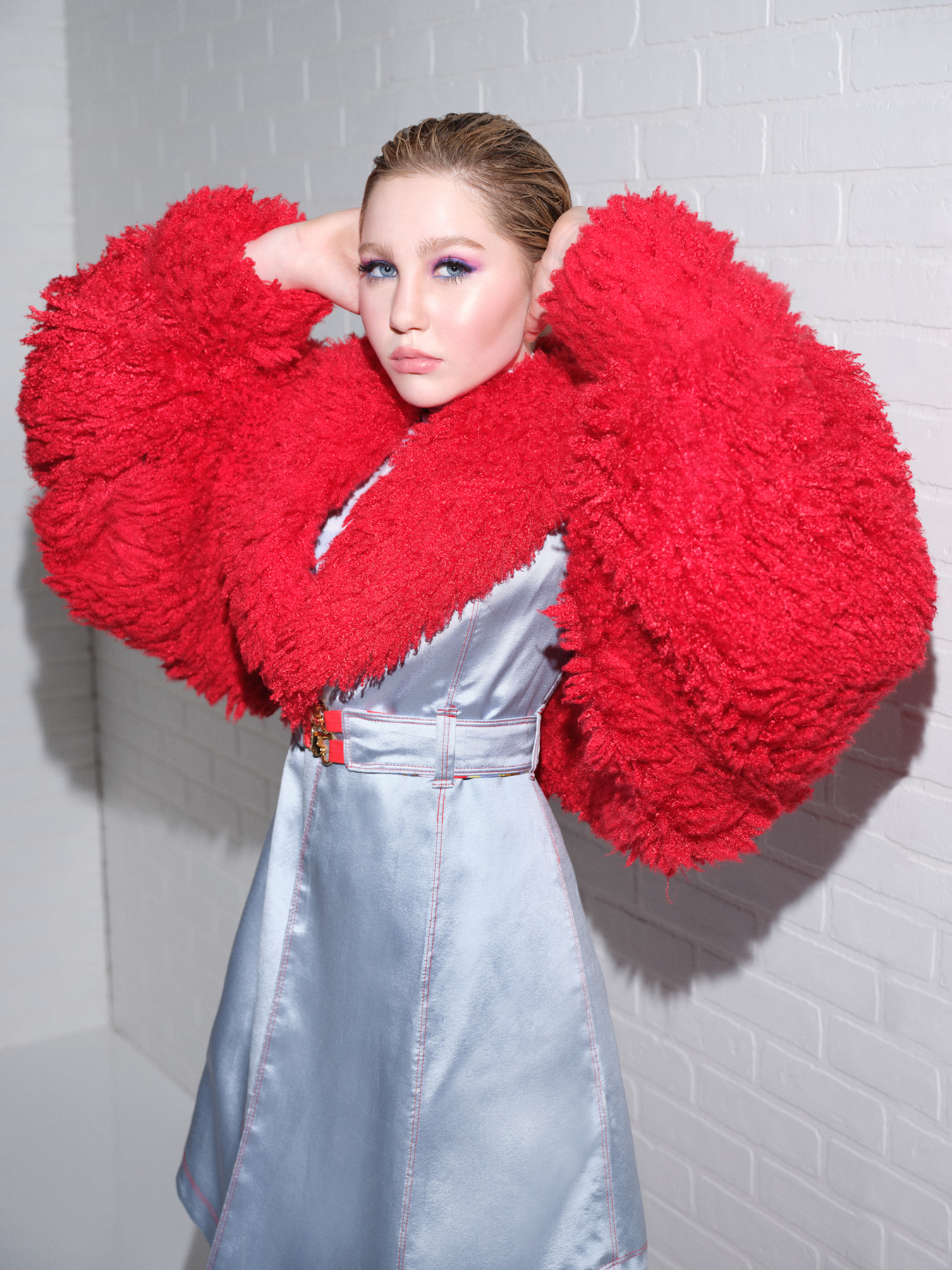 Ganzer Look von Hester By Hester
Das Shooting sieht nach einer Menge Spaß aus. Wie war es, so viel coole Mode zu tragen & welcher Look war dein Favorit?
Das Editorial zu shooten war mega. Ich liebe es, mit Michael Creagh zu arbeiten. Wir hatten vor einigen Jahren bereits ein Shooting und dieses war so etwas wie eine Reunion. Die Looks, die Mickey Boom mitgebracht hat, waren der Hammer. Zusammen mit den Looks einer meiner liebsten Designerinnen, der New Yorkerin Hester Sunshine, war der Mix perfekt. Wir hatten so viel Spaß am Set, dass wir statt der geplanten zwei Stunden den ganzen Tag geshootet haben. Keine*r wollte nach Hause und das ist meiner Erfahrung nach sehr selten. Mein liebster Look ist der, mit der Teddybär-Tasche. Ich meine, wenn das nicht der Traum einer jeden 15-Jährigen ist, weiß ich auch nicht.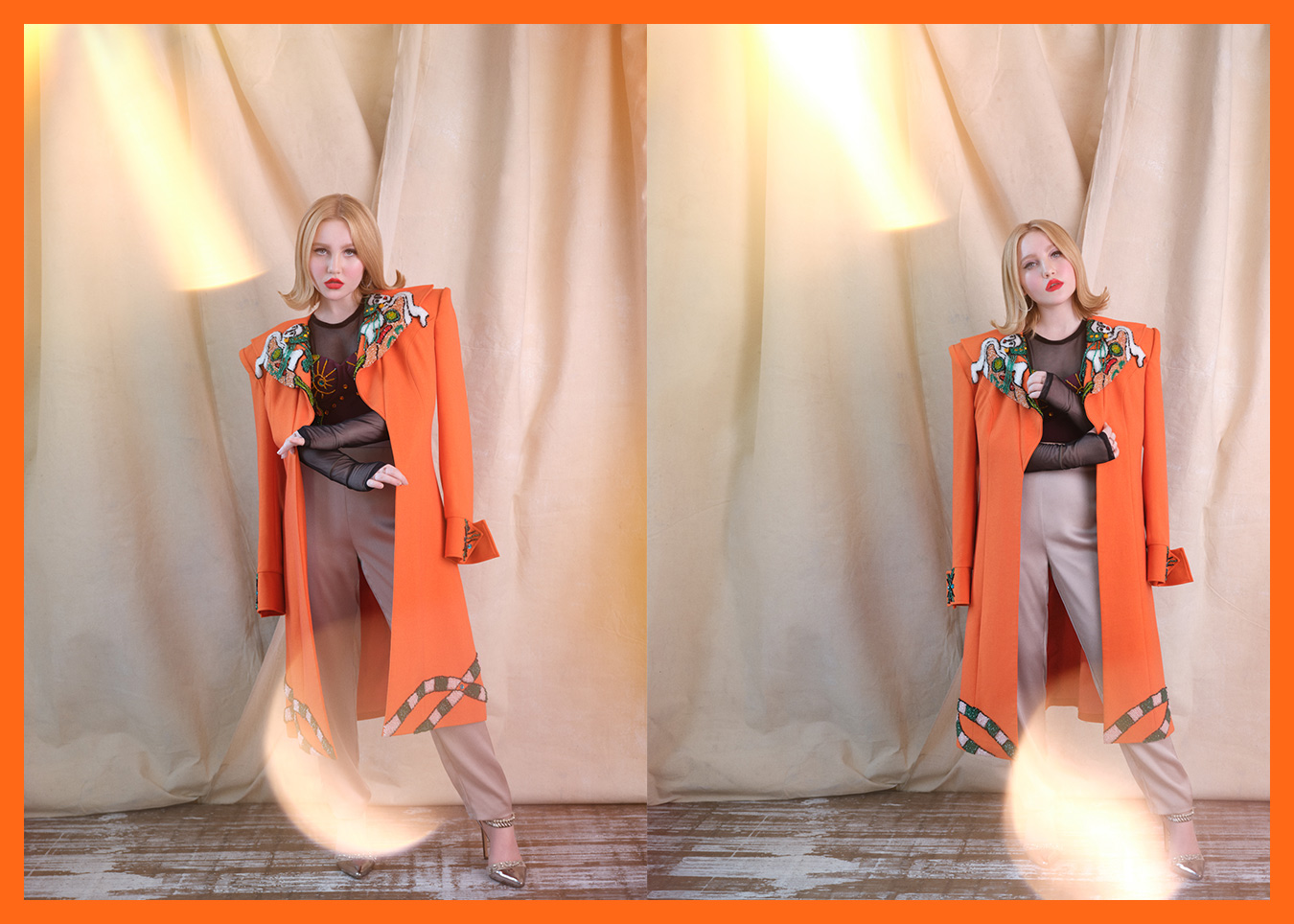 Sheer Top von Cinq a sept, BH von Jovana Louis, Trench Coat von Jovana Louis, Hose von Qui Prive, Schuhe von Amina Means