080 Barcelona Fashion Week: Diese spanischen Designerlabels solltet ihr jetzt auf dem Schirm haben
Die 080 Barcelona Fashion Week ist im vollen (virtuellen) Gange: In den ersten drei Tagen haben wir für euch ganz genau hingeschaut und die Designerlabels, die im NYLON-Kosmos besonders spannend sind, unter die Lupe genommen. Erfahrt mehr über spanische Labels, die nicht nur wegen ihres Looks den Einzug in euren Kleiderschrank verdienen, sondern auch Gender Boundaries in eine zeitgemäße Richtung pushen.
Die ersten Tage der 080 Barcelona Fashion Week sind bereits vergangen und haben eindeutig Inspiration in der Modewelt hinterlassen. NYLON-Fashion-Director Nina Petters hatte für unseren Kick-Off Artikel im Vorfeld bereits die Labels recherchiert, deren virtuellen Runway Shows ihr auf keinen Fall verpassen dürft. Habt ihr aber doch? Kein Problem! Wir stellen euch drei besonders spannende Designer*innen und deren Visionen vor und fassen zusammen, warum sie uns einiges über Kulturen und den Zeitgeist lehren.
ONRUSHW23FH: Die Styles der zukünftigen cool Kids
E-Girls und E-Boys aufgepasst: Wir haben neue Modeinspo für euch entdeckt! Das Designerlabel ONRUSHW23FH zeigt auf der 080 Barcelona Fashion Week die zukünftige Mode der cool Kids. Diese wird düster, aber dank futuristischer Schnitte ganz sicher nicht trist. Und, weil ihr diese Pieces im S/S 2021 nicht ohne jegliche Background-Infos tragen soll: ONRUSHW23FH entstand im Duo aus Albert Sánchez und Sebastián Cameras, die beide mit Anfang 20 ihren Abschluss in Fashion Design and Image in Barcelona gemacht haben. Da soll nochmal jemand behaupten, dass Studienarbeiten doch eh zu nichts Nutze sind: Dieses erfolgreiche Projekt war Teil ihrer Abschlussarbeit.
MANS: Menswear, die Gender Boundaries pusht
Dieses Label heißt Mans, weil seine Styles eben an Männer gerichtet sind? Nope. Der Name Mans kommt von Demans, einem Deutschen Familiennamen des Designers und Kreativdirektors hinter der Marke. Das räumt so einige Vorurteile auf, die auch so gar nicht zur Marke passen würden. Geschlechterklischees bricht dieses Label nämlich auch mit seiner neuen S/S 2021 Kollektion. Unter anderem mit hot pink Hüten oder neongrünen Blazer-Dresses beweisen diese Pieces, dass Männlichkeit nichts mit dem traditionellem Kleidungsstil zu tun haben muss. Bei Mans werden klassische Referenzen mit jugendlichen Subkulturen verschmolzen, in einem ständigen Spiel gegensätzlicher Elemente, die miteinander verbunden sind, um ein Gleichgewicht zu schaffen. Das Ziel ist es, eine komplette hybride Garderobe mit Qualität, vielseitiger Grundbekleidung und progressivem Design anzubieten, die auf Menschen ausgerichtet ist, die sich ihrer selbst sicher sind. Und wer steckt hinter dem Label, das bereits vier Mal bei der 080 Barcelona Fashion Week teilgenommen und in drei Fällen den Preis für das beste aufstrebende Design erhalten hat? Jaime Álvarez wurde 1994 in La Luisiana (Sevilla) geboren und schloss 2017 sein Studium in Modedesign am Istituto Europeo Di Design (IED Madrid) ab. Schon früh begann er, sich für verschiedene künstlerische Ausdrucksformen zu interessieren. Mode ist seine eine Art, Geschichten, Erfahrungen und in seinen eigenen Universen zu erzählen. Jaime schloss sein Studium im April 2017 ab und arbeitet weiter an seinem Dissertationsprojekt, dem Ausgangspunkt von Mans.
CUSTO Barcelona: Innovation und Kreativität von einer Weltreise inspiriert
Die Marke Custo Barcelona ist euch sicherlich nicht unbekannt. Aber wie dieses Label entstanden ist, wisst ihr vielleicht nicht ganz so sicher? Let us help out: Als die Brüder Dalmau, Custo und David nach einer langen Weltreise zurückkehrten, hatten sie eine Idee: Sie möchten die Eindrücke, die sie über die Jahre gesammelt haben, in ein Modelabel verwandeln. All die Begegnungen mit verschiedenen Philosophien, inspirierenden Kulturen und spannenden visuellen Momenten wurden Anfang der 80er Jahre zu Custo Barcelona. Eines, das der Familie besonders im Gedächtnis blieb, war der kalifornische Surferstyle, den es so in Spanien noch gar nicht gab. Es war klar: Diese Art von Innovation soll auch im Süden Europas entstehen. Die aus dieser Idee entwickelten T-Shirts zählen bis heute zu den meistverkauften Pieces der Marke. Dass sich die Brüder in den Bereichen von speziellen Drucktechniken und Grafikdesigns sicher fühlen, wird auch in der neuen S/S 2021 bewiesen, die sie diese Woche in Barcelona auf den Laufsteg gebracht haben. Mittlerweile sind ihre Techniken innovativer und anspruchsvoller geworden. Seit 1997 stellt die Marke neue Kollektionen jede Saison auf der New Yorker Fashion Week und nun eben auch auch auf der 080 Barcelona Fashion Week vor. Kurz: Innovation und Kreativität haben Custo Barcelona zu einer Marke gemacht, die die Vielfalt der Welt auf internationalen Laufsteg verteilt.
Diese Designerlabels haben es uns außerdem angetan
Júlia G Escribà: "There Is No Planet B" steht auf Schildern, die einige der Models während der Modenschau hochhalten. Eiin Mond hängt über dem Runway dieses Labels. Darauf: Kleidung, deren Technologie eigentlich für die NASA entwickelt wurde. Diese Technologie sorgt dafür, dass sich die Kleidungsstücke an die Temperatur anpassen, die euer Körper benötigt. Unter dem Namen "JGE Future Term" zählen sie zu der ersten Kollektionen, für die diese Technologie angewandt wurde. Können wir für eine Mondwanderung gut gebrauchen! JGE Future Term und die Marke Jùlia G Escriba wurden geboren, um auf die Klimakatastrophe zu reagieren und das Bewusstsein in der Modebranche zu verändern.
Sieh dir diesen Beitrag auf Instagram an
All That She Loves: Clara Esteve hat ihrer Slow-Fashion Kollektion unsere drei liebsten Sommertrends integriert: Batik, Ombré und Metallic. We're in! Außerdem verpflichtet sich die Designerin seit der Gründung des Labels in ihrem Studio 2017  zu ethischer, verantwortungsbewusster und qualitativ hochwertiger Arbeit. All That She Loves will keinen Trends folgen, sondern sich lieber auf lokale Fertigungsprozesse und verantwortungsvolle Färbetechniken konzentrieren.
Brain and Beast: Mode "Made in Spain" (und mit einer ordentlichen Portion Humor) lieferte Designer Ángel Vilda. Auch die Geschichte dieses Labels erzählt sich wie ein modernes Märchen: Das Label wurde vor über 10 Jahren aus einer Garage heraus gegründet, wird mittlerweile von einer Agentur in Hong Kong vertreten und durfte schon mehrere Modepreise abstauben.
Sieh dir diesen Beitrag auf Instagram an
Hier findet ihr die Termine der letzten Shows morgen: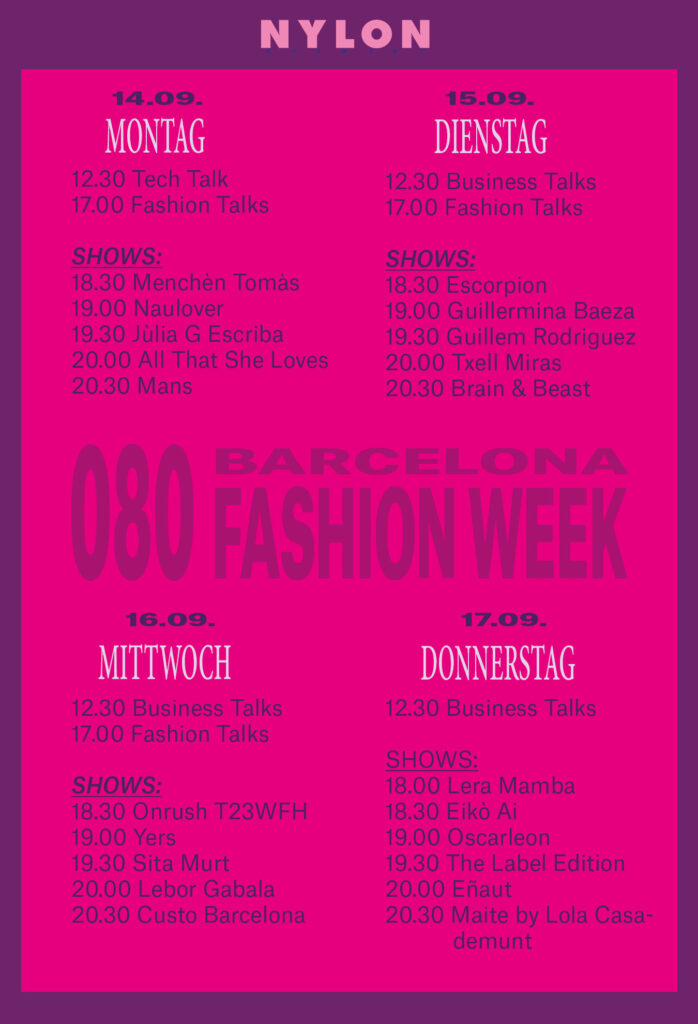 In Kooperation mit 080 Barcelona Fashion Week.
Blickt hier hinter die Kulissen von vergangenen Fashion Weeks:
Andreas Kronthaler for Vivienne Westwood 2020: So war's Behind the Scenes bei der Paris Fashion Week
Was kann Mexico City in Sachen Mode? Recap der Mercedes-Benz Fashion Week Mexico
Die Highlights der Berlin Fashion Week 2019: Tampon-Ohrringe, Prom Night & Celebrity-Treff bei Liam Payne