Die 7 besten Teenmovie-Soundtracks
Von Clueless bis Romeo und Julia: Die Filmlandschaft der Neunziger und frühen 2000er bleibt unvergessen – genau wie die dazugehörigen Soundtracks! Wir haben euch unsere
Favorites zusammengestellt.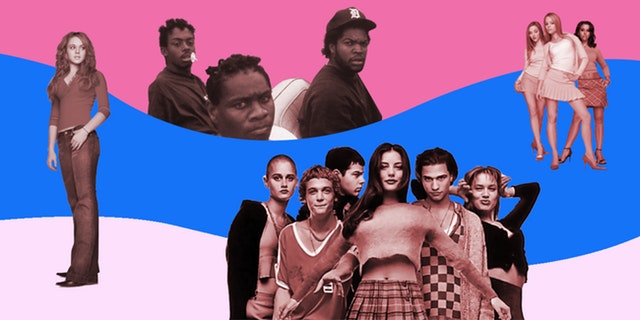 Text: Angela Lashbrook
Die Entdeckung guter Musik ist ein wesentlicher Bestandteil der Teenagerzeit. Bei mir ging es mit jugendlichem Fantum (The Spice Girls und N*Sync!) im Alter von etwa 13 Jahren los, bis ich irgendwann von Nirvana, Rilo Kiley, Neutral Milk Hotel und Joanna Newsom geradezu besessen war. Wenn wir verstehen wollen, wer wir sind, dient oft Musik als Hilfe: Diese Band ist Indie, ich also auch; dieser Sänger ist Punk, und ich bin ein Rebell. Musik gibt Teenagern Halt und hilft ihnen im besten Fall, ein Stück weit sich selbst zu finden.
Und weil Musik bei Teenagern eine besonders große Rolle spielt, macht es Sinn, dass Filme über und für Teenager richtig gute Soundtracks haben. Wer in den Neunzigern oder 2000ern aufgewachsen ist, weiß, wovon ich spreche: Soundtracks von Filmen wie Clueless oder Romeo und Julia halfen uns durch dunkle Zeiten oder begleiteten uns in schönen Momenten – und bleiben deshalb einfach unvergessen. Hier eine Auswahl zum Schwelgen:
Empire Records  (1995)
Ein Film über Mitarbeiter eines Plattenladens hat natürlich einen hervorragenden Soundtrack. Dieser Soundtrack, der hauptsächlich aus Indie-Pop- und Punk-Bands sowie bekannteren Acts wie Better Than Ezra und The Cranberries besteht, illustriert perfekt die Stimmung der Neunziger und reflektiert gleichzeitig die ständige Angst, die Teenager mit sich rumtragen.
The Perks of Being a Wallflower (2012)
Auf diesem Soundtrack sind The Smiths vertreten – und es ist ehrlich gesagt überraschend, dass die Band nicht in mehr Teenagerfilmen zu sehen ist. Zusammengestellt wurde der Soundtrack von Stephen Chobsky, der Autor von The Perks of Being a Wallflower und Regisseur der Filmadaption. Kein Wunder also, dass wir ihn lieben!
Kelis' Track "Milkshake" in Mean Girls ist einfach unvergessen – hinzu kommen noch Peaches, The Donnas und Samantha Ronson. Girl Power at its' best!
Wenn man diesen Soundtrack mit nur einem Wort beschrieben dürfte, würde einem wohl als erstes das Wort "süß" einfallen. Das klingt negativer, als es gemeint ist: The Moldy Peaches, Belle & Sebastian und Antsy Pants V tragen zu einer schönen Mischung samt Ukulelen und ungeschöntem, kindlichem Gesang bei.
Save the Last Dance (2001)
Möglicherweise der Soundtrack, der sich heute am frischesten und hörbarsten anfühlt – wenn auch nicht ohne einen ausgeprägten Neunzigerjahre-Geschmack. Der Film mit Julia Stiles als strauchelnde Balletttänzerin, die sich nach dem Tod ihrer Mutter im fremden New York zurechtfinden muss, und Sean Patrick Thomas als ihr Tanzlehrer und Freund, ist aus zwei Gründen eine Neuauflage wert: Erstens ist der Hip-Hop/R&B Soundtrack wirklich gut und enthält eine Menge Hits,  zweitens hätten wir fast schon vergessen, dass auch Kerry Washington in dem Film mitspielt und ihr Auftritt schon damals vermuten ließ, dass eine große Karriere vor ihr liegt.
Romeo und Julia (1996)
Eine stimmungsvolle, wilde Compilation, wie es sich für Regisseur Baz Luhrmann gehört! Der Soundtrack zu Romeo und Julia landete in den USA auf Platz 2 der Billboard-200-Charts. Es war auch in Australien unglaublich beliebt und wurde dort fünfmal mit Platin ausgezeichnet – dank Bands wie Garbage, The Cardigans und Radiohead!
Clueless (1995)
Wer in seinem Freundeskreis nach den besten Teenie-Soundtracks ever fragt, wird ziemlich oft den Filmtitel "Clueless" zu hören bekommen: Nur wenige Teenagerfilme haben die Popkultur so beeinflusst wie die Komödie mit Alicia Silverstone in der Hauptrolle. Zu hören sind unter anderem die Beastie Boys, Radiohead und The Muffs.