Sport im Winter: So seid ihr auch in der dunklen Jahreszeit motiviert
Joggen macht nur im Sommer Spaß? Von wegen! Mit diesen Tipps bleibt ihr auch im Winter fit.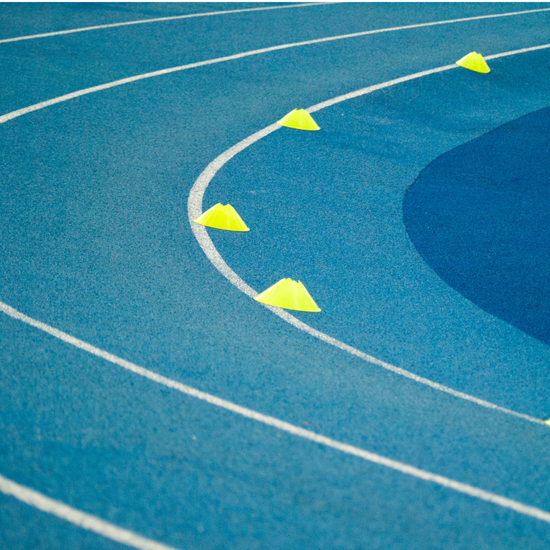 Text: Molly Hurford/Andrea Zernial
Der Winter macht es uns ganz schön schwer, im Training zu bleiben – vor allem wenn wir uns am liebsten mit Joggen fit halten. Die meiste Zeit ist es kalt, nass – und wenn wir nach 17 Uhr das Büro verlassen, ist es längst dunkel, was die Sache mit dem Sport nicht gerade einfacher macht. Wer will schließlich nach Sonnenuntergang allein durch einen Park laufen?  Und so finden wir im Winter immer wieder Ausreden, um nicht trainieren zu müssen – bis jetzt. Wir verraten euch, wir ihr euer Laufprogramm auch im Winter einhalten könnt und welche Alternativen es gibt.
Hit the Gym
Auch wenn Joggen auf dem Laufband ziemlich verpönt ist, macht es im Winter wirklich Sinn. Damit ihr euch nicht langweilt, könnt ihr beispielsweise eure Trainingszeit verkürzen, dafür aber euer Tempo anziehen oder Intervalltraining machen. Statt einer einstündigen Jogging-Session verbringt ihr also 30 Minuten auf dem Laufband und erhöht (natürlich je nach Lust und Laune) jede Minute oder alle zwei Minuten minimal eure Geschwindigkeit oder die Steigung. Bonuspunkte gibt es außerdem für alle, die ins Fitnessstudio zu Fuß gehen oder mit den Fahrrad dorthin fahren können.
Sucht euch einen Trainings-Buddy
Wenn es früh dunkel wird, ist es verlockend ins Bett zu hüpfen oder es sich auf der Couch gemütlich zu machen, anstatt ins Fitnessstudio zu gehen. Wer sich aber einen Trainingspartner sucht, hat keine Ausreden mehr – denn der Netflix-Marathon nach Feierabend fällt ganz schön schwer, wenn man weiß, dass man eigentlich mit dem Buddy zum Sport verabredet ist. Macht am besten 1-2 Termine pro Woche aus,  an denen ihr zu festen Zeiten gemeinsamen trainiert. So macht ihr garantiert nicht schlapp, auch wenn ihr mal einen Durchhänger habt.
Yoga statt Laufen
Ihr seid absolute Jogging-Fans und könnt euch nur schwer vorstellen, eine neue Sportart anzufangen? Nutzt den Winter, um dennoch Neues auszuprobieren – zum Beispiel mit einem Einsteigerkurs, den ihr zusammen mit Freunden startet. Das hat zum einen den Vorteil, dass ihr feste Termine (und vielleicht sogar schon im Voraus bezahlte Termine) zum Sport habt, die ihr nicht so einfach ausfallen lasst, wie eine Solo-Jogging-Tour im Dunkeln. Zum anderen sind Sportarten wie beispielsweise Yoga eine tolle Ergänzung auf eurem Trainingsplan und ihr könnt mit einer gestärkten Tiefenmuskulatur und einer besseren Atemtechnik in die neue Lauf-Saison starten.
Run in the Dark… auf Nummer sicher
Wer auch nach Einbruch der Dunkelheit nicht auf sein Training in der Natur verzichten möchte, sich bei dem Gedanken daran gleichzeitig aber etwas unwohl fühlt: Investiert in reflektierende Sportkleidung (die müssen nicht immer oldschool aussehen) und sucht euch eine gut beleuchtete Route aus, die ihr sicher und komfortabel erreichen könnt und gut kennt. Lasst außerdem die Kopfhörer weg, damit ihr Autos hinter euch gut hört und tragt immer ein gut aufgeladenes Handy bei euch.