NYLON-Freundebuch: Hey, Tate McRae!
Ein weiteres Juwel aus den 90ern? Das Freundebuch. Bewaffnet mit Stickern, Füller und Tintenkiller gehörte es einfach zum guten Pre-Millenial-Ton, sich mit süßem Foto persönlich zu verewigen. Diesmal verrät uns Youtube-Sensation, Musikerin und Tänzerin Tate McRae, womit sie derzeit zu kämpfen hat.
Was mit Millionen digitalen Zuschauern begann, hat ihr ausverkaufte Konzerte weltweit ermöglicht: Tate McRae startete ihre "Create with Tate" Musikserie auf  YouTube erst vor zwei Jahren und hat jetzt bereits über 130 Mio. Videoaufrufe. Klar, dass sie bei solch einem Erfolg schnell ihren ersten eigenen Song "Kids Are Alright" veröffentlichte; ihr neuster Hit heißt "Stupid". Zufall oder einfach Glück gehabt? Sicher nicht, denn Taktgefühl liegt Tate im Blut – oder sagen wir besser im Körpergefühl – denn sie tanzt, seitdem sie ein Kind ist. Auch das mit Erfolg: Tate McRae belegte den zweiten Platz bei der FOX-Serie "So You Think You Can Dance", erhielt drei Auszeichnungen als "The Best Dancer" bei den Dance Awards und trat bereits auf Bühnen von Ellen und The Teen Choice Awards auf. Fun Fact: Sie hat außerdem dem Charakter "Spot Splatter Splash" in der Netflix-Serie "Lalaloopsy" ihre Stimme geliehen. Wir fühlen uns vor lauter Erfolgsaufzählungen dieses erst 16-jährigen Allrounders schon ganz gestresst – da fragt man sich doch, womit Tate bei all den Talenten noch zu kämpfen hat? Wir haben sie gefragt.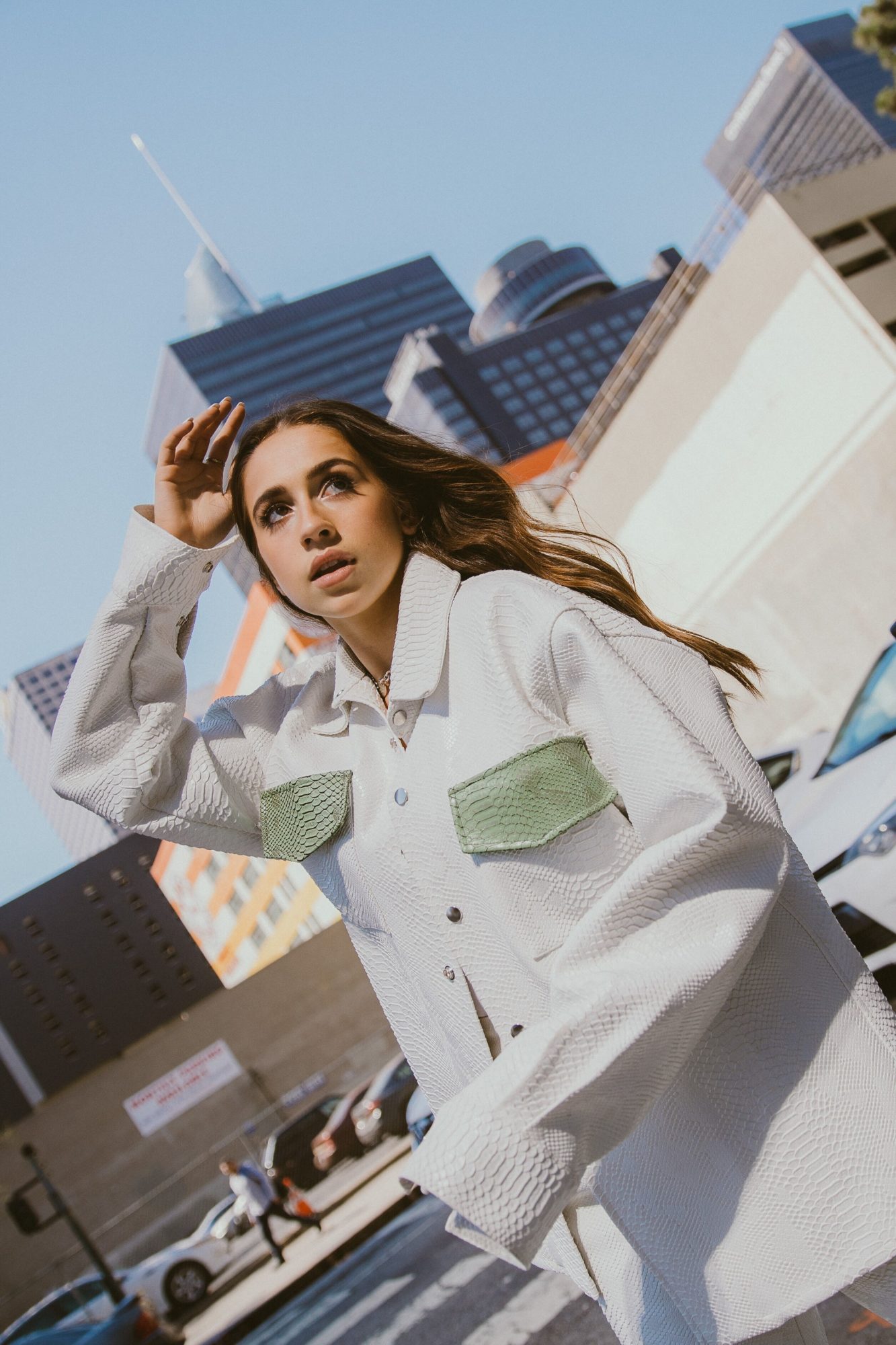 Würdet du dich sich selbst als VSCO-Mädchen bezeichnen? Was bedeuten dir solche Gruppierungen?
Ich würde mich definitiv nicht als VSCO-Girl betrachten. Ich habe das Gefühl, dass der Begriff "VSCO-Girl" hauptsächlich durch ein bestimmtes Aussehen definiert wird: Scrunchies, Trinkflaschen, übergroße T-Shirts usw. Da mein Style eher abwechslungsreich und hauptsächlich von meiner Musik und meinem Tanz inspiriert ist, würde ich nicht in eine bestimmte Kategorie passen.
In einem Interview mit i-D hast du erwähnt, dass du "die unbeholfenste, albernste Person" sind. Was ist das Witzigste/Peinlichste, was dir je passiert ist?
Das Peinlichste, was mir in letzter Zeit passiert ist, wäre wohl, dass kurz vor meiner LA-Show meine Lederhose aufplatzte, etwa 5 Minuten vor unserer Abreise. Es war ein echt riesiger Riss – hahahaha.
Dein neues Musikvideo zu "Stupid" findet bei einem Sleepover statt. Wie würde Dein perfekter Sleepover aussehen?
Fünf meiner engsten Freunde mit Netflix, Essen und guter Musik.
Du bist für Tanzunterricht an der School of Alberta eingeschrieben. Wie schafft du es, deine Musikkarriere und dein Studium unter einen Hut zu bekommen?
Auf Reisen ist es schwierig, aber wenn ich zu Hause bin, habe ich einen ziemlich guten Zeitplan. Ich gehe zur Schule, tanze jeden Tag und arbeite zwischendurch.
Du hast als Youtuberin angefangen. Was/wen schaust du da selbst gern?
David Dobrik ist auf jeden Fall mein Lieblingsyoutuber. Ich gucke seine Videos echt jeden Tag! Die Makeup-Tutorials von VOGUE finde ich auch cool.
Wenn du dich entscheiden müsstest: Instagram oder TikTok und warum?
Auf jeden Fall Instagram. TikTok ist mega unterhaltsam, aber bei Instagram kann man viel besser verfolgen, was bei anderen im Leben gerade so abgeht und man kann selbst besser Dinge aus dem eigenen Alltag teilen.
Auf welche 3 Dinge kannst du auf Tour im April auf keinen Fall verzichten?
"Throat Coat"-Tee, Lippenbalsam und Kopfhörer.
Was war das Schönste, was ein Fan je für dich getan hat?
Am liebsten mag ich es, wenn Fans so direkt sind und mir genau sagen, was in ihrem Leben gerade so passiert. Es ist wirklich cool, mit ihnen auf einer persönlichen Ebene in Kontakt zu kommen und zu sehen, wie meine Musik sie beeinflusst.
Welches Lied kannst du tagelang auf Dauerschleifen hören?
"Lose You Too" von Shy Martin. Ich bin schon seit Jahren davon besessen!
Was ist dein Lieblingsduft an anderen Menschen?
Ich mag Vanilledüfte. Manchmal klaue ich das Parfüm von meinem Papa, weil ich den Geruch so sehr liebe.
Womit hast im Moment am meisten zu kämpfen?
Natürlich kämpfe ich jeden Tag mit meinen Unsicherheiten. Wir alle haben Dinge an uns selbst, die wir lieben und hassen. Das Schwierigste ist, zu lernen mit allen umzugehen. Die sozialen Medien machen es irgendwie schwierig, sich nicht mit anderen zu vergleichen oder sich selbst schlecht zu reden, weil wir ständig sehen, was andere machen. Ich versuche mich davon zu distanzieren und im Hier und Jetzt zu leben.
Tate McRaes neustes Musikvideo "Stupid":
Hier findet ihr noch mehr NYLON-Freundebucheinträge:
NYLON-Freundebuch: Hey, Emma Steinbakken
NYLON-Freundebuch: Hey Kiana Ledé
NYLON-Freundebuch: Hi, DAS NEU!