Nordgreen Copenhagen als Kickstarter-Sensation & die Fashion News der Woche
Von verhexten Sneakern, einer geklonten Gigi Hadid und dem skandinavische Start-Up-Wunder: Die Fashion News der Woche haben großes magisches Potential.
Na, das nennen wir einen Kickstart! So steigt Nordgreen Copenhagen mit sozialem Engagement auf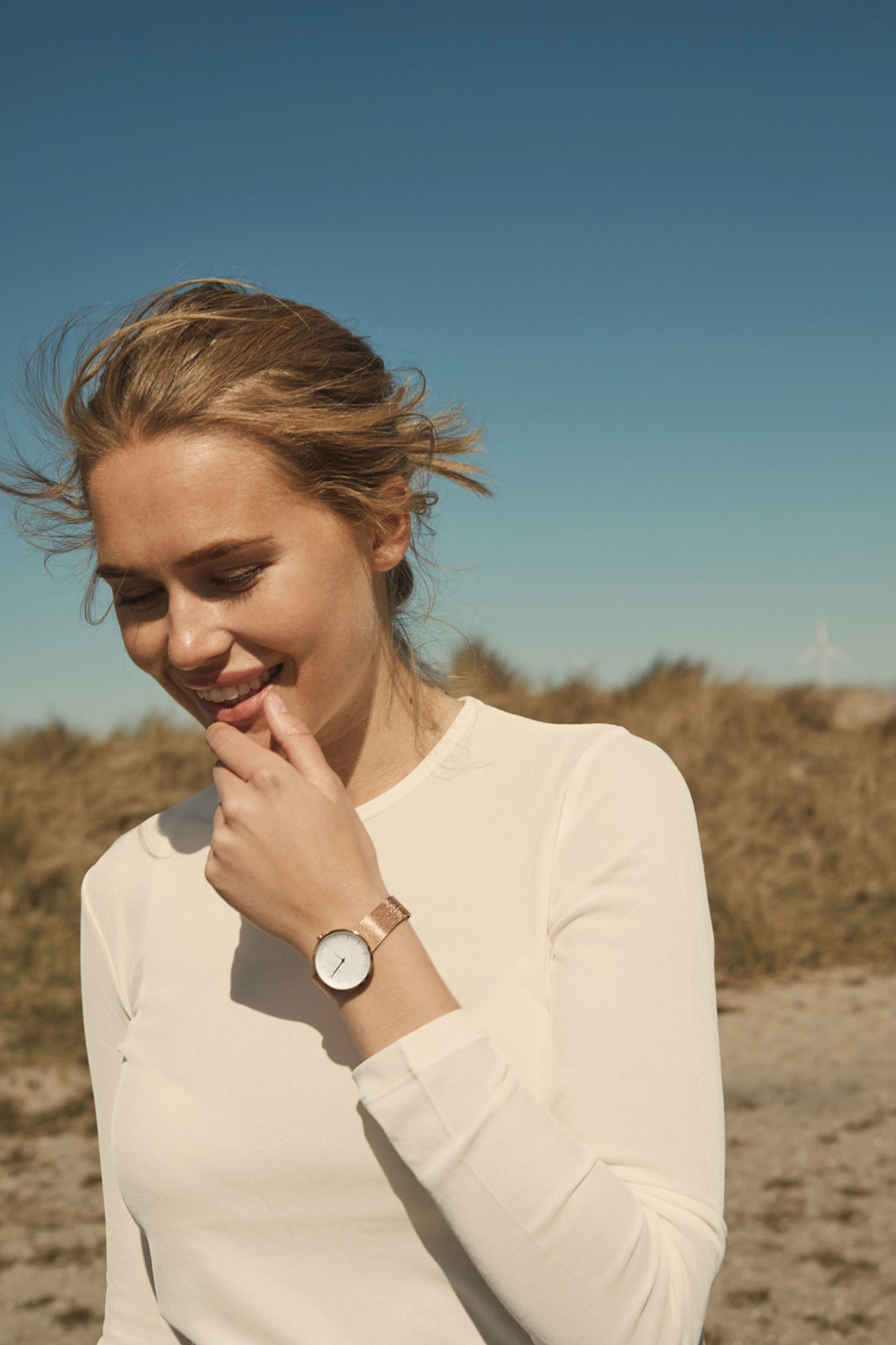 Nordgreen Copenhagen hat mit seinen Designeruhren das geschafft, wovon viele Start-ups träumen: Sie haben die Gründerszene 2017 mit der dritterfolgreichsten Kickstarter-Kampagne eines skandinavischen Unternehmens ordentlich wachgerüttelt! In 30 Tagen flossen über 200.000 Euro Umsatz nach Kopenhagen – Kapital genug, um global zu expandieren. Im ersten Jahr haben sie 10,000 Uhren in mehr als 66 Ländern verkauft. Wow, das Signal war deutlich!
Und was ist so besonders an den minimalistischen Designeruhren? Vieles aber die Erfolgsgeschichte der stylischen Skanvinavier sind ein perfektes Beispiel dafür, dass man als Gründer*in nicht das Rad neu erfinden muss – Authentizität und Kreativität sind entscheidend. Die Modelle bestechen durch auswechselbare Armbänder und bis zu 100 unterschiedlichen Kombinationen. Bei der Fertigung fokussiert sich das Unternehmen bei seinen Modellen für Männer und Frauen (& everything in between) auf hochwertige Materialien wie Leder, Nylon oder Mesh, verliert dabei seine soziale Verantwortung nicht aus den Augen. Es gibt ein Giving Back Programm, das verschiedene Organisationen weltweit unterstützt. Chapeau, dieses Unternehmen hat moderne Ansprüche verstanden, die Mischung aus Minimalismus, Funktionalität und sozialem Engagement kommt an! Check it out: de.nordgreen.com
Slytherin-Sneaker & Co: Vans teast erste Harry Potter Kollektion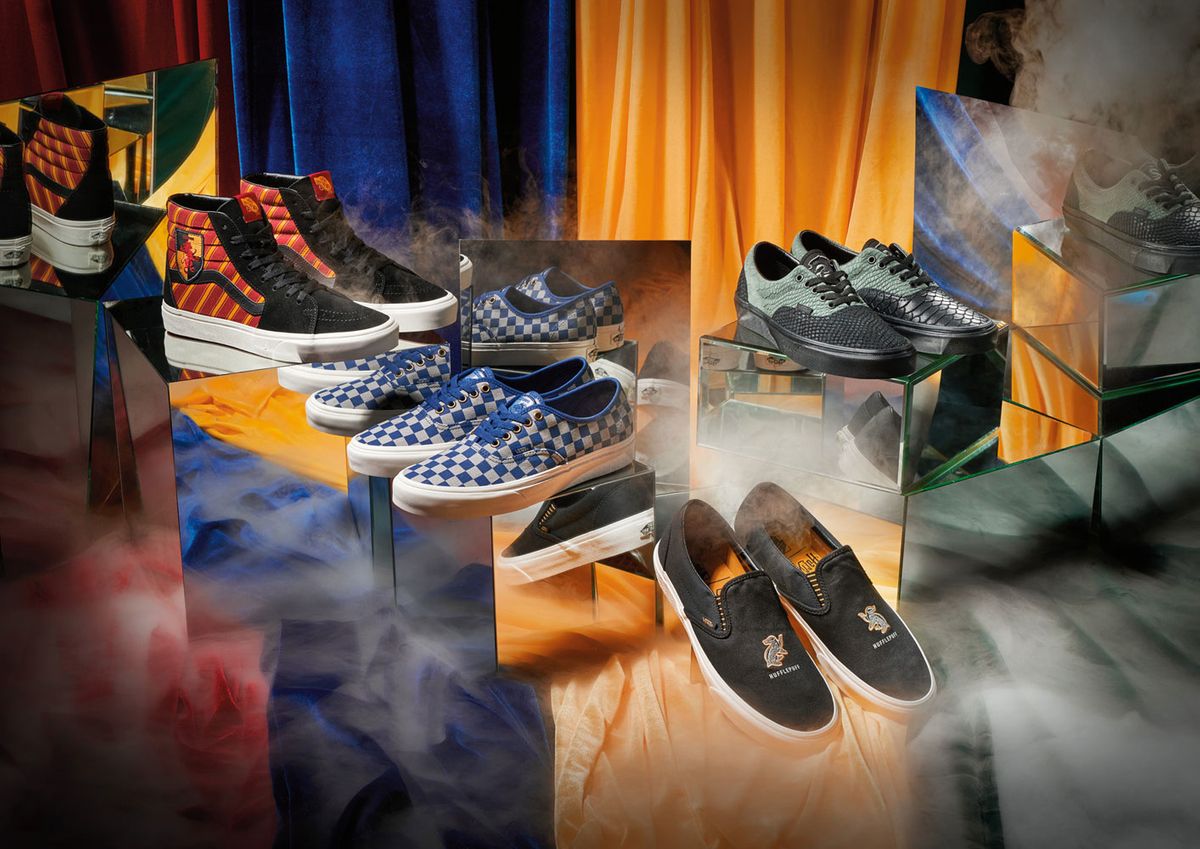 Bild: VANS über NYLON.com
Wenn wir mal ehrlich drüber nachdenken, haben wir bei Harry Potter aus gutem Grund auf eines nicht geachtet: die Schuhe. Who cared, was Harry & Co. an den Füßen hatten, während sie in fliegenden Autos reisen, Dementoren verjagen oder mal kurz Lord Voldemort umbringen? Bis jetzt. Vans liefert uns endlich einen ersten Einblick in die exklusive Potter-Kollektion. Den Anfang machen – natürlich – Sneaker. Für jedes Haus des Zauberinternats Hogwarts wurde ein typisches Vans-Modell in den jeweiligen Hausfarben designt. Bedeutet: Sk8-Hi High Tops in Orange für Gryffindor, die klassichen Era-Modelle in Schlangen-Optik für Slytherin. Und auch Ravenclaw und Hufflepuff bleiben ihrem Style mit grau-blauem Karo-Print und oder schlichtem Emblem auf Slippern treu. Wenn euer einziges Problem jetzt nur noch ist, dass ihr nicht wisst, in welches Haus ihr euch einordnen sollt, hilft der schnelle Test auf Pottermore. Wann die Sneaker und weitere Teile der Kollektion releast werden, ist allerdings noch nicht bekannt. Wie ging noch mal der Zauberspruch für Zeitreisen in die Zukunft?
Zur Europawahl: About You schmeißt 200.000 Artikel aus dem Sortiment
Sieh dir diesen Beitrag auf Instagram an
Falls ihr diese Woche – genauer gesagt am 14. Mai – bei About You shoppen wolltet, dürfte das ein relativ frustrierendes Erlebnis gewesen sein. Aus gutem Grund: Am 14. Mai gab es im Online-Shop lediglich ein einziges T-Shirt zu kaufen. Das lag aber nicht daran, dass dem Händler über Nacht die gesamte Ware ausgegangen wäre, sondern symbolisierte vielmehr einen Marketing-Trick mit Hintergrund. Mit der fehlenden Ware wollte About You zur Wahlbeteiligung bei der kommenden Europawahl aufrufen und darauf aufmerksam machen, wie es wäre, im wahrsten Sinne keine Wahl zu haben. Der einzig verfügbare Artikel war daher das "The Choice Shirt" von Designer Henrik Vibskov. Alle Einnahmen dieses Shirts werden an Amnesty International gespendet. Falls ihr die Aktion verpasst habt, könnt ihr das Shirt für den Gang zur Wahlurne am 26. Mai hier noch shoppen. Oder ihr entscheidet euch mit unserem Merch-Guide zur Europawahl direkt für den Total Look. Your choice. Ist eben gut, wenn man die Wahl hat, nicht wahr?
K-Swiss x Clueless: Schuhe zu Cher Horowitz legendärem Look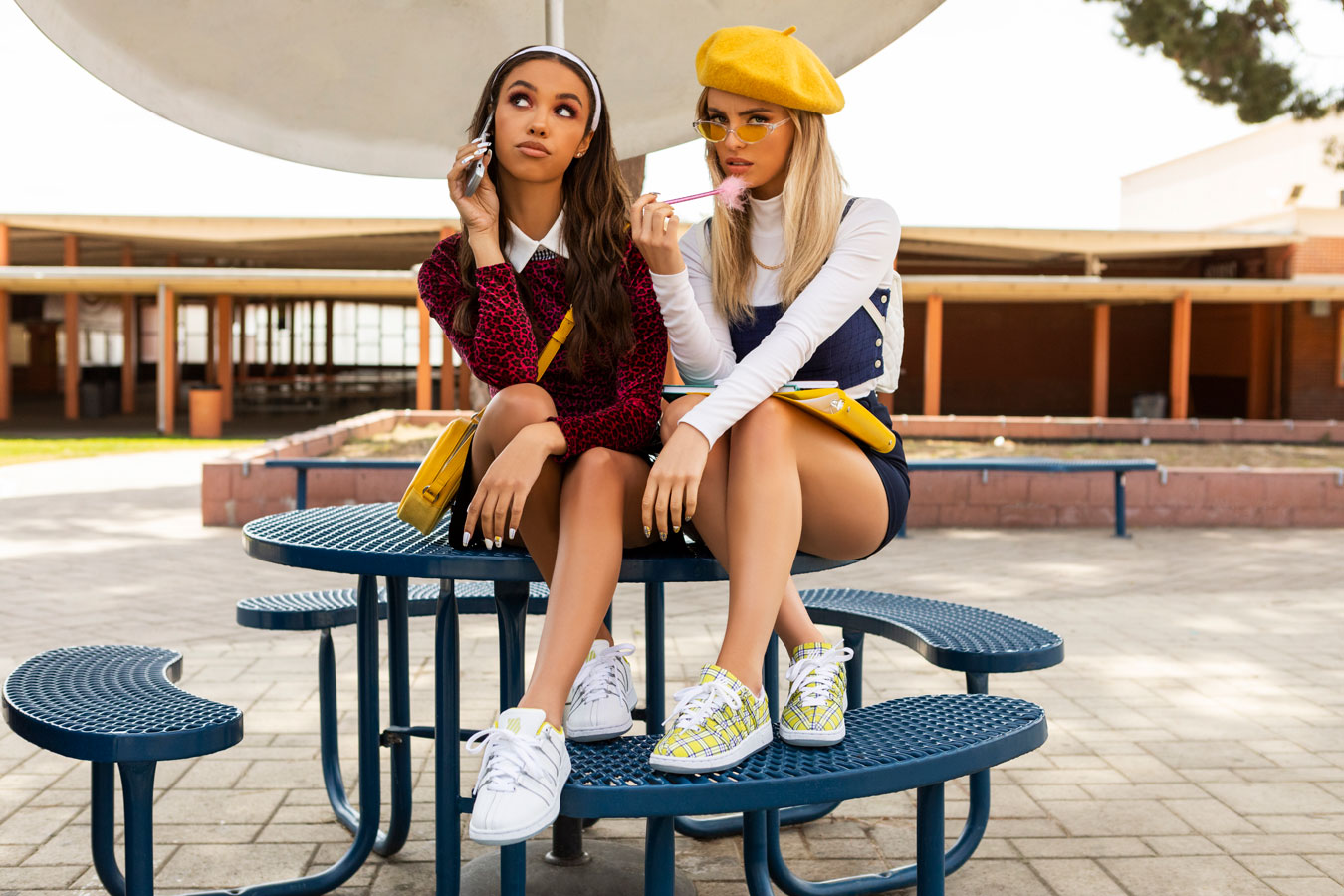 90er-Hype-Welle hin oder her: Der legendäre Style von Cher Horowitz aus dem 90s-Film "Clueless" scheint sich mittlerweile über Trends hinweggesetzt zu haben. Vielmehr sind die avantgardistischen Beverly-Hills-Looks der Filmfigur eine Art neuer Klassiker geworden. Zu den legendärsten unter Chers Outfits gehört nach wie vor das gelb-weiß-karierte Kostüm, das sie casually zur Schule trägt. Und genau daraus hat die Sneaker-Brand K-Swiss in ihrer neuesten Capsule Collection Inspiration gezogen. Hier finden wir das gelbe Karo wieder – allerdings in einem von zwei exklusiv als Hommage designten Tennischuhen. Deren zweite Variante gibt sich ein bisschen subtiler und übernimmt das Muster an der Ferse und im Inlay des Schuhs. Für wahre "Clueless"-Fans liegt das Highlight aber unter der Sohle. Hier wurde Chers ikonischer Satz "Ugh, as if!" in Original-Schrift des Films festgehalten. Genau deshalb trägt sich der Schuh am besten so: Beifahrersitz, Fenster runter, Beine raus. So wie es Cher selbst machen würde, da sind wir uns sicher. Die Schuhe sind ab heute erhältlich.
Vier mal Gigi: Hadid klont sich selbst in neuer Burberry-Kampagne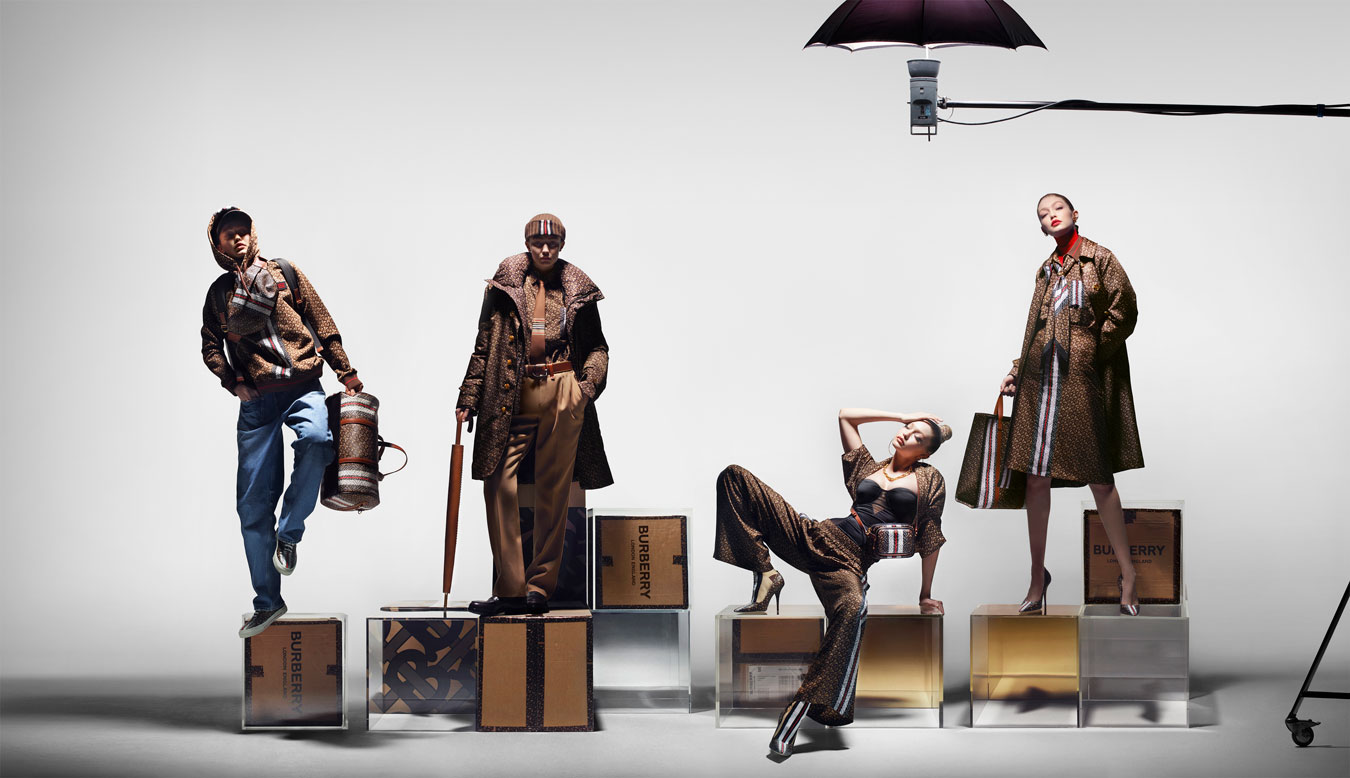 Könnte Burberry die Welt von Mode-Kampagnen verändern? Vielleicht. Die Visuals zur neuen Monogramm-Kollektion werfen nämlich die Frage auf, warum Fashion Brands nicht schon früher drauf gekommen sind, ein und dasselbe Model einfach zu klonen und für ein Bild in verschiedene Looks schlüpfen zu lassen. Gut, fehlende Diversity in jeder Hinsicht könnten ein Grund sein. Oder, dass nicht jedes Model Gigi Hadid ist – die posiert nämlich für Burberry in vier verschiedenen Outfits neben sich selbst. Photoshop erledigt den Rest. Gigi schlüpft im Styling in die vier für Burberry zentralen Charaktere: the lady, the girl, the boy und the gentleman. Auf diese Weise soll die Vielseitigkeit der Monogramm-Kollektion verkörpert werden, denn alle Gigis tragen Kleidung und Accessoires, die mit dem im letzten Jahr von Designer Riccardo Tisci enthüllten, neu-alten Monogramm versehen sind. Fotografiert hat die Kampagne übrigens Fotografen-Ikone Nick Knight, Make-Up gab's von Isamaya Ffrench. Ob die am Ende noch wussten, welche Gigi sie in welchem Moment vor der Linse hatten? Die Kollektion gibt's ab dem 22. Mai.