Die Ballroom-Community verdient mehr Respekt, sagt Vogue-Tänzer LaQuèfa St. Laurent im NYLON-Interview
Innerhalb des letzten Jahres ist Voguing auch in Deutschland viral gegangen – und das ist gut so. Wie mit wachsender Bekanntheit für die Community auch Probleme entstehen und Voguing trotzdem ein Wunderland bleibt, haben wir mit Tänzer LaQuèfa St. Laurent beim Force For Change Event von Nike in Berlin besprochen.
LaQuèfa St. Laurent ist Arigato St. Laurent ist Arigato Melody ist Ariclenes Garcìa. Vielleicht bleiben wir besser bei der Kurzform seines Namens: "Ari". Ari ist Vogue-Tänzer und gehört zu den bekanntesten Gesichtern der Berliner Ballroom-Szene. Seit fünf Jahren tanzt er Vogue und ist Mitglied in der Familie des Iconic House of St. Laurent. Heute performt er unter seinem Alter Ego, der selbsternannten "Bad Bitch" LaQuèfa St. Laurent, auf internationalen Runways und Dancefloors. And here we are: Wir treffen Ari beim Nike Force for Change Event in Berlin, um über die Verbindung von Tanz und Community zu sprechen. Wohl kaum eine andere Szene scheint diese Bereiche so zu vereinen wie die Welt des Voguing und der Ballrooms. Vielleicht bedeutet Voguing sogar in erster Linie Gemeinschaft und in zweiter Linie Tanz. Und beim Nike Force For Change Event rund um den Air Force 1 Shadow geht es vor allem um das: Gemeinschaft unter Tänzern. Also sprechen wir mit Ari über den Status Quo der deutschen Voguing-Community. So ein Gespräch bedingt die Diskussion über Respekt, Diversity, über Wissen. Und darüber, warum sich all das nicht auf die Grenzen von Berlin beschränkt.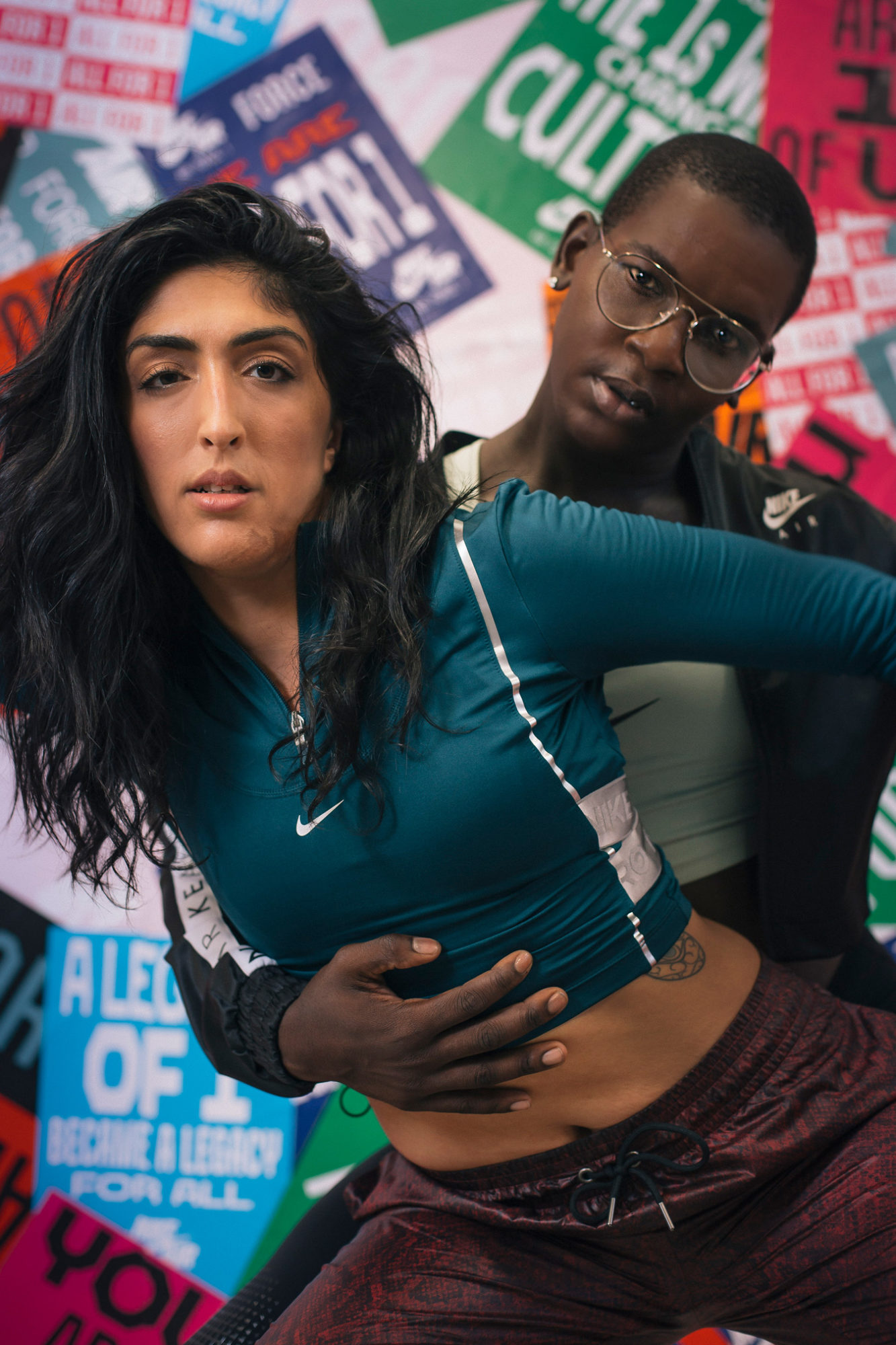 Moves für die Community: Neben LaQuèfa hat auch Tänzerin und Choreographin Jouana Samia neben Choreos vor allem ihre Community im Sinn. Lest unser Interview mit ihr hier. 
Was passiert mit dir, wenn du den Runway oder die Tanzfläche betrittst?
Sobald ich in mein Alter Ego LaQuèfa schlüpfe, versuche ich, meinen Ärger, Frust, Zweifel und Trauer loszulassen. Für mich erlaubt diese Art des Loslassens, nicht gemein oder unfair gegenüber anderen zu sein. Nach der Performance bin ich hinter der Bühne "releast", erleichtert und kann Menschen wieder liebhaben. Auf der Bühne fühle ich mich super wohl und kann alles rauslassen.
Was am Voguing hat dir dabei geholfen, dein Selbstbewusstsein zu finden?
Ich habe früher Hip Hop und Breakdance getanzt. Meine Tanzgruppen bestanden damals meist komplett aus Jungs, ich aber habe mich schon immer weiblich bewegt. Eine Zeit lang habe ich überlegt, komplett mit dem Tanzen aufzuhören. Dann habe ich Voguing entdeckt und gesehen, wie frei die Menschen auf der Bühne waren. Außerdem ist die Community sehr gemischt – sei es Sexualität, Gender, Hautfarbe: Für mich ist es wie eine Traumwelt, wie "Alice im Wunderland". Natürlich ist nicht alles schön, aber ich habe als erstes wahrgenommen, dass sich alle Menschen untereinander supporten. Das hat mich dazu gebracht, weiterzumachen und Voguing im Endeffekt zu lehren: Der Support von Menschen, die mich nicht einmal kannten.
Wann wird ein Tanzstil für dich zum Lebensgefühl?
Wenn du nicht mehr abwägst, ob du nun zum Unterricht gehst oder nicht. Wenn du nicht mehr über Kosten nachdenkst. Wenn du nicht mehr fragst, ob du dich in einem bestimmten Raum wohlfühlst. Nach drei Jahren Lernen habe ich überlegt, wie ich Voguing noch mehr in mein Leben integrieren kann und das Projekt "Future V" gestartet. Als ich einstieg, war die deutsche Ballroom-Community – und das meine ich nicht negativ – sehr weiß. Nicht-Weiße haben sich nicht getraut, aus sich herauszukommen. Besonders zu dieser Zeit herrschten weltweit Debatten um Geflüchtete, speziell hier in Deutschland. Ich habe damals einen Freund getroffen, der im im Queer Refugee Camp in Berlin arbeitet. Wir waren beide mit dem zufrieden, was wir tun, aber eben nicht zu hundert Prozent. Also habe ich überlegt, was mir in der Community wirklich fehlt: People of Color. Mein Freund schlug vor, im Queer Refugee Camp zuerst mal einen Workshop zu veranstalten. Am Anfang waren natürlich nicht viele Teilnehmer dabei und wir haben das Ganze eher für unsere Freunde aufgezogen. Irgendwann haben uns durch Facebook und Instagram aber immer mehr Menschen wahrgenommen.
"Future V": LaQuèfa gibt Voguing-Workshops in ganz Deutschland
Was willst du mit diesem Projekt erzielen?
Ich wollte wieder das Gefühl haben, dass die Szene "colorful" ist und eben nicht nur Schwarz und Weiß. Ich wollte, dass sich alle respektieren und miteinander tanzen. Dass diejenigen, die sich damals nicht wohlfühlten, das jetzt wieder taten. Zuerst haben wir deshalb einen Safe Space gebildet, um zu gucken, wer unsere Teilnehmer sind. Queer ist nicht gleich queer, schwul nicht gleich schwul, lesbisch nicht gleich lesbisch. Bevor irgendetwas anderes auf dem Plan stand, haben wir nach einem halben Jahr beschlossen, eine Show zu machen. Das hat sehr gut funktioniert und ist nun zweieinhalb Jahre her. Ich hatte eine kleine Pause und komme jetzt zurück mit "Future V".
Du weitest das Projekt auch über die Grenzen von Berlin aus. Auch dort ist längst noch nicht genug auf Diversity ausgelegt – dennoch gibt es viel mehr Möglichkeiten, als an anderen Orten Deutschlands. Hast du das Gefühl, an diesen Orten noch mehr verändern zu können?
"Future V" ist nur nicht in Berlin bekannt, auch nicht nur in Deutschland – sondern europaweit, und darauf bin ich wirklich stolz. Wir wurden zum Beispiel auch nach Polen eingeladen, in diesem Jahr sogar schon zum zweiten Mal. Ich bin nach Leipzig gezogen um zu zeigen, dass nicht-Weiße Menschen hier sind. Voguing ist für alle da, aber speziell nach den Landtagswahlen 2019 möchte ich zeigen, dass Leipzig und Sachsen auch für uns sicher sind. Und klar, in Berlin ist alles anders, aber auch hier habe ich gesehen, dass die Menschen Safe Spaces gebraucht haben. Ich habe sie ja nicht nur für POCs und Refugees geschaffen, sondern für Menschen, die an Voguing interessiert sind. Mein Ziel ist es, dass Menschen sich außerhalb von Berlin auch "erhört" fühlen – und über Grenzen gehen. Ich selbst gehe nämlich gerne über Grenzen.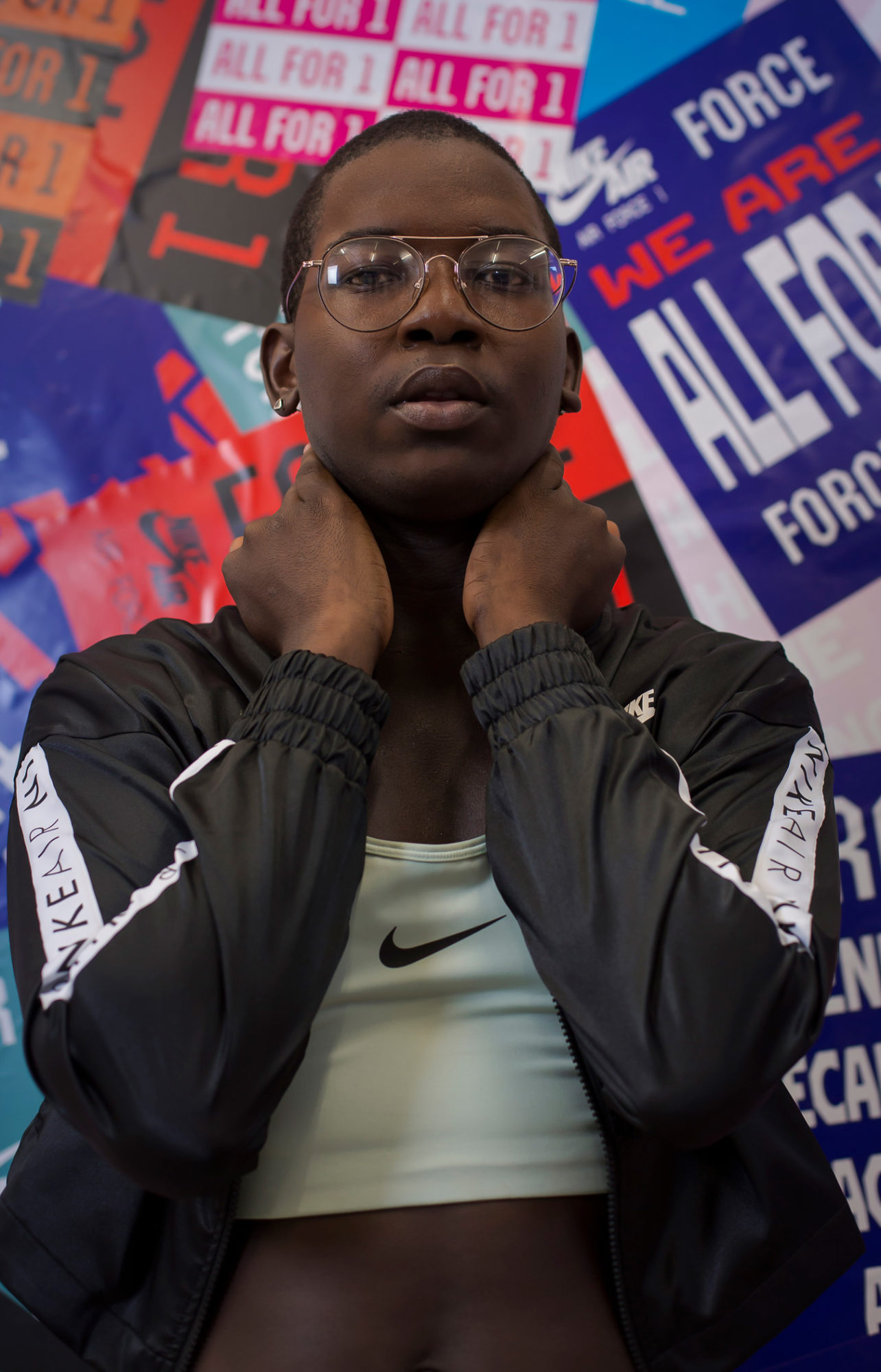 Need a little respect: "Wenn man die Geschichte des Voguing kennt, hat man viel mehr Spaß daran"
Was soll bei den Teilnehmern in dieser Expansion hängenbleiben?
Ich möchte die Geschichte des Voguing öffentlich machen und Menschen zeigen, wie es entstanden ist, damit sie den Respekt zurückgewinnen. Durch "RuPaul's Drag Race" ist Voguing so beschädigt worden…wir haben zum Beispiel auch eine sogenannte "Voguing Language" und jeder zweite Schwule (das sage ich jetzt so, weil ich am meisten in der schwulen Community unterwegs bin) benutzt sie. Ich möchte, dass der Respekt vor Voguing zurückkehrt, ich möchte aber auch, dass Menschen Spaß daran haben. Wenn man die Geschichte kennt und sie respektiert, hat man viel mehr Spaß als andersrum. Außerdem sind nicht alle Lehrer*innen streng oder wollen Profit aus Teilnehmern schlagen. Bei "Future V" trainieren wir ein halbes Jahr lang und dann gehören die Bühne und der Moment den Teilnehmern. Ich versuche, mich möglichst rauszuhalten, um ihnen zu ermöglichen, sie selbst zu sein und ein Gefühl dafür zu bekommen, wie es auf der Bühne ist. Für mich bedeutet das: An nichts denken, alles rauslassen.
Was ist dein Wunsch für die Ballroom-Szene der Zukunft?
Wir alle freuen uns darüber, dass Voguing so populär geworden ist – nicht zuletzt auch wegen der Jobs, die sich daraus ergeben haben. Dann aber wiederum gibt es Veranstaltungen, bei denen man uns bucht und sagt: "Tanzt einfach für vier Stunden". Das geht nicht und bedeutet genau das Gegenteil – keinen Respekt. Wenn wir mehr Jobs bekommen, können wir mehr unterrichten und Knowledge lehren. Trotzdem war die Ballroom-Kultur immer eine Underground-Szene und langsam sollte es auch im Voguing wieder eine solche geben. Wenn es aber große Jobs für die GANZE Community geht, finde ich das toll – die Band Years & Years hat zum Beispiel im letzten Jahr in London die gesamte Community eingeladen, für sie zu tanzen. Davon wünsche ich mir mehr: Dass nicht mehr für den einzelnen Menschen getan wird, sondern für die Community. Mitarbeiter großer Konzerne sollten also wissen, wie anstrengend Voguing ist und sich darüber schlau machen, was dahintersteckt, wer die Menschen sind. Sie sollten überprüfen, ob die Menschen überhaupt Teil der Community sind – es gibt genug, die sich gut bewegen können und sagen, sie seien Voguer, uns aber im Endeffekt den Job wegnehmen. Man sollte einfach aufpassen, dass man die Wurzeln nicht vergisst.
Mehr aus den Communities gibt's hier – diesmal Mode: 
Von Camcorder bis 3D-Scan: Das deutsche Duo "syn_" inszeniert Kampagnen mit ehrlichen Bildern
Copy & Paste: So tragen NYLON-Celebs ihre Sommerteile im Herbst
Was kann Mexico City in Sachen Mode? Recap der Mercedes-Benz Fashion Week Mexico