Debbie Harris – über ihr bisheriges Lebenswerk und das neue Blondie-Album
Im Alter von 71 Jahren bringt Debbie Harry ihren verstörend-ikonischen Stil auf dem nunmehr elften Blondie-Album zum Tragen. Das Ganze begleitet sie mit einer internationalen Tournee. Was sollte sie auch sonst tun – sich zur Ruhe setzen etwa?
Foto: Sofia Sanchez & Mauro Mongiello // Styling: Karen Levitt // Haare: Michael Matula @Mudhoney Hair Salon // Make-up: Guy Furrow // Maniküre: Miss Pop Nails // Foto-Assistenz: Ivory Serra // Styling-Assistenz: aomi Kotter// Ein besonderes Dankeschön an die Splashlight Studios.// Text: Lizzy Goodman
Wie man sie kennt, als typisches Mädchen von New York, erscheint Debbie Harry im West Side Manhattan Studio. Ein bisschen zu spät, fantastisch aussehend und doch etwas aufgelöst.
"Ich hatte zuletzt ziemlich viel Druck", berichtet die Singer/ Songwriterin und Schauspielerin, während sie einige vollgestopfte Taschen im provisorischen Lounge-Bereich abstellt und ein abgekämpftes Seufzen von sich gibt.
Harry und ihre Band Blondie haben ein neues Album mit dem Titel Pollinator veröffentlicht, für dessen Songs sie einige Wegbegleiter (Johnny Marr, Laurie Anderson) und Künstler die sie selbst beeinflusst haben (Charli XCX, TV on the Radio's Dave Sitek, Dev Hynes), verpflichten konnten.
Wie es im Vorfeld einer Veröffentlichung ganz gern geschieht, kommt auf einmal alles zusammen: Die erschöpfende Presse-Tour durch Europa fand gerade ihren Abschluss, Harry hatte währenddessen kaum Zeit, zu Hause ein bisschen mit ihren Hunden abzuhängen und schon geht es weiter: mit Überlegungen, welche Outfits sie im nächsten Video tragen soll, ob sie überhaupt genug Zeit zum Proben finden und – nicht zu vergessen – welche Songs bei der anstehenden Welttournee auf dem Programm stehen. Harry wirft achtlos eine handgeschriebene Set-Liste auf den Tisch –"Das ist die dritte" – und kollabiert förmlich in einem der schäbigen Sofas.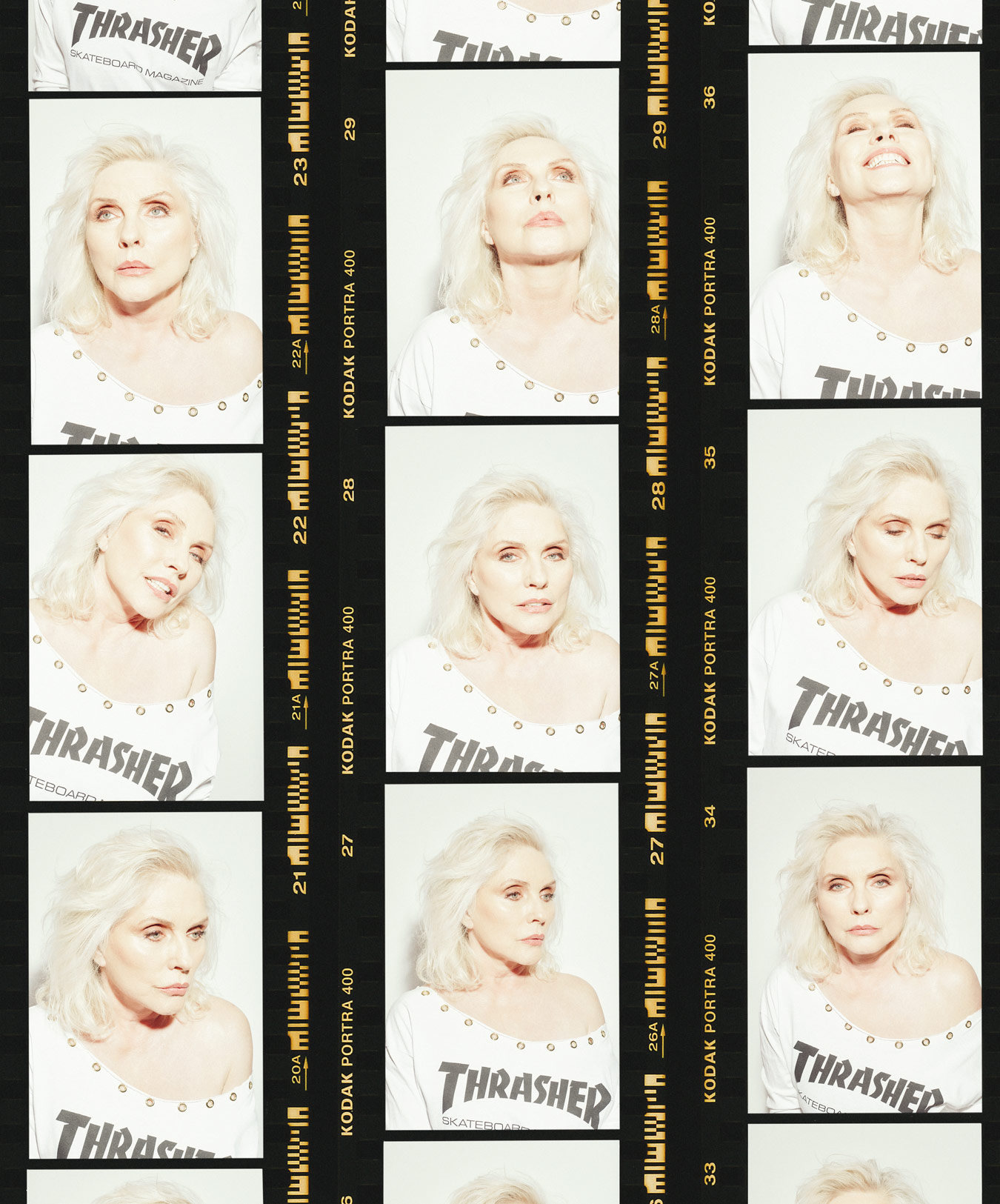 Kleid: Stylist's own Customized
"Wir haben über 40 Jahre Musik zu bieten und nur eine Stunde Zeit, um das Publikum glücklich zu machen und unsere neuen Songs zu präsentieren. Das ist eigentlich ein Ding der Unmöglichkeit", klärt Harry uns auf. "Das macht einfach keinen Sinn, ehrlich."
Die 71-jährige Sängerin richtet ihre riesige Brille und öffnet den Reißverschluss ihrer Second-Hand-Jacke, darunter trägt sie ein Vivienne Westwood T-Shirt (ein Geschenk von der Designerin selbst), das eine Fotografie von nackten Brüsten zeigt, dort wo sie anatomisch hingehören. "Sie sind fast an der richtigen Stelle", scherzt sie. "Los Mädels, wandert einfach ein kleines Stück höher." Dann zurück zum Thema, all diesen Erwartungen: "Bevor ich rausgehe auf die Bühne, sage ich mir selbst: "Keine Tränen. 'The Tide is High' werden wir nicht spielen. Ihr werdet es nicht hören, nein, ihr werdet es nicht hören."
So kennt man Harry am besten: Als zynische, obszöne Punk-Braut – sexy, angepisst, charismatisch und einschüchternd.
Ein Bild dieser Frau, das in dieser Version von unzähligen Fotografen dokumentiert wurde, seit Harry und ihr damaliger Freund Chris Stein Blondie ins Leben riefen, im 1970er New York, das zu der Zeit einer ausgebrannten Einöde glich. Hättet ihr damals im CBGB abgehangen, wäre es diese Version von ihr gewesen, die euch elektrifiziert hätte. Während der Vietnam-Krieg ununterbrochen tobte, Nixon wegen Amtsvergehen angeklagt wurde und der Serienmörder 'Son of Sam' sich auf freiem Fuß befand, betrat Harry das erste Mal eine Bühne, neben weiteren Gründungsmitgliedern der amerikanischen Punkrock-Welt rum um das CBGB: Television, The New York Dolls und die Ramones. Blondie avancierte zur Superband der Szene, brachte ein Wahnsinns-Album heraus, das sich bis heute 40 Millionen Mal verkauft hat und überlebte, in vielen Fällen sogar Dekaden lang, die meisten seiner Wegbegleiter. Doch Harry beherrschte einen einzigartigen kulturellen Raum: Ihre unschlagbare Sexiness ließ sie zu einer kontroversen Figur des Punk' avancieren, wo Androgynität das Leitbild und Attraktivität suspekt war, doch ihre favorisierte Rocklänge, ihre Haarfarbe und ihre generelle Attitüde machten sie auch zu einer schillernden Figur für die Massen. In den späten 70er Jahren, als sich New York City ebenso wie kurz darauf der Rest des Landes nach einem Gesicht und einem Sound sehnte, die zur schmutzigen Schönheit dieser Ära passten, um der paranoiden Hässlichkeit etwas entgegen setzen zu können, waren Harry und Blondie zur Stelle. Und das sind sie bis heute, mehr als vier Dekaden später geblieben: Leitbilder eines wundervollen Irrsinns und Herrscher über ihr ganz eigenes Rock-n- Roll-Universum.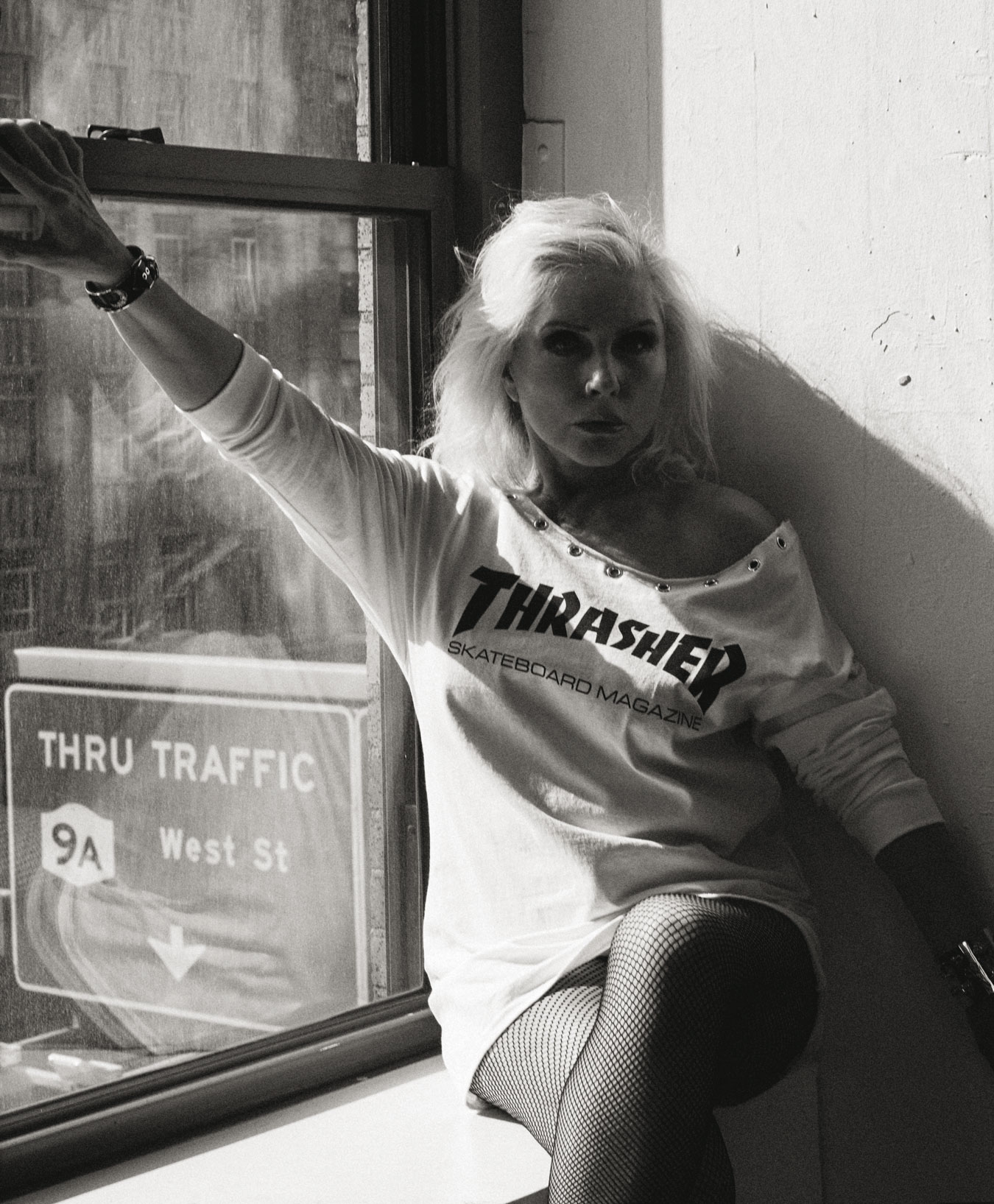 Kleid: Stylist's own Customized, Strumpfhose: Wolford, Armreifen: Alexis Bittar
"In meiner Kindheit war Debbie Harry ein großes Ding, sie galt als verdammte Schönheit mit Eiern, und war natürlich ein Vorbild für mich", sagt Sia, die gemeinsam mit Nick Valensi von den Strokes den düsteren, von Synthesizern getrieben Song 'Best Day Ever' zum Album beisteuerte.
Newcomerin Maggie Rogers, das aktuell angesagteste Girl der New Yorker Szene, formuliert es noch direkter: "Debbie Harry ist die unangefochtene Königin. Ich meine, sie ist eine Pop-Ikone, eine Punk-Ikone, eine Rock-Ikone, eine Tanz-Ikone und eine Style-Ikone. Wie kann eine einzige Person derart fantastisch sein? 71 und immer noch abfeuern? Verdammt, am liebsten wäre ich sie!"
Natürlich empfinden sich die Blondie-Mitglieder selbst nicht unbedingt als Ikonen. "Wir sind ein kulturelles Phänomen", bekundet Stein halb scherzhaft, der sich inzwischen zu uns auf die verschlissene Couch gesellt hat.
Harry kichert leise. Wisst ihr, dass Elite-Rennpferde mit einer Veranlagung zu hinderlicher Nervosität oft mit ruhiger veranlagten Tieren gehalten werden? Stein ist das beruhigende Pony an der Seite von Harrys unruhigem Rassepferd. (Ich erwähne das als jemand, der mehr als einmal voller Ehrfurcht aus einem West Village Bodega geflohen ist, nachdem er Stein drinnen ausgemacht hatte, eben im Begriff, seinen Kindern etwas Aufregendes wie Seife zu kaufen – seine Coolness ist einfach überragend). Selten gibt Harry Interviews ohne ihn an ihrer Seite und es wird deutlich warum. Die schräge Genialität des Gitarristen wirkt auf sie wie ein Lebenselixier.
"Er ist ein Wahnsinns-Künstler und er ist so tapfer", spottet Stein, und steigt in eine gutgemeinte Wuttirade über ein kritisches Stück ein, das Bob Lefsetz zuletzt schrieb, in dem er Drake dafür lobte, Grenzen auszuloten und auf Risiko zu gehen. "Drake hat einen verdammten Fan-Club und wird total gepusht. Natürlich kann er tun und lassen was er möchte!", führt er weiter aus und schüttelt den Kopf. Und Blondie? "Auf keinen Fall!", stimmt Harry ein, zieht endlich ihre Sonnenbrille aus und lächelt. "Wir sind indie!"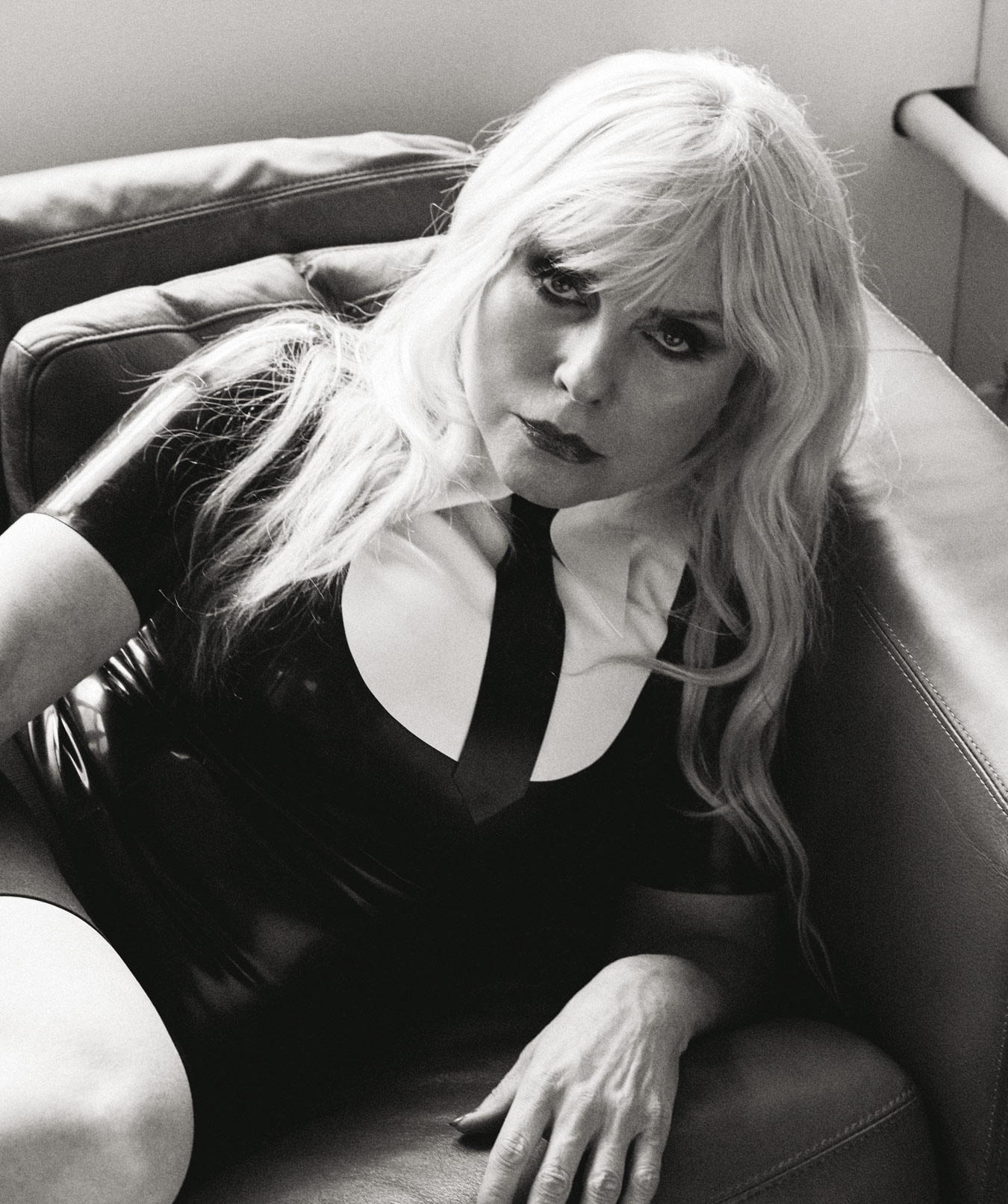 Shirt: Danny Deluxe
Selbst nach zig Grammy-Nominierungen, millionenfach verkauften Platten, der Aufnahme in die Rock'n Roll Hall of Fame und einvernehmlicher Anerkennung der überzeugendsten Rock-Stars aller nachfolgenden Generationen – von Madonna über Karen O bis hin zu Katy Perry – Harry bleibt die rebellische, trotzige und wehrhafte Außenseiterin. Sie ist immer noch ein überempfindliches, leicht reizbares Rock-Mädchen. "Es ist ein Wunder dass das alles funktioniert", fasst sie zusammen und gestikuliert im Raum herum, mit seinen schäbig gerahmten Postern von Jazz-Größen wie Charles Mingus oder Jon Coltrane und dem unterschwelligen Gestank von verbranntem Kaffee. "Ich glaube, früher oder später haben wir uns alle so gefühlt: 'Scheiß drauf, wozu all die Aufregung, weißt du?' Aber dann fängst du an zu spielen und plötzlich wir dir bewusst 'Alles klar, genau deshalb.'"
Harry stellt sich dem anstrengenden Prozess mit Pollinator Blondies elftes Studio-Album zu veröffentlichen nicht, weil sie sich verpflichtet fühlt, ihr cooles Rock-Image zu repräsentieren, sondern um Musik zu machen – die seit jeher ihr favorisiertes Mittel ist, um dem Leben zu begegnen. "Das ist was wir können", sagt sie mit einem Achselzucken. "Nur so können wir überleben, das ist alles."
Das Überlebenssystem hat sie sich hart erkämpft. In Miami geboren, wurde Harry als Säugling adoptiert und in einem Vorort von New Jersey von Richard und Catherine Harry großgezogen, die einen Geschenkeartikelladen betrieben. Immer wieder sprach die Sängerin davon, dass ihr Bewusstsein darüber, dass sie von woanders herstammt, ihr in gewisser Weise die Legitimation erteilte, bereits als junges Mädchen ein wenig rastlos zu sein. Dabei war sie nicht die typische Rebellin, wie man sie klassischerweise kennt. Klar, sie lehnte sich auf gegen die Zwänge des Amerikas der 60er Jahre – sie trug nur schwarz und hatte es nicht eilig einen Ehemann zu finden – gleichzeitig absolvierte sie erfolgreich die High School und das College und stand ihrer Familie stets sehr nah. (Einmal äußerte Harrys Mutter gegenüber dem Rolling Stone Magazin, dass ihre Adoptivtochter nur ein einziges Mal Weihnachten zu Hause verpasst habe, selbst als sie bereits begonnen hatte, auf Tournee zu gehen.)
Doch nach wie vor, New York und all das, was die Stadt Verlockendes repräsentiert, motivierte Harry nach dem College auf die andere Seite des Flusses zu ziehen, mit dem nur ansatzweise ausgearbeiteten Herzenswunsch ein kreatives Leben zu führen, sei es schauspielern oder malen oder singen oder irgendetwas anderes.
Im Laufe der folgenden Dekade arbeitete sie als Sekretärin bei der BBC und – deutlich berüchtigter – als Playboy-Häschen und Kellnerin bei Max's Kansas City, zeitgleich spielte sie in ausgesuchten Bands. Aber erst zu dem Zeitpunkt als Stein den Stilettos beitrat, jene Mädchenband in der Harry als Background-Sängerin fungierte, und das Paar sich abspaltete, um sein eigenes Ding zu machen, erlangte Harry eine Art Festigung ihrer kreativen Ausdruckskraft. "Wenn er nicht gewesen wäre, hätte ich sicher einige Male das Handtuch geworfen", sagt sie liebevoll über Stein.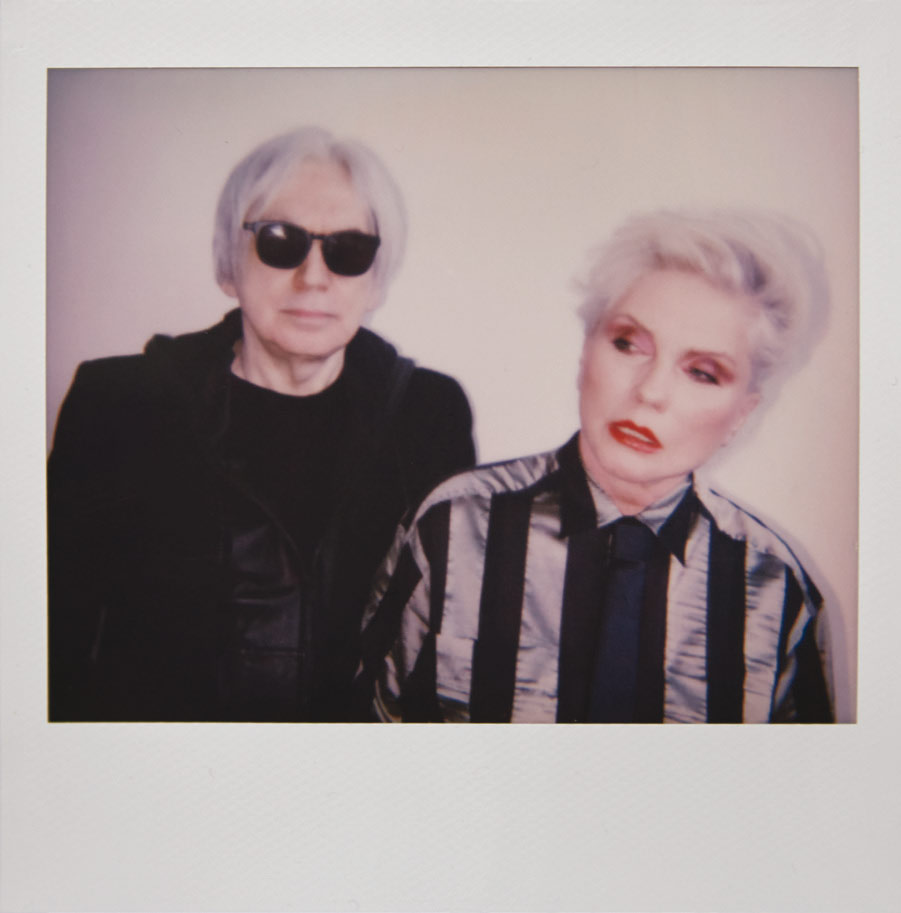 Jumpsuit: Topshop Unique
"Schön über pornografische Fantasien hinaus", lautete Richard Burtons berühmter Ausspruch über Elizabeth Taylor. Das Gleiche hätte er auch über Harry sagen können. Ihr Gesicht war – und ist bis heute – voller Energie, ein ästhetisches Äquivalent zu dem was Babe Ruth über seinen Schwung mitbrachte oder Henry Miller über seinen Stift oder Serena Williams über ihren Aufschlag. Aber wenn man sich die kulturelle Landschaft vor Augen führt, die Harry betrat, als sie im New York City der 60er Jahre ankam, war ihr Aussehen eine Verpflichtung, bevor es zu einem Vermögen wurde. Sie hätte ebenso als die Marilyn Monroe des Punk durchgehen können oder als eine von Warhols Musen, aber zunächst war sie bloß eine Blondine mit einem Faible für zuviel Make-up in einer Welt voller natürlicher Frauen wie Carole King und Joni Mitchell.
Mit fast 30 Jahren sang Harry im Hintergrund einer Folk-Band mit dem Namen 'Win in the Willows', auf der Bühne trug sie abgeschnittene Klamotten und Kitten Heels, in den zahllosen Clubs von Greenwich Village, jener 'Freewheelin'-Ära, die Dylan gerade berühmt gemacht hatte. Sie kam in die Stadt um das zu finden, was Stein so liebevoll 'die Fäulnis' nennt, diese schäbige Schattenseite – nicht um die Dinge schöner zu machen, nein, auf der Suche nach Hässlichkeit. "Heute ist die Stadt zu zivilisiert", sagt Harry über New York. Als es bröckelig und verrottet war, was es auf seine Art fantastisch."
Harry formte ihre kreative Identität als eine Außenseiterin, die den Dreck liebt, dies ist ihr Ausdruck gegenüber der Welt geblieben, auch nachdem sie berühmt wurde, die Essenz ihres eigenen Selbstbildes, so wie der wasserstoffblonde Zottel der ihren Look definiert. Das andauernde Image als 'Underdog' und der damit einhergehende Überlebenswille wurden über die Dekaden zu einer Institution. 1981 genoss Blondie die positive Resonanz auf ihren größten kommerziellen Erfolg, "Rapture", das verführerische Dub/Disco-Geschenk des Himmels, welches, Harrys beruhigendem Rap sei Dank ("Ich sagte, hört nicht auf, macht Punk Rock") die erste Nummer-Eins-Hip-Hop-Single von Amerika hervorbrachte.
Und ihre Reichweite endete keineswegs mit den Grenzen Amerikas. "Blondie gehörte als feste Instanz zum Soundtrack meiner Jugend", bekundet der frühere Smiths-Gitarrist Johnny Marr, der das Stück 'My Monster' zu Pollinator beisteuerte. "Sie waren riesig in UK, eine große Pop-Band, cool und schlau. Es gab niemanden, der sie nicht mochte."

Kleid: Sportmax, Hut: Danny Deluxe
Aber das war Teil des sprichwörtlichen Aufstiegs vor dem Fall. Im Laufe der kommenden beiden Jahre, erkannte Blondie, dass sie fast pleite waren, ausgenommen von einem zwielichtigen Manager; Stein landete nach einem Zusammenbruch im Krankenhaus, wie sich später heraus stellte die Folge einer seltenen Autoimmunkrankheit; und Blondie lag für unbestimmte Zeit auf Eis.
Harry nimmt reumütig Bezug auf die darauffolgende Ära, ihre sogenannten 'Eiscreme-Jahre', in denen die Presse ihre stressbedingte Gewichtszunahme gnadenlos anprangerte, während sie mit den Folgen des Zerfalls ihrer Band kämpfte, der Unsicherheit es mit einer Solokarriere zu probieren, der instabilen Gesundheit ihres Partners, und ihrer angeblichen Drogensucht. Ende der 80er Jahre, trennten sich die Wege von Harry und Stein, die als eines der ausdauerndsten Paare der Rock-Geschichte galten, dennoch blieben sie ganz offensichtlich sehr enge Freunde. Harry ist die Patentante der beiden Kinder von Stein und seiner Frau, der Schauspielerin Barbara Sicuranza. "Müssen wir noch länger darüber sprechen?", wirft Harry auf süß-saure Weise ein, während Stein sich wie ein zeternder Drache aufführt. "Ich werde noch zur Solokünstlerin, wenn du nicht aufpasst!"
Genau das war Harry in den 80er Jahren, als sie im Laufe des Jahrzehnts drei Soloalben veröffentlichte (zwei weitere 1993 und 2007 sollten folgen) und sich aufs Filmgeschäft verlegte, bemerkenswert besonders in David Cronenbergs Videodrome, John Waters Hairspray und Martin Scorseses Beitrag zur Reihe New York Stories. 1997 fand die offizielle Wiedervereinigung von Blondie statt, 1999 brachten sie ihr siebtes Album No Exit auf den Markt, inmitten einer musikalischen Wirklichkeit, in der Millennium von den Backstreet Boys das mit Abstand bestverkaufte Album des Jahres war.
Wieder einmal erreichen Blondie einen kulturellen Höhepunkt, wilde und verrückte Kinder des Punkrock, die eine ausgebrannte musikalische Landschaft, geprägt von Corporate-Strategien, mit ihrem Sound infiltrieren. 'Maria' ihre erste Single nach der Wiedervereinigung wurde der sechste Nummer-Eins-Hit der Band in UK, seither haben sie nicht mehr aufgehört zu touren oder Platten zu produzieren. 2014, anlässlich von Blondies 40. Geburtstag, veröffentlicht die Band Ghosts of Download, eine Doppel-LP mit neuen Songs und Wiederauflagen alter Hits, eine angemessene Reflektion einer Band der es gelungen ist, ihre zwei Seiten in Einklang zu bringen: die als geschätzte Veteranen und als hungrige Anfänger.
In diesem Zusammenhang zieht Harry sich nun an, um das jüngste Album ihrer Band zum Besten zu geben.
Shirt: Danny Deluxe
"Garderobe" sagt sie entschlossen, als ich sie frage, was ihr erster Gedanke nach dem Aufwachen heute früh war. Wir befinden uns immer noch in den höhlenartigen Proberäumen, wobei wir auf Harrys Geheiß hin inzwischen in einen noch weniger glamourösen Technikraum umgezogen sind, entlang des Ganges, der in die Lounge führt. Dort sitzen wir nun in grellem Neonlicht, umringt von ausgesondertem Equipment. "Hier drin ist es ruhiger", sagt sie. Sie hat Teile aus ihrem Kleiderschrank fotografiert, um ihren Bühnenlook für die anstehende Tournee weiter zu verfeinern. Harry nimmt Mode ernst. Sie nimmt jede Form von Kunst ernst. In der Tat, etwas das Blondie von Anfang an von seinen Wegbegleitern unterschied, ist ihre kulturelle und kreative Unkonventionalität, mit der sie Künstler anderer Genres für Kollaborationen gewinnen.
Im Video zu 'Rapture' erscheint Harry als Gastgeberin der coolsten Loft-Party überhaupt neben dem sogenannten 'Mann vom Mond' (Choreograph und Tänzer William Barnes in einem glänzenden weißen Anzug und Hut) und Gästen wie Jean-Michel Basquiat, dem Graffiti-Pionier Lee Quinones und – natürlich – Fab Five Freddy (Grandmaster Flash sollte dabei sein, aber hat dann doch verzichtet). Das Ergebnis erscheint wie eine filmische Repräsentation der Fantasiewelt von Blondie – eben jenes Rock-Mädchen, das mit ein paar ihrer kunstgeneigten Kumpels ziellos in der Nacht abhängt – und, erstaunlicherweise, eine ziemlich akkurate Reflektion dessen, wie sie tatsächlich operieren. "Ich weiß nicht ob es einen Moment gab, in dem wir sagten: 'OK, wir fragen andere Leute ob sie uns Material zur Verfügung stellen'", sagt Stein über Pollinator, entstanden aus der Idee sich mit Blondie-Wegbegleitern mehrerer Generationen zu verbünden und auszutauschen. "Genau das war dann die Idee. Wir haben vorgelegt und eine Menge Zeug zurückbekommen."
Dave Sitek von TV on the Radio schrieb mit an der Lead Single von Pollinator, "Fun". "Wir trafen uns auf einem Festival und Tunde (Adebimpe, Sänger von TV on the Radio) und ich konnten kaum glauben, wie bodenständig die sind", erinnert er sich. "Ich empfinde eine überwältigende Faszination für Debbie seit ich ein Teenager bin. Ihr Stimme ließ mich wissen lassen wollen, wie sie die Welt sieht." Doch schnell, erzählt Sitek weiter, fühlte es sich an, als würde er bloß mit ein paar altbekannten Rock Nerds quatschen. "Als ich meine Fan-Attacke überwunden hatte, fingen wir an über Musik zu reden, unsere Fantasien, über Dankbarkeit und die Fotografie."
Vor allem jenes Empfinden, das einer kindlichen Freude darüber, einfach bloß mit seinen verrückten Freunden rumzualbern, gleicht, trieb Harry nach New York, wo sie ihre Beziehung zu Stein festigte und neue Inspiration für das Leben und die Kunst erfuhr. Auch Pollinator ist davon inspiriert. Aber wie es so typisch für sie und ihre Band ist, reflektiert sie ungern nostalgisch über die Vergangenheit oder klingt nur selten wirklich ernsthaft wenn sie über die Gegenwart spricht. "Ich glaube, sie mochte Pollinator weil es wie Terminator klingt", scherzt Stein über den Albumtitel. "Ja, zunächst schon", gibt Harry zu, lacht und wischt sich das Auge. "Ich habe einen entzündeten Tränenkanal", sagt sie zu Stein. "Hast du dich schon wieder in der Bar geprügelt?", witzelt er. "Yeahhhh", entgegnet sie langgezogen. "Ich weine nicht genug. Daher kommt das. Ich halte meine Tränen zurück." Wenige Minuten später erzählt sie eine Geschichte von der Katze einer gemeinsamen Freundin, die von ihrem maßlosen Übermut durch einen außergewöhnlichen Unfall geheilt wurde. "Irgendwie süß, sie wurde tatsächlich durch den Trockner geschleudert", erzählt Harry. "Meine Freundin bemerkte die Katze nicht und startete die Maschine. Anschließend öffnete sie die Tür und die Katze sprang heraus. Herzallerliebst das Ganze. Du musst die Viecher einfach nur durch den Trockner jagen."
Jumpsuit: Topshop Unique
Das ist die Seite von Harry, die man nicht sieht, wenn sie einen durch die Gläser ihrer Wayfarer anschaut, auf einem dieser unfassbar vielen faszinierenden Fotos.
Vom allen Rockstars, die ich jemals interviewt habe, gehört sie zu den beeindruckendsten, einflussreichsten und einzigartigsten Künstlern ihrer Generation, aber auch zu den albernen und vermeintlich desinteressierten. Wann weiß sie, dass ein Song richtig ist für ihre Band? "Das weißt du nie, ehrlich. Vielleicht wenn du ihn magst?", antwortet sie. Sprechen sie nicht dauernd junge Frauen auf der Straße an? "Du weißt doch wie das ist", entgegnet sie achselzuckend. "Es ist immer dasselbe, ob du berühmt bist oder nicht. Du darfst dir Sachen anhören wie: 'Ich bin mit einem Freund deines Freundes zur Schule gegangen', oder: 'Ich habe dich auf diesem oder jenem Instagram-Account gesehen.'" Wann hat sie Blondie zuletzt in der Öffentlichkeit gehört? "In einer öffentlichen Toilette – es war der Song 'The Tide is high'", sagt sie mit breiten Grinsen. "Dazu dann die Pinkelgeräusche, da passte 'Tide is high' ganz gut. Pieseln und mit dem Strom schwimmen.'"
Harrys Sinn für Humor wird ihr im Zuge des anstehenden Tour-Zyklus' garantiert behilflich sein, zunächst durch Europa, gefolgt von zwei Terminen in den USA, gemeinsam mit Garbage. Dort könnt ihr sie in absehbarer Zeit also finden, versteckt in ihrer Schlafkoje mit ihrem Kindle. "Aktuell lese ich 'The Goldfinch' von Donna Tartt", erzählt sie. "Ich lese es schon zum zweiten Mal, dieses Mal gefällt es mir noch besser."