English Version of our Cover Story: Dua Lipa
Pouted lips, bedroom eyes and a to-die-for voice: Right now, there's no hotter newcomer than Dua Lipa. Her debut album delivered 17 killer tracks that sparked 17 questions. Here are the answers.
Text: Turid Reinicke
Fotos: Irina Gavrich
Assistenz: Arnaud Korenke
Styling: Nina Petters
Assistenz: Marlene Wilkens

Jacke von Lacoste, Rock & Pumps von Patrizia Pepe, Tasche "Gabrielle" von Chanel, Ohrringe von Malaikaraiss
An ill-tempered manager, a personal stylist and an ever-applauding entourage: Dua Lipa is not afraid to tick all boxes when it comes to Pop star clichés. Fair enough, but her road to success was a rocky ride, in fact, one that the 22-year-old had to handle all by herself. The eldest daughter of Kosovo-born parents was raised in London – until the family decided to make the move back home. At just 13, Dua had no choice but to tag along, but it was only two years later that she returned to London to start building her now massive music career. Since then, what was once an ambitious Soundcloud-vision has become reality: In 2017, Dua's banger "New Rules" climbed atop the UK Charts while she snatched the price of Best Newcomer at last year's MTV EMAs. "Dark Pop" is what the singer has labelled the genre she currently enchants the world with. Upon interviewing her, we're joined by a confident young woman who has long built her own way of climbing to superstardom. The appropriate soundtrack, of course, can be nothing else but her debut album.

Bluse von Patrizia Pepe, Jacke & Mantel von Chanel
1. Genesis
"Genesis" is the story of God creating life. Are you religious?
I'm more of a spiritual person than a religious one, but I do believe in the afterlife. I just don't feel like that's the end. In whatever way, I believe that there is something waiting for us.
2. Lost In Your Light
Have you ever put your trust in someone and regretted it afterwards?
Yes, I'm a very open person and sometimes wish that I wouldn't have opened up as much to other people. I start to think that they don't deserve to know as much of me as I let them. I never really regret being open or having loved someone, though. At least, you always learn something about yourself.
3. Hotter Than Hell
You're obviously hot, but not from hell: What's the story behind your 'Angel' tattoo?
All my tattoos were made by "Sean from Texas" in L.A. Currently, there are 11 in total. At first, I wanted to get the word "Baby", but went for "Angel" instead. I got it while I was on the road with my parents. On that day, each of us got a tattoo. It was very much like a family trip. My first ever tattoo was "Sunny Hill", a Kosovo region, where my parents grew up. Back then, my Dad decided to get it, too, along with five lines around his arm, symbolizing our five family members. My mom went for five typographic stars on her neck.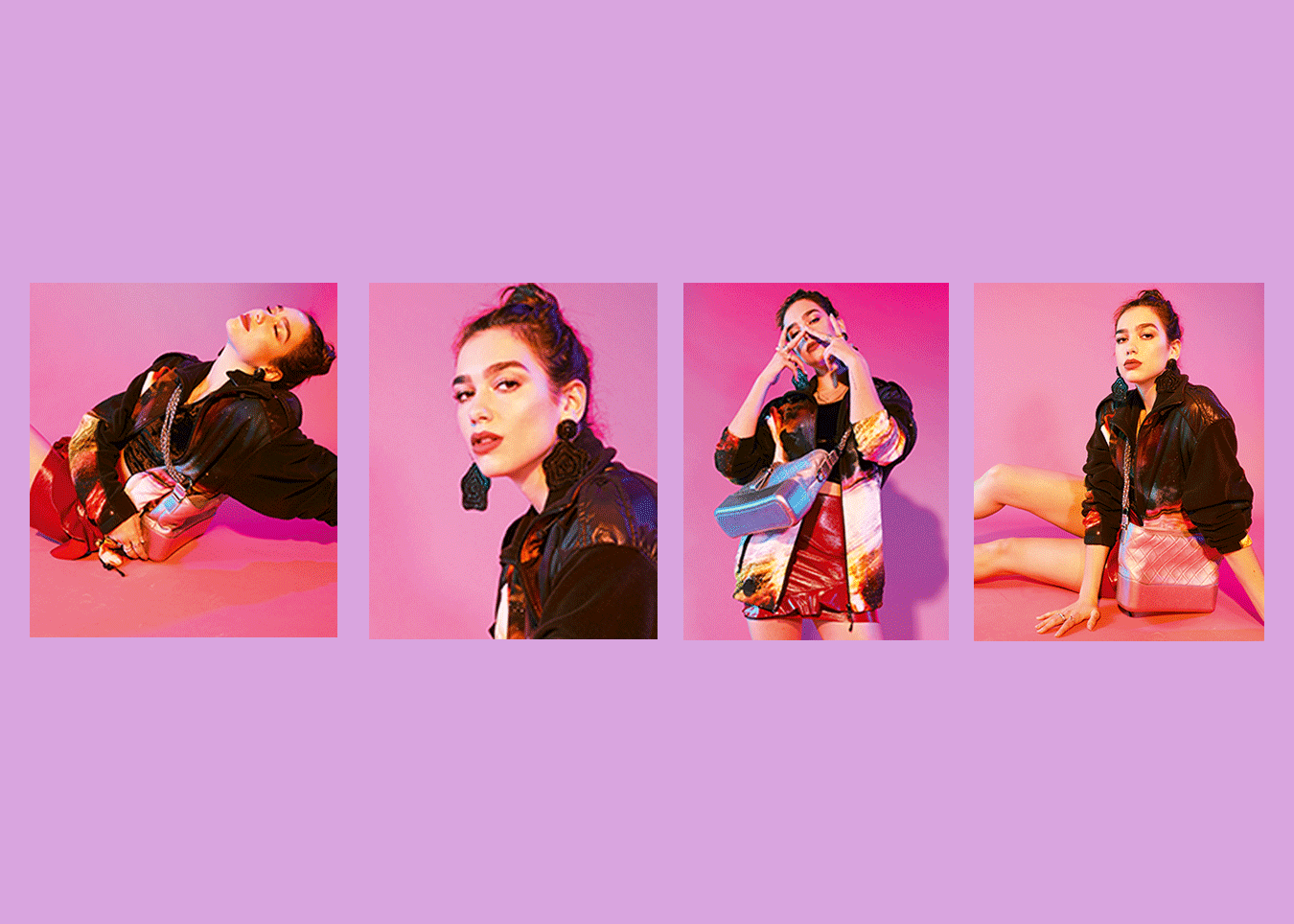 4. Be The One
After almost two years, you're the first female artist to score a No. 1 song on the Official UK Charts. How tough is the music business for female artists?
I generally don't consider it that hard to be a successful woman in the music industry. What I do think is that I had very good timing with my debut album. Many of my peers were still working on the successors to the albums they had released two years ago. Female artists often make their first impression on the charts by appearing as featured artists, which helps you gain success with your own music. As an upcoming artist, it's hard because you have to release a lot of music in order to get people to notice you. I had to grow in this process, before my songs could ever actually enter the chats. Now, I am very grateful to have landed a No. 1 hit and not only that, but to be the first female artist after Adele! That's a pretty big thing for me.
5. IDGAF (I Don't Give A Fuck)
What don't you give a fuck about?
All my ex-boyfriends! Everything that's in the past, really. Actually, all I care about are my family, friends and to be good at what I do. The rest means nothing to me.

Pullover von Tommy Hilfiger, Ohrring von Nina Kastens


6. Blow Your Mind (Mwah)
Do you remember your first mind-blowing kiss?
I don't know. I do remember my first kiss, though: I was about 16 or 17 and it was really weird, so quite mind-blowing in a way, but only because it was the first. I definitely had better kisses after that.
7. Garden
Do you have an urban jungle at home?
Maybe that's a bit of a surprise, but I do have a lot of greenery! I love the visual effects of plants. Because of my travels, mine are just succulents and a cactus, though. Luckily, they always manage to stay alive until I return to water them! Isn't that almost a spiritual thing? You enjoy something and hope for it to flourish and blossom but simultaneously neglect it and run away to escape your responsibilities…
8. No Goodbyes
What bad habits can't you say goodbye to?
Bad habits come and go – at least with me they do. If you want to get rid of one, you really have to want it, and that's tough. Sometimes, I even cherish some of my bad habits  – but which ones I won't tell.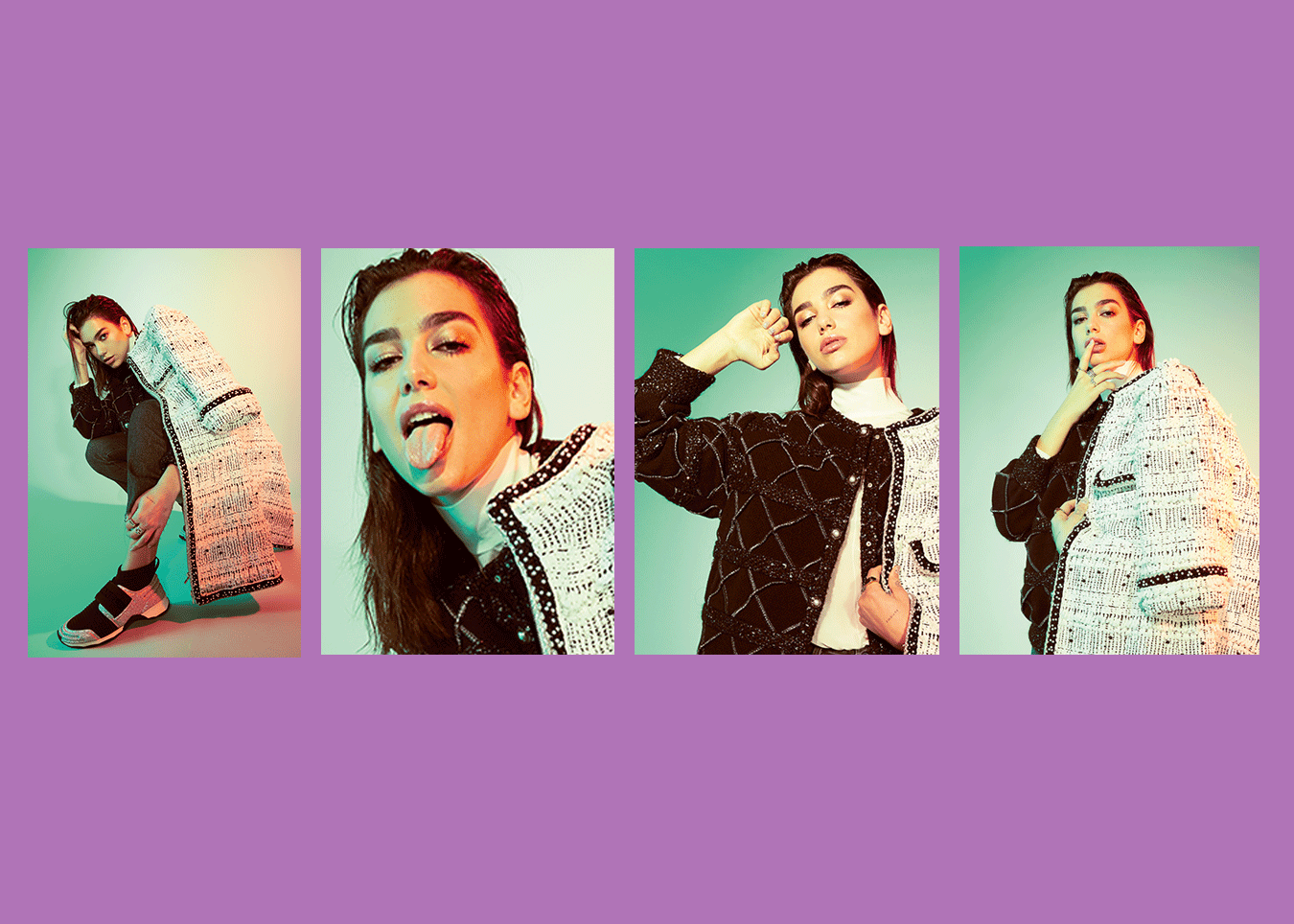 9. Thinking 'Bout You
Who do you often think about right now?
About my boyfriend Paul Klein [singer of the band LANY]. He's currently touring and we don't have much time to see each other, because we're doing our thing on opposite sides of the world. That's why I think about him a lot.
10. New Rules
What new rule would you like to establish?
Equality is crucial. Everything is about amplifying your voice for those who don't have one. To support and to be kind to one another. In doing this, one should always consider all women, even the ones you probably don't like. Feminism and wanting the best for women does not mean liking each and every woman. That's not going to happen.

Top von Kenzo, Lederhose von Patrizia Pepe, Stulpen von Chanel, Hoodie (gebunden) von Sportmax, Boots von Rani Bageria
11. Begging
What's the weirdest thing anyone has ever asked you for?
Someone asked for an autograph on their forehead. With a big Sharpie. Actually, that happened quite a few times during tour and it has always been female fans. I did it anyway, but I thought it was really weird.
12. Homesick
At 15, you left your Kosovo home to live on your own in London. What was that like, at such a young age? 
I had a lot of fun in the first place. I was surrounded by a lot of friends who grew into a family for me. I loved it, until I realized I had to do all the cleaning and cooking on my own and that nobody would say "Go, clean your room!". That's when I thought "Shit, now I really have to do everything myself!" But that also made me grow. It helped me becoming who I am today.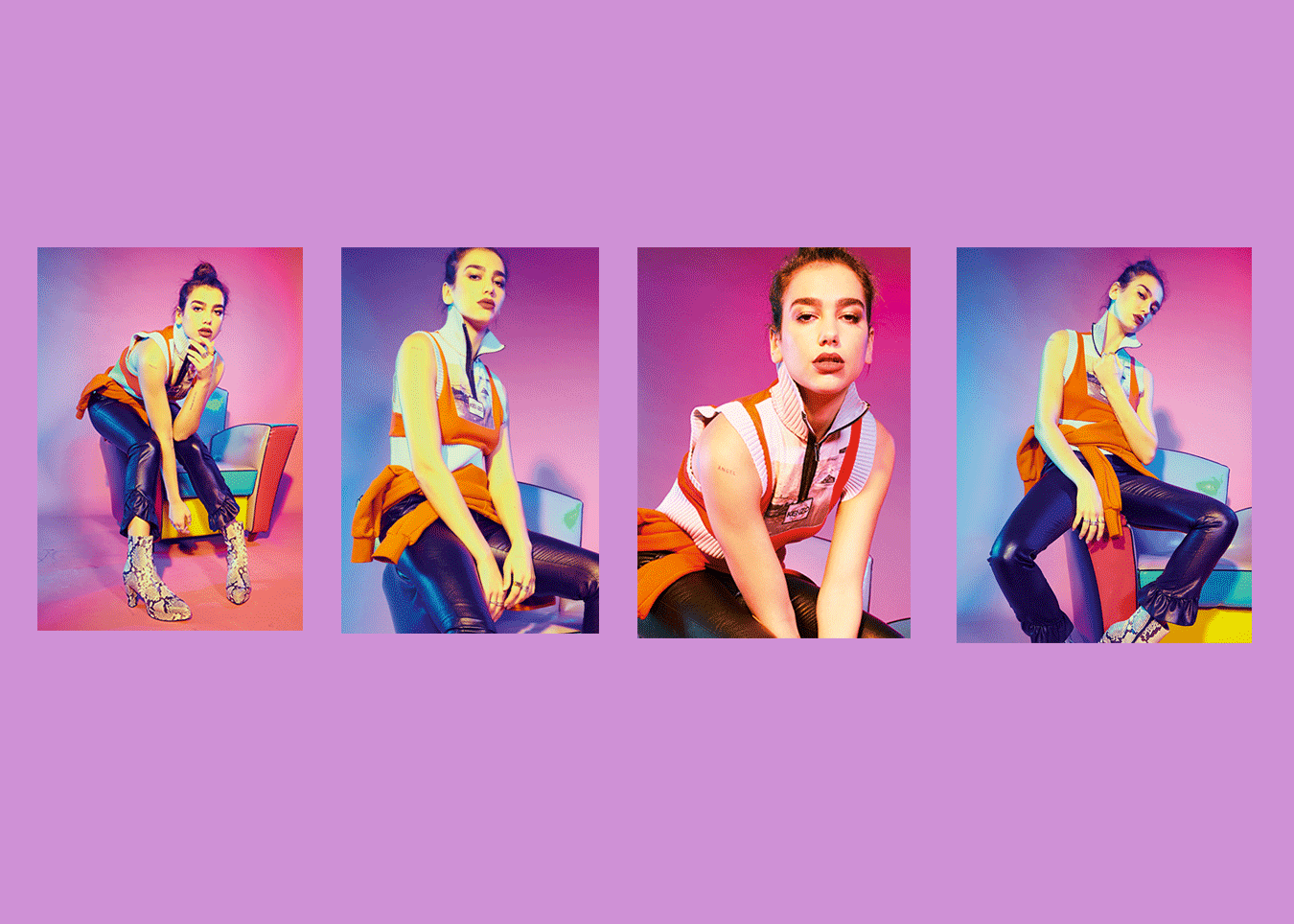 13. Dreams
Do you remember your worst nightmare?
I usually don't dream a lot. I did when I was a child, but it got less within the last five to six years. Instead, I sometimes experience sleep paralysis. That's a kind of nightmare in which you can neither move nor scream. You think you're awake but you're actually asleep, it's like a lucid dream. I hate it. Other than that, I don't dream that much. Maybe that's because right now I'm living my life the way I had always dreamt it.
14. Room For Two
Your parents are from the Kosovo and you are based in London. What is it like to carry two cultures in your heart?
I definitely represent both of my homes and that's something I like. I love having and representing a Jewish identity. But to live in London with both a Jewish origin and a name like Dua is a challenge. I always wished for a normal name, like Hannah or Sarah. It wasn't easy being the 'new one' – especially not at such a young age. Nobody was able to pronounce my name and everybody kept asking for it. I had to build a lot of new friendships and approach people – everyone already had their own circle of friends. Nevertheless, that experience gave me strength and made me become more self-confident. Today I can take a lot out of both cultures. On one hand, I carry a lot of family traditions, but on the other, I feel like a real London Girl.

Jacke von M.i.h. Jeans, Bluse von Sportmax, Slipdress von Maison Suneve, Overknees von Patrizia Pepe
15. New Love
What do you love most about your fairly new boyfriend Paul?
He's very lovely and totally supports me. He's also very hard-working, just like I am. We inspire each other to continually get better. It's nice to have someone who understands and supports what I do. I guess working in the same industry is helpful. Many people can't fathom such a job: the ups and downs, the touring, the amount of traveling. All of that is so much fun, but it's a lot of work, too. It's nice to be able to share that experience with someone.
16. Bad Together
What fashion pieces would you never pair?
I would never wear Crocs – that I am sure of. Apart from them, I think that you can do anything. Mix and match! But no Crocs.
17. Last Dance
If you had one last dance, who would you dance it with and what song would you dance to?
I'd love to share my last dance with my younger brother and sister. Everything I do, I do for them, to show them that they can do it, too. The song would probably be one of my father's tracks. He was the singer of the rock band Oda and his music is one of my earliest musical memories. When I was a child, my mother and I would always go to his shows. It's something we share as a family.