Black Mirror: Die gruselige Dating-App aus der Serie gibt es jetzt wirklich
In der "Black Mirror"-Folge "Hang the DJ" können Paare mithilfe einer App das Verfallsdatum ihrer Beziehung ermitteln – und das geht jetzt auch in Wirklichkeit.
Text: Hayden Manders // Bilder via NYLON.com
Stellt euch vor, ihr habt ein erstes Date und es läuft gut. Großartig! Die nächsten paar Stunden werden wahrscheinlich genauso großartig sein und wer weiß schon, was  die kommenden Tage, Wochen und Monate bereithalten. Aber seien wir ehrlich: In einer Welt mit unzähligen Möglichkeiten und Versuchungen an jeder Ecke fällt es immer schwerer, sich tatsächlich auf jemanden einzulassen. Und selbst wenn ein Date gut läuft, bleibt die Angst unnötig Zeit mit jemandem zu verschwenden, der sich am Ende doch nicht als Mr. oder Mrs. Right herstellt.
Diesem Problem haben sich die Autoren und Regisseure Charlie Brooker und Tim Van Patten in der vierten Episode der aktuellen Staffel von "Black Mirror" angenommen: In "Hang the DJ" zeigt eine App den Darstellern basierend auf gesammelten Daten an, wie lange sie mit ihrem aktuellen Date eine romantische Beziehung führen werden. Manchmal ist es eine Stunde, manchmal sind es 25 Jahre. Das Ziel ist, schlechte Dates so lange "auszusieben", bis man mithilfe der App den einen Partner findet.
Und guess what? Eine ähnliche App gibt es jetzt auch im Real Life, sodass auch wir das Verfallsdatum unserer Beziehung oder unseres aktuellen Dates ermitteln können.
Trust the system. Visit https://t.co/f3v1QPmbAx to find out if your partner is a perfect match. pic.twitter.com/XV0FXmtx5G

— Black Mirror (@blackmirror) February 14, 2018
Los geht es damit, dass man die Seite von Coach aufruft und den Link mit seinem Partner/Date teilt. Sobald der Partner die Seite ebenfalls aufgerufen hat, können beide auf "Start" drücken. Ihr habt dann fünf Minuten Zeit, um auf einen Button zu drücken, der euer "Verfallsdatum" bekannt gibt. Wenn nur eine der beteiligten Personen die  Dauer der Beziehung wissen möchte, verringert sich das Verfallsdatum automatisch. Interessant ist aber, wenn beide sich dagegen entscheiden, den Zeitraum zu erfahren (achtung, Spoiler!):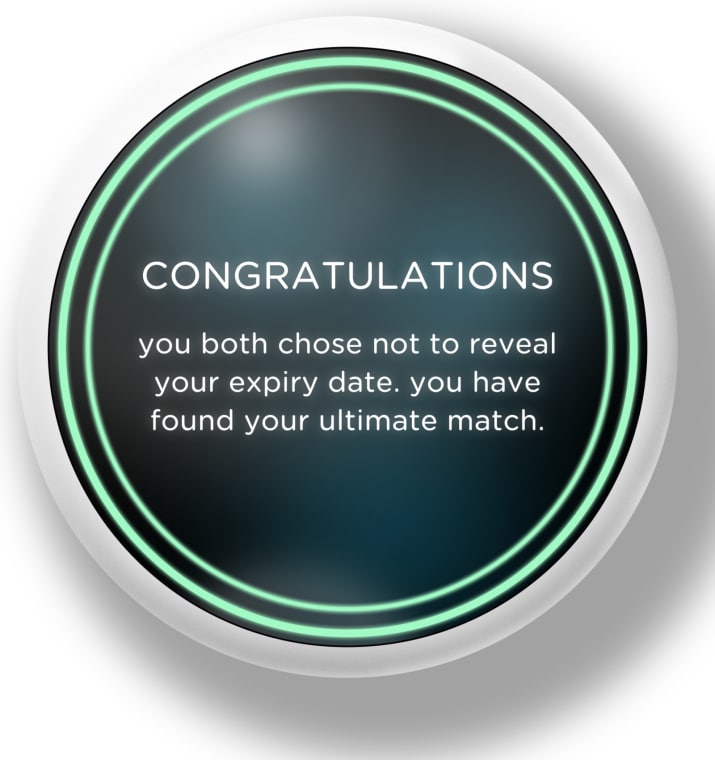 Bild: Coach
Coach kann natürlich nicht wirklich die Dauer eurer Beziehung ermitteln – schließlich hat die App keinerlei Daten über euch. Und klar, Liebe ist eine komplexe Sache, die sich mit Maschinen ohnehin nicht quantifizieren lässt. Immerhin ist die App aber eine lustige Spielerei – nicht nur für "Black Mirror"-Fans. Und wer weiß, vielleicht sorgt sie ja sogar für den einen oder anderen romantischen Moment zwischen euch in eurem Partner – vorausgesetzt ihr entscheidet euch dafür, euer "Verfallsdatum" nicht erfahren zu wollen.