Vinyl Forever: 3 Shop-Besitzerinnen über die Power von Platten
Am 21. April war Record Store Day – aber nicht nur an diesem Tag wird deutlich, dass Vinyl auch außerhalb von Musikkreisen wieder zum Lifestyle geworden ist. Wir haben mit Besitzerinnen von Plättenläden darüber gesprochen, warum sie auch ohne Vintage-Faktor weiter an die Power von LPs glauben.
Text: Taylor Bryant // Bilder via NYLON.com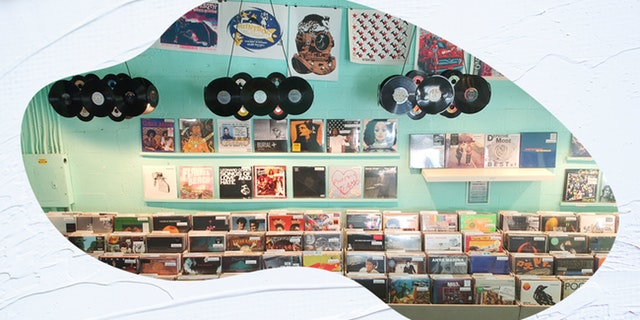 Falls ihr zu den wenigen gehört, die es noch nicht wissen: Vinyl ist wieder im Trend. Laut einem Bericht der Recording Industry Association of America aus dem Jahr 2017 verkaufen sich CDs und Schallplatten zum ersten Mal seit 2011 wieder mehr als digitale Downloads (!); die Vinylverkäufe stiegen im Vergleich zum Vorjahr um 10 Prozent. Das liegt zum Teil daran, dass ihr, wenn ihr Musik digital hört, wahrscheinlich streamt, anstatt sie zu kaufen – wer würde das auch nicht? Es ist jedoch auch ein Zeichen dafür, dass die Schallplatten-Industrie ziemlich gut läuft – so gut, dass Sony nach einer 28-jährigen Pause sogar wieder mit der Produktion von Schallplatten begonnen hat. Wir haben zwar (noch) nicht das Niveau der 70er und 80er Jahre erreicht, aber wir sehen eine deutliche Veränderung.
Und genau deshalb wollen wir drei der unglaublichen Frauen hervorheben, die Plattenläden besitzen und danach streben, Vinyl nicht nur zu einem neuen Trend zu machen, sondern zu einer lebensfähige und zugänglichen Art, Musik zu hören. Ein eigenes Geschäft zu führen ist keine leichte Aufgabe, einen Plattenladen zu führen noch schwieriger. Die meisten unserer Interview-Partnerinnen nennen den Umgang mit dem unendlichen Hustle als eine ihrer größten Herausforderungen. Die Belohnung aber ist real und umfasst, Leute zu sehen, über Musik zu connecten und in der Lage zu sein, den Kunden neue Künstler vorzustellen, die sie vorher noch nie gehört haben konnten. Das unbestrittene Gefühl unter allen Eigentümerinnen: Vinyl wird in nächster Zeit auf keinen Fall verschwinden – und sie selbst erst recht nicht.
Lolo Reskin, Besitzerin von Sweat Records in Miami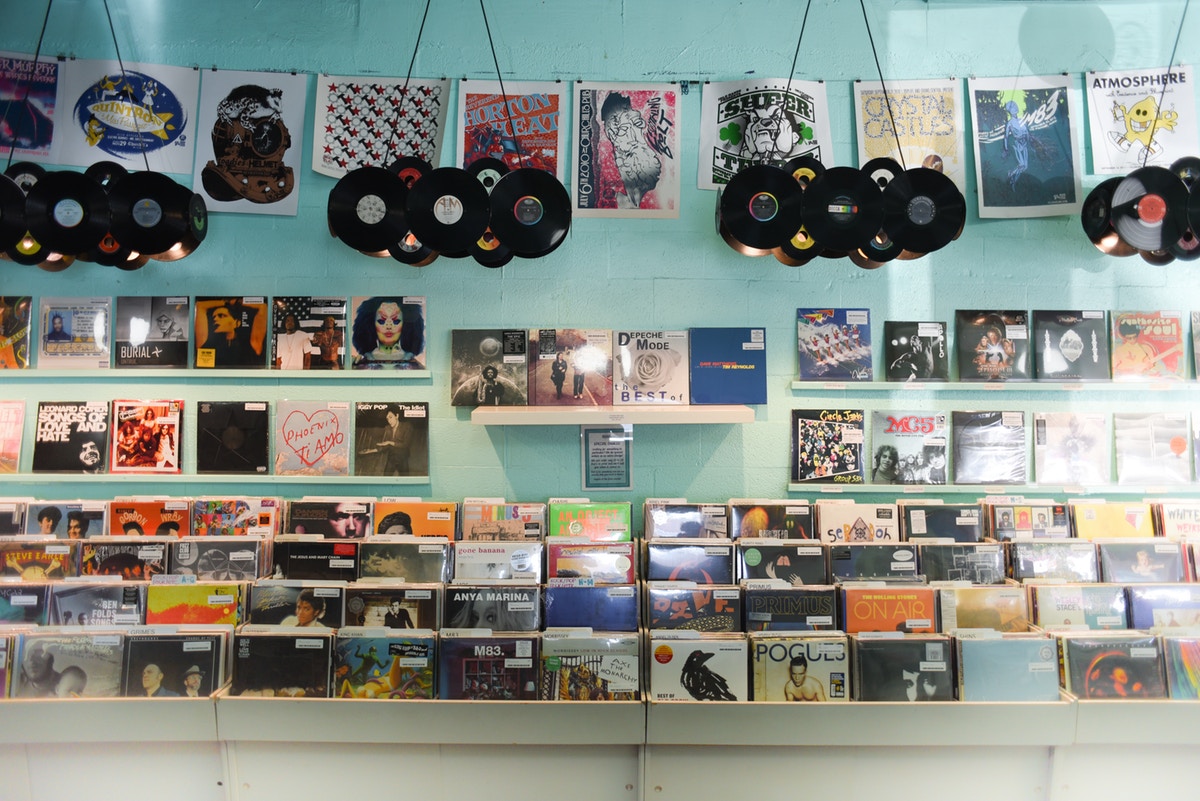 Warum hast du dich entschieden, deine eigenen Plattenladen zu eröffnen?
Als ich angefangen habe [2005], hatte Miami nicht die Art von Community-orientiertem, unabhängigem Raum, den ich kaufen wollte. Ich war bereits an der Organisation von Indie-Club-Nächten beteiligt und arbeitete im großen Musik-Einzelhandel, also wusste ich, dass es genug Leute gab, die sich für Musik interessierten, um ein einheimisches Establishment zu unterstützen.
Was ist die wertvollste Platte, die du besitzt?
Ich habe eine bescheidene Sammlung von ungefähr 1.200 Stücken, und ich habe sie auf meine Lieblingsalben/Künstler beschränkt, damit sie nicht außer Kontrolle gerät. Sie bedeuten mir alle viel.
Warum glaubst du, dass Platten wieder so beliebt geworden sind?
Vinyl hat Wert als eine greifbare Erfahrung, die den Leuten eine stärkere Verbindung zum Album, dem Artwork und natürlich dem Sound gibt. Es ist eine vollkommene analoge Balance für die digitale Musikerfahrung.
Denkst du,  dass die Mainstream-Entwicklung von Platten dem Geschäft geholfen oder geschadet hat?
Es hat zu 100 Prozent geholten. Wenn mehr Leute Vinyl und Plattenspieler kaufen, bedeutet das mehr Hörer und Plattensammler jetzt und auch auf lange Sicht.
Was denkst du, wie sieht die Zukunft für Platten aus?
Ich denke Vinyl ist und bleibt das dauerhafte physische Format für Musik. Es wird immer gedruckte Bücher für Literaturliebhaber geben, es wird immer Vinyl-Schallplatten für Musikliebhaber geben. Unser neues Label, Sweat Records Record, startet diesen Sommer, und wir freuen uns sehr über einige spezielle Veröffentlichungen, die wir gerade vorbereiten. Es gibt eine Menge unerwarteter Talente in Miami, und wir haben sogar wieder eine Presse hier, also sind wir aufgeregt, die Leute in unsere Geheimnisse einzuweihen.
Tina Bold, Inhaberin von Vinyl Sage in Riverside, Kalifornien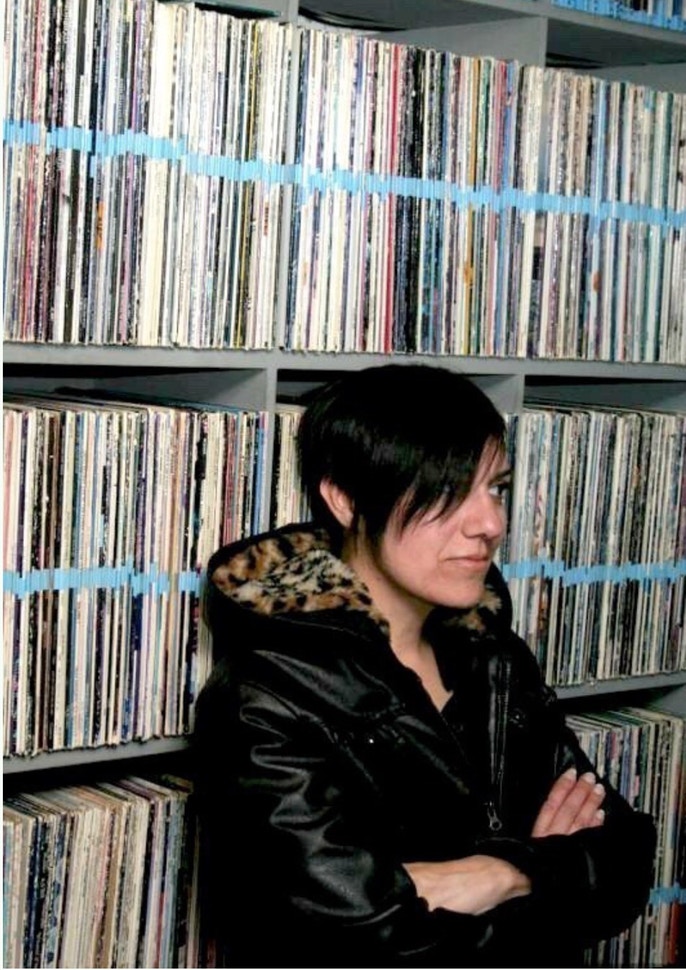 Warum hast du dich entschieden, deinen eigenen Plattenladen zu eröffnen?
Ich mache seit 1992 eine wöchentliche Radiosendung mit dem Titel Vinyl Hours Radio, und jede Woche feature ich eine Platte der Woche oder verschiedene Bands und Musiker. Die Platten stapelten sich in den letzten 26 Jahren, sodass ich mich schließlich im Jahr 2014 entschloss, einige zu verkaufen. Ich scherzte mit meinem Freund, dass ich wollte, dass die Leute einen Adoptionsantrag ausfüllen, weil ich mich so an sie gebunden fühlte, dass ich sicherstellen wollte, dass sie in gute Hände gelangen. Ich habe mich dann entschieden, Vinyl Sage zu öffnen, weil ich vorher in fünf Plattenläden gearbeitet habe und weiß, was ein wahres Gefühl von Musikliebhabern online oder offline erzeugen kann. Als ich anfing, die Platten zu verkaufen, begann ich mit eine, Buy-One-Give-One-Programm. Für jede gekaufte Platte spendet Vinyl Sage eine Platte an das Rock and Roll Camp for Girls in Portland. Ich wollte in der Lage sein, anderen zu helfen, indem ich die Platten an eine Organisation gab, die die sie benutzen könnte, um die Camper zu erziehen
Wie viele Platten hast du? Was ist die wertvollste Platte, die du besitzt?
Ich besitze wahrscheinlich etwa tausend Stück. Mein wertvollster Besitz ist mein"Black Celebration" Single Extended Mix von Depeche Mode. Ich kaufte sie, als ich 16 Jahre alt war, im Jahr 1986, und ich habe sie nie verkauft oder verloren. Zweiunddreißig Jahre mit dieser Platte – wir sind zusammen viele Meilen gereist.
Warum denkst du, dass Platten wieder so beliebt geworden sind?
Ich wusste wirklich nicht, dass Platten wieder populär werden, denn ich selbst habe immer Platten gekauft. Damals, 2005 oder 2006, bemerkte ich, dass Plattenläden geschlossen wurden, also fragte ich den örtlichen Plattenladen, ob ich Bands buchen könnte, um die Aufmerksamkeit wieder auf ihn zu lenken. Ich habe fünf Wochen lang Shows gemacht, und es hat mir sehr geholfen. Nun, heute läuft der Laden super und braucht überhaupt keine Hilfe mehr.
Denkst du, dass die Mainstream-Entwicklung von Platten dem Geschäft geholfen oder geschadet hat?
Es hilft meinem Shop Vinyl Sage, weil die Leute Platten jetzt "verstehen". Sie halten es nicht mehr für schräg oder komisch. Meine 74-jährige Mutter sagt immer: "Ich hab gehört, Platten sind wieder da." Und ich sage ihr immer: "Mom, ich habe seit Mitte der 80er Jahre nie aufgehört, Platten zu kaufen, also merke ich das nicht wirklich."
Was denkst du, wie sieht die Zukunft für Platten aus?
Musiker werden es weiterhin lieben, Musik auf Vinyl zu veröffentlichen, und Sammler werden die Erhaltung am Laufen halten und sie an kommende Generationen weitergeben. Es wird immer Teil der Mischung sein, wie wir Musik hören.
Stephanie Covart Meyering, Inhaberin von Electric Fetus in Minneapolis, Minnesota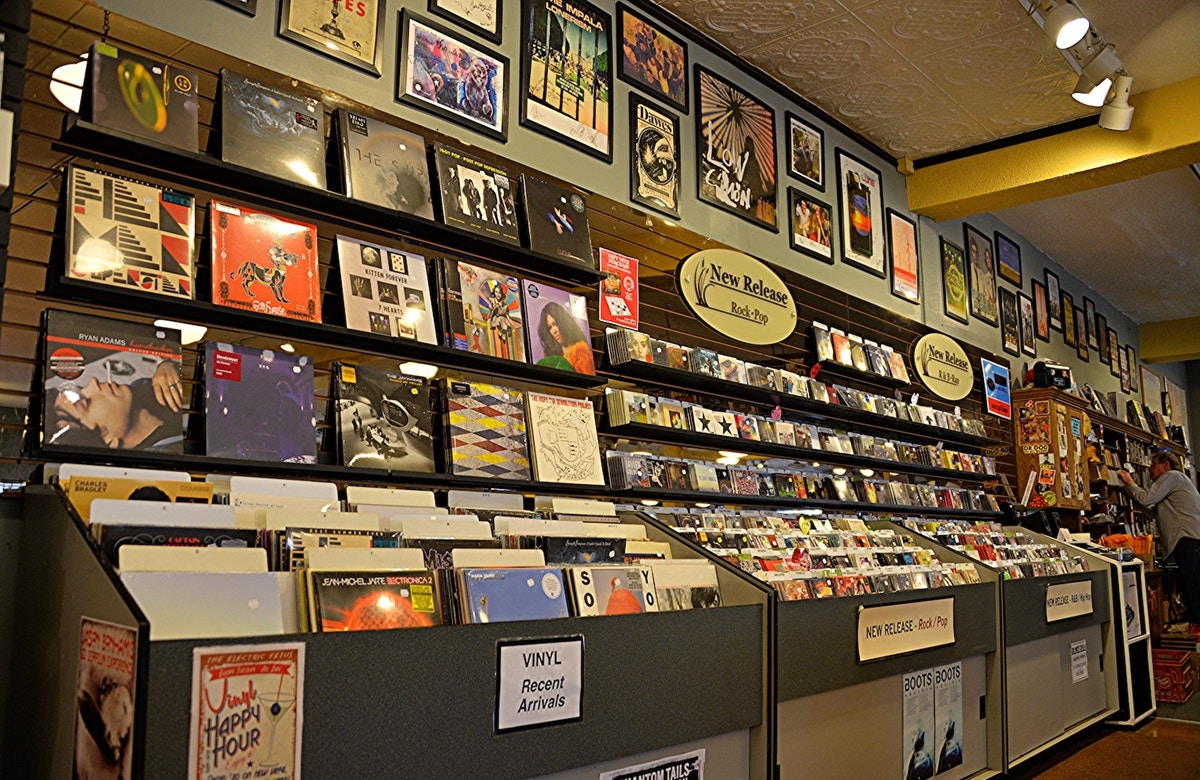 Warum hast du dich entschieden, deinen eigenen Plattenladen zu eröffnen?
Mein Vater und drei andere Freunde eröffneten den Laden im Juni 1968 – wir stehen also kurz vor unserem 50sten Jahrestag! Mein Dad wurdeein paar Jahre nach der Eröffnung zum alleinigen Besitzer, und der Shop zog in den frühen 70er Jahren an seinen jetzigen Standort in Minneapolis. Während ich aufwuchs, besuchte ich meinen Vater oft im Laden, wo ich über die Jahre, als ich ein wenig älter wurde, hier und da Jobs erledigt habe. Ja, ich hab sogar die Toiletten geputzt! Vor etwa 10 Jahren kam ich nach einer kurzen Karriere im Innenausbau dann offiziell an Bord. Mein Vater begann das Geschäft, weil er sich für Musik begeisterte, aber er wollte nicht, dass seine Leidenschaft mein Lebensweg ist, es sei denn, ich würde es auch wollen. Und obwohl ich Design liebe, zog mich immer etwas in unser Familienunternehmen. Die Mischung aus Musik und Mode erlaubte es mir, immer noch in einem kreativen Umfeld zu sein. Mein Dad zog sich vor einigen Jahren zurück, und jetzt bin ich in zweiter Generation Inhaberin.
Wie viele Platten hast du und welche ist die wertvollste ?
Ich bin happy, Tausende von Platten zu besitzen, aber sie befinden sich alle in den Läden. Wir haben vor kurzem in unserem Laden in Minneapolis eine Sammlerwand gebaut, die seltene und sammelbare Schallplatten enthält, die wir verkaufen. Ich genieße es, viele Sammlerstücke kommen und gehen zu sehen, es ist wie eine Schatzsuche. Meine persönliche Sammlung ist viel bescheidener und besteht aus persönlichen Favoriten. Meine Interessen ändern sich ständig. Im Moment habe ich eine Schwäche für Adele, weil meine sechsjährige Tochter alle ihre Lieder kennt und denkt, sie könnte eines Tages so werden wie sie. Und wie kann ich Musiklegenden wie Bob Dylan und Prince nicht mögen?
Warum glaubst du, dass Platten wieder so beliebt geworden sind?
Das Format der Musik hat und wird sich immer weiterentwickeln. Wer hätte gedacht, dass es ein Wiederaufleben von Vinyl geben würde?! Vinyl zu hören ist so viel mehr ein Erlebnis als jedes andere Musikformat. Es gibt immer noch viele Menschen, die daran glauben, die physische Version zu kaufen, um mit ihr zu interagieren, und auch das Cover-Design ist ihnen wichtig.Die Klangqualität von Vinyl ist unvergleichbar. Downloads sind verschlüsselt und geben nicht immer den vollen Tonumfang wieder, was für manche sehr wichtig ist.
Denkst du,  dass die Mainstream-Entwicklung von Platten dem Geschäft geholfen oder geschadet hat?
Es hat geholfen! Minnesota hat eine große Musikszene. Das Wiederaufleben von Vinyl hat mehr Interesse und Nachfrage hervorgerufen. Das hat wiederum dazu geführt, dass mehr Plattenläden eröffnet wurden und es mehr Möglichkeiten für die Kunden gab, ihr Produkt zu kaufen, was wiederum zu mehr Interesse führt.
Was denkst du, wie sieht die Zukunft für Platten aus?
Wir wollen uns ständig weiterentwickeln und auf die Wünsche unserer Kunden einzugehen und bei Trends auf dem Laufenden zu bleiben. Ich hoffe, dass die Zukunft für Vinyl rosig aussieht und es eine anhaltende Wertschätzung für seine Qualität gibt!