Von "Work It" bis "Honey": 12 Tanzilfme, die ihr jetzt streamen könnt
Tanzfilme sind wie Musicals – entweder, ihr seid all in oder haltet euch fern von Choreos auf dem Bildschirm. Für all diejenigen, die sich den Schritten und Dramen der Tanzwelt aber nicht entziehen wollen, umfasst diese Liste Klassiker der letzten vier Jahrzehnte.
Vor einer Woche ist auf Netflix der Tanzfilm "Work It" mit Sabrina Carpenter, Liza Koshy und Jordan Fisher erschienen. In 93 Minuten bringt dieser die Formel der Tanzfilme für Teenager auf den Punkt. In dieser Liste findet ihr 12 weitere Klassiker, die ihr über Netflix und Amazon Prime Video streamen und leihen könnt.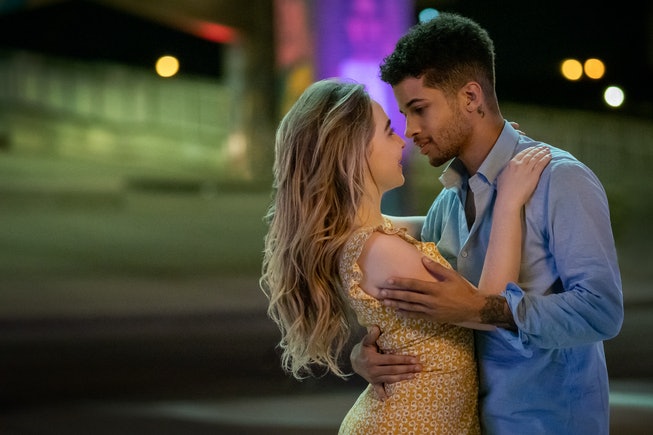 Cheesy, aber bitte mit Choreo: Die neue Netflix-Produktion "Work It"  könnte zum Tanzfilm-Klassiker werden.
Center Stage, 2000
Der Film von Nicholas Hynte über eine Gruppe junger Tänzer an der fiktiven American Ballet Academy in New York City markiert den Punkt, an dem Boom für die Teen-Tanzfilme der 2000er Jahre begann. Übrigens: Uns hat der Film zu dieser Fotostory inspiriert.
verfügbar auf Prime Video (ab 2,99€)
Honey, 2003
Honey war sowohl ein kultureller Reset als auch der Durchbruch für Jessica Alba's Bauchmuskeln. Mit Gastauftritten von Missy Elliott, Jadakiss und Ginuwine ist dieser Klassiker von 2003 der perfekte Start für einen Marathon der Tanzfilme.
verfügbar auf Prime Video (ab 2,99€)
Step Up, 2006
Als rechtmäßiger Nachfolger von "Honey" lieferte uns "Step Up" die Beziehung zwischen Channing Tatum und seiner (Ex-) Frau Jenna Dewan. Und das ist schon viel mehr, als die meisten mid-2000s Filme mit mittelmäßigen Kritiken Mitte von sich behaupten können.
verfügbar auf Prime Video (ab 2,99€)
Footloose, 1984
Die 80er Jahre waren eine großartige Zeit für Tanzfilme –  so wie dieses ikonische Beispiel. Hier versucht ein aufgewühlter Teenager, sich in einer Kleinstadt einzufügen, die Tanz und Rock n' Roll verboten hat. Und nach 36 Jahren ist der Film gereift wie ein feiner Wein.
Original verfügbar auf Prime Video (ab 2,99€), neue Version (2011) verfügbar auf Netflix
Stomp The Yard, 2007
Nach dem Tod seines jüngeren Bruders und einem Prozess vor dem Jugendgericht zieht der 19-jährige DJ in diesem Film nach Atlanta, um an der Truth-Universität zu studieren. Dabei will er nicht nur Tanzwettbewerbe gewinnen – sondern auch das Herz von Komillitonin April.
verfügbar auf Prime Video (ab ca. 3,90€)
Black Swan, 2011
Der einzige Ballet-Psychothriller, den ihr jemals brauchen werdet.
verfügbar auf Prime Video (ab 2,99€)
Dirty Dancing, 1987
Der Film, dessen berühmtester Tanzschritt im Laufe der Jahrzehnte bis im Überfluss nachgestellt wurde, bekommt endlich eine offizielle Fortsetzung. Es gibt also keinen besseren Zeitpunkt, um die Storyline im Gedächtnis aufzufrischen.
verfügbar auf Netflix
Magic Mike, 2012
Channing Tatum kehrt als männlicher Stripper zurück (genauso wie Ginuwine mit dem Song "Pony") und schöpft mit seiner Erfahrung als Tänzer aus dem wirklichen Leben.
verfügbar auf Netflix 
Fame, 1980
Der Film über eine Gruppe von Teenagern, die um begehrte Plätze an der New Yorker High School of Performing Arts kämpfen, hat eine ganze Generation von Träumern ins Leben gerufen.
verfügbar auf Prime Video (ab 3,99€)
Save The Last Dance, 2001
Abgesehen von der problematischen Rassismus-Dynamik von 2001 bietet dieser Film eine Storyline um die junge Kerry Washington und Julia Stiles, die für die renommierte New Yorker Universität Julliard vorsprechen.
verfügbar auf Netflix
Burlesque, 2010
Allein schon wegen Cher und Christina Aguilera sehenswert – mehr muss nicht gesagt werden.
verfügbar auf Netflix
Grease, 1978
Welcher Film sollte diese Liste abrunden? Na klar, der als erfolgreichstes Filmmusical aller Zeiten bekannte Klassiker aus den 70er Jahren, in dem sich die beiden Liebenden Olivia Newton John und John Travolta tanzend durch einen Highschool-Wettbewerb der 1950er Jahre tanzen.
verfügbar auf Prime Video (für Mitglieder gratis)
Text: Claire Valentine // Titelbilder via NYLON.com