Runway Report: Das bisher größte Diversity- und Trans-Casting
Die Runways der Herbstsaison waren noch nie diverser – in Sachen Alter und Kleidergröße muss sich allerdings noch einiges tun.
Text: Jenna Igneri // Bild: Andrew Toth/Getty Images
Die Ergebnisse sind da: Der saisonale Runway-Report von The Fashion Spot, der die Castings auf den Catwalks von New York, London, Mailand und Paris analysiert, zeigt eine große Verbesserung für Diversity und Transgender-Inklusivität auf den Laufstegen.
Im Herbst 2018 gab es die ethnisch vielfältigsten Castings aller Zeiten, wobei die Gesamtzahl der nicht-weißen Models in allen vier Städten auf 32,5 Prozent stieg, obwohl dies nur eine Steigerung von 2,3 Prozent gegenüber der letzten Saison ist. New York war mit 37,3 Prozent an nicht-weißen Models am vielfältigsten, der Rest folgt: London mit 34,6 Prozent, Paris mit 31,1 Prozent und Mailand mit 27,1 Prozent.
Die fünf ethnisch abwechslungsreichsten Shows dieser Saison? Gypsy Sport, Ashish, Chromat und Matthew Adams Dolan, mit Jeremy Scott und Brandon Maxwell auf Platz fünf. Fünf von sechs Designern davon haben in New York gezeigt, was bedeutet, dass Europa noch einiges zu tun hat. Insgesamt ist jedoch seit Beginn der Fashion-Spot-Berichterstattung über Diversity im Jahr 2015 ein beachtlicher Anstieg zu verzeichnen.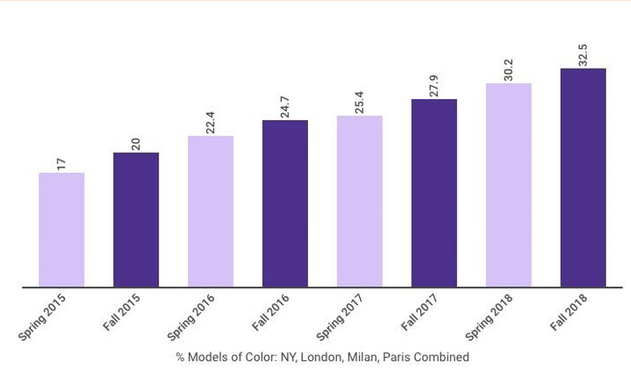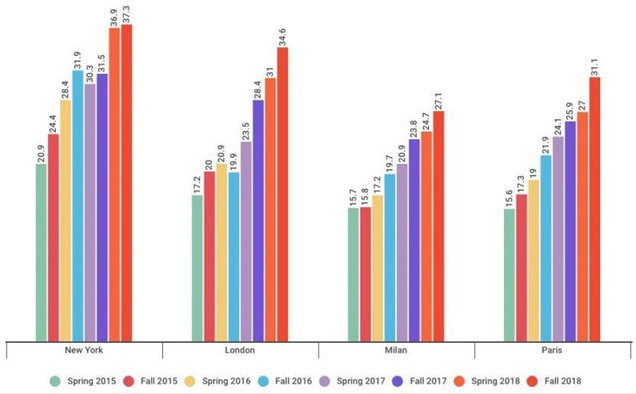 Statistiken über The Fashion Spot
Während Laufstegstar Teddy Quinlivan, die im September 2017 ihr Coming-Out als Trans-Frau hatte, sowohl im Frühjahr 2018 als auch im Herbst 2018 einen großen Anteil an der Zahl Transgender- und Non-Binary-Castings ausmachte, stieg die Zahl der Gender-diversen Castings (ohne Quinlivan) gegenüber der letzten Saison um 13 Punkte.
Leider gab es kein Wachstum in Bezug auf Kleidergröße und Altersvielfalt. Tatsächlich gab es einen Rückgang bei beiden. Nur 13 Models waren in dieser Saison über 50 Jahre alt, was 0,2 Prozent aller Models auf dem Laufsteg ausmacht und die niedrigste Zahl seit Frühjahr 2017 ist.
Auch in dieser Saison gab es einen Rückgang von 38 auf 30 Plus-Size-Models auf den Runway in allen Städten. Wie The Fashion Spot betont, machten die Models in den letzten drei Saisons nur etwa 0,4 Prozent der gesamten Castings aus, was nicht annähernd ausreicht.
Während wir uns natürlich über eine konsequente Zunahme der ethnischen Vielfalt und Geschlechter-Integration auf den Laufstegen freuen, ist der Rückgang im Bereich Plus-Size und 50+ Models einfach nicht akzeptabel. Dies ist ein Zeichen dafür, dass es noch so viel zu tun gibt und dass wir weiter kämpfen müssen, um repräsentiert zu werden.