Roadtrip mit Ferrari: Warum ihr auch im Frühjahr in die Berge müsst
Wir haben auf einem exklusiven Roadtrip nach Ischgl den neuen Ferrari GTC4Lusso getestet, ein paar Urlaubsideen gesammelt und stellen fest: Vergessen sind Sommer, Sonne, Strand und Meer –  der nächste Trip führt euch in die Berge.
Fotos: Lennen Descamps & Fujifilm Instax Mini 70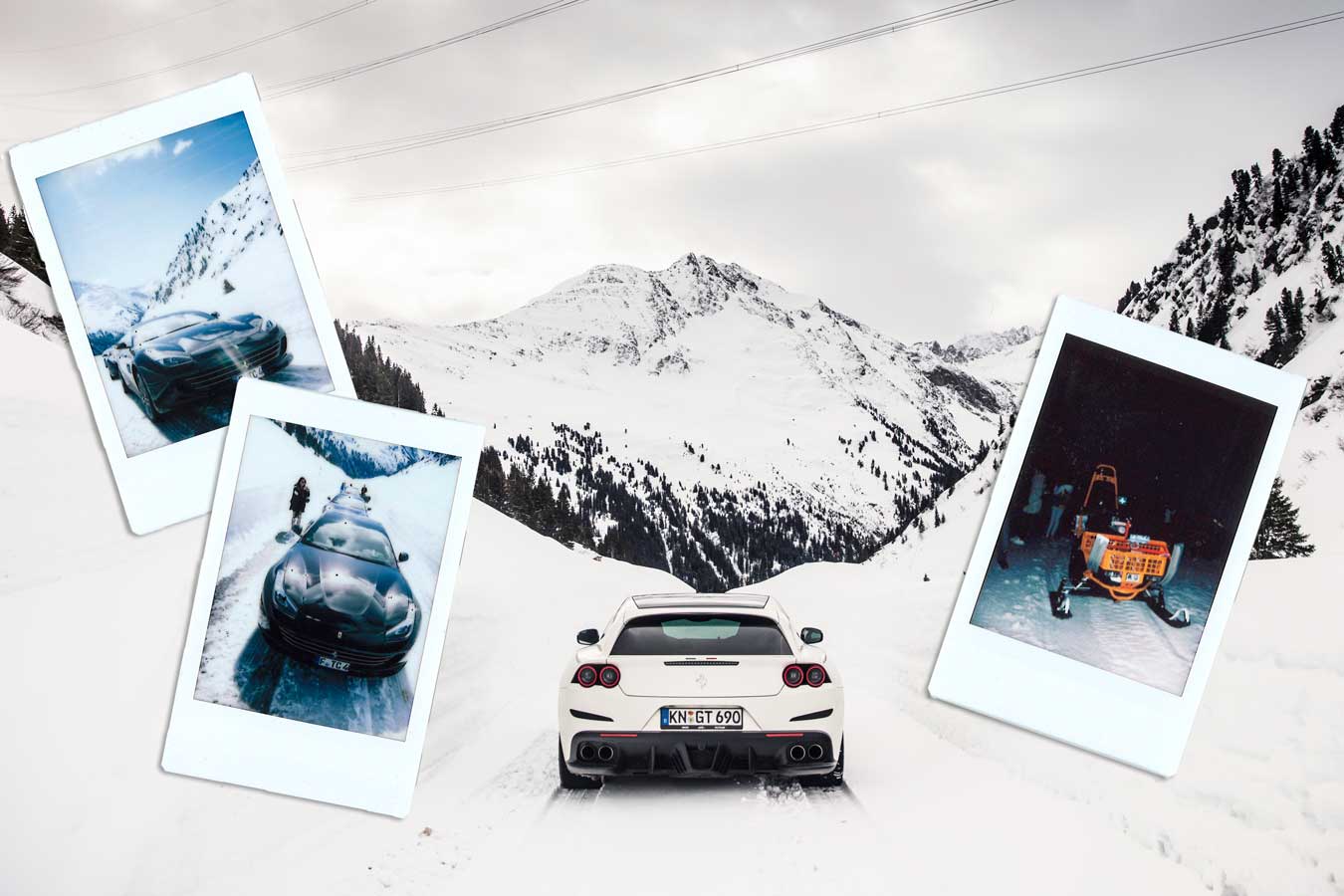 Ride of the day and of the night: Während tagsüber die PS-Zahlen des GTC4Lusso überzeugt haben, kam uns der Skidoo am Abend fast noch schneller vor – vom Holzschlitten auf Eispiste ganz zu schweigen. 
Roadtrips, die bestehen nach der Klischeevorstellung von Highschool-Filmen aus langen, verlassenen Straßen in der US-Wüste, Rockabilly-Soundtracks und knatternden Oldtimern. Roadtrips sind die Flucht aus der Großstadt, Flucht vor Verantwortung, vor den nervigen To-Dos des Alltags. Im Zweifelsfall steigt man nach Verlassen der Route noch in einem schäbigen Motel ab, schläft ein unter scharfem Neonlicht, das Rauschen der Klima-Anlage als Soundtrack für die Nacht. Passt, so sind Roadtrips im Klischee. Und wenn ein Klischee so deutlich ausfällt, ist es meist auch nicht schwer, dieses ziemlich drastisch zu widerlegen. Also haben wir uns bei unserem Roadtrip für die, sagen wir, luxuriöse Variante entschieden. Dafür bringen uns 690 PS und ein 12-Zylinder-Motor in 3,4 Sekunden von 0 auf 100 – und ziemlich schnell ins österreichische Ischgl.
Dort verbirgt sich hinter all diesen Zahlen aber kein Klischee: Der Ferrari GTC4Lusso ist auf dieser Reise unsere "Ride of Choice" und trotz hoher, heißer Zahlen kein typischer Sportwagen. Neben seinen verwandten Coupés und Rennwagen geht es bei diesem Auto nämlich um die Alltagstauglichkeit. Die haben wir übrigens in den Serpentinen von Tirol selbst getestet – und ja, auch für den Einsteiger lassen sich 690 PS koordinieren, believe us. Wer denkt, die BFFs müssten sich bei der Reise dann im Kofferraum verstecken, sei beruhigt: Der GTC4 Lusso bietet genügend Platz für zwei Buddies auf der Rückbank und vier Weekender im Kofferraum (Stop, für die Alm-Picknick-Supplies ist sicher auch noch Platz). Zwar erlauben die Straßen rund um den Tiroler High-Society-Ort Ischgl nicht oft, das Gaspedal ganz durchzudrücken, den nötigen Fahrspaß erhaltet ihr bei einer Spritztour auf den Berg aber allemal. Der unverkennbare Sound bleibt übrigens auch erhalten – und auch wenn wir Drängeln nicht unterstützen möchten, lässt sich damit der vorausfahrende Traktor ganz gut verscheuchen. 😉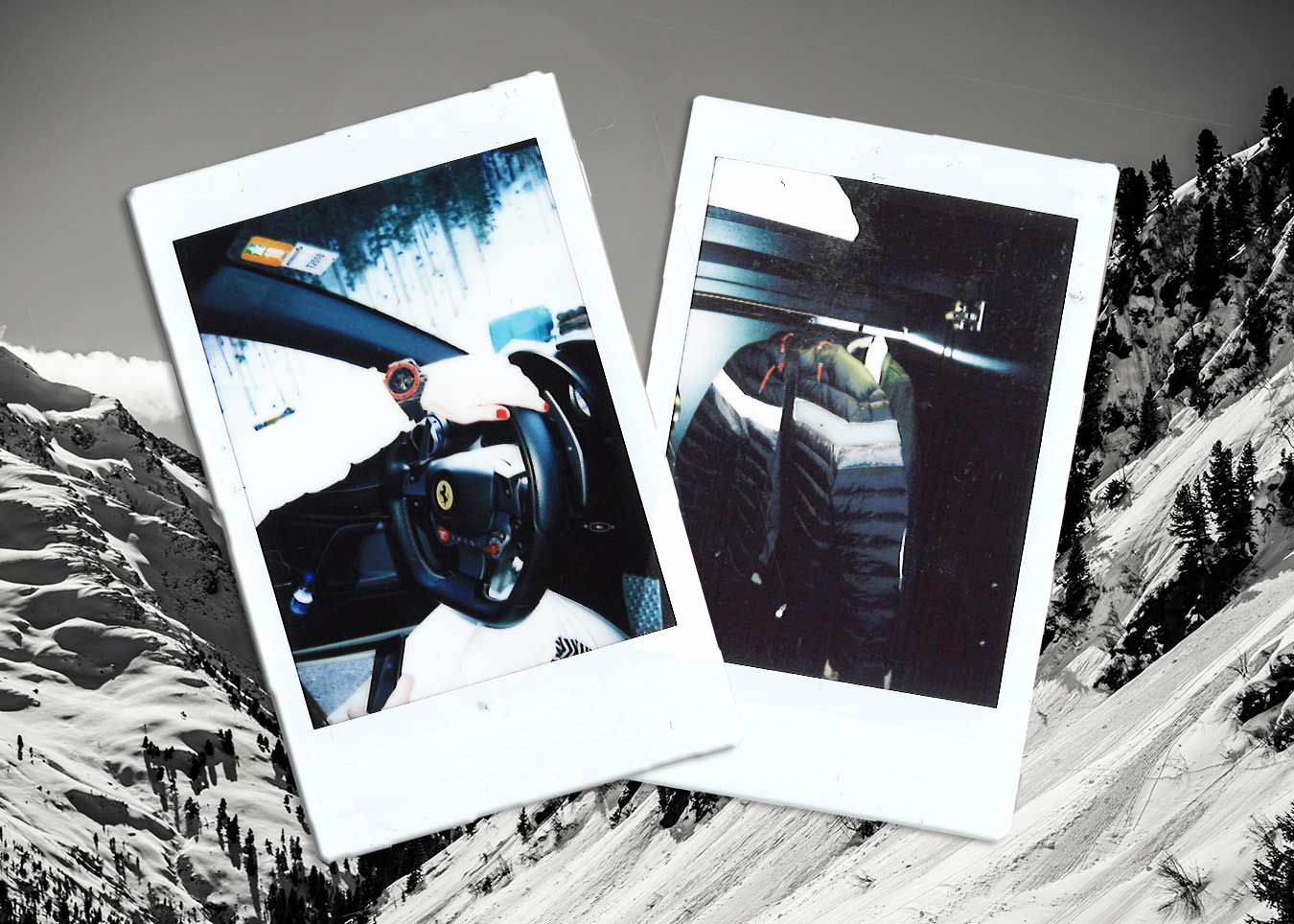 Immer dabei: Uhren von Hublot und Winter-Ausrüstung von Perfect Moment. Mit der Schweizer Luxus-Uhrenmarke hat Ferrari sogar eine eigene Kooperation, in denen das Design der Sportwagen mit dem von Uhrwerken verschmilzt.
Einmal oben angekommen, weiß man dann, warum immer alle ewig von dieser Bergluft schwärmen. Zugegeben, zwischen idyllischen Tannen, friedlicher Stille und weißem Schnee, der so hell leuchtet, dass er blendet, ist es ziemlich schwer, schlechte Laune zu haben. Warum aber solltet ihr auch? Ischgl gilt schließlich als das "Ibiza der Skiorte" und bietet zwischen Clubs, Restaurants und natürlich Abfahrtspisten ein umfangreiches Angebot für ultimativen Fun. Klar ist aber: Für den ruhigen, "outgezoneten" Urlaub ist das nichts.
Bergabwärts geht die Luxus-Tour im Fünf-Sterne-Designhotel Zhero weiter. Und auch hier widerlegt sich das Klischee: Statt in angestaubtem, altem Luxus-Hotel-Flair übernachtet ihr in der High-Class-Version des aktuellen Design-Zeitgeist: Minimalistische Möbel, dunkle Farben und Lava-Stein-Wände im LaPrairie-Spa erinnern an den Stil von Boutique-Hotels. Passt nur auf, dass ihr am Morgen nach dem letzten "Cheers!" an der Hotelbar nicht als erstes in den Super-Vergrößerungsspiegel guckt.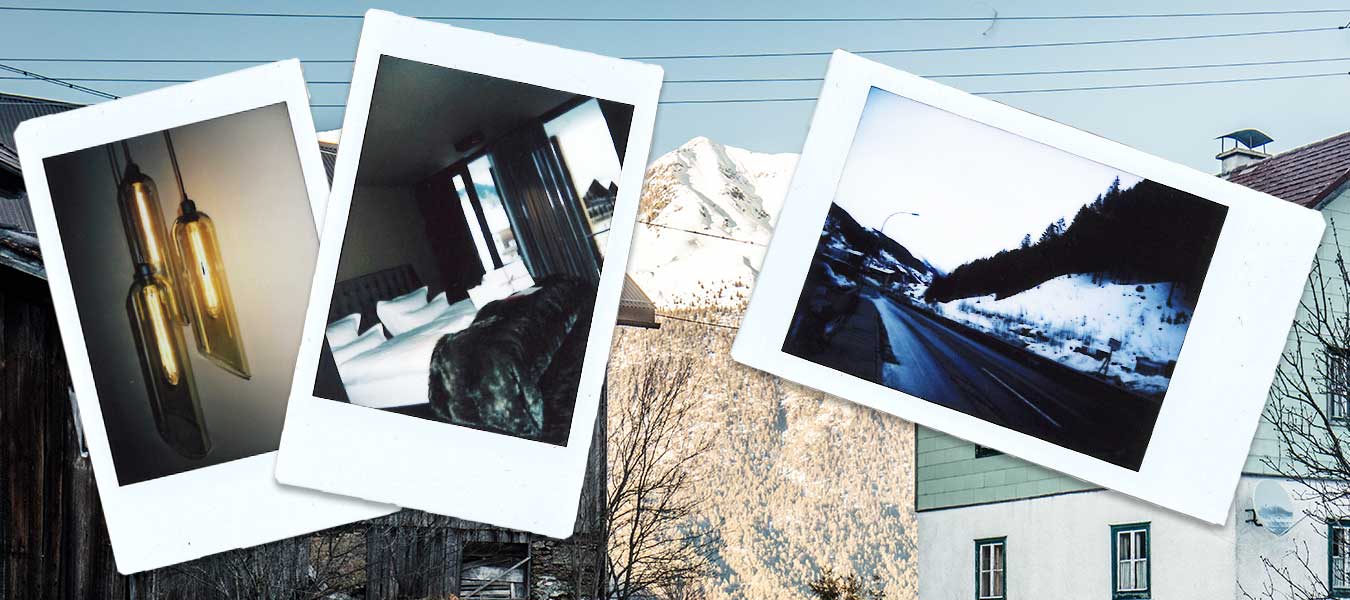 Am Ende haben Roadtrips dann immer auch eines gemein: Sie sind wahnsinnig schnell vorbei. Wenn ihr euch also am Abfahrts-Morgen aus dem Bett schält, um noch einmal in den Ferrari zu steigen, den Motor anlasst, inklusive Sound, werft noch einmal ein Blick durchs Panorama-Dach, checkt die Geschwindigkeit auf dem Beifahrer-Display und fahrt mal kurz rechts ran. Nehmt euch Zeit für ein Foto, für einen letzten Berg-Blick. Denn egal wie schnell ihr über die Straße zischt, Roadtrips haben noch eine weitere Sache gemein, ob nun dem Klischee entsprechend oder nicht: Vergessen werden sie selten.