SHAMELESS: Das ist die neue NYLON-Ausgabe #9!
What a time…to write, edit, make a magazine – so war die Stimmung bei der Produktion unserer neuen NYLON-Ausgabe #9. Trotz Corona-Time präsentieren wir euch hier aber nun ein Stück Inspiration. Dabei schauen wir nach innen und machen uns in Zeiten von Isolation endlich frei von aller Scham. Auf eine shameless Zukunft!
Sichert euch die neue NYLON-Ausgabe hier:
–HIER könnt ihr die Ausgaben als Printheft bestellen. (<— ORDER NEW ISSUE HERE!)
-Nur gucken, nicht anfassen? Dann holt euch doch das NYLON E-Paper!
-Natürlich gibt's NYLON auch in diesen Tagen an geöffneten größeren Kiosken und immer im Bahnhofs- und Flughafen-Zeitschriftenhandel.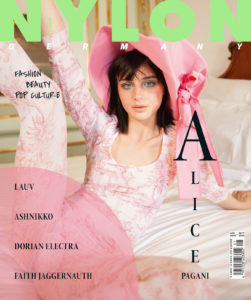 Hallo? Haaaaaallo? Kennst du Freeze beim Video-Call? Redest du dem WLAN zu Hause auch gut zu? Der größte Teil der Produktion von NYLON #9 fand im Homeoffice statt, na klar. Der Teamchat lief heiß und jedes einzelne Redaktionsmitglied hat sich in seinen eigenen vier Wänden größte Mühe gegeben, trotz Corona-Time wieder ein wundervoll buntes Heft zu kreieren. Uns war wichtig, in dieser crazy Zeit ein Stück Normalität und Inspiration zu schaffen. Und zwar in NYLON-Manier mit ordentlich Wumms: Diese Ausgabe heißt "The Shameless Issue", denn wenn wir schon nicht richtig rauskönnen, gucken wir nach innen – und entsagen der Scham. Bye Erwartungshaltung, hi Freiheit! Bühne frei unter anderem für Coverstar Alice Pagani, die schamlose Hauptrolle der Netflix-Serie "Baby", die Musiker Ashnikko und Lauv und die modische Interpretation von Freiheit im leer gefegten Barcelona. Be shameless, be safe!
Außerdem im Heft: Das wortwörtlich schamlose Leben von YouTuberin Shameless Maya, eine Fashion-Reise pre-Isolation ins kolumbianische Cartagena, Beauty-Looks inspiriert von den Bauten Gaudís und ein Bericht über das Leben als Leben als gläubige Christin, die sich nackt auf Insta zeigt.