Met-Gala, Mode und Corona – wie geht's weiter? Fashion News der Woche
Wie verhalten sich Mode und Corona zueinander? Was passiert neben dem Einbruch von Aktien, Schließungen und allgemeinem Handelsstop? Die Fashion News der Woche.
Wie in so vielen Berichterstattungen fühlt es sich an dieser Stelle komisch an, von Fashion News und neuen Mode-Schlagzeilen zu sprechen. Ein Virus hat große Teile der Welt fast zum Stillstand gebracht und den Fokus, die Reflektion vieler Themen verlagert. Die Gesundheit eines jeden Menschen ist wichtiger als jede Mode-News, das ist klar. Mode und Corona hängen allein schon deswegen zusammen, weil der Virus einen Einfluss auf die Weltwirtschaft hat – und damit auch auf Labels, Redaktionen und sonstige Mitglieder der Modeindustrie, deren Arbeit von Lieferengpässen, Büroschließungen oder Absagen beeinträchtigt ist – von den persönlichen Konsequenzen ganz zu schweigen. Trotzdem befinden wir uns zumindest in Deutschland noch in einem Stadium der vielseitigen Beobachtung, des Übergangs zwischen Sensationsmache und tatsächlichen Fakten, lesen immer noch gleichzeitig von Pandemie und Popkultur. Weil sich also zumindest die digitalen Räder weiterdrehen, stellen wir euch hier auch noch Mode-News der vergangenen Woche vor – natürlich aber nicht ohne das große C-Wort.
Mode und Corona: Die Met-Gala findet statt…oder?
Es schien das letzte Event zu sein, das im Austausch von Mode und Corona standhielt: Die Met Gala 2020. Nachdem international immer mehr Veranstaltungen aufgrund des Coronavirus abgesagt oder verschoben werden, darunter auch große Festivals wie das Coachella, soll das Fashion-Event trotzdem am ersten Montag im Mai stattfinden. Zum Ende dieser Woche aber könnte diese Entscheidung schon ins Wackeln geraten. Seit heute sind alle drei Locations des veranstaltenden Metropolitan Museum of Art geschlossen. Zwar gäbe es in Verbindung mit dem Museum noch keine nachgewiesenen Krankheitsfälle, man wolle aber die Sicherheit und ein gesundes Umfeld für die Community sicherstellen, hieß es vom CEO der Museen, Daniel H. Weiss. Um dieses Umfeld auch wirklich sauber zu gestalten, soll es in den Locations in der Zwischenzeit gründliche Reinigungsmaßnahmen geben. Anfang der nächsten Woche folgen dann angeblich neue Updates zur Schließung – man freue sich aber jetzt schon darauf, bekanntzugeben, wann die Museen wieder eröffnen würden. "Gerade werden alle Museumsevents bis zum 3. April abgesagt", sagt Nancy Chilton, Chief External Relations Officer des Costume Institute. "Wir werden fortlaufend prüfen, welche Events danach abgesagt werden und welche stattfinden." Viel fraglicher ist aber, ob der Stab an prominenten Gästen der Gala überhaupt nach New York City reisen könnte oder freiwillig zur Gala erscheinen würde, sofern diese stattfindet. Das aber kann nur die verstreichende Zeit verraten – passt, schließlich ist das Motto der diesjährigen Gala: "About Time: Fashion and Duration".
Gesundheitsbotschafterin der Mode: Naomi Campbell und ihr Corona-Airport-Look
"Wir hätten auf Naomi hören sollen", titelt Emilia Petrarca über ihrem Artikel zum Coronavirus-Aufzug von Naomi Campbell. Diesen Sommer hätte man das Supermodel noch für ihre Reise-Reinigungs-Routine ausgelacht, schreibt die Autorin auf The Cut, aber wer lacht jetzt? Diese Woche ist in der westlichen Welt in Sachen Pandemie verlaufen wie kaum eine andere. Zu Beginn dieser Woche war das Zusammenspiel von Mode und Corona sicher noch ein "leichteres", als es an diesem Wochenende sein wird. Schon vor einigen Tagen zirkulierten Memes von Campbell im Ganzkörper-Hazmat-Anzug, Mundschutz, Handschuhen und Schutzbrille. Und während der Auftritt des Supermodels sicher auch eine kleine Show und bereits das äußerste Ausmaß der Pandemie-Prävention ist, hat die 49-Jährige nicht Unrecht: Better safe than sorry könnte ihr aktuelles Reisemotto sein. Eines, von dem sich auch politische Führungskräfte in diesen Tagen eine Scheibe abschneiden. Dass aber ausgerechnet ein reiches Supermodel zur Botschafterin für allgemeine Gesundheitspraktiken wird? Dürfte zu denken geben. Trotzdem: Ab jetzt hören wir mal mehr auf Naomi.
Gemeinsamer Nenner: Levi's x New Balance "Made in US"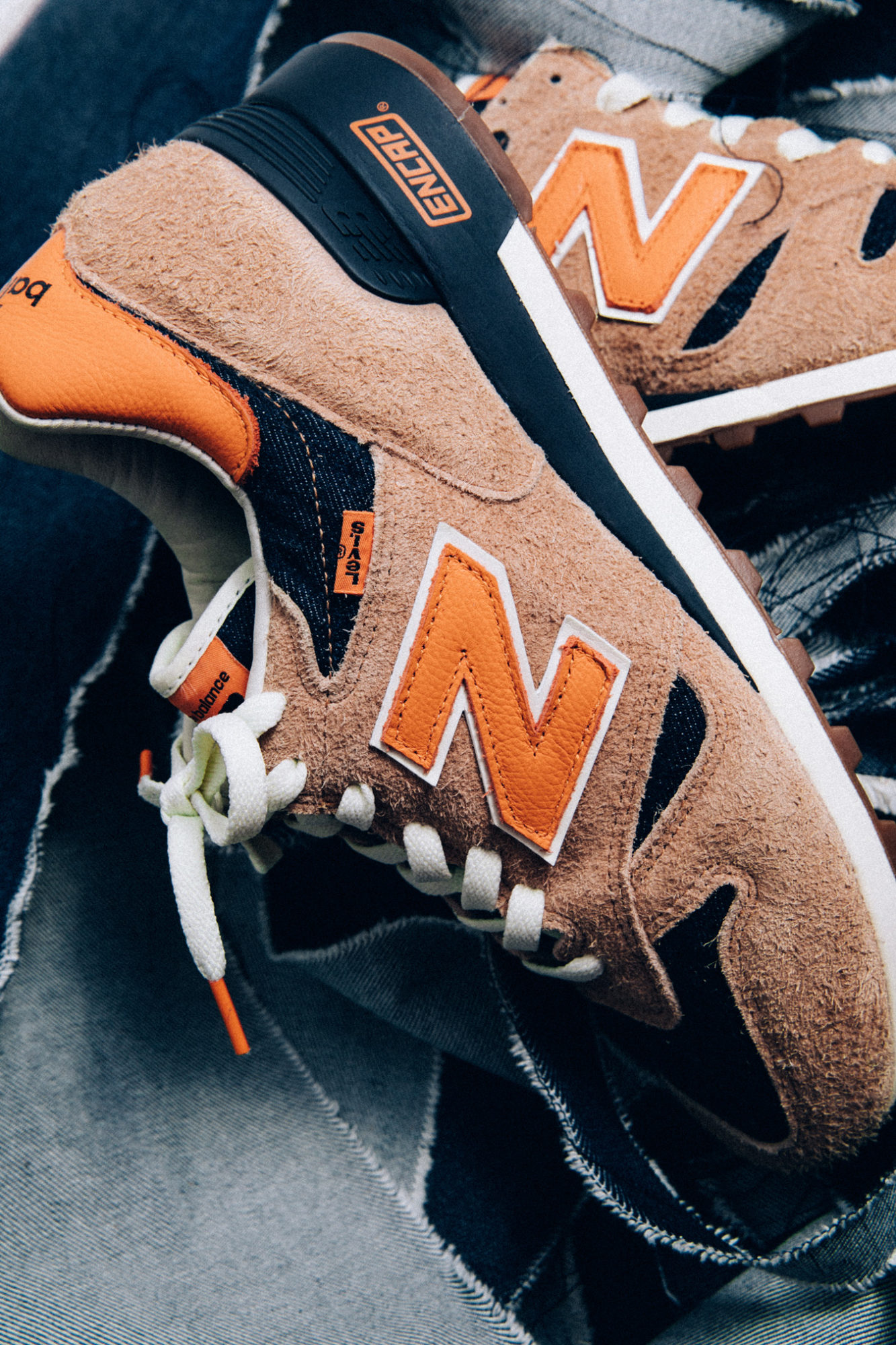 501 plus 574. Meinen wir hier nicht als Mathegleichung, sondern als Collab zweier ikonischer Zahlen der Mode: Für ein exklusives Sneakermodell haben sich New Balance und Levi's zusammengetan – und die sind ja vor allem für ihre legendären Modelle, den 574-Sneaker und die 501-Jeans, bekannt. In einer gemeinsamen Special Edition ist nun ein Schuh und damit auch eine neue Zahl entstanden: Das Modell "Made in US 1300" kommt mit einer Kombination aus braunem Wildleder und deadstock Jeans-Stoff in der Farbe "White Oak XX52", der übrigens nicht im normalen Handel erhältlich ist. Für Levi's ist es die erste Kollaboration mit einer Sneakermarke – vor New Balance durfte noch keine Brand das orangene Logo auf ihren Schuhen präsentieren. Laut den Brands soll die Silhouette vor allem "Dad-Style, Authentizität und 80er-Jahre Retro verkörpern – und das kann man sich doch viel besser merken, als jede Mathegleichung. Ab dem 26. März gibt's den "Made In US 1300" für 220€.
MatchesFashion vereint Verantwortung: The Responsible Edit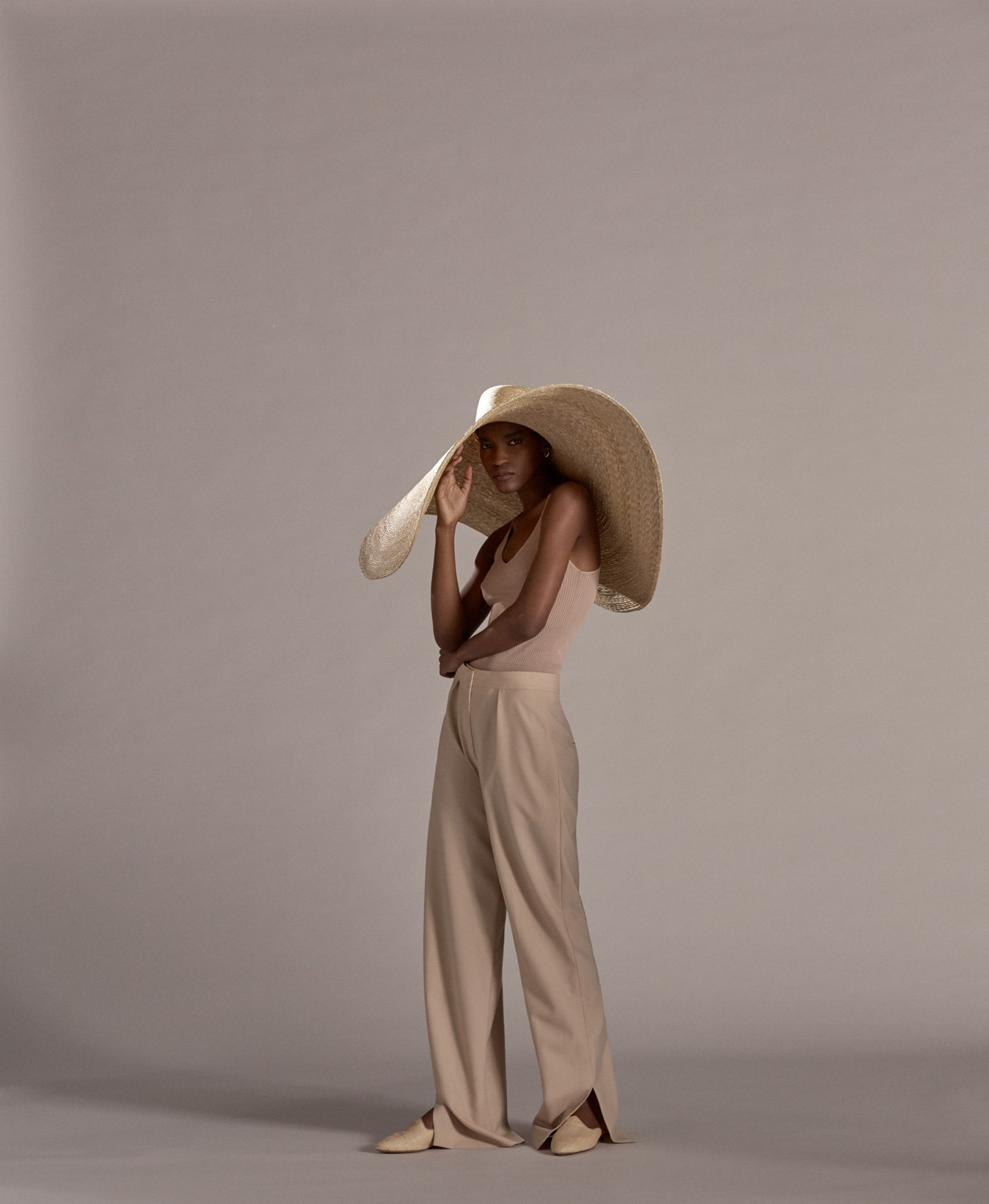 Eigentlich scheint es heutzutage vielmehr obligatorisch als optional, eine Marke mit "Verantwortungsbewusstsein" zu führen. Die Luxusbranche braucht dabei mitunter aber offensichtlich noch ein wenig Starthilfe. Der Retailer MatchesFashion hat deshalb den Online-Hub "The Responsible Edit" ins Leben gerufen. Hier sollen Kunden und Kundinnen Brands entdecken, die ihr "Engagement für verantwortungsvolle und ethische Vorgehensweisen" teilen. Klarer gesagt heißt das, dass teilnehmende Marken sich mit mindestens einer der vier "Säulen" des Programms identifizieren und sie erfüllen müssen. In der Kategorie "(Kunst-)Handwerker*innen" wird zum Beispiel vorausgesetzt, dass mehr als die Hälfte des Teams aus eben jenen bestehen muss. Die Kategorie "People" steht für ein faires Arbeitsumfeld und beheimatet unter anderem Marken, die sich an faire Handelsbedingungen und zertifizierte Löhne halten. Außerdem gibt's die Säulen "Charity" und "Materialien". Deren Inhalt erklärt sich über die Zusammenarbeit mit NGOs und Charity-Organisation sowie der Verwendung von recycelten, Vintage– oder pflanzenbasierten Materialien und Verpackungen quasi selbst. Viele namenhafte Marken wie Acne Studios, Stella McCartney oder Burberry sind Teil des Responsible Edit, aber auch mittelgroße Hype-Labels wie Alan Crocetti oder GmbH.
Goth-Sport, nach Mama benannt: Rick Owens x Champion
Wer sich überhaupt gerade ins Fitnessstudio und damit nach draußen wagt, dürfte sich dabei seit gestern in einen Crossover aus Goth- und Sport-Look hüllen. Da erschien nämlich die neue Collab von Rick Owens und Champion. Sie nennt sich "Tectuatl" und ist vom Mädchennamen von Owens Mutter inspiriert. Das war's dann aber auch schon mit der mütterlichen Hommage, schließlich ist der Vibe der Kollektion vor allem vom besagten Hybrid aus Goth-Teilen, wie Roben und Kutten, und Sport-Elementen wie Mesh-Material geprägt. Oversize-Schnitte und eine Überlänge geben vielen der Teile einen verhüllenden Charakter, ein verzerrter Stern als eigens geschaffenes Logo verleiht dem klassischen Champion-Logo härtere Linien. Weiterer Teil der Kollektion sind Trench-Coats, Tunika-Shirts, Sporttrikots mit Lendenschurz, Westen, Bodies oder Hoodies. "Als ich in den Neunzigern mein Label gründete", sagte Owens gegenüber WWD, "habe ich mein Logo als Kreuzung zwischen dem Champion-Logo und einem Jean Patou-Parfüm-Label von Hand gezeichnet." Beide hätten einen ähnlichen kalligraphischen Vintage-Flair gehabt. Owens Neuinterpretation ist ab jetzt über den Rick Owens Webshop und Händler wie SSENSE erhältlich.
Titelbild: Gilbert Carrasquillo/GC Images via NYLON.com
Noch mehr Themen zum Durchklicken– und lesen:
Diego Tinoco aus Netflix "On My Block" bewirbt sich im Interview als erster Latino-Superman
Sleep Tight: Warum ihr dank Beautyprodukten besser schlafen könnt
Diese Frühjahr-Styles entstehen, wenn man die 70er und 80er vermischt