Alma: "Ich bin frustriert, weil's so viele Menschen gibt, die der Klimawandel nicht interessiert"
Die Finnische Singer & Songwriterin Alma könnte sich einfach den ganzen Tag für ihre Collabs mit Big-Playern wie Miley Cyrus selbst feiern oder sich auf den Drop ihres neuen Albums "Have U Seen Her?" freuen – stattdessen sorgt sie sich um's Klima und schaut Dokumentarfilme, um ihre Wissbegierde zu stillen. Es folgt ein exklusives Gespräch mit Alma.
Als ich Alma vor dem Gespräch unsere aktuelle NYLON Germany-Ausgabe in die Hände drücke, ist sie total begeistert: "Ah cool, ich find darin die Fotostrecken immer so toll. Die Zwillinge auf dem Cover, Lisa & Lena, habe ich bei "The Dome 2018" kennengelernt. Ich hätte in dem Moment nie gedacht, dass sie so große Influencerinnen sind. Als sie mir ihren Insta-Account gesagt haben, dachte ich nur so 'What? So viele Follower habt ihr? Könnt ihr mir mal einen Shoutout geben?' [wir lachen]. Eins wird sofort klar: Bei Alma fühlt man sich wohl. Sie redet einfach drauf los und sagt, was sie denkt – das sei manchmal zu viel, warnt sie mich lächelnd, bevor ich den Aufnahmeknopf drücke.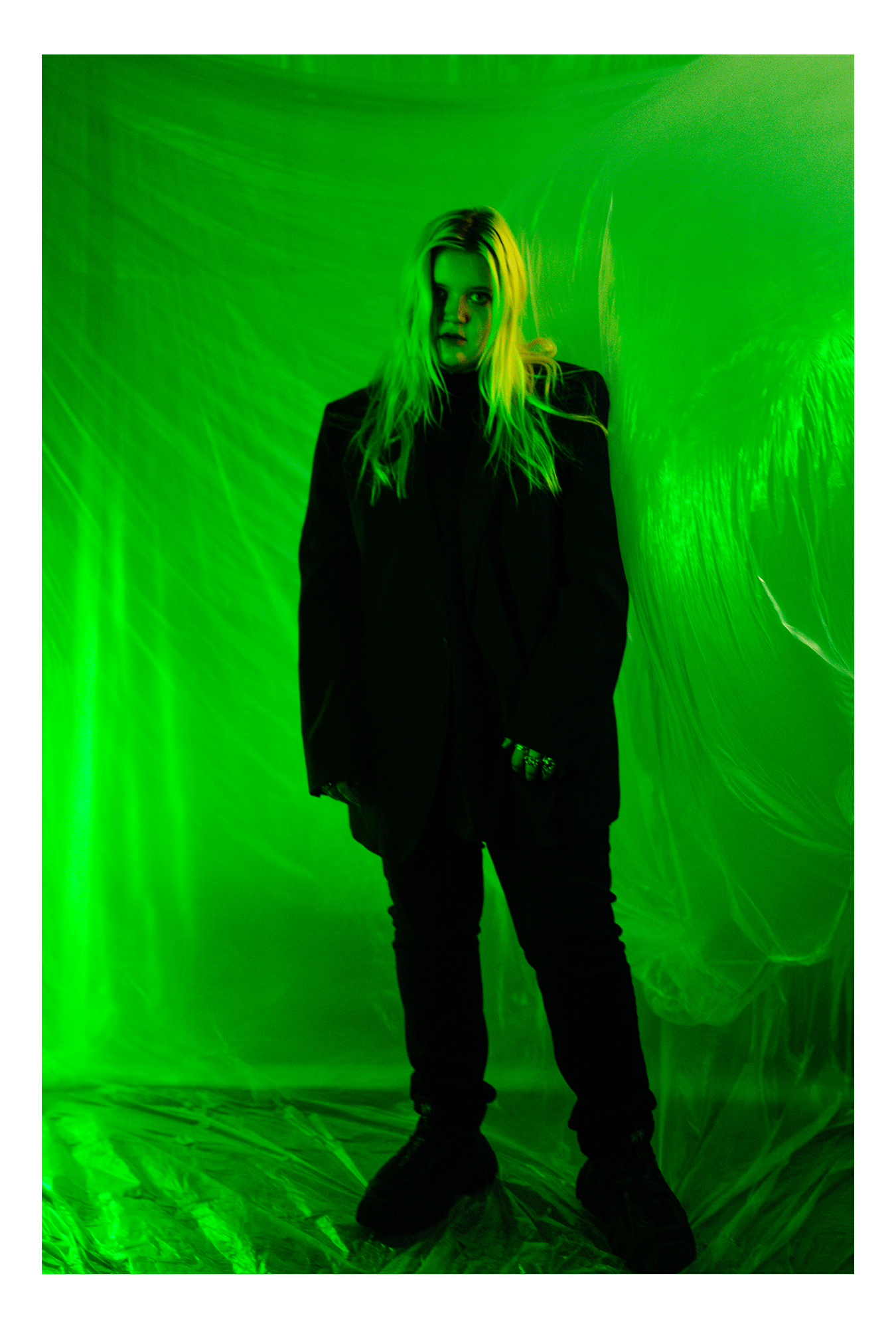 Ich liebe dein neues Lied & Video zu "Bad News Baby"! Was sind heute schlechte Neuigkeiten?
Dass mein Rückflug heute Abend nach Finnland wegen eines Streiks gecancelt wurde. Hell nooo, ich will den Flug so gern nehmen! Aber anderseits hab ich auch kein Problem damit, noch ein paar Tage in Hamburg zu bleiben. Ansonsten sehe ich täglich schlechte Nachrichten von der ganzen Welt auf meinem Handy: über den Klimawandel und was Trump mal wieder so gesagt hat … Ohne Witz, jedes Mal wenn ich mir die News anschaue, sind es nur schlechte.
"Manchmal bin ich frustriert, weil's so viele Menschen gibt, die der Klimawandel nicht interessiert." – Alma
Welche gehen dir besonders nah?
Definitiv die vom Klimawandel. Es betrifft mein Leben direkt und es ist so verrückt, wie es einfach keinen wirklich juckt. Ich versuche mein Bestes zu geben: Ich habe aufgehört Fleisch zu essen, fliege so wenig wie möglich und versuche Plastik zu vermeiden. Ich fokussiere mich auf das, was ich mache, aber manchmal bin ich frustriert, weil es eben so viele Menschen gibt, die es nicht interessiert.
Es in letzter Zeit ja aber schon ein Wandel spürbar – Stichwort Greta Thunberg und Fridays for Future.
Ja total! Wir leben aber immer noch in einer Bubble. Zum Beispiel habe ich gerade noch eine Statistik gesehen, die aufzeigt, dass der Fleischkonsum täglich ansteigt. Und dann denke ich nur so: Das kann doch nicht sein, alle um mich herum sind vegetarisch und tun was sie können – aber das tut der Mainstream eben nicht. Wir stehen an einem guten Anfang, aber müssen noch so viel mehr tun. In der Welt geht es immer nur um's Business …
Jetzt haben wir so viel über Negatives gesprochen. Was sind heute denn gute Neuigkeiten?
Ich habe meinen Reisepass wiedergefunden, den ich kurz verloren hatte. Mein neuer Song scheint auch gut anzukommen, er wird immer mehr im Radio gespielt.
Schaust du dir oft die Streamingzahlen an?
Nein, nicht mehr. Ich will nicht, dass sie mich beeinflussen. Bei meinen ersten Songs habe ich das gemacht, aber dann war ich total traurig, wenn es nicht so lief, wie ich gehofft habe. Das will ich nicht mehr. Ich möchte mich nur auf die Musik konzentrieren, die ich wirklich machen will und keine Kompromisse eingehen, nur damit sie vielleicht besser ankommt. Ich lese aber gerne das Feedback von meinen Fans – schließlich mache ich die Musik ja auch für sie.
"Musik kann Leben retten." – Alma
Da wir gerade beim Thema neue Musik sind: Wird dein kommendes Album noch persönlicher?
Auf jeden Fall. Ich bin bei jedem Lied sehr ehrlich. Schon bei den Tracktitles merkt man, dass ich mich darin wirklich öffne. Es ist das erste Mal, dass ich meine Musik richtig liebe. Ich habe mir einige Jahre dafür Zeit genommen und stattdessen eher für andere Artists geschrieben, um mir Gedanken darüber zu machen, wer ich bin und wer ich sein will. Who the f*ck am I? Ich hab immer noch keine Ahnung, aber das wusste ich vor drei Jahren noch weniger. Da habe ich einfach aus Spaß Musik veröffentlicht, zu der man tanzen kann. Heute sieht das anders aus: Ich bin 23 Jahre alt und versuche erwachsen zu sein. Ich will meine tiefsten Gedanken teilen. Mein Ziel ist es, Menschen zu inspirieren – Musik kann Leben retten.
Welche Aussagen möchtest du dabei vor allen Dingen verbreiten?
Naja, also im Intro stelle ich erstmal klar, dass ich nicht perfekt bin und das hier nur meine Stories sind. Aber man könnte sagen: Ich mache dumme Sachen, wenn ich betrunken bin. Ich bin hektisch, verrückt und habe ADHS. Aber ich versuche, mich zu verbessern. Ich rede über die Liebe aus einer queeren Sichtweise, über Angst und mentale Gesundheit. Ich hab's so satt nur happy Dance-Music zu machen – f*ck this sh*t.
"Singles sind vergleichbar mit Fast Food: Es stillt für eine Sekunde deine Bedürfnisse, aber du brauchst immer mehr." – Alma
Warum hast du dich diesmal für ein ganzes Album anstatt einzelne Singles entschieden?
Früher habe ich viel mehr Alben gehört und jetzt gibt's gefühlt nur noch Singles, Singles und noch mehr Singles. Ich finde das vergleichbar mit Fast Food: Es ist erst nice und stillt für eine Sekunde deine Bedürfnisse, aber dann ist es verschwunden – und du brauchst immer mehr. Es gibt einem nichts, sondern ist halt immer wieder der gleiche BigMac.
Kannst du uns etwas über deine Songwriting-Sessions erzählen: Wo finden sie normalerweise statt und wie lange dauern sie?
Ich schreibe entweder im Studio in Finnland oder L.A.. Da habe ich meine besten Teams. Ich bin ein ziemlich schneller Songwriter. Ich schreibe ja keine Gedichte und alles muss perfekt zusammenpassen. Bei mir läuft's eher so: F*ck so fühle ich mich gerade und genau das singe ich laut – dann ist's auch schon fast fertig. Manchmal höre ich mir das Lied dann zwei Monate später wieder an und denke mir: "Diese Zeile ergibt gar keinen Sinn", dann ändere ich noch Kleinigkeiten. Meistens ist ein Song für mich aber dieser eine Moment. "Bad News Baby" habe ich zum Beispiel in 5,6 Stunden geschrieben.
Du schreibst häufig Musik für andere Artists. Wie entscheidest du, welche Songs du selbst singst und welche du anderen Künstlern gibst?
Hmm, also ich höre mir sie öfters an und manchmal habe ich einfach das Gefühl, sie sind nicht 100 % ich – vielleicht zu sehr Pop. Es gibt aber auch Situationen in denen Künstler auf mich zukommen und mich fragen, ob sie einen Song haben können und ich mir denke so "Och nee, ich liebe dieses Lied!" – aber dann gebe ich sie doch her, weil ich mich ja auch freue, wenn ein so krasser Künstler meine Songs berühmt macht. Meine richtigen Herzenstitel würd ich aber niemals weggeben.
Sieh dir diesen Beitrag auf Instagram an
Du hast getweetet, dass du mega glücklich darüber bist, dass Miley Cyrus dich als Co-Writern für "Don't Call Me Angel" angefragt hat. Und du hast auch beispielsweise "Slide away", "Cattitude" und "Mother's Daughter" mitgeschrieben. Wie laufen Songwriting Sessions mit mega Stars wie Miley ab?
Miley habe ich auf einer Party kennengelernt, sie hat mich angesprochen und meinte "Hey, ich kenne dich, du bist doch diese Sängerin". Sie mochte mich dann scheinbar einfach und am nächsten Tag haben wir uns mit einem Produzenten, mit dem ich auch schon mal gearbeitet hatte, in ihrem Studio getroffen. Miley und ich haben einen komplett unterschiedlichen Background, aber sind uns trotzdem so ähnlich: beide sehr energiegeladen und superwild.
Gab es auch Momente während Collabs mit Künstlern, bei denen ihr euch nicht so gut verstanden habt?
Nicht viele. Ich bin eine Person, die sich eigentlich mit jedem versteht. Es kam aber zwei Mal vor, dass ältere, männliche Produzenten nicht an mich geglaubt haben und mir erzählen wollten, dass ich zu jung bin und eh keinen Plan habe. Diese Zusammenarbeiten habe ich dann schnell beendet – I don't take that sh*t! Sie müssen mich respektieren.
Wir drehen den Spieß mal um: Wenn du jemanden auswählen müsstest, der einen Song für dich schreibt, der dich und deine Gefühle vollkommen ausdrückt, wer wäre das?
Sia wäre hammer! Sie ist ein richtiger Badass.
"Ich wollte immer erwachsen sein, aber jetzt bin ich es und denke nur so 'Oh sh*t'". – Alma
Welches Gefühl würdest du denn im Moment am meisten ausdrücken wollen?
Ich wollte immer unbedingt erwachsen sein und dachte, dann ist die Welt plötzlich ganz anders: endlich große Shows spielen und eigenes Geld verdienen. Jetzt bin ich 23 und denke nur so "Oh sh*t, du musst jetzt echt ein Erwachsener sein – ist ja gar nicht so toll. Kann doch lieber jemand anders meine Rechnungen bezahlen und ich hänge einfach mit meinen Freunden rum?" [lacht]. Aber versteh mich nicht falsch, ich habe natürlich mega Glück gerade und bin eigentlich super happy.
Wenn du mal keine Musik machst, was läuft dann so bei deinen Streamingdiensten?
Dokumentarfilme. Alles andere langweilt mein Gehirn. Ich gehe ja nicht mehr in die Schule, dabei liebe ich es zu lernen. Ich will am liebsten alles in dieser Welt verstehen: True Crime Stories, alles über Trump und darüber, wie fucked up diese ganze Businesswelt ist. Geschichten über Menschen, die verrückte Dinge getan haben, interessieren mich.
Es sollte irgendwann mal einen Dokumentarfilm über dein Leben geben!
[lacht] Oh ja, das wär cool, vielleicht irgendwann.
Schaut euch hier das Musikvideo zu Almas neuen Single "Bad News Baby" an: