Sag uns dein Sternzeichen…
… und wir sagen dir, was in deine Wohnung passt. Dafür haben wir uns auf Juniqe.de durch die 11.000 kuratierten Designs internationaler Künstler geklickt – und sind sogar für die wählerische Waage fündig geworden.
Gleich vorneweg: Das Stöbern hier bei uns lohnt sich, denn mit dem Gutscheincode nylonlovesjuniqe bekommt ihr bei Juniqe.de bis zum 30. September 10 % Rabatt auf eure Lieblingsartikel…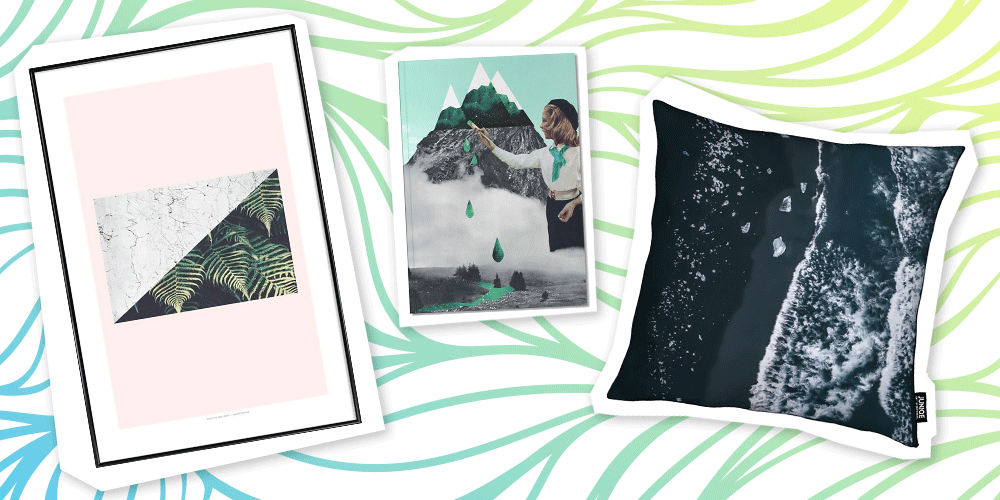 Widder 21.3.–20.4.
Der Widder ist kämpferisch, idealistisch und dynamisch. In Vulkanlandschaften fühlt er sich zu Hause, Feuer ist sein Element. Sein ganzes Wesen schreit: "All eyes on me" – und mit diesem Red Smoke Premium–Notizbuch von Jovana Rikalo, ab 15 Euro (großes Bild) auf dem Schreibtisch fällt man praktischer­wei­se auf.
Auch passend für den Widder: Between Horns Premium Poster gerahmt von Ferdinando Valverde, ab 40 Euro; Aries Zodiac Sign Black Poster gerahmt von Naxart, ab 27 Euro; Desert Sky No 1 Duschvorhang von Myan Soffia, 55 Euro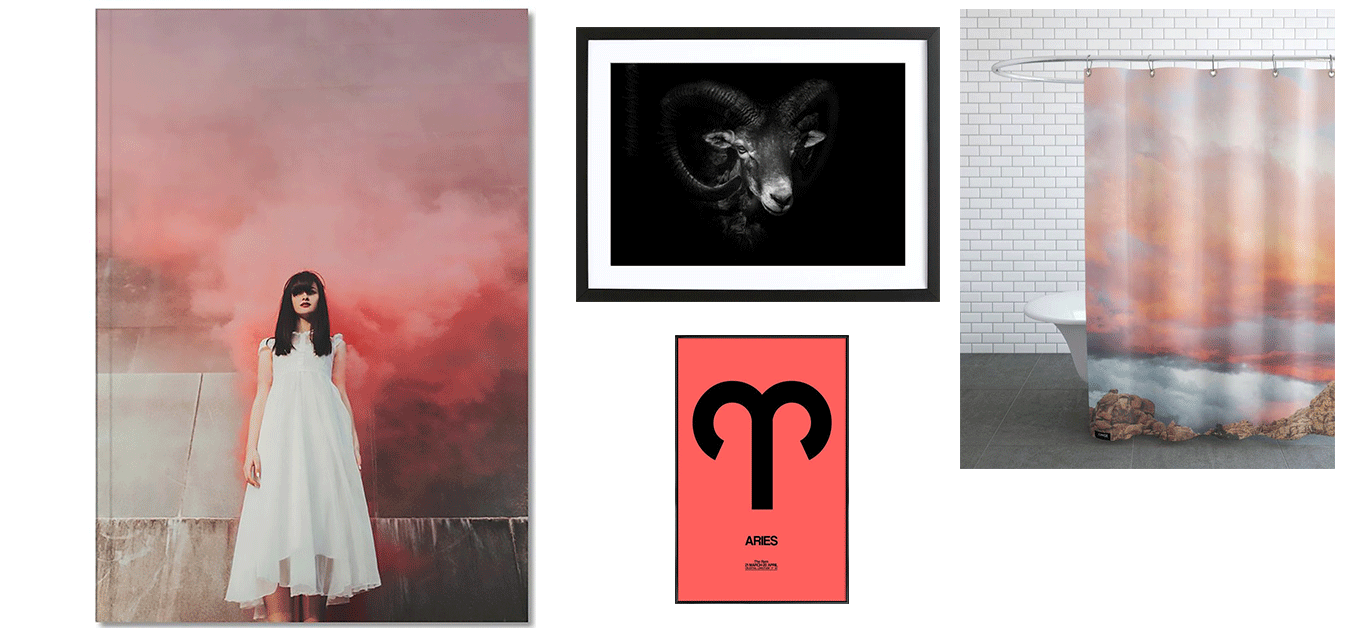 Stier 21.4.–20.5.
Der Stier ist sinnlich und strotzt nur so vor Lust. Er liebt Täler und Wiesen und schafft es, in allem ­etwas Auf­regendes zu sehen. Man kann sagen, der Stier ver­körpere das Urprinzip von Wolllust. Na, wird euch auch schon ganz heiß? Sonst hilft ­viel­leicht dieses gerahmte Poster Morning Fog von ­Emma Zoe Brew, ab 26 Euro (großes Bild).
Auch passend für den Stier: Sunshine and Rain Kissen von Fox & Velvet, 40 Euro; Ave Maria 8 Premium Poster gerahmt von David Diehl, ab 40 Euro; Fortune Poster gerahmt von Ruben Ireland, ab 27 Euro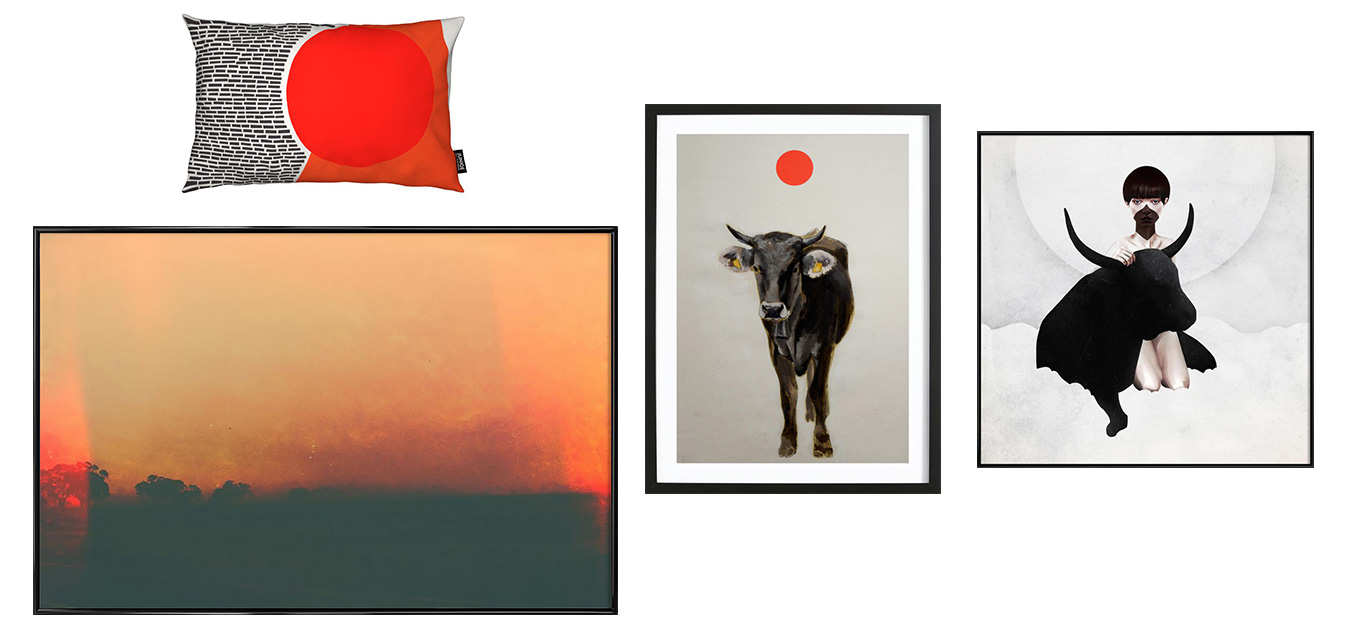 Zwillinge 21.5.–21.6.
Lieber Zwilling, warst du schon mal in Wales? Na, dann los (am besten natürlich zu zweit), denn für den Zwilling ist es das Reiseland schlechthin. Hineinträumen in Wales' geheimnisvolles, weites Grün lässt es sich vorab schon mal von zu Hause aus – mit diesem gerahmten Poster: Spring Dream von Jovana Rikalo, ab 26 Euro (großes Bild).
Auch passend für den Zwilling: Transition Notizblock von Svenja Trierscheid, ab 9 Euro; Doubletrouble Premium Notizbuch von Natalie Voss, ab 15 Euro; Marsi Pan Premium Poster gerahmt von Peytill, ab 40 Euro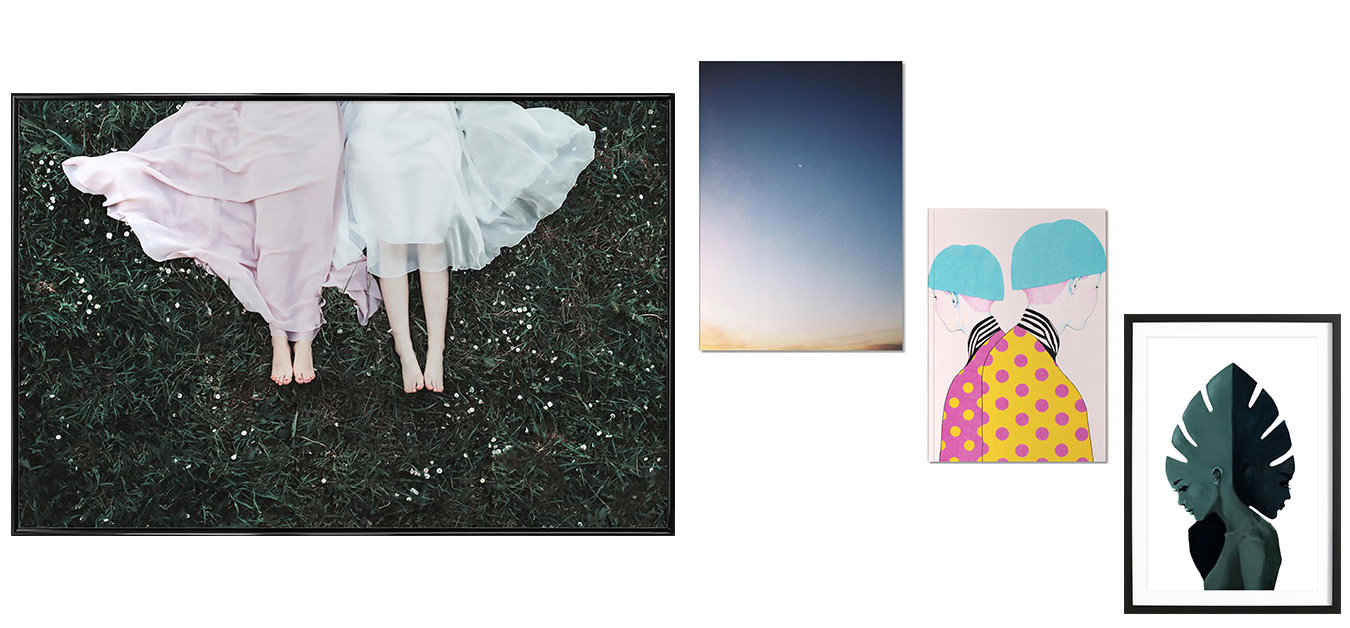 Krebs 22.6.–22.7.
Huch, so ein düsterer Zeit­­genosse ist der Krebs doch gar nicht! Nee, aber er wird vom Mond beherrscht und dieses Kissen-Motiv scheint wie aus einer an­deren, ga­lak­­tischen Welt. Außerdem mag es der Krebs gemütlich – und so schließt sich der Kreis. Kissen, Diamond ­Beach 1 von ­Airpixels Media, ab 25 Euro (großes Bild).
Auch passend für den Krebs: Sea Girl Postkartenset von Andriana Chunis, ab 7 Euro; Cancer Poster gerahmt von Pietari Postl, ab 27 Euro; Metropolis Notizblock von Ami Sia, ab 9 Euro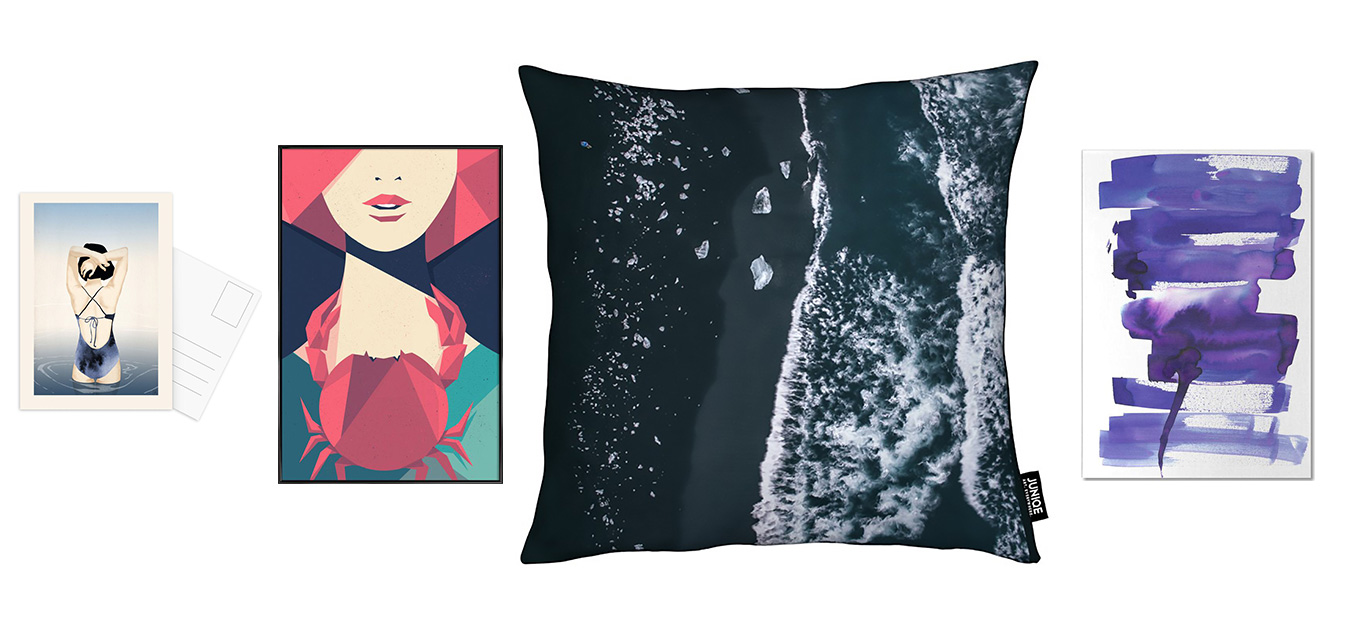 Löwe 23.7.–23.8.
Der Löwe wird von der Sonne beherrscht und findet bei Sonnenschein seine innere Mitte. Beim Faulenzen am Strand schöpft er Kraft. Auch wenn der großzügige Löwe es verdient hätte: Er kann ja leider nicht permanent am weißen Sand der Seychellen chillen … Für Abhilfe sorgt also dieses Handtuch, Summer Memories von Ingrid Beddoes, ab 20 Euro (großes Bild).
Auch passend für den Löwen: Albino Lion Kissen von Paul Fuentes, ab 30 Euro; Wild Thing Frauen T-Shirt von Honeymoon Hotel, ab 25 Euro; Bohemian Girl Poster gerahmt von Maya Can2ienova, ab 27 Euro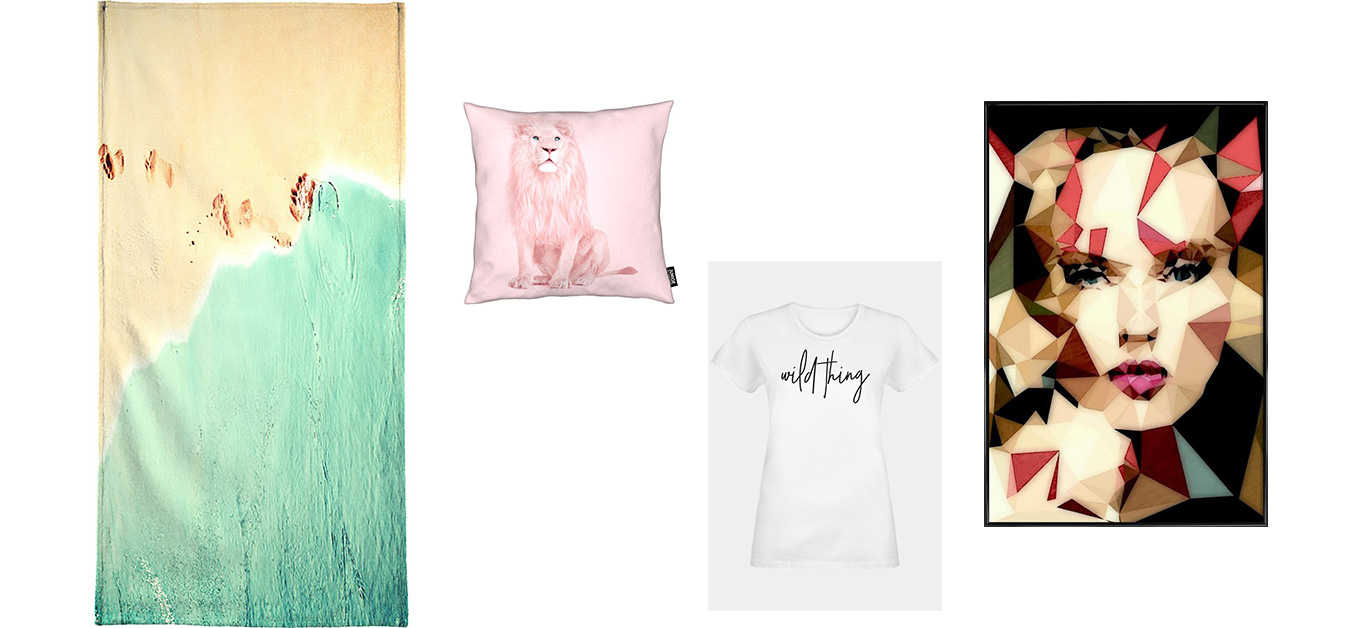 Jungfrau 24.8.–23.9.
Die Jungfrau liebt Hügellandschaften. Aber jetzt nicht so, wie ihr denkt. Tatsächlich spürt sie eine tiefe Verbundenheit zur Natur und zur Erde als Trägerin des Lebens. Sie ist sachlich und zuverlässig. Genau so wie dieser Duschvorhang, der vor un­erwünsch­ten Blicken schützt. Earth Duschvorhang von Paul Aidan Perry, ab 55 Euro (großes Bild).
Auch passend für die Jungfrau: Circular 3 Landmannalaugar Premium Poster gerahmt von Joe Mania, ab 40 Euro; Rose Papermoon Notizblock von Monika Strigel, ab 9 Euro; It's Called Pikapika Poster gerahmt von Victoria Verbaan ab 27 Euro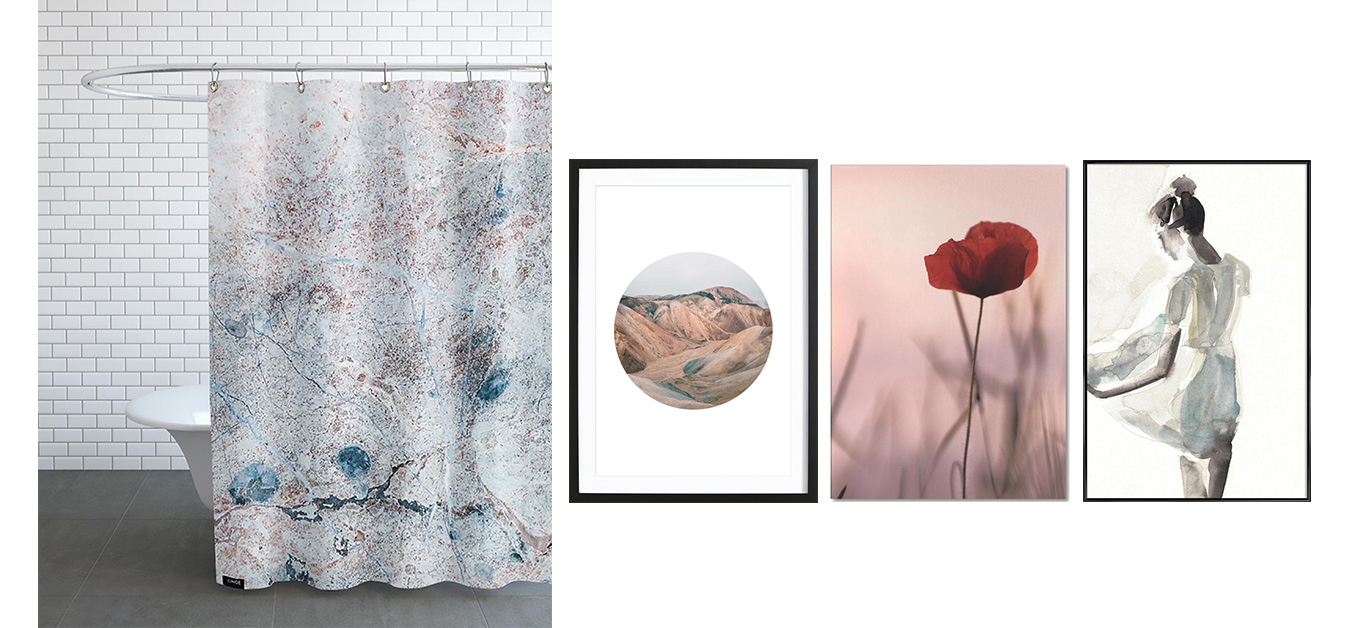 Waage 24.9.–23.10.
Auch wenn das minimalistische Motiv eine schiefe Trennlinie hat: ganz ruhig, liebe Waage, es ist alles im Lot. Klar, als Waage hast du bekanntlich einen Sinn für Schönheit. Aber dieses Poster ist ja wohl zweifelsohne schön, oder? Gerahmtes Poster, Tropical Geometry von The Wall Shop, ab 26 Euro (großes Bild).
Auch passend für die Waage: Dots Postkartenset von xoxo Arte, ab 9 Euro; Blue Kissen von Leemo, 40 Euro; Morning has broken Poster gerahmt von Tal-Paz Fridman, ab 27 Euro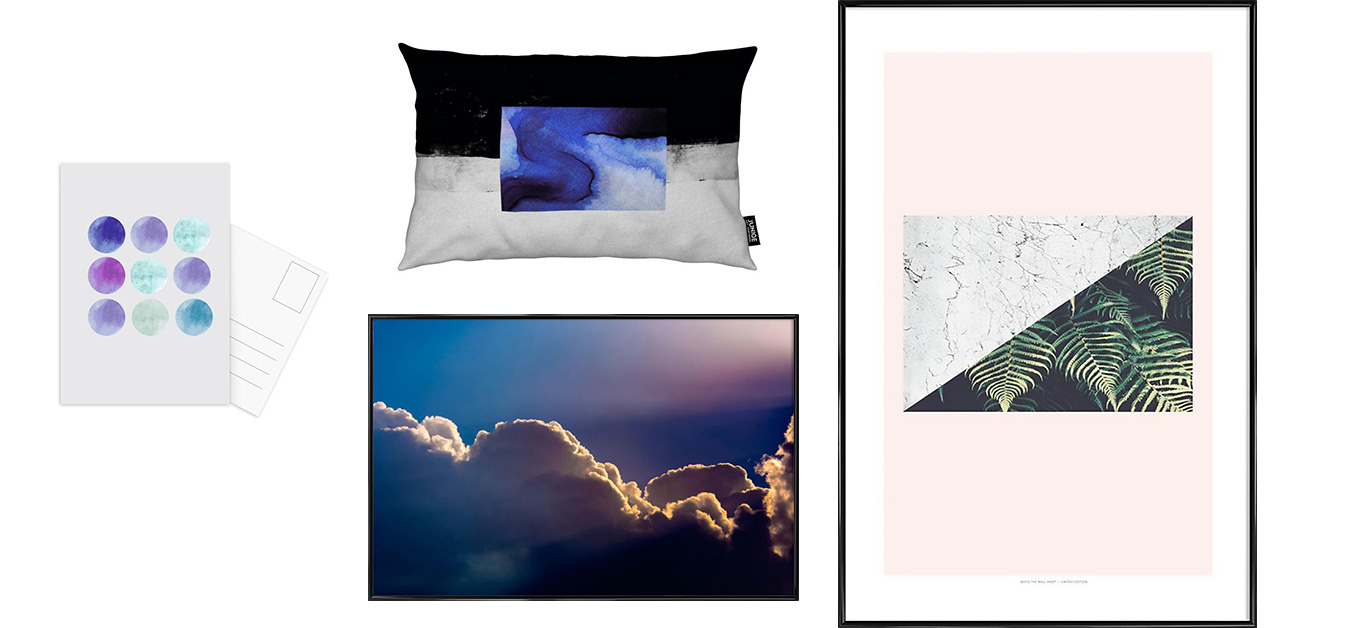 Skorpion 24.10.–22.11.
Schwarz und Rot sind die Farben des Skorpions. Da er unter den Sternzeichen aber nicht den allerbesten Ruf genießt ­(#nooffense), mildert der Skorpion sein Image – klug, wie er ist – mit ein paar hübschen Blautönen ab. Passt ja auch, denn Wasser ist das ihn beherrschende Element. Dabei heraus kommt dann dieses gerahmte Poster, Found in Isolation von Stoian Hitrov, ab 26 Euro (großes Bild).
Auch passend für den Skorpion: Scorpio Notizblock von Pietari Posti, ab 9 Euro; Red vs. Blue Premium Poster gerahmt von Aysha Banos, ab 40 Euro; Pluto Frauen T-Shirt von Julia Hariri, 25 Euro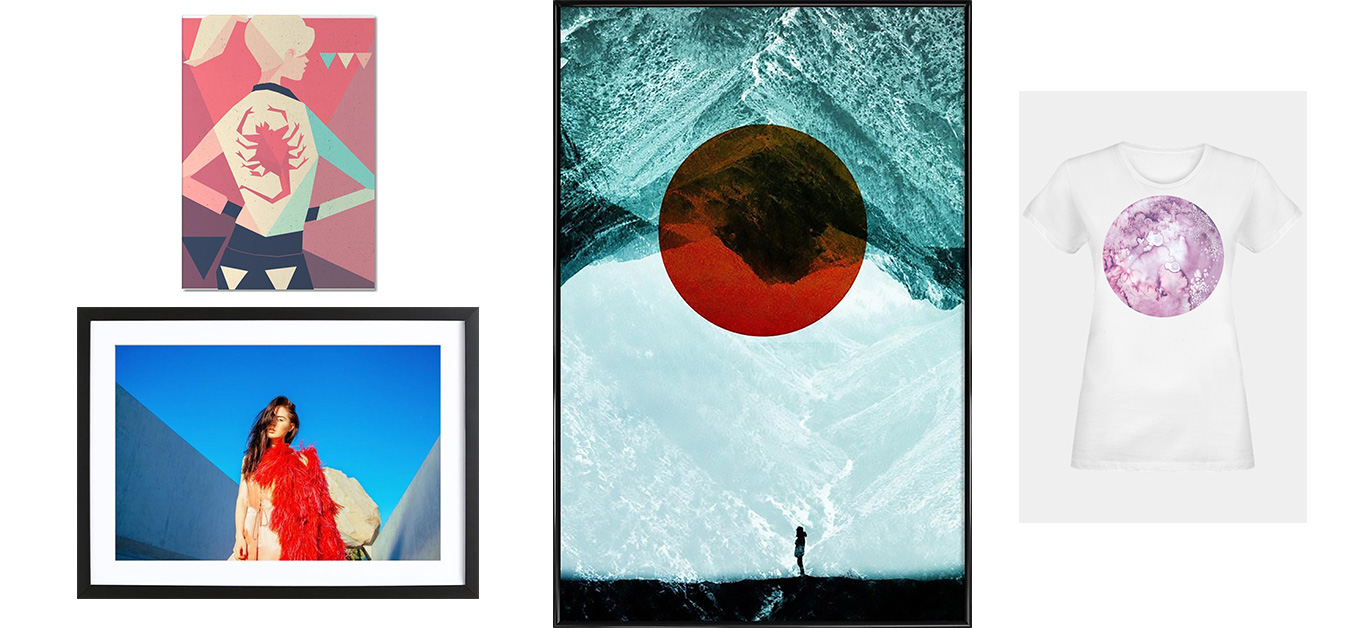 Schütze 23.11.–21.12.
Dieses dynamisch anmutende Bild passt gut zum aufgeschlossenen und mitreißenden Schützen und kann dessen extrovertierte Seite hervorlocken. Zudem liebt er es, durch üppige Landschaften zu streifen, genau wie diese Pferde hier. Yee-haw! Gerahmtes Poster, Running Horses von Kevin Russ, ab 26 Euro (großes Bild).
Auch passend für den Schützen: Schütze Notizblock von Ekaterina Koroleva, ab 9 Euro; Bowie Frauen T-Shirt von Bruno Morphet, 25 Euro; Bolt Premium Notizbuch von Bryon S. White, ab 15 Euro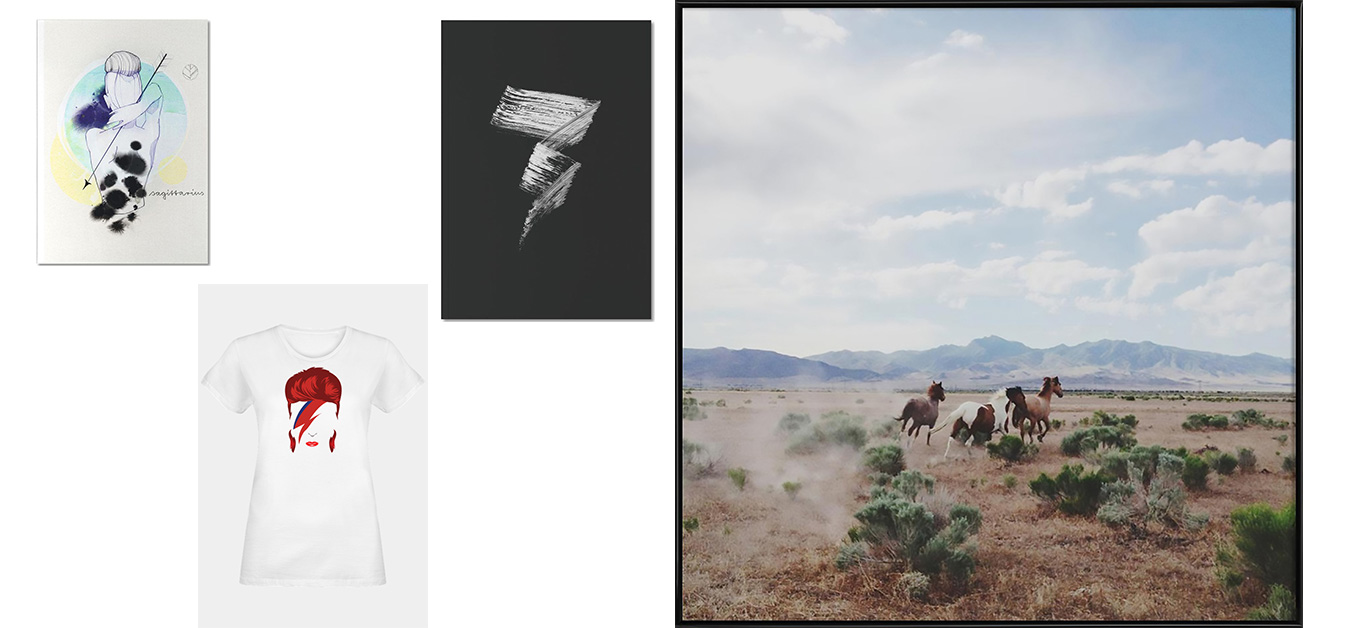 Steinbock 22.12.–20.1.
Natürlich sind Gebirge voll das Ding vom Steinbock. Als zähem Burschen imponiert ihm die Fes­tigkeit und Struk­tur der Berge. Auch im Job hat er immer den Drang, nach oben zu kommen. Seine Strategie schreibt er am besten in dieses Premium-Notizbuch Painting on Mountain von Janine Sommer, ab 15 Euro (großes Bild).
Auch passend für den Steinbock: Painted Terrazzo 1 Postkartenset von Leemo, ab 7 Euro; Minimal 2 Poster gerahmt von Iris Lenhardt, ab 27 Euro; Capricon Premium Poster gerahmt von Pletari Posti, 40 Euro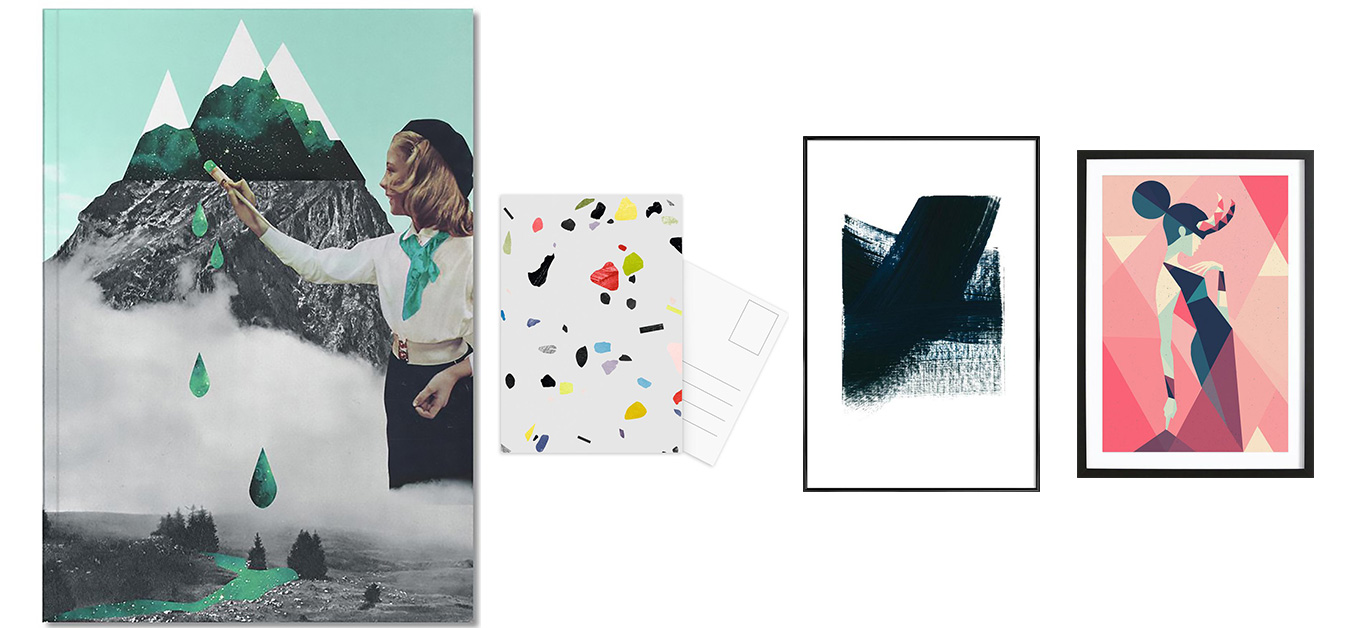 Wassermann 21.1.–19.2.
Der Wassermann liebt … Wasser. Gut, das war einfach. Was ihn noch auszeichnet: Er löst Dinge gerne unkonventionell und lebt seine aktive, freie und extrovertierte Art aus. Kleiner Tipp ­also: Wenn ihr einen Wassermann auf diesem Strandhandtuch liegen seht, rückt ihm besser nicht zu nah auf die Pelle. Strandhandtuch Endless Summer von ­Studio Nahili, 45 Euro (großes Bild).
Auch passend für den Wassermann: Waterdrops Postkartenset von treechild, ab 7 Euro; Lofoten Walks Kissen von Airpixels Media, ab 30 Euro; Marble Soul 03 Premium Poster gerahmt von Paste in Place, ab 40 Euro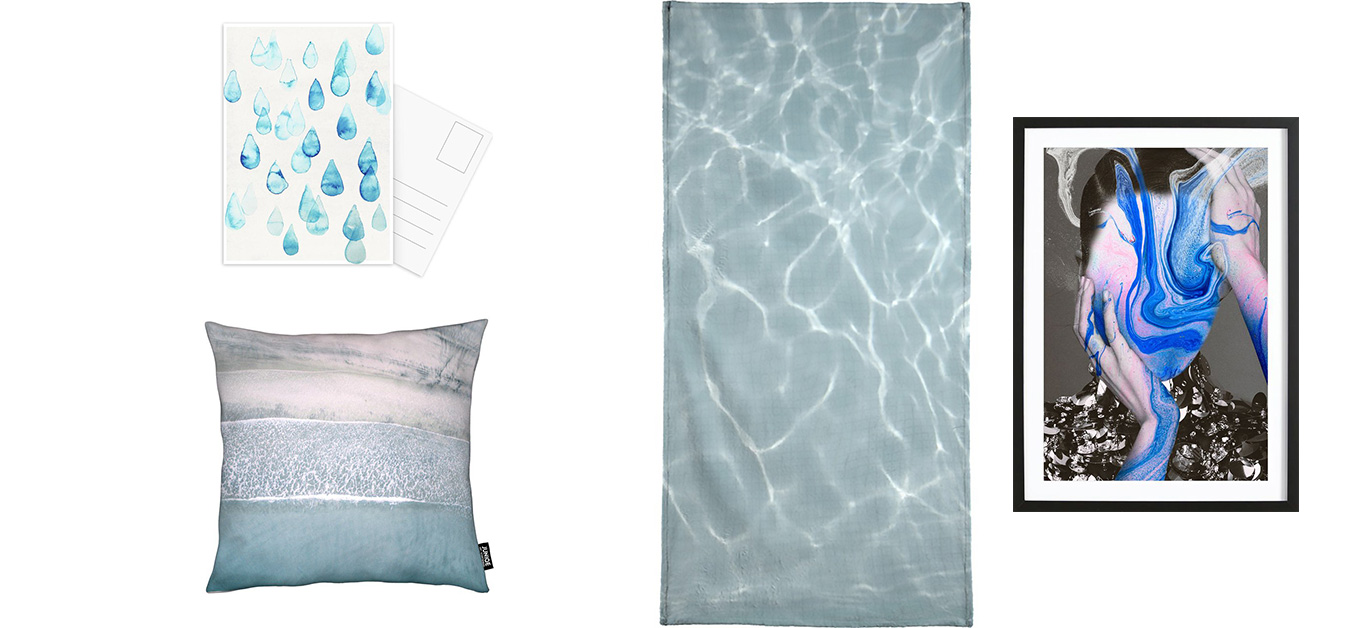 Fische 20.2.–20.3.
Niemand ist wohl so geheimnisvoll wie das Sternzeichen Fische. Die mitfühlende, sensible Art lässt Fische leicht Freunde um sich scharen (andere Fische). Da sie sich ­gerne an der stürmischen Küste aufhalten, ist zudem eine akkurate Flechtfrisur von Vorteil. Fish Hair 3 von The ­White Deer, Notizblock ab 9 Euro (großes Bild).
Auch passend für den Fisch: Pomacanthus Semicirculatus Duschvorhang von Matěj Kašpar Jirásek, 55 Euro; Neptune Premium Poster gerahmt von Terry Fan, ab 40 Euro; Can't get wet Kissen von Maarten Léon, ab 30 Euro