Pride Voguing Ball in Berlin: So war der Vibe aus Power & Performance
Über 4.000 Euro Spenden für LGBTQ-Refugees, 1.000 Gäste, unzählige Performer: Man könnte den Voguing-Ball am Vorabend des Berliner CSD auch in Zahlen beschreiben. Was aber wirklich zählt ist der Vibe aus Power, Pride und Performance.
Fotos: Lennart Brede
Schon als Voguing-Tänzer und NYLON-Friend David Milan uns von den ersten Plänen für einen Pride Voguing Ball in Berlin erzählt, sind wir, na ja, ziemlich wörtlich "swept off our feet". Eine inklusive Voguing-Party in der Nacht zum CSD Berlin, mit internationalen Judges, buntem Dresscode, unzähligen Kategorien und das Ganze auch noch für einen guten Zweck? Yes, please.
Pride Voguing Ball: Vereint unterm XXL Disco Ball
Fast forward und wir stehen im "Säälchen" am Berliner Holzmarkt. Die Luft zwischen Runway und Bar ist mindestens genauso heißt wie die Temperaturen vor der Tür, 30 Grad, sweaty. Selbst von der XXL-Diskokugel, die über dem Runway baumelt, scheinen metaphorisch Schweißperlen zu tropfen. Und auch die Vorahnung, dass die Hitze auf diesen Quadratmetern innerhalb der nächsten Stunden noch ansteigen wird, liegt in der Luft. Fünf Stunden (!) Voguing später sind die Drinks von Sponsor Coca-Cola leer und die Taschen von Sponsor Eastpak baumeln an den Schultern der Gewinner, in ihrer Hand Awards für starke, stolze Performances. Beide Sponsoren haben die LGBTQ-Community schon im Vorfeld mit Pride-Kollektionen, z.B. bei Eastpak in Kooperation mit der Organisation ILGA und bei Coca-Cola mit einer Special Edition unterstützt.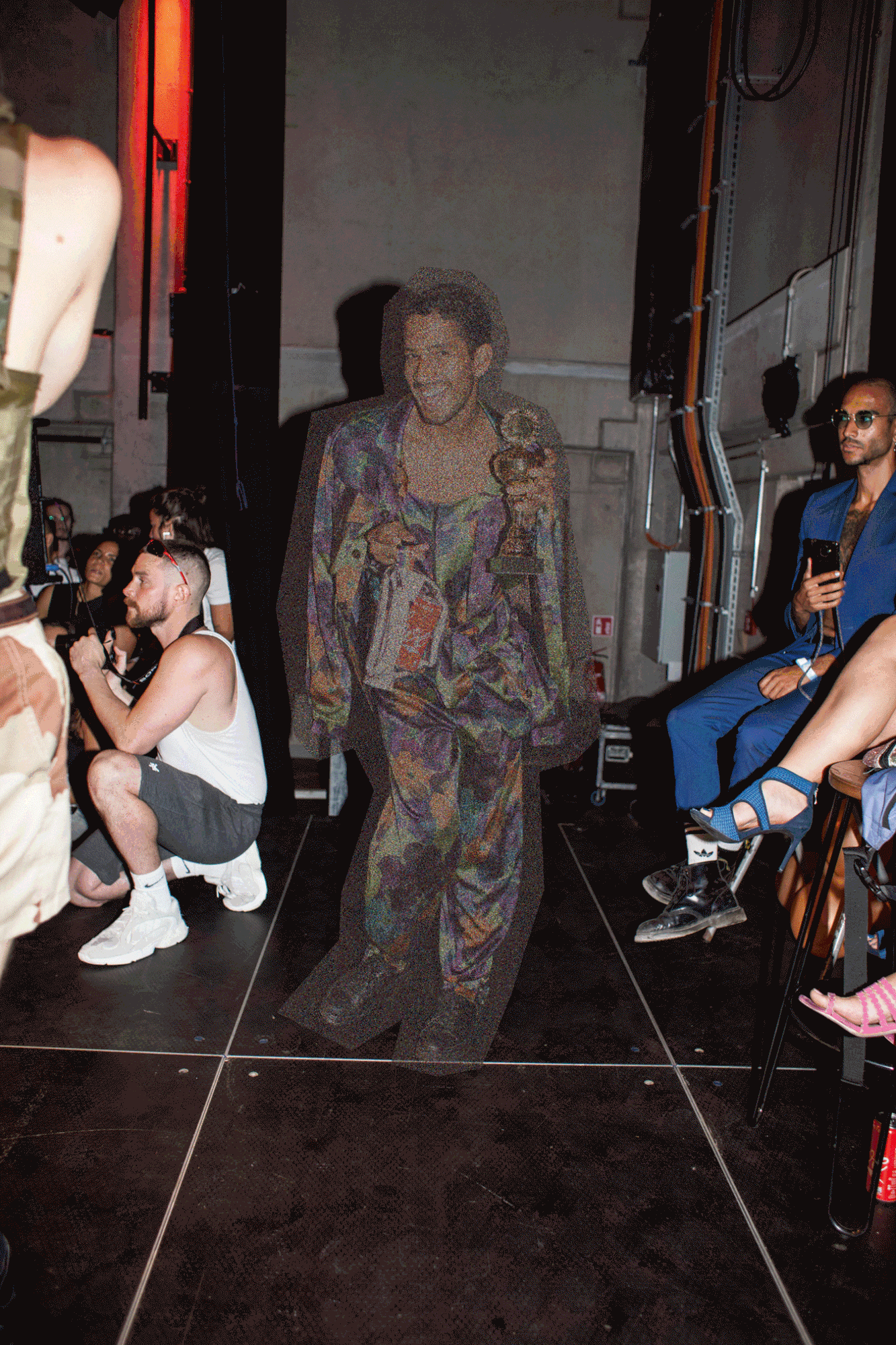 Wer sagt eigentlich, dass die Hosts bei einer Party keinen Spaß und nur Stress haben? Für Host & NYLON-Hero David war das laut diesem Foto jedenfalls absolut nicht der Fall.
Rewind: Nicht nur die regenbogenfarbenen Ballons, das Rainbow-Tape auf dem Runway oder die bunten Accessoires hätten darüber Aufschluss geben können, dass es an diesem Abend nur ein Motto gibt: Be yourself, be fucking proud! Auch die fast tausend Gäste, darunter Performer, Jury, Fans und Tänzer haben zusammen einen Vibe aus Stolz und grenzenloser Offenheit gebildet. Denim-Looks, Leder-Kombos, bunte, fantastische Designs oder Bling und Strass definieren die Outfits, aber auch minimalistische Slip Dresses am muskulösen Realness-Körper. Die Performer der Kategorie "Body" glänzen aber zum Beispiel im wörtlichen Sinne – auch ohne viel Stoff.
"Tens across the board"  – ohne Neid
Und es ist nicht nur in diesen Momenten, in denen Handys weggesteckt und Hüllen fallen gelassen werden, dass sich im Raum das Gefühl einer besonderen Gemeinschaft breitmacht. Einer Gemeinschaft, in der sich vielleicht nur einzelne Gruppen kennen, aber für einen Abend alle zusammenhalten. "Tens across the board" lassen die Moderatoren immer wieder die Jurywertung verlauten. Neid, den gibt es hier nicht.
"Voguing bedeutet mir sehr viel, Leidenschaft, sich selbst zu sein, Kreativität, man kann sich selbst entfalten. Und sich jedes Mal weiterentwickeln, das ist wie eine Familie, wie eine Gemeinschaft", David Milan, Host des Pride Voguing Ball Berlin
Pride Voguing Ball Berlin: Spenden für queere Geflüchtete und bunter Dresscode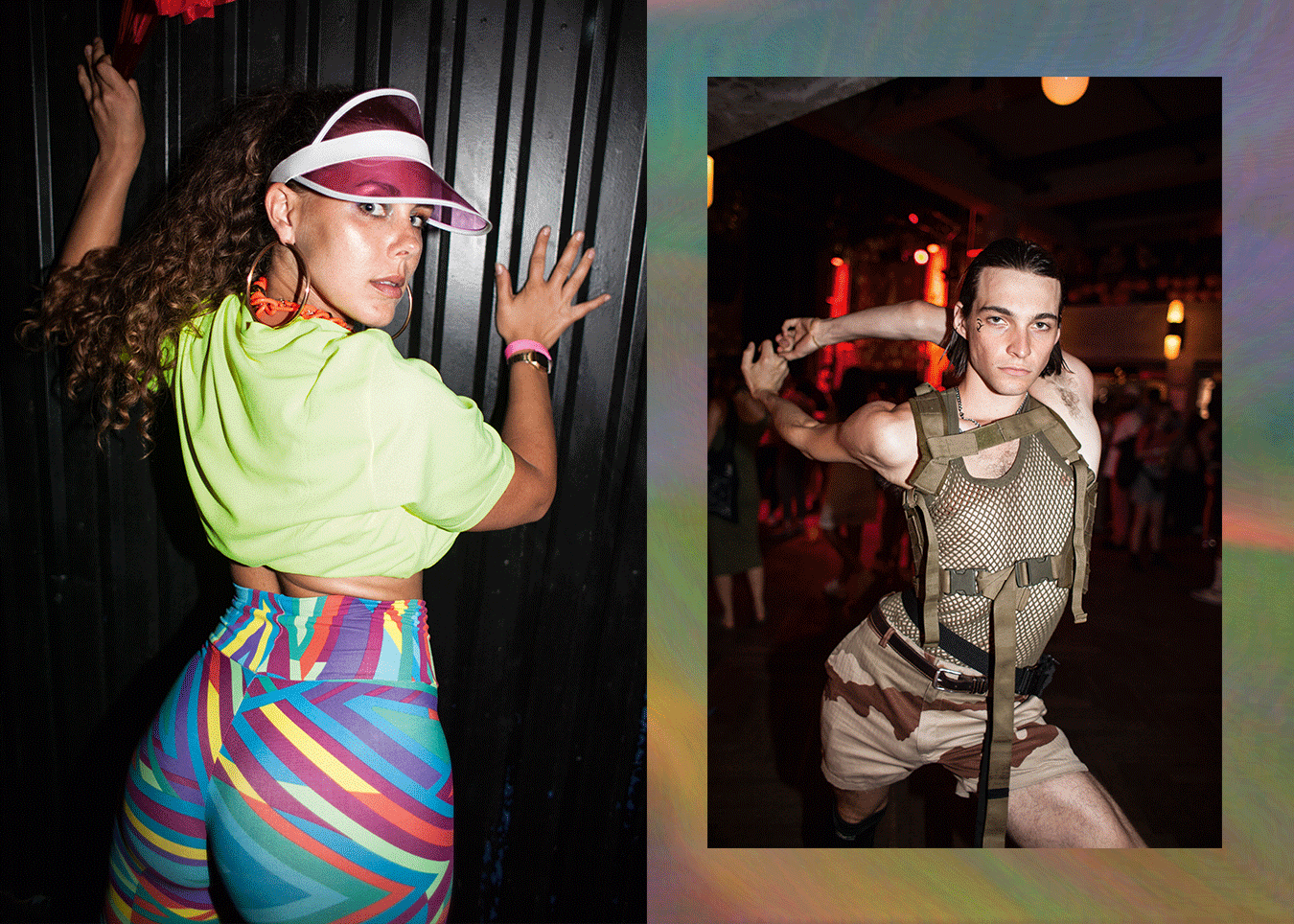 "Tens across the (judges) board!" mussten Performer und Moderatoren @zueira_miza und @goma.apian am Abend gefühlt minütlich rufen und haben natürlich selbst ihre eigenen Posing-Skills unter Beweis gestellt. 
Nach dem Motto der Offenheit, der Diversity und Vielfalt richten sich auch die am Regenbogen orientierten Dresscodes der verschiedenen Show-Kategorien. Entgegen der Berliner Clubkultur heißt es also: Dress colorful. Und auch das ist an diesem Abend eine Metapher. Es geht ums bunte Leben, es geht um Spaß, aber es geht auch um einen ernsthaften Einsatz. Über 4.000€ sind an diesem Abend Spenden für LGBTQ-Refugees zusammengekommen. Was also bleibt? Klar, das Bedürfnis, den nächsten Ball hoffentlich besonders schnell zu organisieren. Oder kurz – ein ganz neues Motto: Keep that spirit alive! Mehr davon seht ihr in der Galerie weiter unten.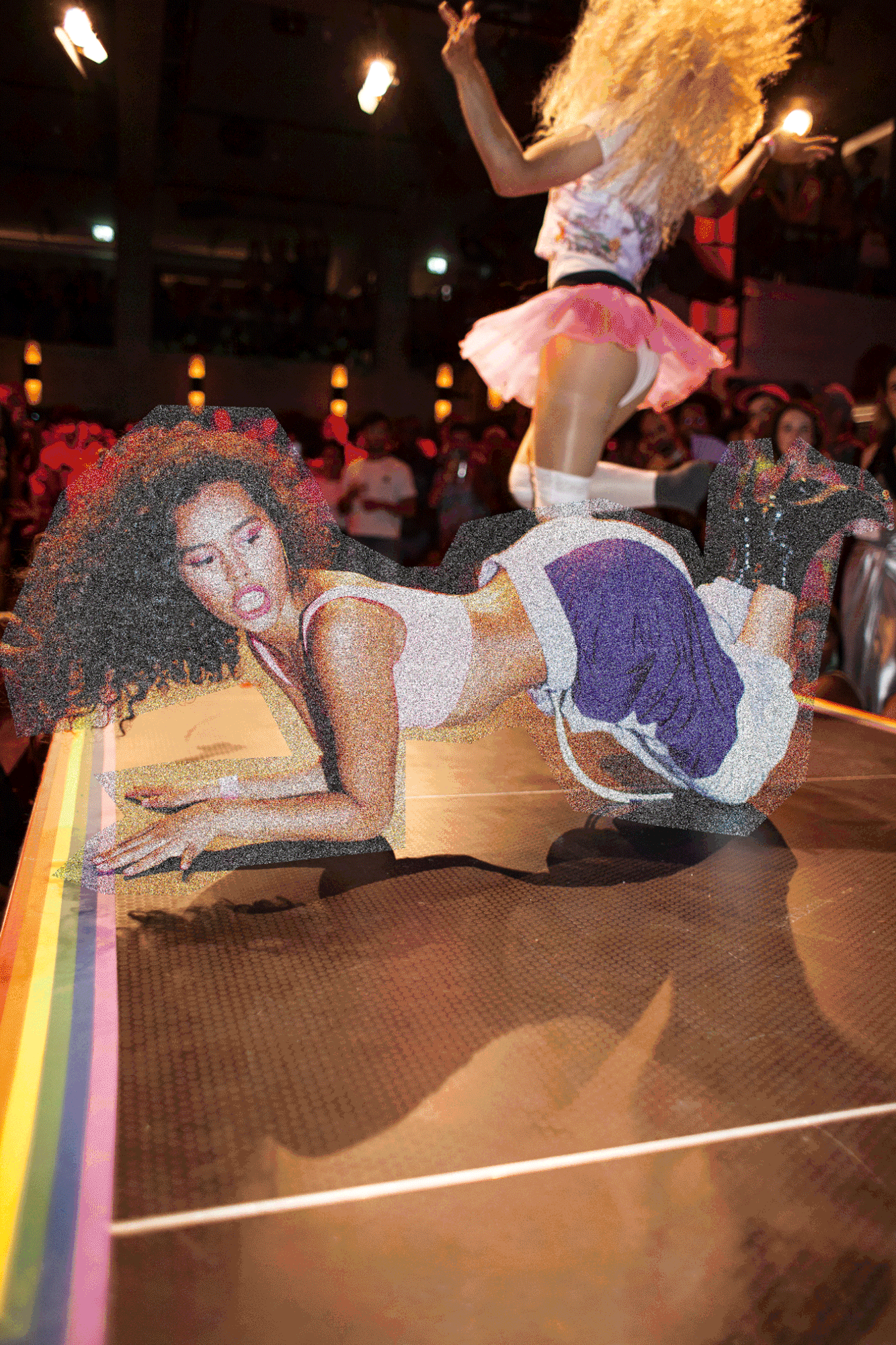 An dieser Stelle könnten noch hunderte weitere Fotos folgen, auf der wir die Power des Runways festgehalten haben. Dass der in allen Formen und Posen genutzt wurde, beschreibt dieses Pic aber ziemlich gut.
Wer war da? Wer hat performt? Wir können noch so viele Worte finden, aber die Movements der Performer einfangen können wir damit nicht. Klickt euch deshalb hier durch die gesamte Bildergalerie mit Gästen & Performern!