Mohnblumen bei Veja und coole Posen mit Meryl Streep: die Fashion News der Woche
Wir präsentieren euch jeden Freitag die heißesten Mode-News – kompakt zusammengefasst im Überblick. Diese Woche unter anderem mit einer blumigen Capsule Collection von Veja und Meryl Streep als Streetstyle-Star.
Für mehr Nachhaltigkeit: Closed x Stop the Water While Using Me!
Ressourcen schonen und den Wasserverbrauch reduzieren – und zwar gemeinsam: In Zusammenarbeit mit der Hamburger Naturkosmetikmarke Stop The Water While Using Me! lanciert Closed "The Limited", eine achtteilige Capsule Collection aus Streetwear-Basics für Damen und Herren sowie zwei Seifensorten. Der reduzierte Look kommt mit einer Botschaft: Jedes Teil besteht aus besonders umweltfreundlichen Materialien, zudem wurden ressourcenschonende Produktionsverfahren angewendet.
Die Hoodies und T-Shirts bestehen aus biologischer Baumwolle, die Jeans wurden vom Closed-Partner, der italienischen Traditionsweberei Candiani, nach dem Kitotex.*-Verfahren gefärbt, einer neuen, patentierten Technologie, die den Wasserverbrauch beim Färbeprozess drastisch reduziert und auf biologische Methoden setzt. Dabei werden 50 Prozent weniger Wasser, 30 Prozent weniger Energie und 70 Prozent weniger Chemikalien verwendet als bei herkömmlichen Färbeverfahren. Im Zentrum steht dabei Chitosan, ein natürliches Polymer, das in den Schalen von Shrimps vorkommt. Um den Umwelteinfluss klein zu halten, verzichtet Closed außerdem auf Chlor, die Wäsche mit Steinen, Kaliumpermanganat und andere umweltbelastende Verfahren. Stattdessen arbeitet das Label mit innovativen Techniken wie Laser, Ozon-Behandlungen, Bio-Enzym-W.schen oder Eisstrahlen. Ab dem Winter 2018 ist dieses Verfahren Standard in der regulären Closed-Kollektion.
"The Limited" von Closed x Stop The Water While Using Me! ist ab sofort 2018 in allen Closed-Stores, auf closed.com, auf stop-the-water.com und bei ausgewählten Händlern erhältlich.
Neues von Marshall Headphones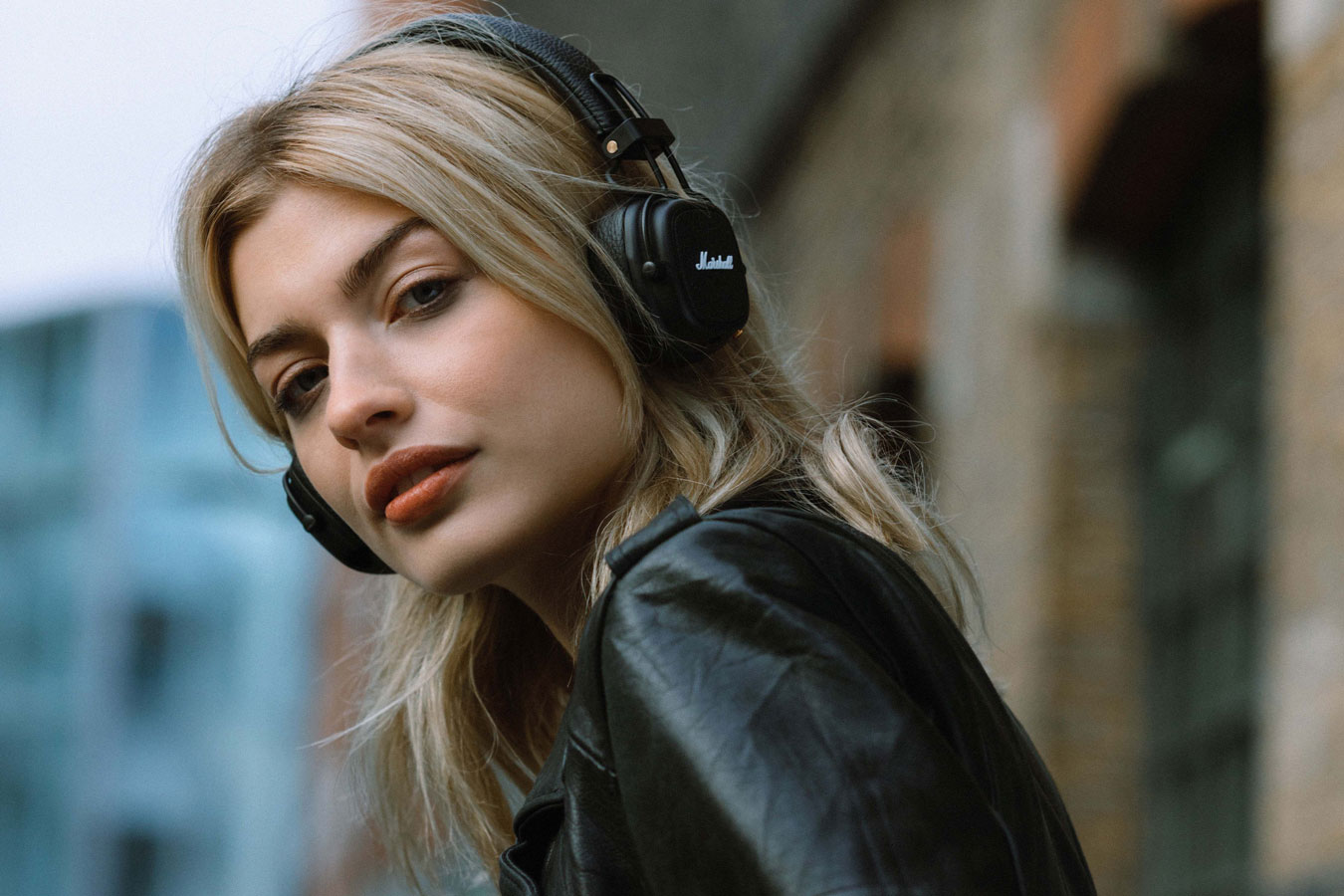 Den Blick ins Kopfhörer-Regal des örtlichen Technik-Shops werfen wir ja eher selten. Wenn man einmal das perfekte Match gefunden hat, gibt man seine liebsten In-, On- oder Over-Ears nicht mehr her. Und trotzdem gibt es vom Style meist nur wenige, die uns in besagtem Regal direkt überzeugen. Diese kleine Stückzahl führt Marshall an,  und genauer: das neue Modell Major III. Im klassisch stylischen Leder-Verstärker-Look gefallen uns die On-Ear-Headphones aber nur nicht optisch, sondern auch sound-technisch (und das sollte ja ausnahmsweise auch mal wichtiger sein als der Look ;-)). Der Major III ist mit neuen Treibern ausgestattet, die den Klang optimieren und auch bei, äh, starkem Headbanging für eine gleichbleibende Soundqualität sorgen – und das für mehr als 30 Stunden. Für diejenigen, die aber auch danach noch abdancen wollen, bleibt bei der Bluetooth-Variante auch noch das extra Kabel als Notlösung. Sollte also im Regal demnächst ein schneller Griff sein.
Capsule Collection von Veja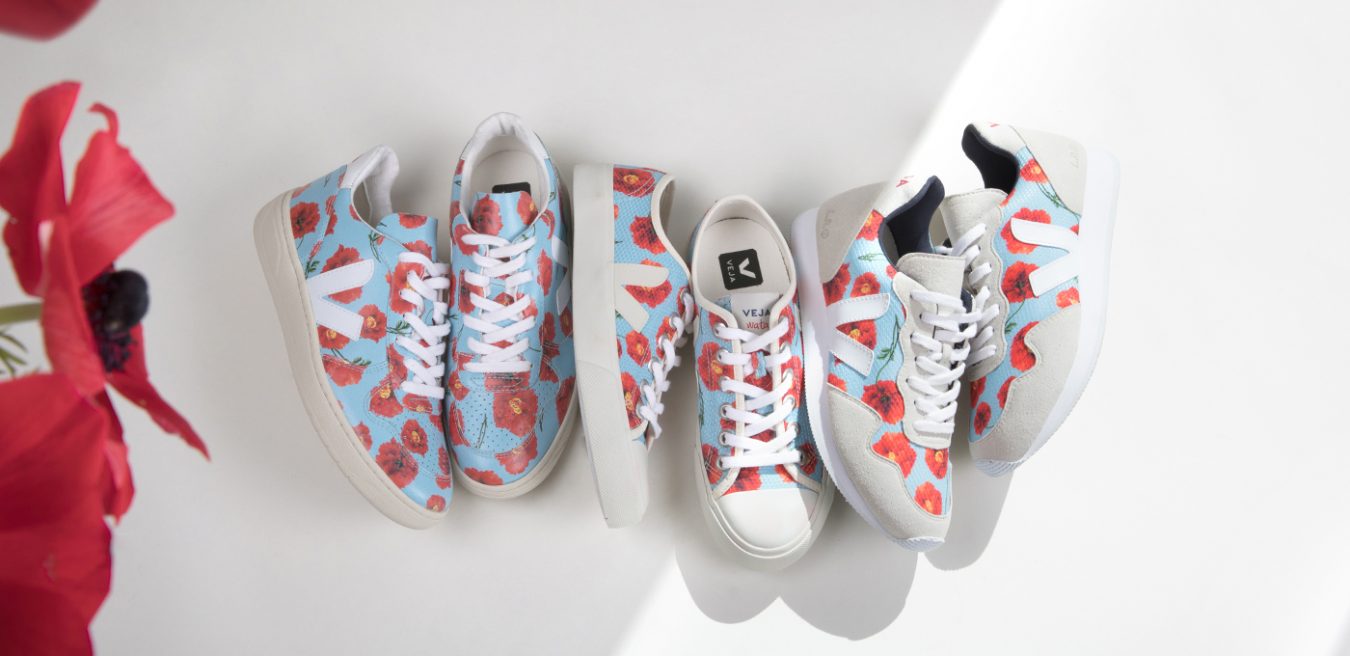 Das nachhaltige Schuhlabel Veja ist ursprünglich mit klaren Designs in Weiß bekannt geworden – einzig das ikonische V zeigte sich hier und da in Farben von Rot bis Grün, der restliche Schuh sprach vor allem Minimalisten an. Zum Sommer zeigt die französische Marke, dass sie auch anders kann und bringt eine Capsule Collection mit Mohnblumen-Print auf den Markt. Wie bei Veja üblich sind auch die Sohlen der Poppies-Collection aus Naturkautschuk aus dem Amazonasgebiet gefertigt. Das Innenfutter besteht zudem aus Biobaumwolle und die Modelle SDU Mesh und Wata sind vegan und wurden aus recycelten PET-Flaschen hergestellt.
Alle Modelle könnt ihr ab sofort im Online-Shop kaufen.
Insta-Fund: der Account von Freddie Smithson
Der Cyber-Künstler Freddie Smithson erinnert uns mit seinem Instagram-Account freddiemade daran, dass wir Mode nicht immer allzu ernst nehmen sollten. Seine Collagen aus ikonischen Fotografien, Modekampagnen und prominenten Gesichtern bringen uns nämlich regelmäßig zum Schmunzeln – und sein jüngstes Projekt hat sogar so viel Aufsehen erregt, dass es von Accounts wie New York Magazine, Man Reppeller oder The Snobette geteilt wurde. Darauf zu sehen: Ein Photoshop-Kunstwerk samt Schauspielerin Meryl Streep, die mit Dad-Sneakern und Jogginghose lässig in die Kamera blickt (das Original könnt ihr hier sehen). Wer hätte Meryl so viel Street-Credibilty zugeschrieben? Wir jedenfalls nicht!
Weitere Kunstwerke von Freddie zeigen unter anderem eine verfremdete Balenciaga-Anzeige, auf der die Schwestern und Designerinnen Mary-Kate und Ashley Olsen auf Hoverboards stehen oder auch die Queen im Vetements-Look samt blauen Overknee-Stiefeln. Wir klicken dann direkt mal auf Follow!