So könnt ihr weiße Stiefel stylen
Weiße Stiefel waren die längste Zeit mit allerlei Vorurteilen behaftet. Mittlerweile sind sie passé und Boots werden jetzt liebend gern wieder in Weiß getragen – wir verraten, wie.
Eine Frage vorweg: Kann man etwas als "neuen Trend" bezeichnen, das nie wirklich aus der Mode gekommen ist? In Anbetracht dessen, dass der weiße Stiefel wieder allgegenwärtig ist, haben wir uns derzeit oftmals diese Frage gestellt. Er wurde immer schon getragen, aber jetzt kann man ihm nicht mehr entkommen, man sieht ihn überall; was auch wahrscheinlich der Grund dafür ist, dass er nun als Trend deklariert wird.
Warum? Erstens ist Weiß neutral und lässt sich zu allem kombinieren. Zweitens sticht der weiße Stiefel aus dem Meer aus schwarzen Stiefeln hervor und ist immer ein Eyecatcher. Letztlich können weiße Stiefel genauso leger getragen werden wie Sneaker oder so elegant wie klassische High-Heels. Das bedeutet, ihr könnt sie sowohl zu Jeans und einem schönen Pullover als auch zu ausgefallenen Kleidungsstücken tragen. Um euch ein Gefühl dafür zu geben, haben wir unten einige Looks als Inspiration zusammengestellt, um euch die fabelhafte Welt des weißen Stiefels ein Stück näher zu bringen. Neues Jahr, neue Herausforderung, richtig?
Möglichkeit 1: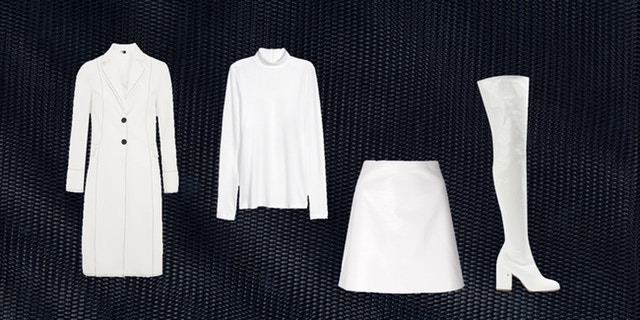 Wir stellen uns vor, was die jüngere Olivia Pope wohl getragen hat, bevor sie dem Dresscode des Weißen Hauses unterlegen war. Wir stellen uns vor, es wäre ein Statement-Mantel gewesen, kombiniert mit weißen Overknee-Stiefeln, einem Rock in A-Linie und einem Rollkragenpullover. Außerdem sollte man diesen Look wahrscheinlich als Inspiration für die Crossover-Folge von Scandal/ How To Get Away With Murder verstehen, die gerade in Produktion gegangen ist (oder ist sie bereits abgedreht?). Ein wenig Winter-Weiß im Weißen Haus kann auf jeden Fall nicht schaden.
Mantel von Tospshop, via Nordstrom
Weißes Turtleneck von HM
A-Linien-Rock von Courreèges, via Farfetch
Overknee-Stiefel von Laurence Dachte, ähnlich hier
Möglichkeit 2: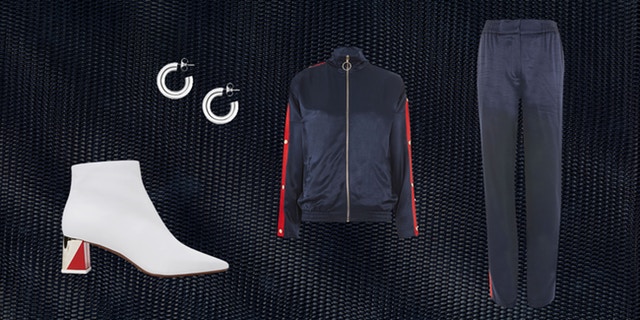 In ein Paar weiße Stiefel zu schlüpfen, macht den bequemen Athleisure-Look officetauglich. Die roten Streifen auf dem Zweiteiler verleihen dem Outfit Farbe.
Weiße Stiefel mit Multicolor-Blockabsatz von Neous, via Need Supply
Silberne Ohrringe von Laura Lombardi
Trainingsjacke von Topshop
Trainingshose von Topshop
Möglichkeit 3: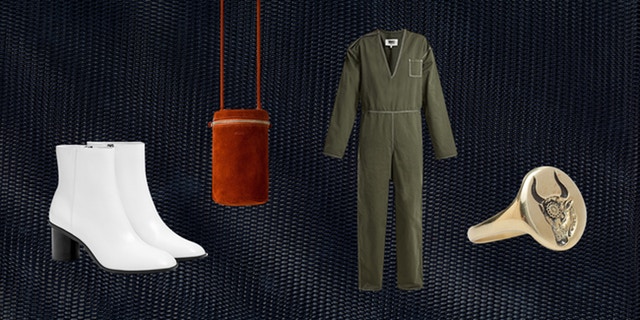 Ein weiterer "Trend" ist der Jumpsuit, den man zu jedem Schuh kombinieren kann. Wenn ihr ihn etwas eleganter stylen wollt, ist der weiße Stiefel eine exzellente Wahl.
Weiße Stiefel mit schwarzem Absatz von Bershka
Crossbody-Tasche von Baggu
Jumpsuit von Maison Margiela, via Matchsfashion
Ring von Cat Bird
Möglichkeit 4: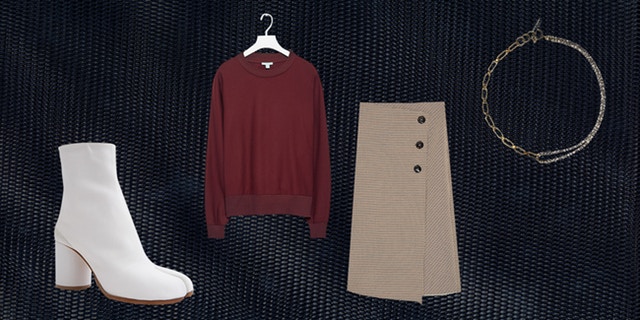 Ihr könnt ein eigentlich konservatives Outfit spannender inszenieren, indem ihr diese fabelhaften Maison Margiela Boots dazu kombiniert. Weiße Stiefel müssen nicht angezogen oder elegant getragen werden. Tatsächlich ist es viel schöner, wenn sie ein kleines, unerwartetes Detail als Teil eines Outfit darstellen.
Weiße Denim-Stiefel von Maison Margiela, via Need Supply
Straight-Fit Sweatshirt von COS
Rock von Zara
Choker von Justine Clenquet, via Opening Ceremony