Interior-Designer verraten uns ihre Herbsttrends 2017
Von unseren Freunden von The Zoe Report.
Text: The Zoe Report / Bild via NYLON.com
The Zoe Report, kuratiert von Rachel Zoe und ihrem Team aus Stylisten und Autoren, ist nicht nur ein guter Zwischenstopp, um Tipps rund um das Thema Beauty und Mode zu ergattern, sondern bietet euch auch vielseitige Inhalte zum Thema Lifestyle.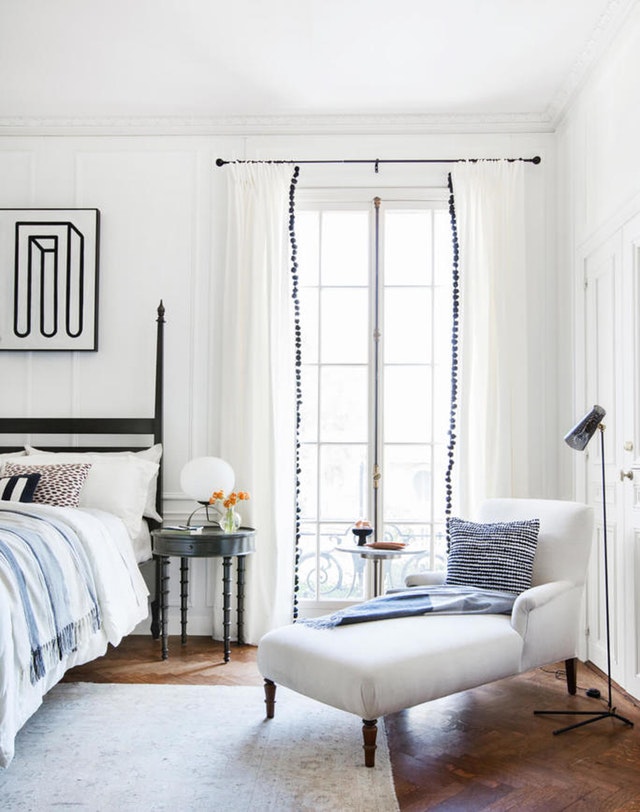 Da es leider weder eine Woche, noch einen Monat voll nennenswerter Events rund um das Thema Inneneinrichtung und Deko-Trends gibt (wie es in der Mode der Fall ist), gerät bei euch wahrscheinlich schnell in Vergessenheit, dass euer Zuhause im Herbst auch frischen Wind vertragen könnte. Während wir immer noch auf einen Runway für Interieur hoffen, von dem aus wir euch umgehend unsere Lieblinge vorstellen könnten, haben wir stattdessen die Profis in diesem Bereich – Innenarchitekten – gefragt, welche Trends sie in dieser Saison am meisten lieben. Hier sind ihre 20 Favoriten, die ihr schnellstmöglich in euren vier Wänden unterbringen solltet.
Satte Farben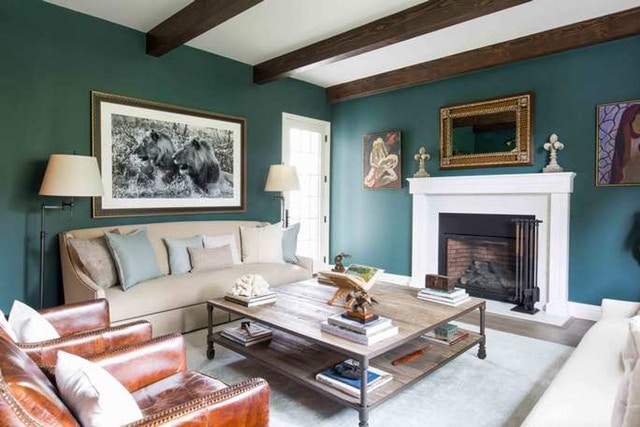 "Das Weiß-auf-Weiß-Schema bringt oft ein Gefühl der Leere in Räume und weiße Sofas verfallen meist dem Rotwein. Tauscht in diesem Herbst den weißen Look gegen wärmere Farben ein. Streicht eure Wände farbig oder bringt leuchtende Akzente in euer blasses Zuhause."
-James Tabb, Designer bei Laurel&Wolf
Art-Deco à la Paris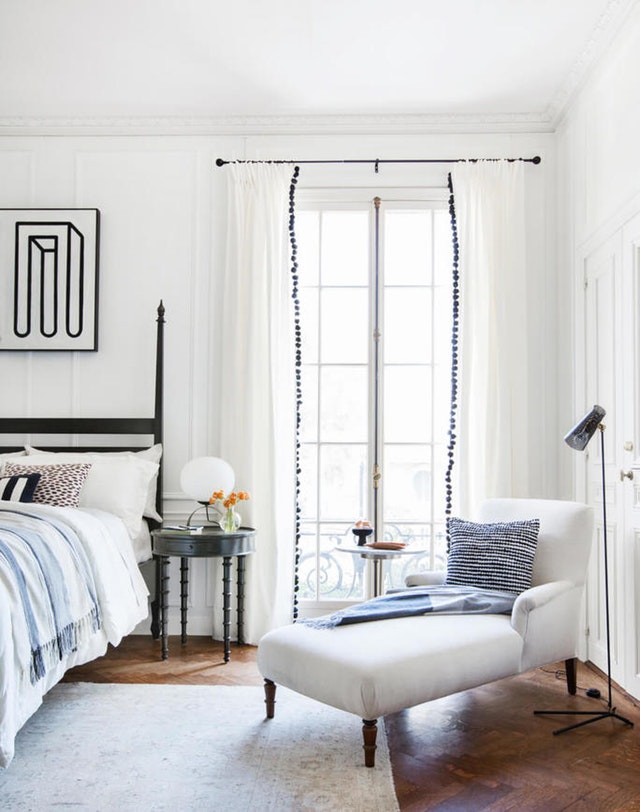 "Croissants, die Mona Lisa, Brigitte Bardot: Die Franzosen verstehen, was 'zeitlos' bedeutet und setzen sowohl in der Mode, als auch im Interior-Design die Trends. Aktuell vollzieht sich eine Art-Deco Bewegung in der Welt der Innenausstattung und wir sind ihr längst verfallen. Besondere Strukturen, juwelenbesetzte Akzente und aufregende Beleuchtung sind zeitlos und klassisch genug, dass sie mit jedem Einrichtungsstil harmonieren."
–Emely Henderson, Innenarchitektin
Natürliche Elemente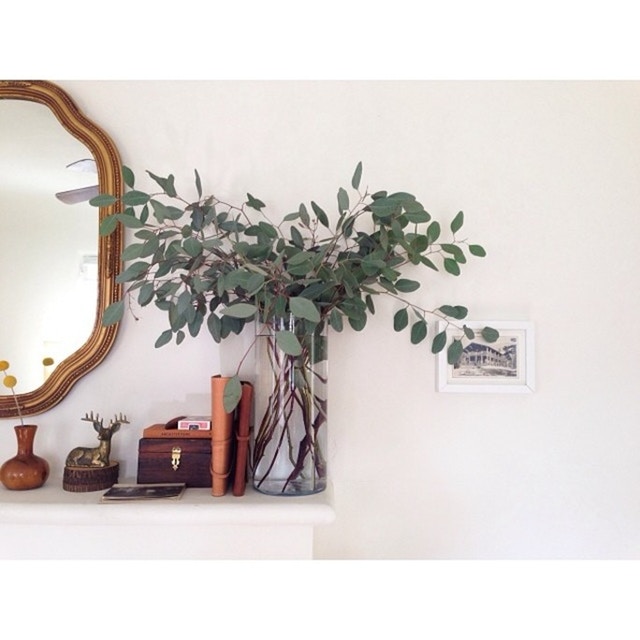 "Finger weg von Kiefernzapfen. Das war einmal. Stattdessen kann man Baumwollblüten, Eukalyptuszweige und schöne Kerzen einsetzen."
-James Tabb, Designer bei Laurel&Wolf
Messing und Bronze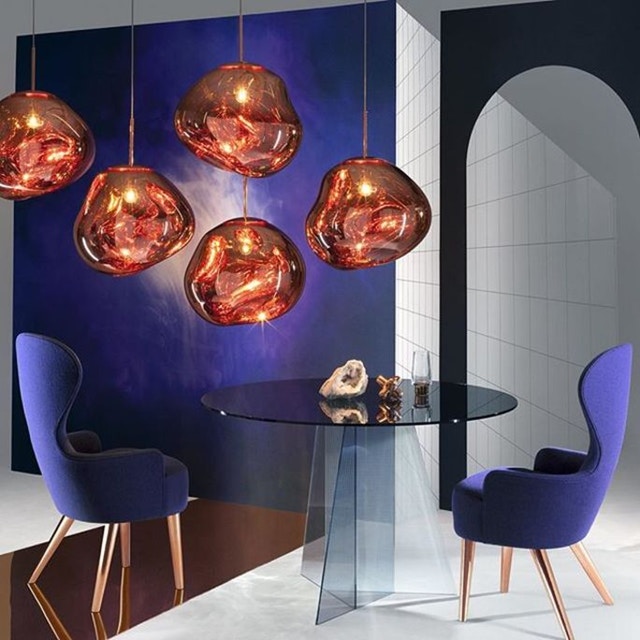 "Ein Hauch von Hollywood ist toll, aber man benötigt eine Pause von den Eitelkeiten und den damit einhergehenden gläsernen Beistelltischen mit verschmierten Oberflächen. Besser als Glaselemente eignen sich im Herbst Messing, Bronze und Kupfer."
-James Tabb, Designer bei Laurel&Wolf
Goldene Akzente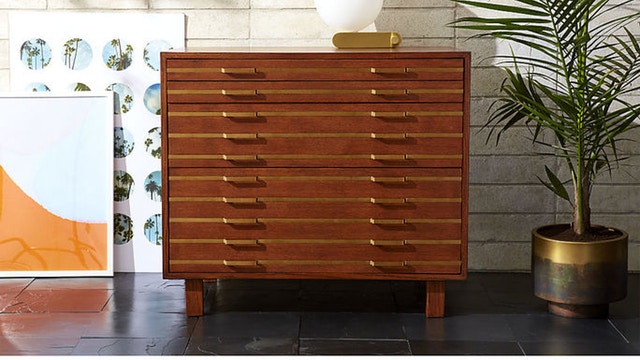 "Gold ist noch immer eine beliebte Wahl, um Akzente zu setzen. Mehr noch als goldene Accessoires und Haushaltswaren mag ich vergoldete Möbel (Tischbeine, Tischplatten, Griffe, etc.) CB2 haben gerade eine Menge neuer Lampen und Mobiliar mit goldenen Akzenten in ihr Sortiment aufgenommen."
-Christina Di Vito, Designerin bei Laurel&Wolf
Grobgestrickte Dekokissen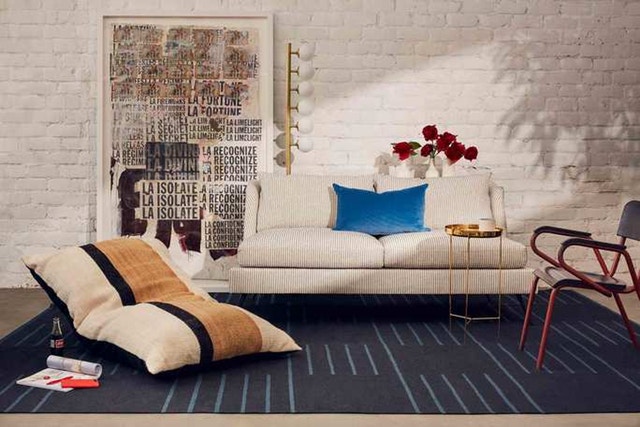 "Im Herbst dreht sich alles um Gemütlichkeit. Eine gute Möglichkeit, die Gäste zu ermutigen, ihre Schuhe auszuziehen und es sich bequem zu machen, bieten grobgestrickte Sitzkissen. Je gemütlicher, desto besser!"
-Mat Sanders, Designer bei Consort
Spannende Zimmerdecken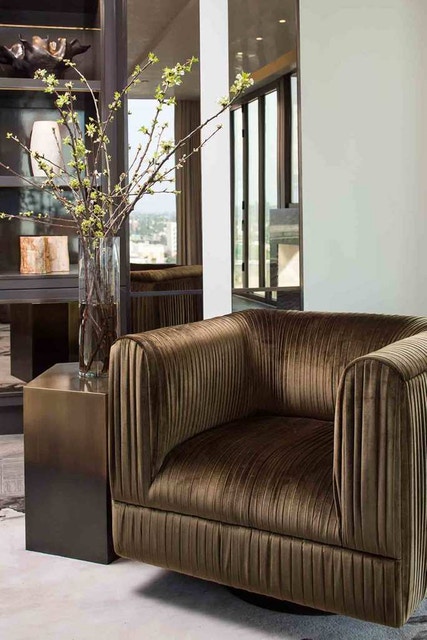 "Eine angenehme optische Wärme lässt sich durch das Streichen der Zimmerdecken in warmen Tönen wie Indigo, Mauve, Senf oder Olive erzielen. An den Wänden kann man auch mit Samt oder unechtem Mohair spielen."
– Kara Smith, Geschäftsführerin von SFA Design
Feuer
"Zündet den Kamin an! Nichts fühlt sich mehr nach Herbst an, als gemütlich vor dem Feuer zu sitzen."
– Melissa Warner Rothblum und Julie Massucco Kleiner, Inhaberinnen von Massucco Warner Miller
Gemütliche Ecken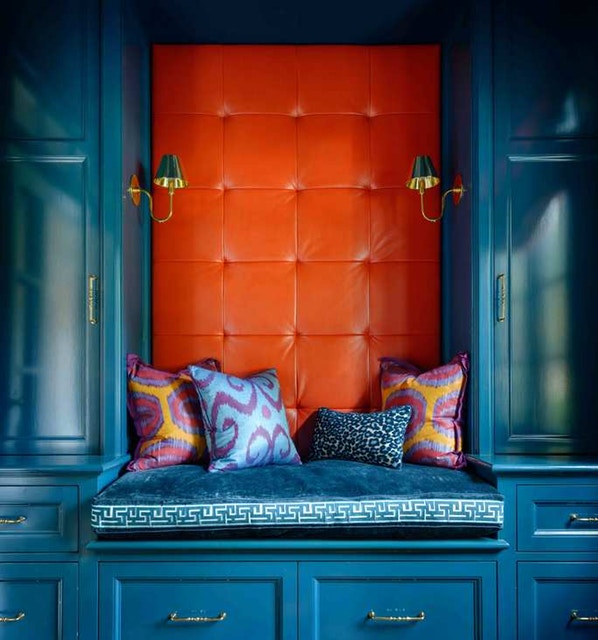 "Gemütliche Ecken in der Wohnung und der Herbst gehen Hand in Hand. Wir lieben es, die Ecken in Szene zu setzen, indem wir durch Tapete oder die Wandfarbe einen Kontrast schaffen. Der schafft ein schönes Raumgefühl in der Wohnung."
– Melissa Warner Rothblum und Julie Massucco Kleiner, Inhaberinnen von Massucco Warner Miller
Saisonale Kunstwerke
"Kunst prägt die Stimmung von Räumen; Kunstwerke zu verschiedenen Jahreszeiten immer mal wieder umzuhängen lässt den Raum ganz neu erscheinen. Es ist immer wahnsinnig zu sehen, wie sehr sich Räume durch das Umhängen der Bilder an den Wänden verändern."
-Trip Haenisch, Interior Designer
Materialmix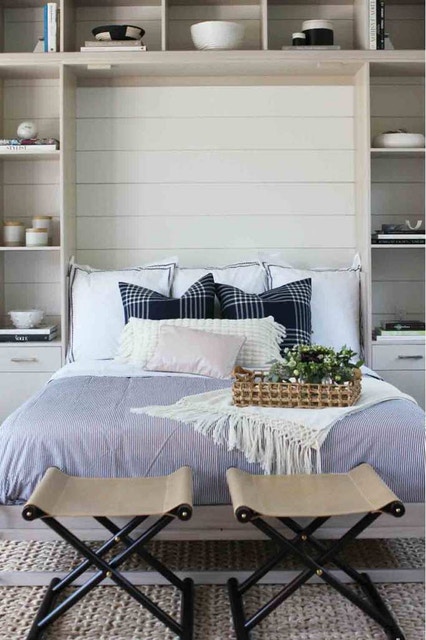 "Ein absoluter Herbsttrend ist das Einsetzen verschiedener Materialien. Um das Schlafzimmer herbstlich zu gestalten, kann man die Bettwäsche austauschen und zu dicken, strukturierten Stoffen greifen. Wir spielen gerne mit Wolle, Cashmere, Strick und sogar ein wenig Leder kann zum Einsatz kommen."
-Shannon Wollack, Designerin bei Studio Life.Style
Herbstliche Blumen und Pflanzen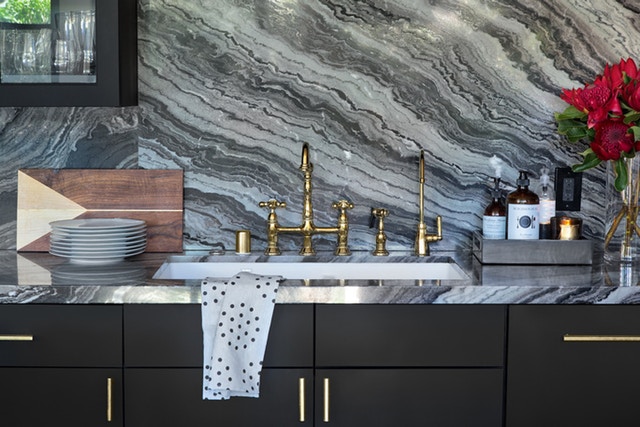 "Herbstliche Blumen und Pflanzen gehören dazu. Tendiert bei den Pflanzen eher zu größeren Gewächsen in Salbeitönen und bei den Blumen zu tiefen und satten Farbtönen."
-Shannon Wollack, Designerin bei Studio Life.Style
 Handgefertigte Keramik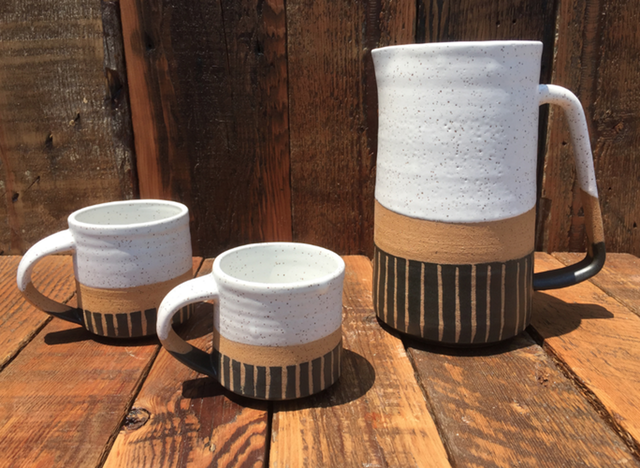 "Handgefertigte Objekte aus Keramik sind gerade der wohl heißeste Trend in der Welt des Interieurs und, wie ich finde, zugleich ein Klassiker. Ob ursprünglich verarbeitet, retro oder als abstrakte Kunst, diese handgeformten Stücke bringen Tiefe, Form und Wärme in jeden Raum."
-Lauren Martin-Moro, Designerin bei Homepolish
Samt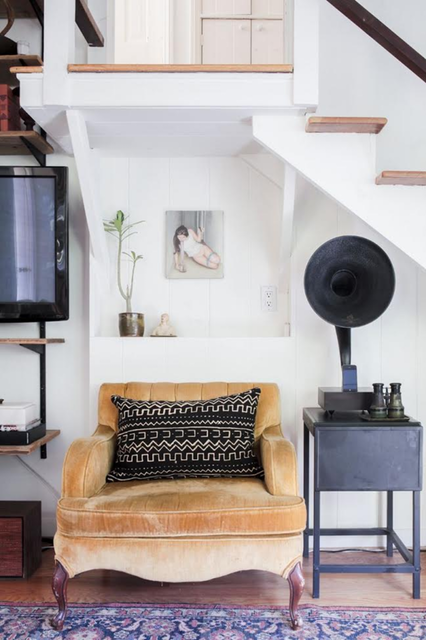 "Samt ist nobel, einladend, warm und ein Must-Have für diesen Herbst und Winter. Kombiniert mit nicht allzu hellen Holzelementen, cognacfarbenem Leder und Akzenten in Messingtönen, kann man Samt wohnlich inszenieren. Samt macht sich in gepolsterter Form wunderbar, so dass er sich hervorragend eignet, um ihn in Form von Vorhängen, Überwürfen und Kissen zu integrieren."
-Megan Born, Designerin bei Homepolish
Handgemachte Accessoires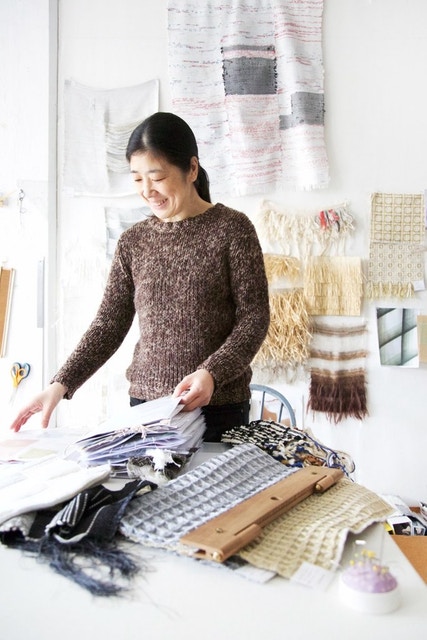 "Man kennt es aus dem Urlaub; die meisten Menschen suchen nach handgemachten und besonderen Unikaten. Wir suchen bewusst nicht nach den offensichtlichen Luxusobjekten (teuer nur um teuer zu sein), sondern nach Expertise und speziellen Techniken, die unseren Kunden reflektieren, wer sie sind und was sie interessiert. Das Schlagwort ist: Wissen. Wir müssen unsere Sinne erweitern, über die materielle Kultur hinaus, um ein Gefühl für das Besondere zu entwickeln. Weber und Textilkünstlerin Hiroko Takeda hat mit ihren golden und silbern schimmernden Fäden, die sie in ihrem Apartment in Brooklyn einem riesigen hölzernen Webstuhl verarbeitet, immer wieder meine Aufmerksamkeit auf sich gezogen. Ihre Arbeiten sind roh, jedoch durchdacht, experimentell, aber im Handwerk verwurzelt; sie holt das Beste aus ihren Materialien heraus und es herrscht eine überraschende Harmonie bei Betrachtung ihrer Kreationen."
–Jarret Yoshida, Interior Designer
Erntezeit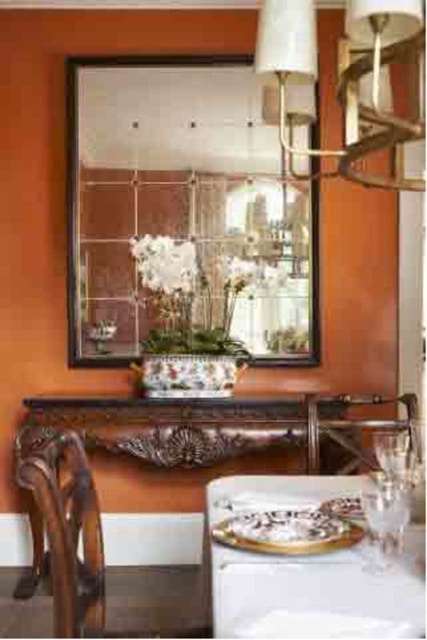 "Wenn der Herbst kommt, freue mich darauf, an meinem Nest zu bauen (und an dem meiner Kunden!). Zum Einsatz kommen Wolle, Samt und Wildleder. Es liegt ein Gefühl von Luxus in dieser Jahreszeit verborgen. Die Farbtöne sind inspiriert von der Ernte in dieser Zeit: Cranberryrot, Kürbisorange, Jagdgrün und braune Erdtöne. Man kann sich an den schon vorhandenen Farben im Raum orientieren und die besonderen Möbel danach auswählen, zum Beispiel ein dunkles Holz oder Messing mit einem leicht Orange-Stich. Nichts fühlt sich für mich dekadenter an, als nach einem langen Spaziergang im Wald mit der Familie nach Hause zu kommen und eine warme Tasse Cider zu trinken, dabei zu lesen oder Brettspiele zu spielen, während alle vor dem Kamin sitzen. Ich freue mich sogar jedes Jahr darauf, die Blätter zu rechen."
–Anne Hepfer, Interior Designer
Cognacfarbenes Leder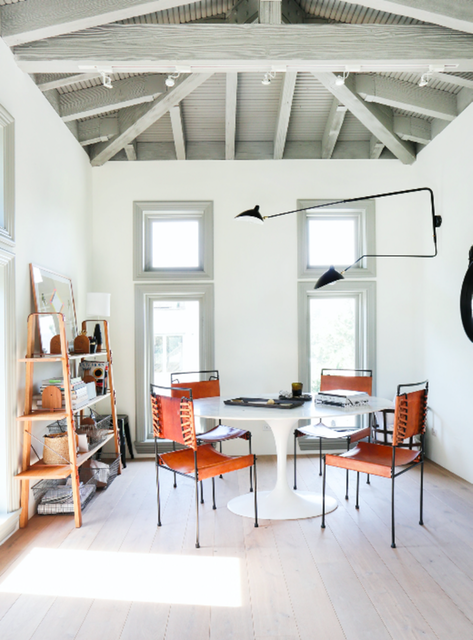 "Cognac oder auch sattelbraunes Leder, vorzugsweise Vintage mit schönem Edelrost, unterstützen dabei, Räume für die kalte Jahreszeit wohnlicher zu gestalten. Leder bringt Form und Wärme und ich mag die farbliche Veränderung der Räume. Es reichen schon ein lederbezogener Stuhl oder Hocker; sogar kleinere Akzente wie ein Bilderrahmen oder ein Tablett, um eine Veränderung zu erzielen."
-Vanessa Alexander, Inhaber von Alexander Design
Robuster Marmor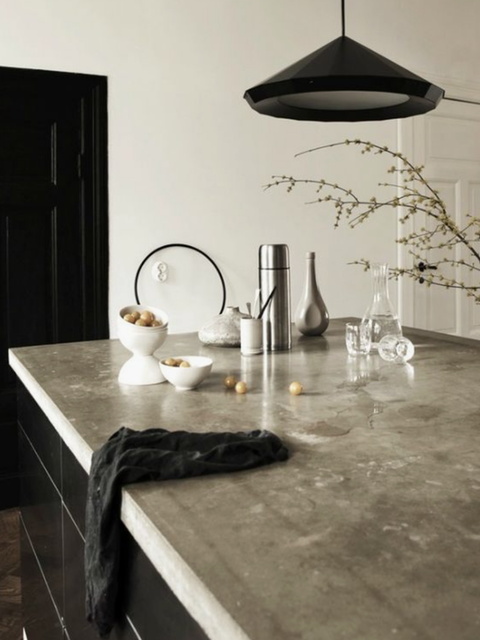 "Marmor wird für mich in Küchen und Badezimmern immer klassisch bleiben; so oder so lechze ich in letzter Zeit nach den verschiedenen Marmorobjekten von Caeserstone. Zwei unserer Objekte, die wir aktuell betreuen, werden gerade unter Einsatz von diesem perfekt gemeißelten, steinharten Marmor umgestaltet und die Ergebnisse sind atemberaubend!"
-Lauren Martin-Moro, Designerin bei Homepolish
Gewagte Farbkombinationen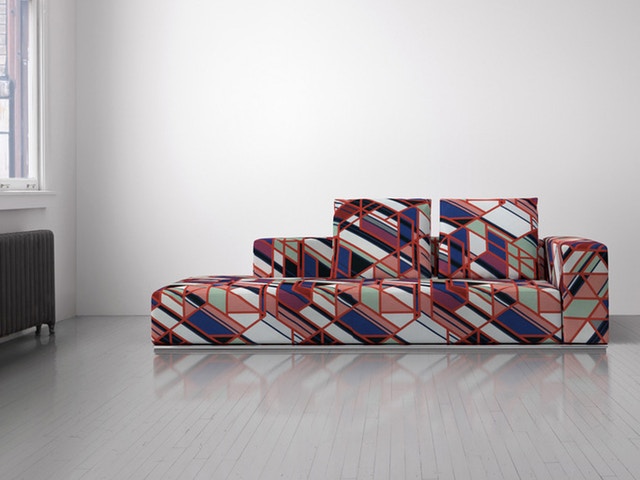 Wir zeigen unseren Kunden Farbpaletten, die von den typischen grau/beige Konstellationen abweichen, die man überall antrifft. Wir arbeiten daran, Farben zu umgehen, die gewöhnlich sind und setzen ungewöhnliche Farbkombinationen ein, um neue Zugänge zu Räumen zu schaffen. Diese Herangehensweise erinnert aus zeitgenössischer Betrachtung an den Maler Mondrian, aber ich denke man findet diese Art auch in der visuellen Kommunikation von Raf Simons vor, wenn man sich seinen Wechsel von Dior zu Calvin Klein vor Augen hält. Manchmal reichen schon wenige Details; ein Kissen oder eine Keramikvase mit frischen Blumen, um einem Raum die Banalität zu nehmen und besonders zu machen."
–Jarrett Yoshida, Interior Designer