Zum 20-jährigen Jubiläum: Das Genie hinter dem Instagram-Account "Every Outfit On SATC"
Von genau dieser Dame stammen auch die Kult-Shirts "We should all be Mirandas": Wir haben Chelsea Fairless, die Macherin des Instagram-Accounts "Every Outfit On Sex And The City", getroffen.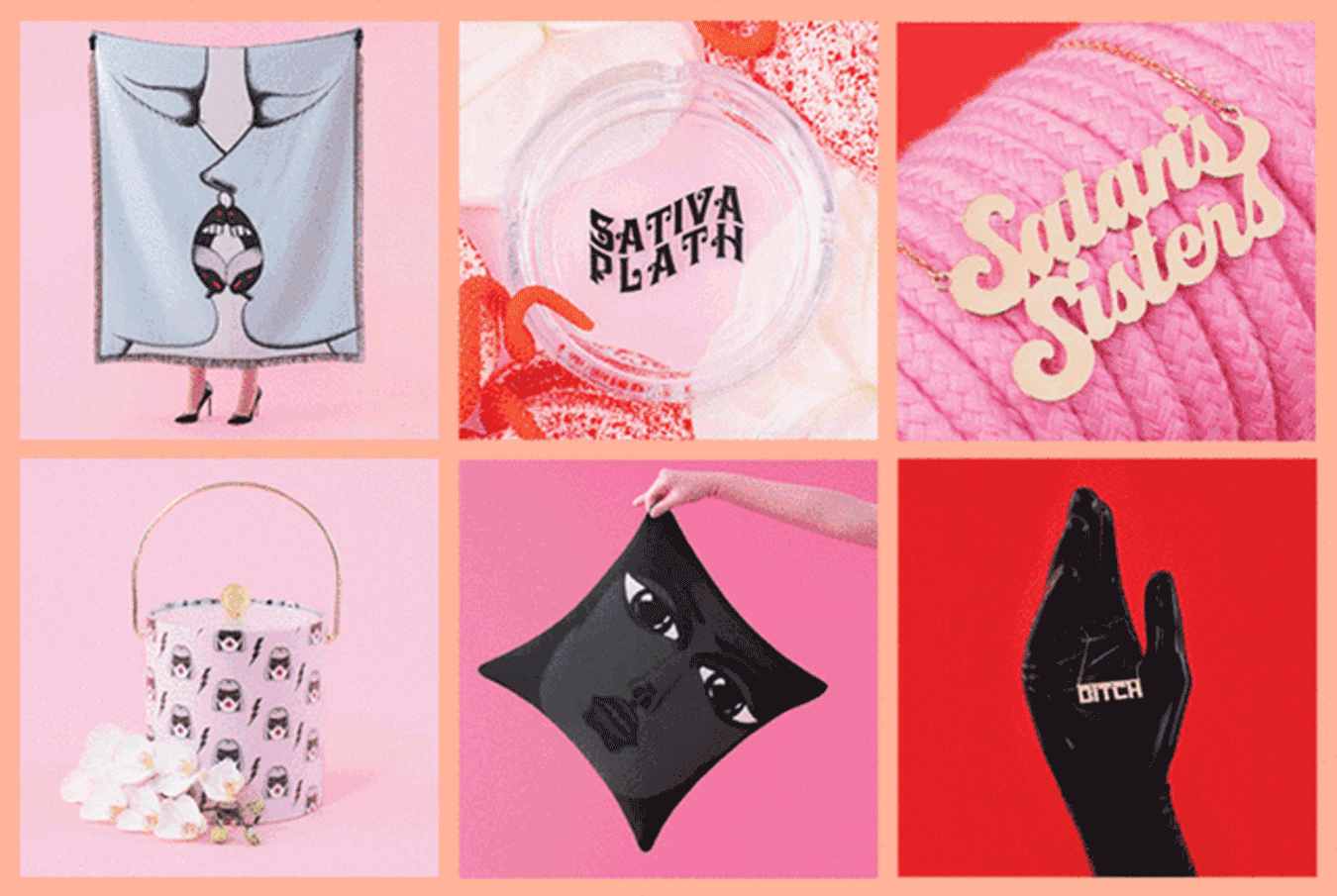 Chelsea Fairless trägt fast immer einen Kaftan. Er ist ihr Signature-Style geworden, der – wie sie sagt – zu gleichen Teilen Komfort und Mode ist.  "Ich liebe die Ästhetik dem Filmdramas 'Das Tal der Puppen'", erklärt sie. "Ich liebe die Sechziger Jahre. Ich liebe die Siebziger Jahre. Ich liebe Muster – ich liebe all das."  Mit ihrem von Twiggy inspirierten Pony-Bob und einem Glas Rosé in der Hand, verkörpert sie einen glamourösen Vintage-Stil, für den die Leute sie oft beglückwünschen. "Weil du ungezwungen aussiehst", sagt sie. "Die Leute wollen dich fast dafür belohnen. Ich mag auch die Idee, dass ich diese Kleider unter Umständen noch tragen könnte, wenn ich 80 bin."
Als ehemalige Modedirektorin von "VFiles" und Co-Gründerin des bissigen, mehr als fast 500.000 Follower schweren Instagram-Accounts "Every Outfit On Sex and The City" (entstanden nach einer durchzechten Nacht voller Margaritas mit Freundin und Kollegin Lauren Garroni), hat die 33-Jährige ihre Liebe zur Foto-Recherche, Mode und Popkultur in eine neue Klamotten- und Home-Linie namens "Female Trouble" verwandelt. Die erste Kollektion, die jetzt online verfügbar ist, besteht aus bunten, kitschigen Prints und Designs von drei unterschiedlichen Illustratoren – inspiriert von Filmplakaten (wie Kult-Klassiker "Die Augen der Laura Mars"), Tabloid-Covern, die der französischen Schauspielerin Jean Seberg gewidmet sind, sowie Huldigungen des Nunsploitation-Filmgenres. Es gibt eine "Showgirls"-Halskette, Aschenbecher und Shirts mit dem Schriftzug "Sativa Plath" ("Ich war wie besessen von "Die Glasglocke" während der High School", erklärt sie), Eiskübel und Flachmänner. Die Art von Gegenständen also, die man in einem John-Waters-Film vermuten würde (obwohl die Produkte selbst keine Verbindung zu Waters oder seiner gleichnamigen Komödie von 1974 haben).
"Eine Menge davon ist aus meinem Wunsch entstanden, Sachen für meine Wohnung zu finden. Denn normalerweise kaufe ich entweder in Geschäften ein, die moderne Mid-Century-Möbel haben oder bei Ikea", sagt Fairless. "Es gibt nichts dazwischen weil viele Home-Artikel teuer sind und es eine Million dänischer moderner Dekokissen gibt. Die meisten Produkte für zu Hause lassen sich in diese spezifischen Kategorien einteilen – und das sind nicht die typischen Sachen, die ich mag."
https://www.instagram.com/p/BiAX2lWFTjw/?hl=de&taken-by=chelsea.fairless
Sie, die ursprünglich aus dem ländlichen Nordkalifornien stammt, habe sich während ihrer Kindheit und Jugend immer von den Mode- und Lifestyle-Magazinen ihrer örtlichen Buchhandlung inspirieren lassen und sei nach New York gezogen, sobald sie 18 Jahre alt war, erzählt mir Chelsea Fairless. Sie begann zunächst ein Modedesign-Studium an der "Parsons School of Design", wechselte dann jedoch zu einem unabhängigen Studium der Modegeschichte und des Grafikdesigns. Dieses brachte ihr einen Job als Fotoredakteurin beim "V Magazine" ein, ehe sie die Stelle bei "VFiles" antrat. Und obwohl sie das Styling für E-Commerce-Seiten und für ihre Ex-Verlobte (Schauspielerin Lea DeLaria) gemacht hat, sieht sie sich nicht unbedingt als "Stylistin".
"Ich glaube nicht, dass meine Eltern wissen, was ich tue. Ich glaube nicht, dass meine Freunde wissen, was ich tue, weil ich im Laufe der Jahre viele verschiedene Sachen gemacht habe", sagt sie.
Chelsea Fairless blieb 12 Jahre in New York City, bevor sie nach Los Angeles ging – was sowohl ihrem Wunsch nach einem langsameren Lebensstil entsprach als auch an der Trennung von Lea DeLaria lag. (Fairless sagt, die Trennung war "wirklich schwierig für uns beide, aber wir stehen uns immer noch sehr nah. Wir haben nicht unsere ganze Beziehung verloren, wofür ich sehr dankbar bin. Und, ja, ich bin wirklich froh, sie noch in meinem Leben zu haben. Sie ist fantastisch.") Fairless' Entwürfe – sowohl für DeLaria als auch für das von "Sex and the City" inspirierte Merchandising – zeigen ihr Talent für ironische Zeitgeist-Artikel. Einschließlich Kult-Shirts mit Slogans wie "I Survived Lesbian Chic" und "We should all be Mirandas". Letzteres, sagt sie, wurde zum Teil von Chimamanda Ngozi Adichies Buchtitel "We should all be Feminists" inspiriert, den sich Dior für ein 550 Euro teures T-Shirt lieh, von dessen Erlös Berichten zufolge ein Teil an Rihannas "The Clara Lionel Foundation" gespendet wird. Fairless' Miranda-T-Shirt liegt preislich bei 30 Euro, wovon 10 Prozent ans US-amerikanische "National Immigrant Law Center" gehen.
https://www.instagram.com/p/Bizp_EYnn0l/?hl=de&taken-by=everyoutfitonsatc
"Ich glaube, wir haben erkannt, dass es unter den "Sex and the City"-Zuschauern viele unterversorgte Miranda-Fans gibt, deren Sicht der Dinge viel mehr der von Miranda ähneln [als der von Carrie]", sagt Fairless. "Ich denke, ein Grund, weshalb die Leute [das Shirt] lieben, ist, weil sie nun endlich das bekommt, was sie verdient." In dem Post, in dem Chelsea Fairless die T-Shirts Anfang September ankündigte, schrieb sie, "wenn Miranda die Welt beherrschen würde, wäre diese ein erheblich besserer Ort. Wir sollten alle Mirandas sein: klug, pragmatisch, ehrgeizig und ohne Angst davor, Kuchen aus dem Müll zu essen. "
Fairless beschreibt sich selbst als "Miranda mit einem Carrie-Aufstieg". Ihre Liebe zu Underdogs wie Cynthia Nixons sarkastischem und willensstarkem Charakter hat sie perfekt in "Female Trouble" einfließen lassen. Ihre nächste Capsule-Kollektion wird sich ganz auf eine andere komplizierte Frau mit hartnäckigen Verehrern fokussieren: Anna Nicole Smith. "Sie ist eine meiner Heldinnen", sagt Fairless. "Anna Nicole ist die Marilyn Monroe unserer Generation. Ich erinnere mich genau, wo ich war, als ich hörte, dass sie gestorben war. Ich war immer von ihr besessen." Die Kollektion umfasst sowohl Kleidung als auch Home-Accessoires mit Smiths "illustriertem Abbild", das Künstler Johnny Negron gezeichnet hat. Fairness hofft, die Kollektion "um Weihnachten herum" zu launchen.
"Female Trouble" wird auch weiterhin an seiner farbenfrohen, unkonventionellen Gegenkultur-Ästhetik festhalten. Fairless hofft, in Zukunft mit einer etablierten Marke zusammenzuarbeiten, um einige der schwierigeren Ideen umzusetzen, die ihr für ihre Kollektionen vorschweben. Darüber hinaus wird der Instagram-Account von "Every Outfit on Sex and the City" auch weiterhin individuelle Merchandising-Produkte auf den Markt bringen.
https://www.instagram.com/p/BiAl4nNHHRW/?hl=de&taken-by=everyoutfitonsatc
"Wir hoffen, den Spirit von Miranda festzuhalten in allem, was wir tun,", so Fairless. Und es sind nicht nur die Charaktere von "Sex and the City", die Fairless begeistern, sondern die Frau, die sie für alle sechs Staffeln (und die beiden Filme) gestylt hat. Fairless erzählt, Stylistin Patricia Field sei für sie eine "riesige Ikone" – vor allem weil "es nicht so viele lesbische Frauen in der Mode gibt." Patricia Field hat aus ihrer Begeisterung für Fairless' Instagram-Account nie einen Hehl gemacht und sie und Lauren Garroni sogar direkt angeschrieben, um sich mit ihnen zu verabreden, wenn sie das nächste Mal in New York sind. Trotz Fairless' langjähriger Sehnsucht nach New York City und einer seiner kultigsten, modischsten Serien aller Zeiten, stellt sie klar, dass sie "sich in L.A. wirklich zu Hause fühlt."
"Ich passte nie dort hinein, wo ich aufgewachsen bin, und ich glaube auch nicht, dass ich jemals das Gefühl hatte, wirklich nach New York zu gehören", sagt sie. "Der Alltag dort ist nicht wie 'Sex and the City', aber natürlich erlebte ich auch viele Situationen, die genau wie "Sex and the City" waren. Ich hatte so viele fantastische Erlebnisse dort, die ich für nichts in der Welt eintauschen würde." Dazu zählt sie auch "viele Jahre, in denen ich Vollzeit arbeitete, wirklich viele Stunden, und anschließend jede Nacht ausging". "Es war insgesamt gut für mich, mir eine Pause zu gönnen – sowohl auf der kreativen Seite als auch in anderen Bereichen.
Jetzt sitzt sie an einem Dienstagnachmittag in einem Café im L.A.-Stadtteil Silver Lake, trägt einen Kaftan und nippt an ihrem Rosé. Sie witzelt, dass sie wie Oprah Winfrey ein "neues Kapitel" aufschlagen wird, und L.A. stimmt ihr zu.
"Also, ja", sagt sie. "Das ist mein Leben."
Text: Trish Bendix // Foto: Female Trouble via NYLON.com