Bikinis und Badeanzüge: der Beachguide zum Sommer
It's summertime – und die heißeste Saison des Jahres wartet mit vielen neuen Bikinis und Badeanzügen auf euch. Unser Beachguide sorgt dafür, dass ihr den Durchblick behaltet.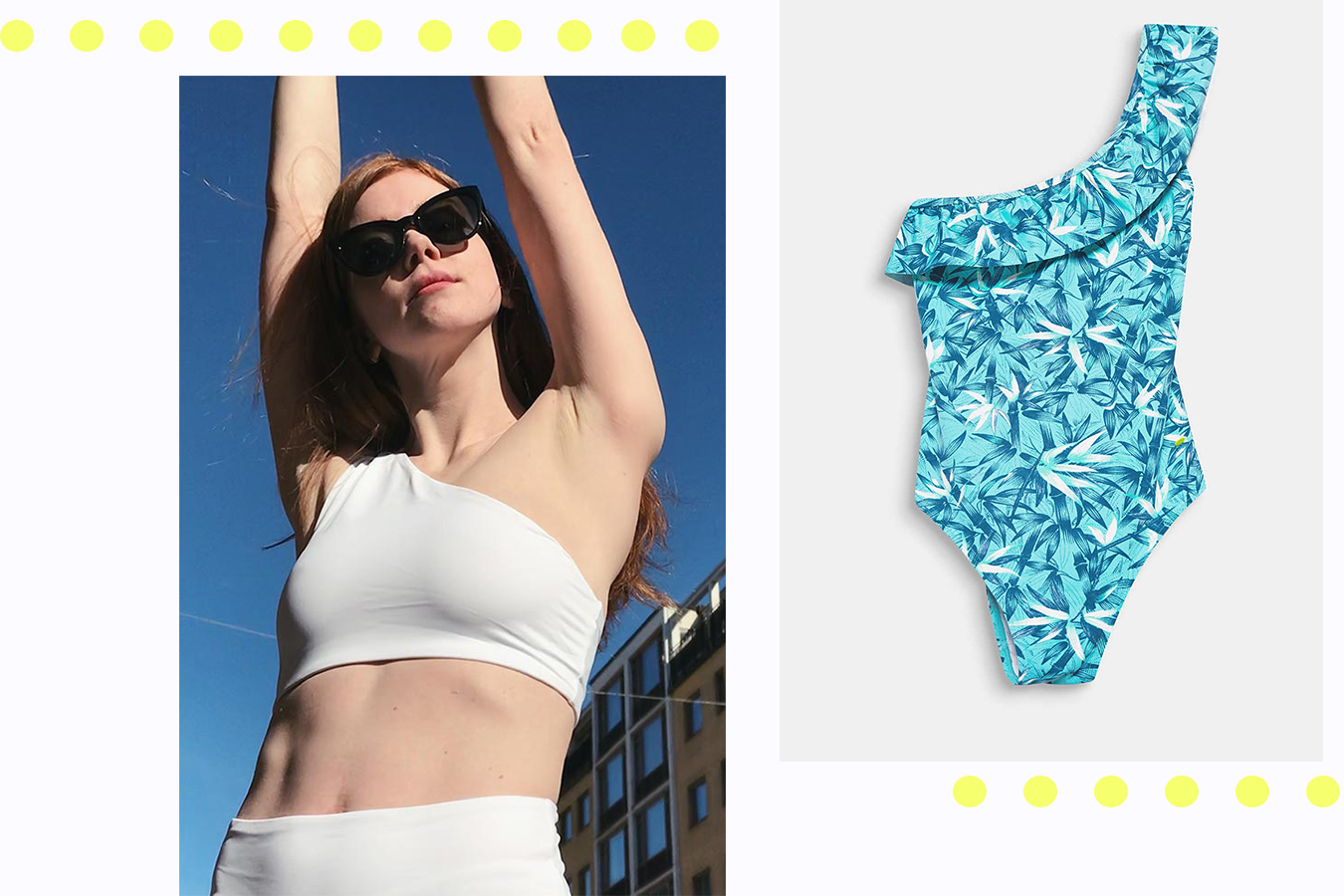 Es ist noch gar nicht so lange her, da haben wir uns ausschließlich im Bikini an den Strand getraut – Badeanzüge galten irgendwie als oldschool und erinnerten an Schwimmunterricht und zu viel Chlorwasser. Mittlerweile ist in Sachen Swimwear erlaubt, was gefällt – Bikinis sind cool, Badeanzüge ebenso, und wer einen Hybrid aus beidem, sprich einen Tankini, tragen will, der soll das natürlich auch tun!
Ganz so lässig war der Umgang mit Bademode allerdings nicht immer: Noch zu Beginn des 20. Jahrhunderts spaltete sich die Bademodenfront in zwei Lager. Da waren zum einen die Verfechter der Moral, die sich für möglichst viel Stoff am Strand einsetzten. Zum anderen die zunehmend selbstbewussten und körperbetonten Frauen, die nicht länger mit korsettartigen Anzügen, Badehüten und -Schuhen an den Strand gehen wollten. Eine davon war die australische Schwimmerin Annette Kellermann, die für einen Wettkampf im Jahr 1907 nicht die bis dato üblichen Stoffmassen anzog, sondern sich für ein enger anliegendes Wolltrikot entschied. Das gefiel der Öffentlichkeit leider gar nicht – und die Polizei nahm Kellermann wegen Erregung öffentlichen Ärgernisses fest.
Erst Anfang der Sechziger Jahre entspannte sich die Lage in Sachen Swimwear so weit, dass sogar eine noch knappere Version des Badeanzugs auf den Markt kam: der Bikini. Seinen ersten großen Auftritt hatte er am Körper von Ursula Andres, die sich als Honey Ryder in "James Bond jagt Dr. No" in einem heute legendären weißen Modell samt eingenähtem Gürtel zeigte.
Mittlerweile gilt am Beach das Motto free your Body – und trotzdem ist es gar nicht so einfach, den richtigen Bikini oder Badeanzug zu finden. Schließlich soll er nicht nur gut sitzen, sondern im besten Fall auch so geschnitten sein, dass wir uns jederzeit wohlfühlen – ganz egal  welche Größe wir tragen. Und weil pünktlich zum Start der Strandsaison mal wieder richtig hübsche Teile in den Onlineshops zu finden sind, haben wir euch unsere Favoriten zusammengestellt – vom High-Waist-Bikini bis zum klassischen Badeanzug.
Der klassische Badeanzug
Er steht jedem und eignet sich etwas enger geschnitten perfekt für die Sportskanonen unter uns. Wer sich lieber ganz entspannt am Pool oder Strand rekelt und nur kurze Ausflüge ins Wasser plant, für den sind Badeanzüge mit hübschen Details wie Rüschen und schnürbarem Halterneck genau das Richtige.
Links: gestreifter Multicolored Badeanzug von Mara Hoffman, ca. 345 Euro; Rechts: gemusterter Badeanzug von Ganni, ca. 140 Euro 
Der klassische Bikini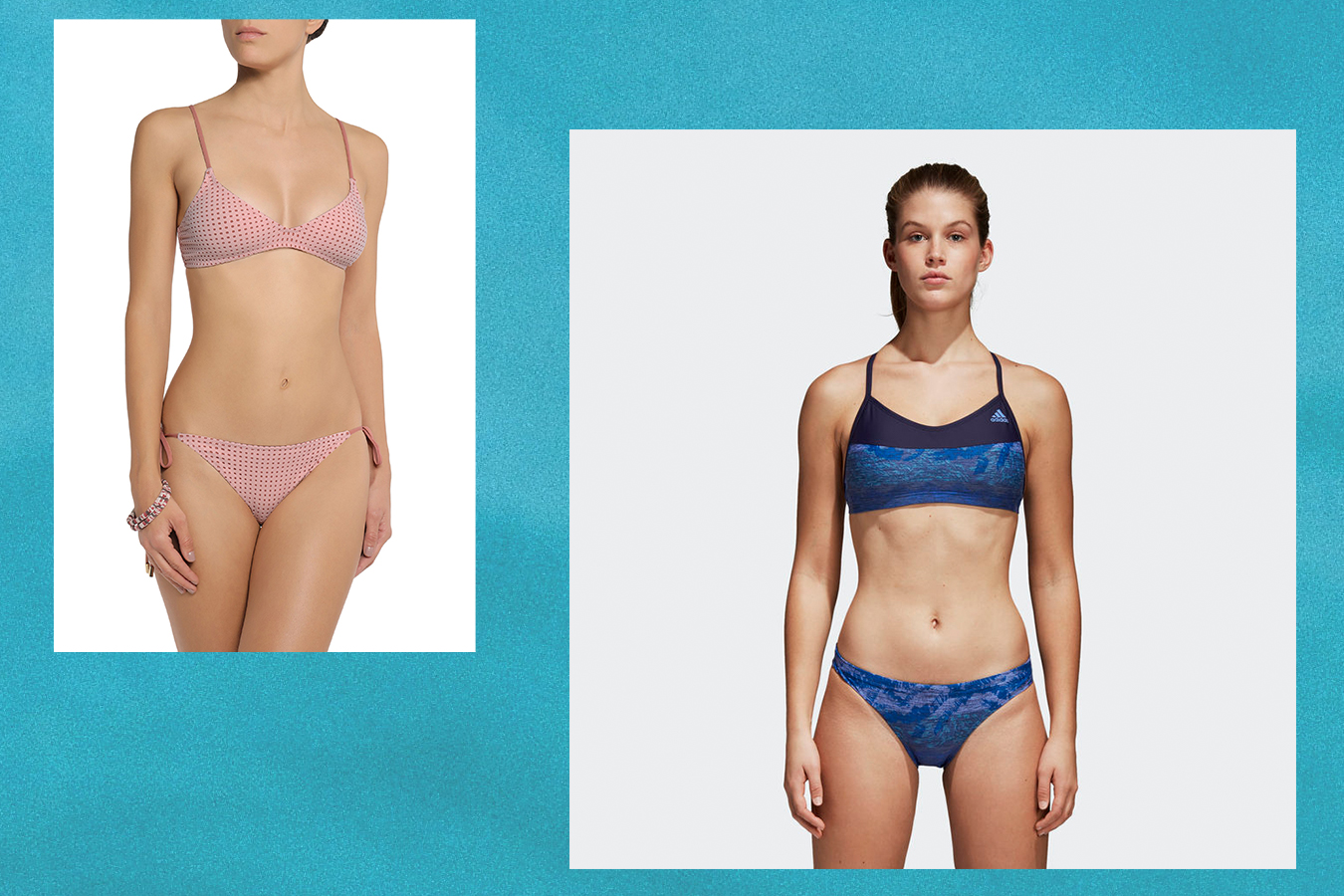 Mal feminin mit Lochmuster und in Pastelltönen, mal ganz sportlich mit praktischem Schnitt: Auch bei den Bikinis gibt es unzählige Variationen. Hier könnt ihr entscheiden, ob ihr etwas mehr Halt braucht und lieber ein sportlicheres Top samt Hose, oder eine verspieltere Version mit beispielsweise einem schnürbaren Höschen tragen wollt.
Links: Bikini mit Laser-Cut von Melissa Obadash, ca. 130 Euro; Rechts: Bikini von adidas, ca 45 Euro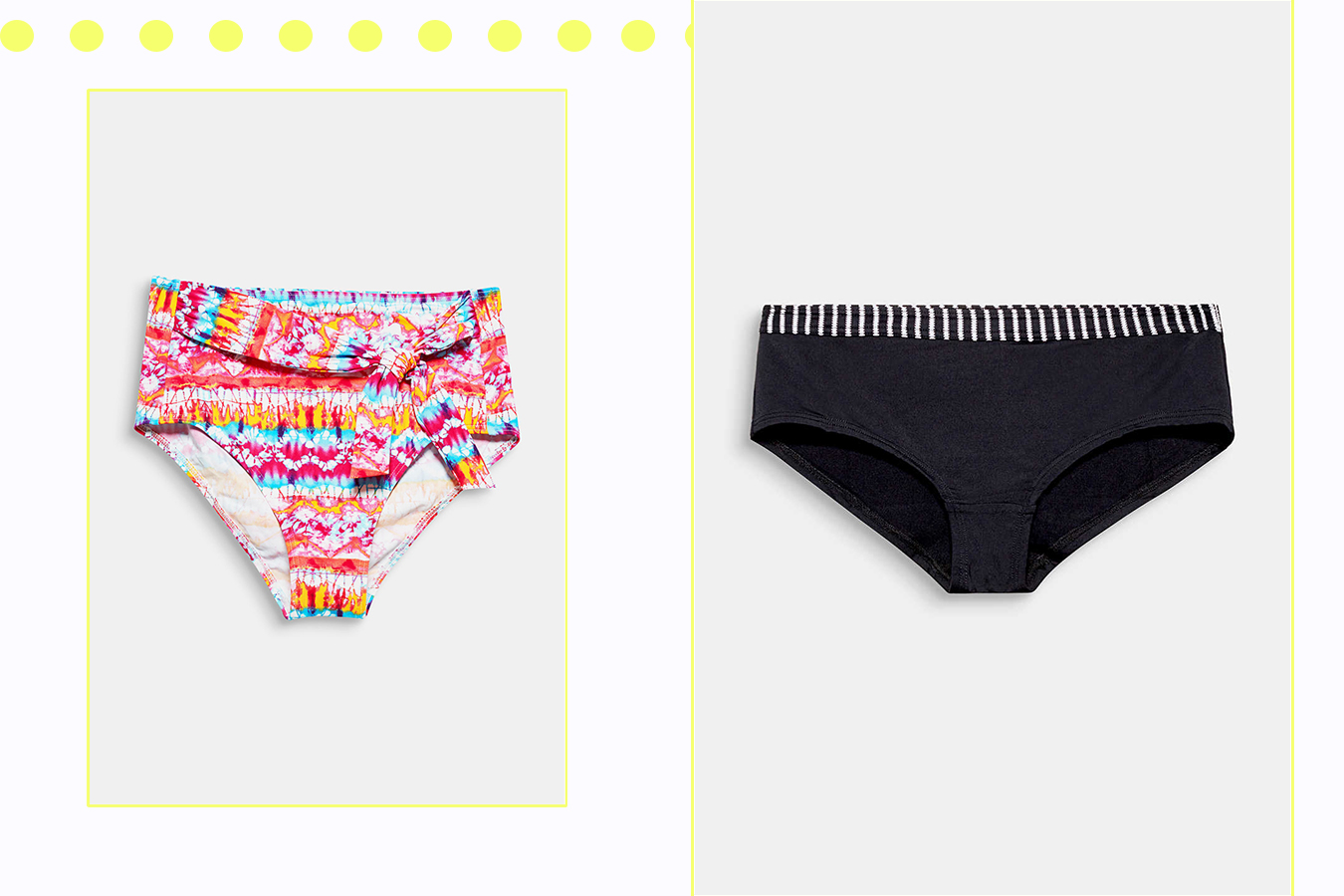 Etwas höher sitzende Bikinihöschen wie diese zwei Modelle von Esprit sind perfekt für alle, die Schnitte im Stil der Fünfziger Jahre mögen (womit wir schon fast wieder zurück beim Thema Bond Girl wären) und sich mit etwas mehr Stoff wohler fühlen. Jetzt müsst ihr euch nur noch entscheiden: Soll es etwas mehr Farbe samt hübschem Schleifendetail wie beim rechten Slip aus der "Balboa Beach"-Kollektion sein, oder wollt ihr lieber auf minimalistischere Hipster-Shorts inklusive Zacken-Optik setzen? Die dazugehörigen Oberteile bekommt ihr übrigens hier und hier.
Trägerlose Bikinis und Badeanzüge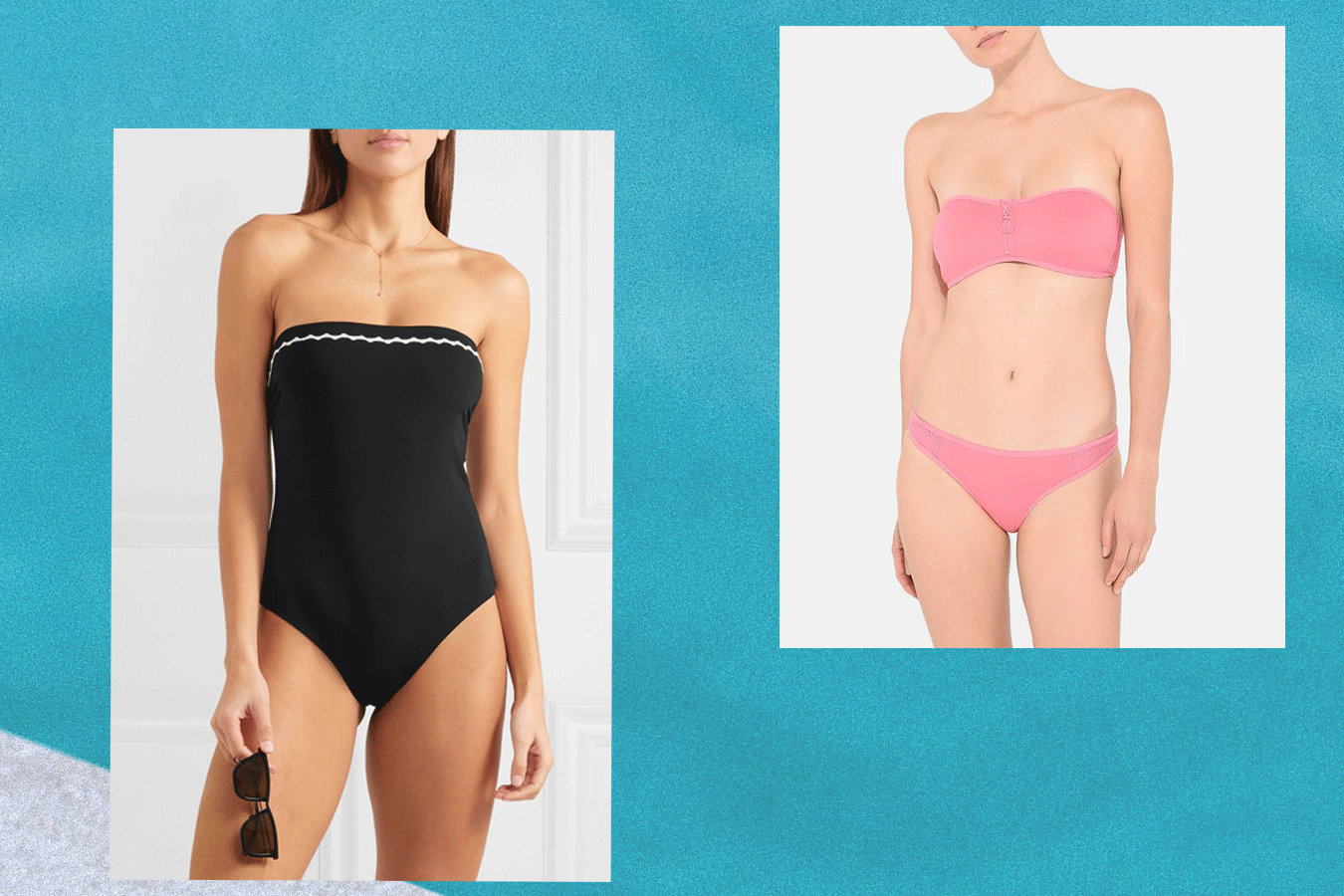 Warum wir trägerlose Swimwear lieben? Natürlich weil sie cool aussieht und wir uns nach dem Sonnen nicht über lästige Abdrücke auf dem Dekolleté oder Rücken ärgern müssen. Trägerlose Bikinioberteile nennt man übrigens auch Bandeau, was auf Deutsch übersetzt so viel wie "Streifen" heißt und auch gerade geschnittene, trägerlose Bustiers bezeichnet.
Links: schwarzer Badeanzug von Marysia, ca. 330 Euro; Rechts: rosafarbener Bikini aus Neopren von Stella McCartney, ca. 250 Euro
One Shoulder Bikinis und Badeanzüge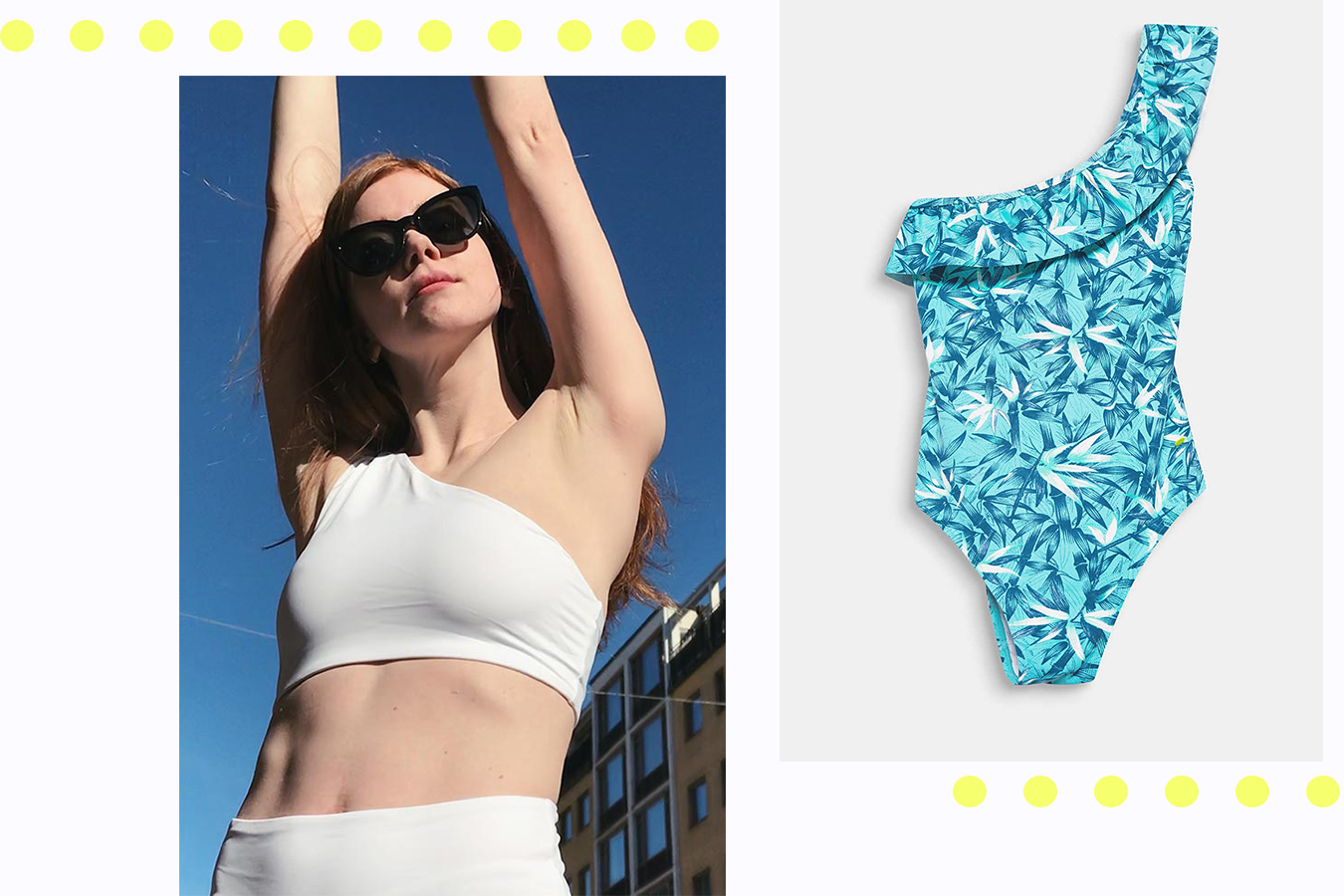 Wer sich nicht zwischen klassischen und trägerlosen Bikinis und Badeanzügen entscheiden kann, sollte vielleicht auf eine Mischung aus beiden Varianten setzen. Das Ganze nennt sich One Shoulder und macht, wie man oben sieht, richtig Lust auf Sommer. Let's go to the Beach!
Links: weißer Bikini von Weekday, ca. 30 Euro; Rechts: One Shoulder Badeanzug mit Volant von Esprit, ca. 70 Euro