"City Of Angels": Diese drei Designer aus L.A. müsst ihr kennen
Wenn eine Stadt wie New York für Künstler zu teuer wird, gehen Sie eben woanders hin. Im Falle vieler Fashion-Designer ist das derzeit Los Angeles. Lernt jetzt drei der heißesten Newcomer kennen.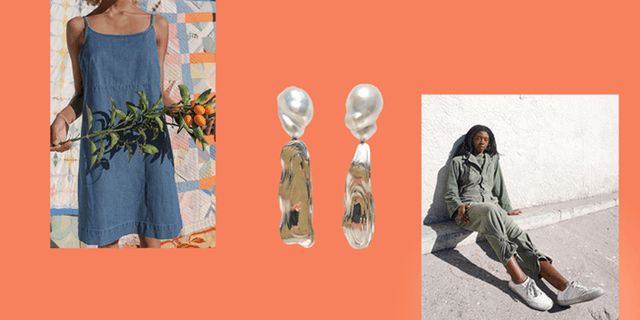 Text: Natalie Rinn
Früher galt Los Angeles nicht wirklich als Dreh- und Angelpunkt der Modewelt. Doch in den vergangenen zehn Jahren hat sich einiges bewegt: immer mehr Kreative zogen in die "Stadt der Engel", um dort zu arbeiten – darunter viele Modedesigner. Einige davon kamen aus New York, wo sie ihre Skills im harten Wettbewerb der Fashion-Metropole perfektionieren konnten. Doch immer mehr Jungdesigner haben im Big Apple etwas vermisst, was ihnen L.A. bieten kann:  Raum. Und zwar nicht nur zum Leben (und der ist in L.A. um einiges günstiger), sondern auch für den Kopf. Außerdem ticken die Uhren an der Westküste ein wenig anders, denn die "Balance" in Work-Life-Balance existiert hier wirklich. Zu guter Letzt ist der Spirit ein anderer, denn Großzügigkeit und gegenseitiger Support werden großgeschrieben. Auch die Designer, mit denen wir gesprochen haben – zufällig durch die Bank Frauen – betonten alle die überraschend große Bereitschaft zum Teilen in der wachsenden Community.
Von Schuhen und Schmuck über Jeans bis hin zu Arbeits- und Reisebekleidung: die Ready-To-Wear-Styles aus L.A. sind nicht nur minimalistisch und pragmatisch – sondern auch wirklich umwerfend. Abgesehen von besseren Lebensbedingungen für Kreative unterscheidet sich in L.A. auch ihre Arbeitsweise. Hier müssen sie nicht nach den festgefahrenen Terminplänen der Fashionwelt funktionieren. Und obwohl – oder gerade weil – die Modebranche nicht immer gut mit der Umwelt harmoniert, denkt man in Los Angeles viel darüber nach, wer die eigene Kollektion wo produziert und welche Materialien dafür verwendet werden. All das haben die jungen Kreativen zu einem großen Teil L.A. zu verdanken. Eine Stadt, die mit massig Sonne und viel Raum für Inspiration als neues Mekka für Fashion- und Schmuckdesigner gilt.
Lernt jetzt unsere drei Lieblinge aus der blühenden Szene L.A.s kennen.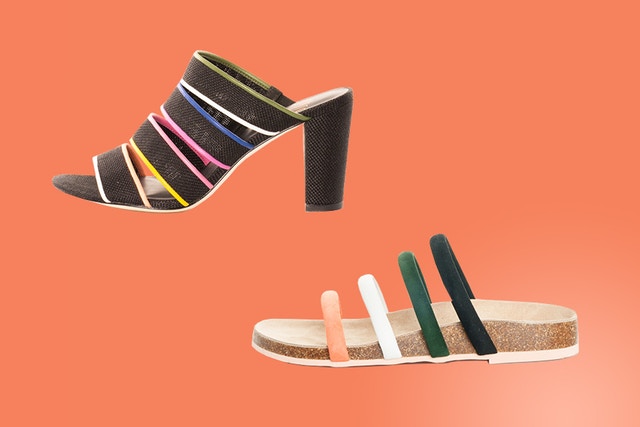 Charlotte Stone von Charlotte Stone
Bekannt für: Lebendige Farben, den Gloria
Lieblingsteile aus ihrer Spring-Collection: Der Melle und der Effie, inspiriert von holländisch-afrikanischen Prints
Wie bist du zum Modedesign gekommen?
Ich zog vor 18 Jahren nach Los Angeles, als ich mich dafür entschied, Schuhe zu entwerfen. Ich recherchierte zu Schulen in der ganzen Welt und entschied mich schließlich für die FIDM ("Fashion Institute of Design and Merchandising", Anm. der Redaktion) in Los Angeles. Danach arbeitete ich freiberuflich für eine Reihe kleinerer Marken und entwarf sieben Jahre lang für Joie Schuhe für mehrere Länder. Ich denke, für diese Marke zu arbeiten und freiberuflich tätig zu sein, hat mich dazu angespornt, meine eigene Linie zu machen. Ich wollte die Welt der Farben erkunden, denn nach meinen ersten Erfahrungen mit der Arbeit für große Marken wurde mir klar, dass diese ihren Kern meist neutral halten wollen. Klar, hier und da tauchen immer wieder Farbkleckse auf, aber das konsequente Einsetzen von Farben sieht man selten. Also wollte ich mich mit Farbe, Textur und wirklich guten Materialien – wie italienische Stoffe und Leder – beschäftigen. Ich wollte keine Kompromisse mehr eingehen. Seit drei Jahren bin ich nun freiberuflich tätig und habe meine eigene Linie gemacht, doch seit diesem Jahr bin ich zum ersten Mal ganz auf mich allein gestellt. Mein erster großer Hit war der Gloria. Als Solange ein Paar kaufte, es mit in ihre Flitterwochen nahm und davon Fotos postete, hatte ich mein erstes Wow-Erlebnis. Ich hatte in jeder Saison dabei und sie verkaufen sich immer noch wie verrückt.
https://www.instagram.com/p/BhMJVvkBT8M/?taken-by=charlottestoneshoes
Was hat dich zu deiner Frühjahrskollektion inspiriert?
Es begann mit diesem seltsamen Kunstschulenprojekt, bei dem ich alle möglichen Materialreste und die verschiedensten Farben miteinander mixte. Ich habe riesige Nieten gemacht, die wie Farbtöpfe aussehen und dann hatte ich plötzlich Lust, Drucke einzubringen, was ich bis dahin normalerweise nicht getan habe. Entstanden sind vier holländische Waxprints. Diese afrikanischen Muster haben mich schon immer fasziniert, weil sie fröhlich und "bold" gleichzeitig sind und die Geschichten zu ihrer Herkunft wirklich interessant. Die Muster kommen ursprünglich aus den Niederlanden. Die Niederländer haben sie nach Afrika gebracht, wo sie die einheimischen Frauen in ihren Stil eingebracht haben, um mit den verschiedenen Prints ihre eigenen Geschichten zu erzählen. Es gibt zum Beispiel dieses Muster aus Fächern. Das tragen Frauen, die keine bösen Männer in ihrem Leben wollen und die Typen so symbolisch "wegpusten" können.
Was bedeutet es für dich, Teil der Mode- und Design-Community in Los Angeles zu sein?
Ich habe das Gefühl, dass ich gerade erst so richtig angefangen habe, eine eigene Community aufzubauen. Ich war in den letzten drei Jahren hauptberuflich und freiberuflich so sehr eingebunden, dass ich mir nicht die Zeit genommen habe, mich mit Gleichaltrigen zu vernetzen und diese wichtigen Beziehungen aufzubauen. Dieses Jahr hat sich aber alles verändert. Ich habe mit der freien Arbeit aufgehört, um mich ausschließlich auf meine Linie zu konzentrieren und so fing ich an, an möglichst jedem Pop-up- und Design-Markt teilzunehmen. So konnte ich mit all den kleinen Businesses in Kontakt kommen, die das gleiche durchgemacht haben wie ich und wir schmieden seitdem zusammen neue Ideen. Das alles führte zu vielen, neuen Möglichkeiten und jetzt habe ich diesen großen Kreis an Unterstützern, die sich gegenseitig helfen. Ein kleines Independent-Label zu führen ist nichts für schwache Nerven und deshalb ist es umso wertvoller, zu wissen, dass man immer jemanden anrufen kann, der einen guten Rat hat.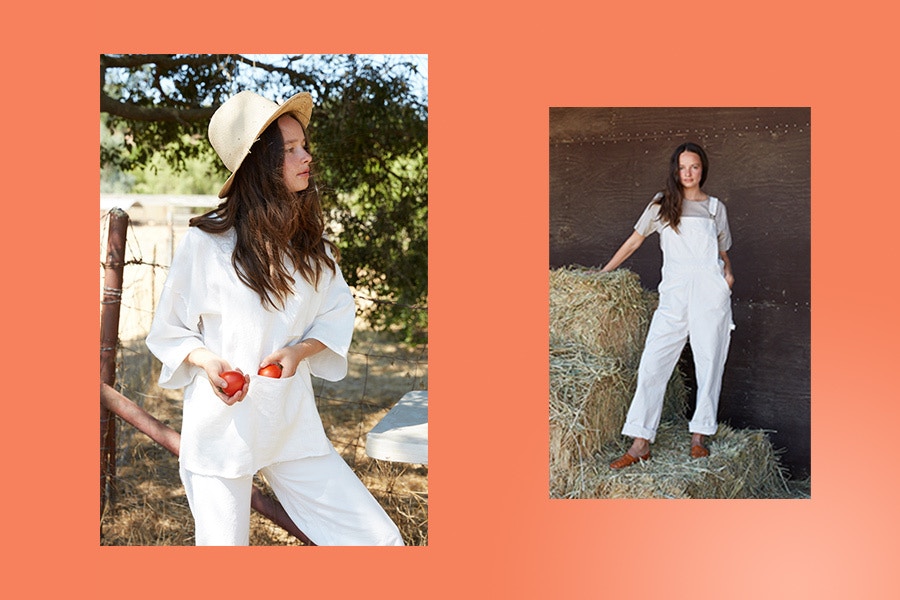 Jesse Kramm von Jesse Kramm
Bekannt für: High-Waist-Segelhosen, minimalistische und nützliche Schnitte, Slow Fashion
Lieblingsteile aus ihrer Spring-Kollektion: Das Gatherer-Top, Overalls
Wie bist du zum Modedesign gekommen?
Als ich Anfang der 2000er Jahre in Los Angeles landete, war der Standard: "Du bist 1,80 m groß, hast große blaue Augen und ein Model." Ich kam vom Land und dachte, dass das wirklich toll sei – war es am Ende aber nicht. Irgendwie hingen mir die Werte aus meiner Kindheit im mittleren Westen nach. Ich fühlte mich schon irgendwie wohl mit der Person, die ich war, aber es passierte auch das zu Erwartende: Meine Vergangenheit gab mir das Gefühl, dass ich für diese glitzernde Stadt in irgendeiner Weise nicht gut genug wäre. Zum Glück konnte ich dann aber die Welt bereisen und dadurch viel dazu lernen. Was ich aus dieser Zeit mitgenommen habe, war die Idee, aus visuellen Erlebnissen und Geschichten – sei es ein Film oder ein Buch oder eben ein Ort – die Inspiration für meine Entwürfe zu ziehen.
Ich wollte schon immer Nähen lernen, weshalb ich einen Kurs beim LACC ("Los Angeles City College", Anm. der Redaktion) besuchte. Nebenbei konnte ich einen Job für drei Tage die Woche im Shop von Resurrection ergattern und stieg so ins Modebusiness ein. Die Kolleginnen, mit denen ich dort gearbeitet habe…. Ein Traum! Es war wirklich eine Zeit, die mich nachhaltig beeindruckt hat. Wir schrieben zusammen Fashion Reports (mein erster handelte von Halston) und wollten einfach unsere eigene kreative Sache durchziehen. Es war wie ein kleiner Think Tank. Während ich dort arbeitete, begann ich  mit meinem Nähkurs und entwarf erste Kleider. Irgendwann holte ich mir einen Kaffee, trug eins meiner Teile und plötzlich fragten mich zwei Mädels: "Hey, woher hast du dieses Kleid? Ich will auch so eins haben!" Ich nannte einen Preis und – zack! – hatte meine erste Kundin. Daraufhin meinte ein befreundeter Stylist, ich solle doch ein Lookbook machen, was er dann mit nach Paris nehmen würde. Von dort aus kam dann meine allererste Bestellung von Colette. Das war der Moment, in dem ich die Gelegenheit beim Schopf gepackt habe.
Was hat dich zu deiner Frühjahrskollektion inspiriert?
Ich wuchs in einer sehr ländlichen Gemeinde auf, wo es null Sinn für Mode gab. Doch meine Mutter war Töpferin und mein Vater Musiker und dazu sehr stilvoll gekleidet. Ich glaube, meine Eltern sind für meine minimalistische, an Nützlichkeit orientierte Ästhetik verantwortlich. Zu dieser Zeit, also in den späten 70ern und frühen 80ern, hingen meine Eltern mit vielen wirklich coolen Handwerkern rum. Alle sahen irgendwie aus wie die Leute in Silver Lake (ein hippes Viertel in L.A., Anm. der Redaktion) heute: riesige Schnurrbärte und japanische Arbeitskleidung, die ihnen als Atelier-Outfits diente, dazu Overalls und diese Outdoor-Ästhetik der Marke L.L. Bean. Genau diese Bilder habe ich von früher im Kopf. Meine Ästhetik zeigt vor allem klare Linien, die sich im Laufe der Zeit aber weiterentwickelt haben. Der Erfolg meiner Marke hat auf jeden Fall auch etwas damit zu tun, dass ich ein Kind bekommen habe.
Als ich Julien bekam, arbeitete ich noch viel mit Prints, aber plötzlich meinte jemand: "Weißt du, Jesse, ich glaube, du könntest auch mal mit den Prints aufhören. Du hast ein gutes Verständnis für Farbe und Textur, versuch dich doch mal daran." 2010 gab es dann einen Moment, in dem ich mir sagte: "Ich werde es ausprobieren" – und es war eine super Entscheidung. Es fühlte sich an, als würde ich einen alten, schweren Mantel ablegen, der mir von jemandem aufgezwungen wurde – und dieser Jemand war ich selbst. Seit Julien geboren wurde, habe ich mich natürlich auch viel mit Abnehmen beschäftigt, ganz nach dem Motto "Weg mit dem unnötigen Ballast". Das hat auch auf meine Entwürfe und meine Beziehung zu Details abgefärbt – wenn etwas überflüssig war, wurde es gestrichen.
Was bedeutet es für dich, Teil der Mode- und Design-Community in Los Angeles zu sein?
Ich bin seit fast 19 Jahren dabei, davon 13 Jahre in L.A.. Es ist einfach eine großartige Stadt zum Designen. Mehr und mehr Marken stellen heute im Ausland her, wobei es doch so tolle Möglichkeiten gibt, hier zu produzieren. Ich glaube jeder, der hier seine Kollektionen entwirft, ist total stolz drauf. Die ganze Sache ist natürlich auch eine sehr politische und ich bin froh, mit meiner Linie so vielen Menschen aus den verschiedensten Ecken der Welt die Chance zu geben, sich mit ihrer Arbeit an Jesse Kramm zu verwirklichen – ob sie nun aus den USA, Mexiko, El Salvador oder Guatemala kommen. Ich bin wirklich angewidert davon, was sich zur Zeit in der Einwanderungspolitik abspielt und ich denke, hier in Kalifornien haben wir wirklich Glück gehabt. Ich bin stolz darauf, Teil dieser Community zu sein.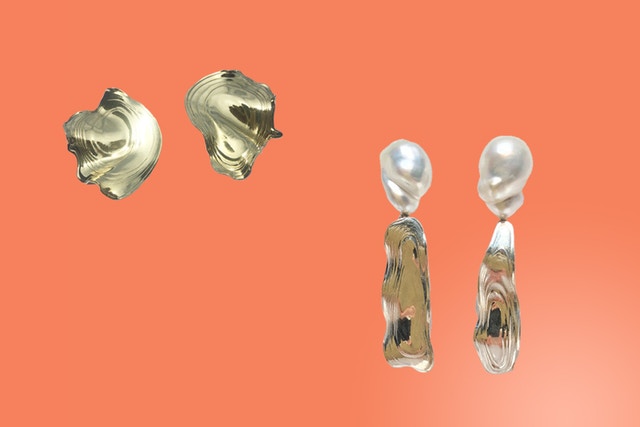 Leigh Miller von Leigh Miller Jewelry
Bekannt für: Skulpturale Pieces, Wellen-Effekt durch Wachsguss
Lieblingsteile aus ihrer Spring-Kollektion: KOMBU und Padina Ohrringe
Wie bist du zum Schmuckdesign gekommen?
Ich habe Mode an der Otis School of Art and Design in Los Angeles studiert. Es war ein sehr anspruchsvolles Studium, was ich  mit einem echt tollen Portfolio abgeschlossen habe. Damals, im Jahr 2003, war L.A. ein anderes L.A. Es hatte nicht die Kultur in Bezug auf Kunst und Essen und all diese Dinge, die mich interessierten. Deshalb ging ich nach New York und arbeitete vier Jahre lang für J. Crew und dann für Calvin Klein und einige andere Designer. Ich habe eher banale Corporate-Design-Arbeiten gemacht und ich fühlte mich nicht wirklich inspiriert. Ich begann darüber nachzudenken, dass mir Schmuckdesign ganz neue Möglichkeiten eröffnen könnte. Es ist ja sowas wie Skulptur zum Tragen. Ich fing an, mich mit dem Thema zu beschäftigen, lernte 2010 jemanden kennen und zog wegen der Beziehung nach Rio in Brasilien. Dort besuchte ich Schmuckdesign-Kurse in einem kleinen Atelier, das von Caio Mourão gegründet wurde, ein renommierter moderner Designer aus der Mitte des Jahrhunderts. In der Zwischenzeit trennten wir uns jedoch und es machte Sinn, nach New York zurückzukehren, weil dort viele Freunde auf mich warteten. Ein Jahr nach dem Launch im Dezember 2014 ging es richtig los. Das war dann genau der richtige Zeitpunkt, endlich wieder nach L.A. zu ziehen.
https://www.instagram.com/p/BgztRs_A2cZ/?taken-by=leighmillerjewelry
Was hat deine Schmuckkollektion inspiriert?
Ich wollte alles anders machen. Also experimentierte ich mit Wachs und anderen Materialien und fand heraus, welche Techniken am besten funktionieren. Auch meine Eindrücke aus Brasilien flossen mit ein und so entstanden meine topographisch anmutenden Muster. Für den Welleneffekt schmelze ich Wachs zu einer Wachsgussform. Ich bin wirklich froh, diese Technik für mich entdeckt zu haben, auch, weil ich vorher bei niemand anderem gesehen habe. In L.A. inspirieren mich vor allem einsame Stunden in der Natur zu neuen Designs. Vor allem wenn ich am Meer auf den Felsen sitze und die Ruhe genieße, kommen mir tolle Ideen.
Was bedeutet es für dich, Teil der Mode- und Design-Community in Los Angeles zu sein?
Die Community in L.A. ist fantastisch. Viele Designer leben in New York, aber auch hier gibt es so viele talentierte und vor allem offenherzige und aufgeschlossene Frauen. Alle unterstützen sich, statt sich als Konkurrenz zu sehen. Die Leute schätzen sich, sind offen, freundlich und einfach großartig. Außerdem habe ich in L.A. mehr Raum für meine Gedanken und Ideen. Hier kann ich es mir leisten, ein schönes Studio und eine tolle Wohnung für wirklich gutes Geld zu mieten – das war in New York kaum möglich. Und das macht mich wiederum glücklicher und gibt mir die Möglichkeit, ein inspirierteres Produkt zu erschaffen.