5 Beauty-Experten und ihre Inspirationen für die New York Fashion Week
5 Beauty-Experten verraten uns, wie sie sich auf die New York Fashion Week vorbereitet haben. Plus: Welche Beauty-Trends sie für den Herbst sehen.
Text: Jenna Igneri // Bilder via NYLON.com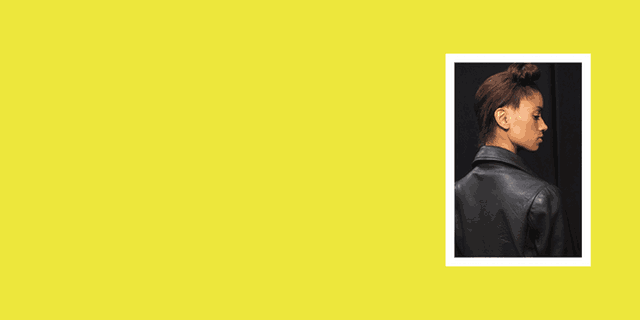 Die New York Fashion Week ist in vollem Gange. Eine aufregende Zeit – und das nicht mehr nur für Fashion-Experten: Der Catwalk hat sich auch mehr und mehr zum Place To Be für Beauty-Liebhaber entwickelt. Hier entstehen saisonale Beauty-Trends – schließlich wird jede Modekollektion der Designer mit den passenden Make-up-, Haar- und Nagel-Looks präsentiert.
Aber was bedeutet es eigentlich, einen Beauty-Look für eine Fashion-Show zu entwerfen? Wie viel Einfluss haben die Designer und ihre Mode darauf? Und wie werden aus diesen Looks die Trends, die wir Monate später auf der Straße sehen?
Wir haben fünf Beauty-Experten, die jede Saison aufs Neue backstage das Kommando übernehmen, nach ihren kreativen Vorbereitungen auf die NYFW gefragt und um eine Trend-Prognose für den Herbst 2018 gebeten.
Hier lest ihr, was sie geantwortet haben.
Justine Marjan, Global Stylist bei TRESemmé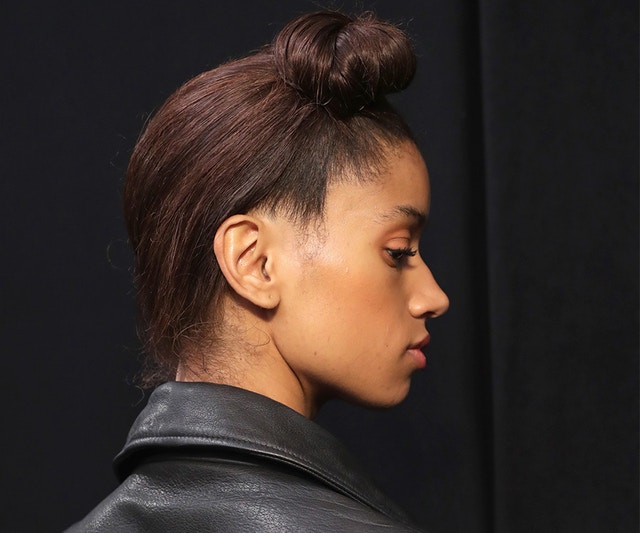 Bild: Cindy Ord/Getty Images
Wenn Stylistin Justine Marjan von TRESemmé die Frisuren für ihre verschiedenen NYFW-Shows plant (sie hat bereits mit Cushnie et Ochs, Alice and Olivia und Tanya Taylor gearbeitet), geht sie völlig unvoreingenommen an die Sache heran. "Die Designer und Kreativdirektoren einer Kollektion haben normalerweise eine ziemlich klare Vorstellung davon, wer das Mädchen ist, das ihre Mode trägt. Also muss der Beauty-Look das widerspiegeln", erklärt sie. Sobald sie sich ein Bild vom allgemeinen Vibe gemacht hat, überlegt sie, welche Frisuren dazu passen könnten.
Ihre Inspiration zieht sie aber vor allem aus vergangenen Shows und Looks. "Beauty-Looks entstehen genauso wie Modetrends. Viele Trends werden aus früheren Generationen recycelt und sind das genaue Gegenteil dessen, was noch vor ein paar Monaten Trend war. Zum Beispiel waren die Looks vor einigen Jahren sehr messy und ungestylt, und dann gab es plötzlich direkt danach einen Wechsel zu superglatten, glänzenden Strähnen", sagt sie. Natürlich hängt der finale Look zu 100 Prozent von den Designern selbst ab.
Und welcher Trend kommt nach glatt und glänzend? Für Marjan ist es Individualität. "Ich glaube, alles ist in – und das zeigt wirklich, dass die Leute ihre Individualität und Einzigartigkeit akzeptieren. Ich liebe es, dass immer mehr Frauen ihre natürlichen Haarstrukturen annehmen und mit einzigartigen Schnitten, Fransen, Haaraccessoires und Haarfarben spielen. Auf den Laufstegen sehen wir mehr Models, die individuell gestylt werden und nicht alle dem gleichen Beauty-Look entsprechen", so Justine Marjan.
Rodney Cutler, Besitzer von Cutler Salon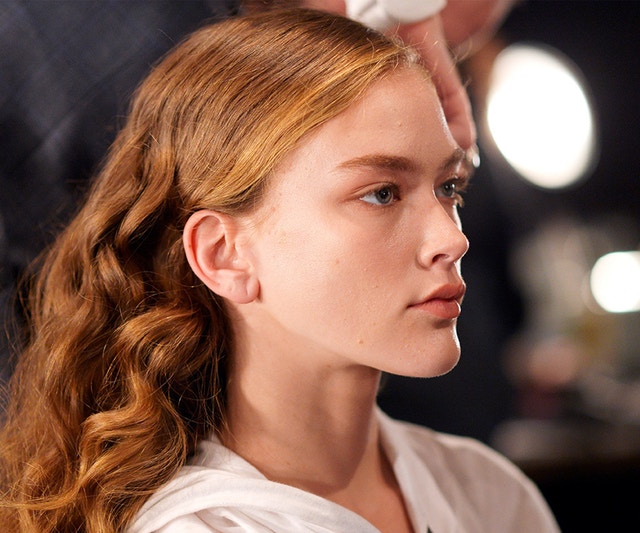 Bild: Roy Rochlin/Getty Images
Wenn Rodney Cutler, Gründer von Cutler Salon einen Haar-Look für eine Fashion-Show vorbereitet, ist die Mode selbst für seine Inspiration entscheidend. Für den Hairstylisten ist es auch wichtig, "die Designer wirklich zu verstehen – wer sie sind, was ihr Schönheitsempfinden ist usw. – und ihre früheren Kollektionen zu sehen, um zu sehen, was sie bisher gemacht haben, um sicherzustellen, dass die Ideen frisch und neu sind und auch, um mich über ihre Arbeiten zu informieren."
Trends entstehen für ihn ganz natürlich. "Ich finde es immer sehr bemerkenswert, wenn man am Ende einer Saison zurückblickt und es wirklich einen roten Faden bei den Frisuren gab, die auf dem Laufsteg zu sehen waren", sagt Cutler. "Es ist wirklich eine organische Entwicklung. Es ist nicht so, dass alle Hairstylisten zusammenkommen und vor jeder Saison die Trends definieren. Diese Looks entstehen in den Proben, wo man sich die richtigen Haarstylings überlegt, um die Mode und die Designer bestmöglich zu repräsentieren." Seine Trendvorhersage: Nach den extremen Wet- und Matt-Looks wird es eine Rückkehr zu cleanem, gesundem Haar geben.
Fatima Thomas, M.A.C Cosmetics Senior Artist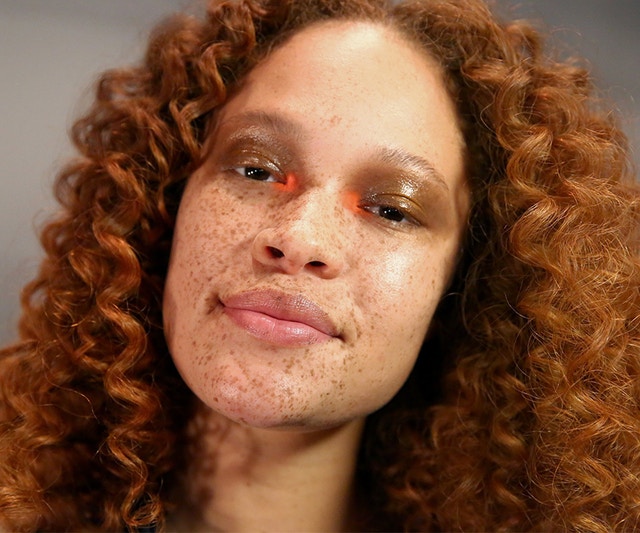 Bild: Astrid Stawiarz/Getty Images
Für Fatima Thomas, Senior Artist bei M.A.C. Cosmetics, ist die Zusammenarbeit zwischen Designer und Make-up-Artist entscheidend, wenn es darum geht, einen Beauty-Look für eine Show zu entwerfen. Thomas, die bereits für die Beauty-Looks von Chromat, Simon Miller und John Galliano verantwortlich war, "warte[t] nicht auf einen Auftrag, um Inspiration zu suchen – wir sind immer offen dafür!"
Doch auch wenn ihre Kreativität fließt, muss sie stets die Vision des Designers im Auge behalten. "Als Make-up-Artist helfe ich dem Designer, seine Geschichte für die Saison zu erzählen."
Inspiration findet Thomas überall – von der Vergangenheit über die Gegenwart bis hin zur Zukunft. "Wir schauen oft zurück, um vorwärts zu gehen und finden visuelle Elemente aus der Vergangenheit als Inspiration", sagt sie. "In die Zukunft zu blicken ist ebenfalls spannend. Natürlich beeinflusst alles, was in der Gesellschaft passiert –
Kunst, Kultur, soziale Bewegungen – zweifellos die Ästhetik. So wie ich es beobachte, scheinen sich Trends immer weiterzuentwickeln. Zum Beispiel wurden rote Lippen zu einem Trend; Make-up-Artists ließen keine Möglichkeit aus, rote Lippen zu interpretieren – matt, glänzend, verwischt, Variationen im Farbton usw. – und plötzlich stört aus dem Nichts etwas komplett Anderes den Mainstream-Fluss, zum Beispiel schwarze Lippen."
Was erwartet Thomas für den Herbst 2018? "Glitzer, Glitzer, Glitzer! Die Leute wollen allem Anschein nach glitzern und funkeln. Nicht nur beim Make-up, sondern auch in der Mode. Sehen Sie sich den Pailletten-Trend an, der in letzter Zeit aufgekommen ist. Meine Theorie ist, dass sich Menschen in Zeiten großer Angst und Unsicherheit nach Dingen sehnen, die Licht reflektieren. Wir alle wollen mehr Licht, buchstäblich und im übertragenen Sinn."
Deborah Lippmann, Gründerin und Kreativdirektorin von Deborah Lippmann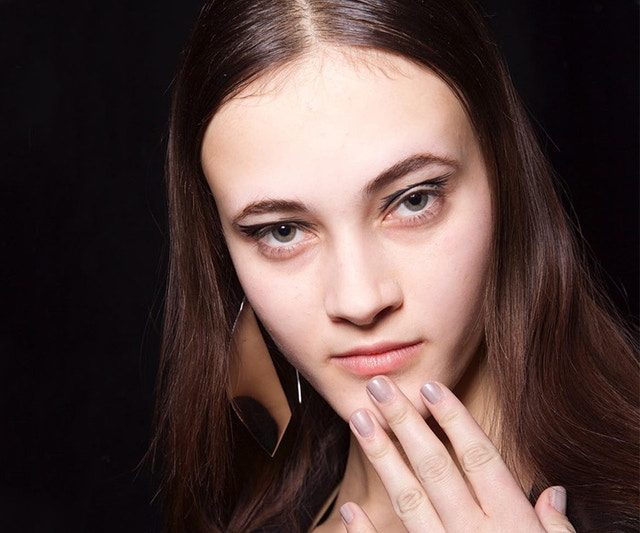 Bild:Instagram @deborahlippmann
Deborah Lippmann, Gründerin und Kreativdirektorin von Deborah Lippmann, lässt sich bei ihren Nagel-Looks von allem und jedem inspirieren. "Meine Inspiration kommt von meinen Reisen, Freunden, die Designer und kreative Genies sind, Stylisten, Fotografen, Kunden und dem Alltag. New York, wo ich wohne, treibt mich ebenfalls ständig an mit seinen Lichtern, dem Beton, dem Wasser und dem Grün des nahegelegenen Hudson River", erzählt sie.
Aber im Fashion-Monat setzt sie auf die Zusammenarbeit mit ihrem gesamten kreativen Team. Manchmal dauert es Wochen, die Looks für eine Show zu kreieren. Aber das eigentliche Ergebnis kristallisiert sich erst einige Tage vorher heraus. "Oft bekomme ich im Voraus Inspirationsboards oder Musterteile, um meiner Kreativität freien Lauf zu lassen. Aber die wahre Magie passiert bei den Proben ein paar Tage vor der Show. Der Designer startet immer mit einer Vision, wer seine Frau/sein Mann ist, aber später arbeiten wir dann zusammen, um einen außergewöhnlichen Look zu kreieren. Das ist bei weitem mein Lieblingsmoment der Fashion Week."
Lippmann ist überzeugt, dass sich der Retro-Trend der Siebziger auch 2018 fortsetzt. Warme, gedämpfte Nagellacktöne wie Rost, Olive, Bordeauxrot, Goldgelb und Marineblau ergänzen die modernen Schlaghosen, voluminösen Frisuren und Plateaus, die sie für den Herbst erwartet. "Es wird sehr erdig, ein gealteter Used-Look", sagt sie. "Denken Sie an Bronze, schmutzige Metalle und tonähnliche Farben."
Grace Lee, Global Make-up-Artist bei Maybelline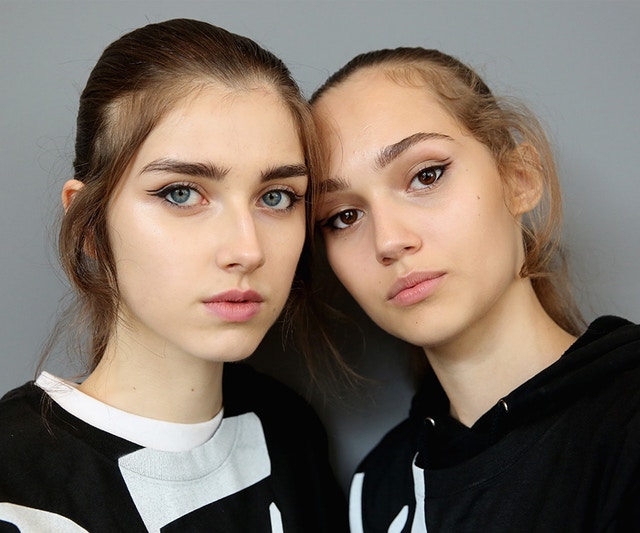 Bild: Monica Schipper/Getty Images
Grace Lee, Global Make-up-Artist bei Maybelline hat bereits für die Shows von Opening Ceremony, Monse und Public School gearbeitet. Sie sieht sich zunächst die Inspiration des Designers an, um ihre eigene Kreativität zu entfachen. "Ich höre mir immer gerne an, was die Designer inspiriert hat, da es viel mit Stimmungen, Farben, Tönen und Stoffen zu tun hat", sagt sie. Von da an kreiert sie Looks, mit denen sich sowohl die Designer als auch sie selbst identifizieren können.
Und was glaubt Lee, was wir im Herbst mehr sehen werden? "Ich hoffe immer auf etwas, das anders ist. Zum Beispiel eine Ombré-Lippe oder eine eher dreidimensionale Lippe."