NYLON Gift Guide: Über diese Geschenke freut sich der gesamte Freundeskreis
Von Fitness-Guru bis Softie Girl: Unsere Freunde sind oft ganz verschieden gestrickt. Das macht die Geschenke-Suche nicht immer leicht. Rettung naht! In unserer Mini-Serie "NYLON Gift Guide" geben wir euch die besten Tipps für Geschenke für den Freundeskreis – heute für die unterschiedlichsten Freundestypen.
Oft ist es schwer, für Freunde ein passendes Geschenk zu finden. Vor allem, wenn es eine ganze Gruppe ist. Und vor allem dann, wenn sie sich alle in irgendeiner Eigenschaft ähneln und doch so unterschiedlich sind. Wäre ja auch langweilig, wenn jeder das Gleiche mögen würde, schon klar – nur erschwert das leider eben die Geschenksuche. Damit du nun endlich das Grübeln sein lassen kannst, haben wir ein paar tolle Geschenke für den Freundeskreis herausgesucht – für Freunde, die jeder hat.
Für den DJ-Nachwuchs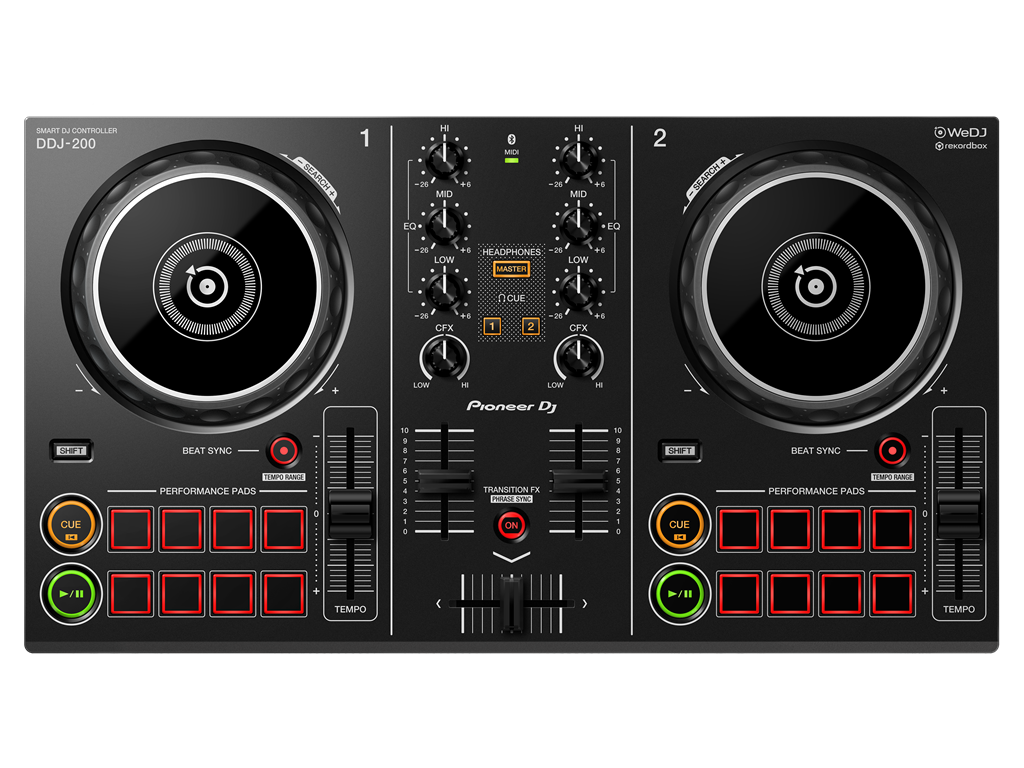 159 Euro kostet der Einstieg ins DJ-Leben: Der Smart Controller DDJ-200 von Pioneer
Jeder hat doch den einen Menschen im Freundeskreis, der jede Party mit seinem Musikgeschmack rockt. Damit das aber künftig nicht per YouTube-Einzeleingabe passieren muss, gibt's von Pioneer den Einsteiger-Controller für Nachwuchs-DJs. Damit gelingen saubere Übergänge und coole Remixe – und das Handling ist super easy: Man verbindet sich via Bluetooth- und App-Verbindung und koppelt's an  iPhone oder iPad. Und dann sucht man sich seine Lieblingstracks aus der ITunes-Mediathek oder bei Spotify, SoundCloud Go+ oder Beatport LINK. Und play! Oder sollten wir gleich sagen: DJ, turn the music up!

Loud & colorful: Für Kunstfans
Wie wärs: Statt Sleepover könntet ihr als Freundeskreis doch mal eine kreative Nacht einläuten. Denn euer creative Girl ist laut, bunt und ausgelassen, also verdient sie auch das passende Geschenk: Einen Gutschein für die ArtNight in eurer Stadt. Profis oder Anfänger – jeder kann über die ArtNight-Website eine Veranstaltung buchen und der eigenen künstlerischen Ader hier freien Raum lassen.
Crazy Peeps: Für Risiko-Junkies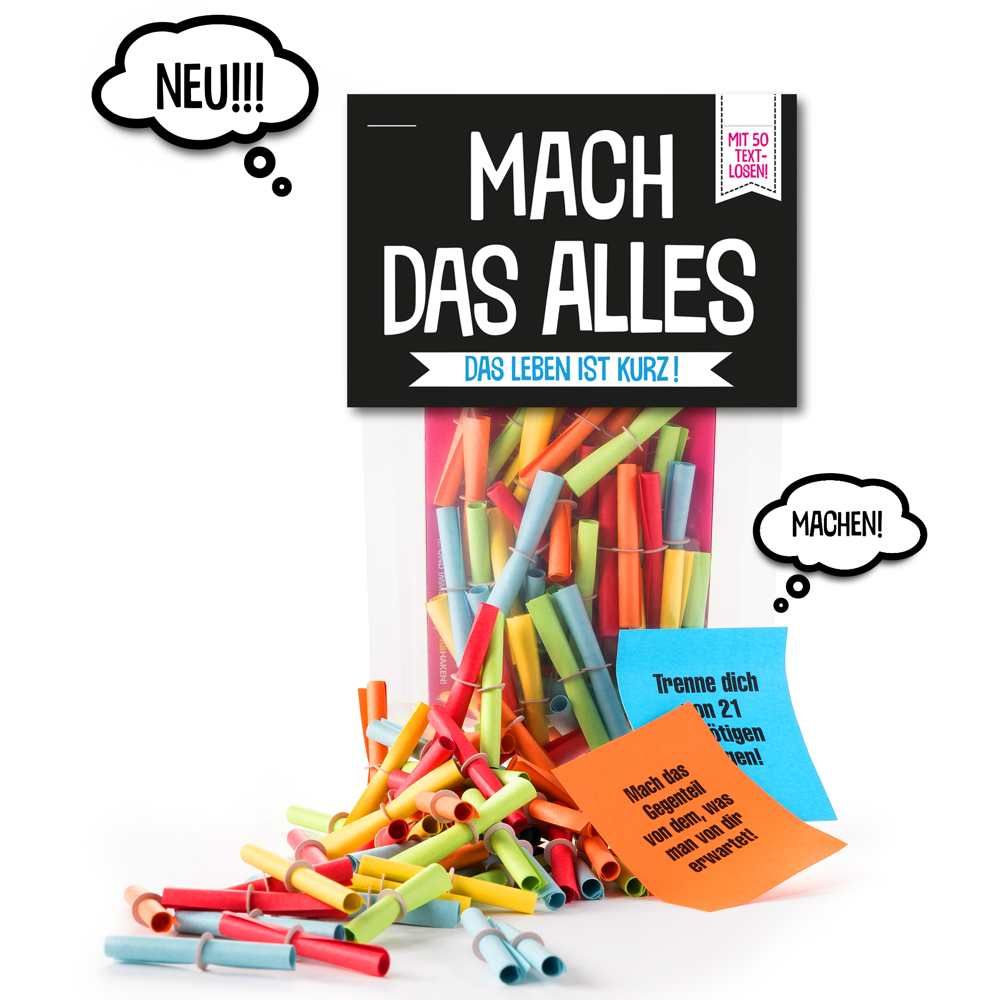 Losbox "Mach das Alles", ca. 12 € über geschenkefuerfreunde.de // Bild: Geschenke Für Freunde
"Nachts um halb 3 Uhr auf ein Hausdach klettern und Sterne beobachten? Wieso stehen wir hier überhaupt noch rum?" So ein Statement könnte doch vom typical crazy Dude aus deiner Freundesgruppe kommen, oder? Ein wenig lebensmüde und ganz schön wagemutig schlendert diese Person durchs Leben. Was schenkt man also solchen Freunden? Am Besten ein genau so verrücktes Geschenk: 50 Lose mit spannenden Aufgaben zum auslassen aus der "Mach das Alles"-Box. Have fun!
Fitness or Fitness: Für Fitness-Gurus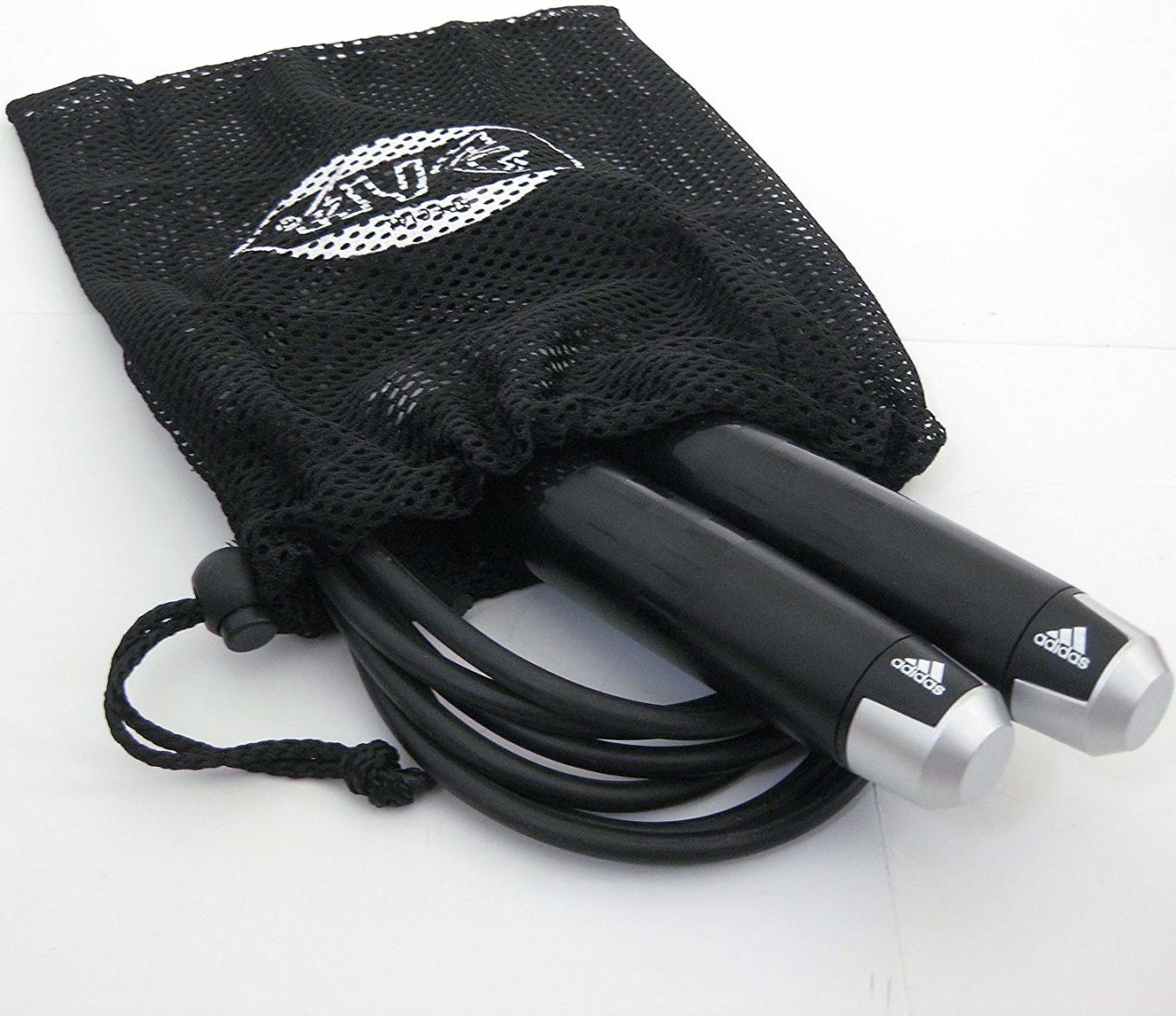 Skipping Rope & Mesh Beutel, ca. 20 €, von adidas über amazon.com // Bild: Amazon
Sport, Sport und nochmal Sport: Manchmal fragt man sich, ob diese Person nicht noch etwas anderes als Fitness im Kopf hat. Aber irgendwie auch bewundernswert, so ein Durchhaltevermögen. Wie wäre es mit einem Profi Springseil von adidas als Geschenk für einen Fitness-Guru, um das Kardio-Training zu perfektionieren? Kleiner Tipp: Egal was genau du verschenkst, jeder aktive Mensch freut sich über neues Equipment.
Classic Calm: Das Softie-Girl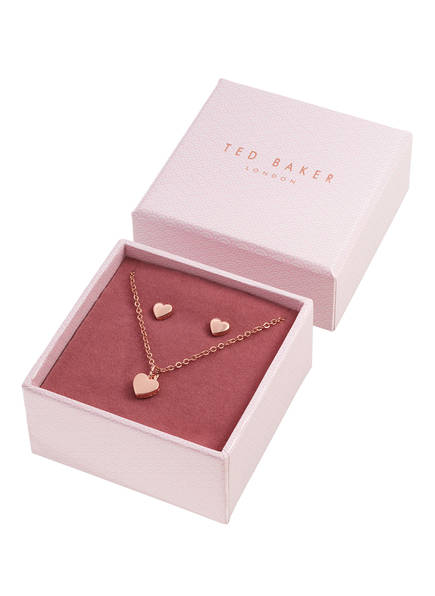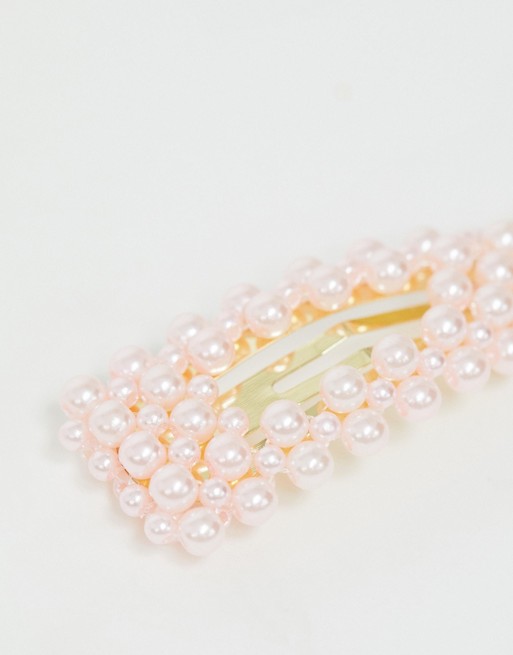 Set "Amoria" von Ted Baker, über Breuninger, ca. 65 €, große Haarspange von Pieces über Asos, ca. 7 € // Bilder: Breuninger/Asos
Auch in jedem Freundeskreis zu finden: das Softie-Girl. Mit leichten Pastellfarben und minimalistischem Schmuck bekleidet hört sie Balladen und ist ein wenig schüchtern. Truth be told: Jede Gang braucht ein Klischee-Softie! Und um ihren Look zu vollenden, sind cute Accessoires genau das Richtige. Das Ohrring- und Kettenset von Ted Baker udn die große Haarspange mit Perlendesign von Asos sind mit in ihren Roségold- und Pastellfarben perfekt für jedes Softie-Outfit und somit das Weihnachtsgeschenk schlecht hin.
Party hard, party safe: Der Partygänger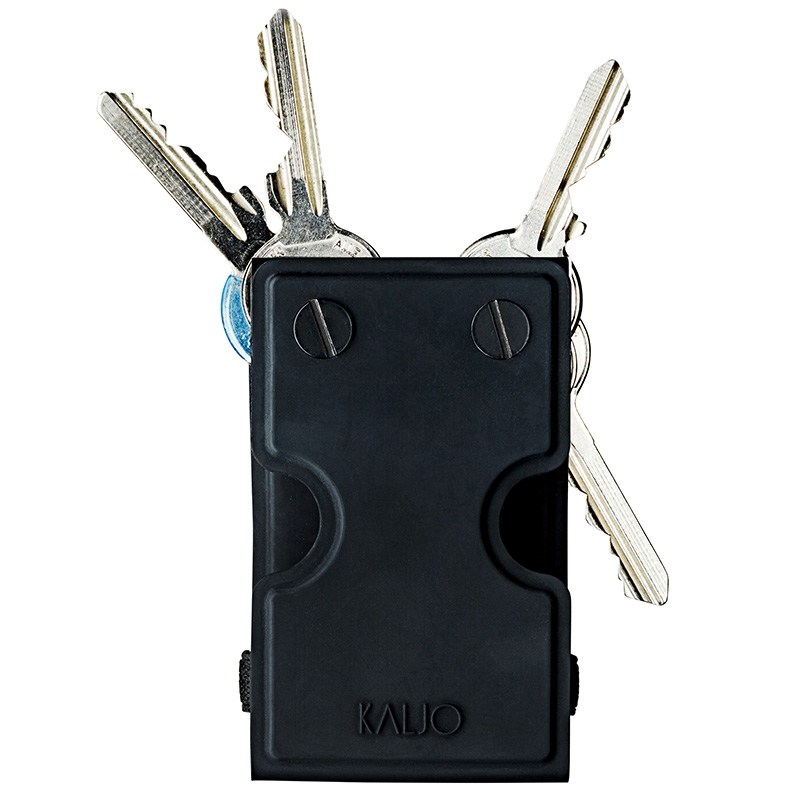 Smart Wallte für Schlüssel, Karten und Geld von Kaljo über enjoyyourbike.com, ca. 10 € // Bild: Kaljo/Enjoy Your Bike 
Am Wochenende ausgehen macht nur solange Spaß, bis man Morgens mit einem Filmriss auf dem Fußboden aufwacht. Geld weg, Handy weg, Schlüssel weg. Okay, das ist vielleicht der Worst Case und muss nicht immer so sein. Die Partygänger aus deinem Freundeskreis, denen das schon passiert ist haben aber Glück, denn du hast das perfekte Geschenk. Das All-In-One Small Wallet von Kaljo für Karten, Geld und Schlüssel. So steht eurer nächsten Feier nichts mehr im Weg! (Bleibt trotzdem safe.)
Attention, Fashion Fans: Für Magazin-LeserInnen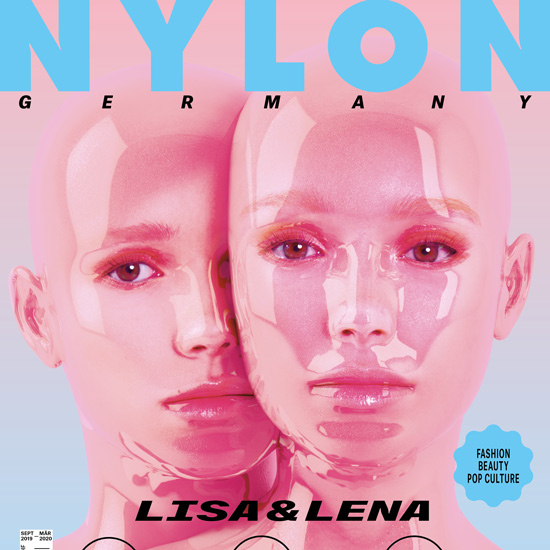 Trends, Fashion-Weeks und Mode-Magazine – das ist die Welt der oder des Beschenkten? Welches Geschenk würde da also besser passen, als die letzten Ausgaben unserer NYLON Germany? Hier könnt ihr eurem Fashion-Lover alle Magazin-Ausgaben ganz easy nach Hause bestellen.