Analog Kids
Wir erkunden die kulturelle Institution namens Musikkassette.
Fotos: Ricky Michiels // Text: Emily Zemler
Manche von uns erinnern sich noch daran wie das ist, eine Ace of Base Kassette in den Walkman zu stecken, mit seiner begrenzten Batterielaufzeit und seinem kniffeligen Rückspulknopf. Oder an unseren Finger, wie er über dem Knopf schwebt, während der Radiomoderator die neue Single von Gin Blossoms ansagt, bereit dazu, genau im richtigen Moment auf "record" zu drücken. Damals waren Mixtapes noch reale, physische Dinge, die man von Hand zu Hand herumgereicht hat, anstelle von Dateien, die von Harddrive zu Harddrive wandern, nur um dann vergessene Artefakte früherer Beziehungen, verstrichener Momente zu werden. Aber hier geht es nicht nur um Nostalgie.
Die heutigen großen Musik-Fans haben nicht alle die 80er erlebt, und doch sind Musikkassetten wieder Teil der Popkultur geworden, eine erfrischende Art, ein Album zu erleben – sogar die Single-Kassette erlebt ein Revival. Und es ist auch keine Randerscheinung: Künstler wie Beck, Green Day, Weezer, Kanye West, Halsey und The Weeknd haben alle Alben auf MCs herausgebracht.
Es mag unwahrscheinlich wirken, dass Kassetten als Audio-Medium wieder aufkommen, besonders, wenn man ihre kurze Historie bedenkt. In den 1960ern erfunden und der Öffentlichkeit zuerst in den späten 1970ern vorgestellt, waren Kassetten eine tragbarere Alternative zu Schallplatten. Es gab allerdings eine anhaltende Diskussion über ihre Tonqualität und Langlebigkeit (du kannst von Glück reden, wenn du nie eine frustrierte Stunde damit verbringen musstest, eine defekte Kassette mit einem Bleistift wieder aufzuspulen). Und obwohl die Verkäufe von Musikkassetten die von Schallplatten in den frühen 1980ern klar übertroffen haben – besonders Dank des Walkmans und der Boombox – blieb unter Musikliebhabern die Sorge, dass Kassetten nicht in der Lage waren, einen Song in bester Qualität abzuspielen. Die Verkäufe von Kassetten erreichten Mitte der 80er ihren Höhepunkt, in den frühen 90ern hatten CDs den Markt übernommen, Kassettenspieler und Walkmans wurden schnell von Discmans und dem angesagten Multi-Disc-Player ersetzt. Im Jahr 2001 machten Kassetten nur noch 4 Prozent aller verkauften Musik aus. Es war das Ende einer Ära.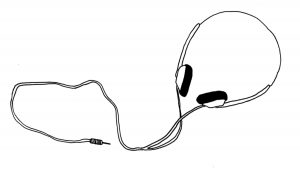 Doch selbst als die MC bei den Plattenlabels, Künstlern und der breiten Öffentlichkeit an Popularität verlor, ist die Idee der Kassette – und besonders des Mixtapes – nicht gestorben. Die Reise von den selbst gebrannten CDs der 90er- und frühen Nullerjahre bis zu heutigen digitalen Playlists, die wir über Spotify und andere Dienste teilen, kann man als Suche nach dem spirituellen Nachfolger der Mixtapes verstehen. Ein andauernder Versuch, ihre Magie in einer technisch weiter entwickelten Welt wieder zum Leben zu erwecken. Das Erbe des Mixtapes findet sich auch in der Hip-Hop-Szene, die diesen Begriff immer noch benutzt, um Aufnahmen zu bezeichnen, die außerhalb der Musikindustrie entstanden sind – demokratischere, persönlichere und kollektive Projekte, wie sie zum Beispiel die Karrieren von Künstlern wie Tinashe und Drake in Gang gesetzt haben. Und ganz zu schweigen von den zahllosen Auftritten, die das Mixtape in Filmen gehabt hat – von Rob Gordons Regeln für die "subtile Kunst" der Musikzusammenstellung in "High Fidelity" über den Beatles-Mix in "Boyhood" der Mason Jr. an seinem 15. Geburtstag vermacht wird, bis zur Sammlung von Songs, die James Em in "Adventureland" schenkt. Die Kassette hat uns, was unsere gemeinsame Erinnerung betrifft, also nie ganz verlassen.
Also ergibt es vielleicht total Sinn, dass circa 2012 etwas Interessantes passiert ist: Kassetten tauchten plötzlich wieder auf, als zeitgenössische Künstler und Konsumenten gleichermaßen nach einer Möglichkeit suchten, unsere Art der Musikveröffentlichung und des Musikhörens wieder abwechslungsreicher zu machen – und eine Antwort in Kassetten fanden. Händler reagierten auf diese Nachfrage. Urban Outfitters, zum Beispiel, nahm Kassetten in seine Stores auf, als Erweiterung der "UO Mixtape Initiative", ein kostenloses monatliches kuratiertes Tape.
"Urban Outfitters hat das Wiederaufkommen der Kassetten als Möglichkeit angesehen, up-and-coming und bislang unbekannte Künstler zu promoten, und diesen Künstlern und ihren Labels Feedback aus den Stores und der Community zu geben", erklärt Dryw Scully, Director of Music Curation bei Urban Outfitters. "Veröffentlichungen sind auf Kassette in der Regel früher als auf Vinyl erhältlich, also haben unsere Kunden eine Chance, noch früher an die Releases ranzukommen. Kassetten waren – neben Platten – ein logischer Schritt, unsere Musikinitiativen zu verlängern. Außerdem bieten uns Kassetten eine Möglichkeit, etwas zum Sammeln für unsere Musikkunden bei UO anzubieten."
Burger Records macht seit 2007 Kassetten. Damals veröffentlichten sie ein Album von Thee Makeout Party! auf MC. Das Argument war einfach: "Wir haben es rausgebracht, damit wir alle Formate anbieten", sagt Sean Bohrman, Co-Gründer des Labels. "Nachdem wir die Kassette herausgebracht hatten, wurde uns klar, dass es keine unserer liebsten Alben auf Tape gab. Also haben wir angefangen, es auch für andere Bands zu machen."
Für Bohrman sind Kassetten kein Trend. Der Wert einer MC liegt darin, dem Musikfan eine weitere Möglichkeit zu bieten, Musik zu hören, egal, ob es gerade angesagt ist oder nicht. "Wenn deine primäre Art, Musik zu hören, der Kassettenspieler in deinem Auto ist, dann sollte man deshalb nicht auf dich herabschauen", sagt er. "Ich habe mein ganzes Leben lang Tapes gehört. Also ist es keine Modeerscheinung."
Das neueste Album des Schwesternduos Bleached aus L.A., Welcome the Worms, ist bei Burger Records auf Tape erschienen, und für Jen Clavin, die Sängerin und Gitarristin, war das unumgänglich. "Ich habe in meiner Jugend immer Kassetten gehört", sagt sie. "Mein erstes Auto war ein vintage Nova aus dem Jahr 1973, der nur ein AM-Radio hatte. Also hatte ich eine Boom Box im Auto, mit der wir Kassetten gehört haben, die ich in Second-Hand-Shops gefunden habe. Als wir die Möglichkeit hatten, unser Album auf Kassette rauszubringen, gab es keine Zweifel."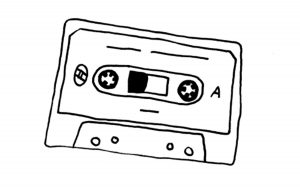 Als Musikerin macht sich Clavin keine Sorgen um die Tonqualität von Kassetten, und Bleached hat am Mix oder Mastering ihres Albums für die Kassette nichts geändert. "Die Qualität ist nicht so hoch, deshalb lässt die Kassette unsere Musik älter und mehr lo-fi klingen", bemerkt sie. "Da liegt der Unterschied: Die meiste Musik wird digital aufgenommen oder auf hochwertigen, breiten Tapes. Ein Kassetten-Tape ist viel schmaler, also musst du den ganzen Sound auf so wenig Platz zusammenbringen. Aber letztlich bekommst du einen Sound, den du nur so kreieren kannst und der ein bisschen klassischer klingt."
Tatsächlich behauptet Steve Stepp, Präsident von National Audio Company, dem größten verbleibenden Hersteller von Kassetten in den USA, dass Kassetten uns etwas geben können, das MP3 nicht können. "Der analoge Sound einer Kassette ist eine tatsächliche Aufnahme einer musikalischen Performance mit den vollen Harmonien und einer Wärme oder einem Live-Sound, der bei digitalen Aufnahmen unmöglich ist", sagt er. "Die Welt ist analog und dasselbe gilt für unsere Ohren".
Auch er denkt nicht, dass die Kassette bloss eine vorübergehende Modeerscheinung ist – und hat die passenden Zahlen parat. Von 2008 bis 2014 haben sich die Kassettenverkäufe der National Audio Company um 20 Prozent erhöht. Und im Jahr 2015 sind die Verkäufe um 31 Prozent im Vergleich zum Vorjahr gestiegen. Er schreibt einen Großteil dieser Verkäufe den Hörern unter 35 zu. Jedoch, fügt Stepp schnell hinzu, gibt es nicht einen Typ Hörer von Kassetten-Tapes. "Wenn Kassetten nur eine Hipster-Mode sind, dann besteht die ganze Welt aus Hipstern", sagt er. "Wir bedienen einen weltweiten Markt mit allen Arten von Musik und anderen Aufnahmen."
Also ja, die Popularität der Kassetten ist nach Jahren wieder gestiegen, aber Firmen wie Urban Outfitters und Burger wollen weiterhin eine Community von Musikfans kultivieren, die sich ein greifbareres – und unterhaltsames – Medium zum Musikhören wünschen.
"Kassetten fühlen sich einfach zeitgemäß an. Immer mehr Indie Bands bringen ihre neuesten Album in diesem Format raus", sagt Scully. "Die Tatsache, dass sie nur in limitierter Auflage produziert werden, macht die MC zu einem Sammelobjekt für den leidenschaftlichen Fan. Musikkonsum ist durch Streaming-Dienste eine sehr digitale Erfahrung geworden, deshalb sehen wir die Kassette in dieser Hinsicht als sehr besonders an. Wir haben das Gefühl, dass sie der Popularität von Vinyl folgt, als haptische, persönliche Musikerfahrung."
Also holt euren alten Walkman wieder raus, wechselt die Batterien und legt ein Tape ein. Wir werden euch ganz sicher nicht verurteilen, selbst wenn es von Ace of Base ist.