Sneaker von Millie Bobby Brown & Matches auf dem Catwalk: Fashion News der Woche
In dieser Woche schauen wir in den Fashion News herab: Die beliebtesten Sneaker von Millie Bobby Brown bis hin zu Designs des Fresh Prince of Bel Air, alles dreht sich alles um Schuhe. Außerdem: Virtuelle Catwalks und Dating-Matches auf dem Laufsteg! It's wild.
Sneaker von Millie Bobby Brown –  Converse x Millie By You
Manchmal müssen wir uns einfach noch einmal vor Augen halten, dass Mrs. Brown gerade einmal 15 Jahre alt ist und schon Sneaker designt. Während andere mit 15 vielleicht gerade mal gelangweilt den eigenen College-Block in der Schule "customizen", haut Millie Bobby Brown gleich eine ganze Sneaker Kollektion mit Converse raus. Das Beste daran: Egal ob wir nun selbst noch 15 sind oder nicht – mit ihrer Kollektion gibt Millie jedem von uns die Möglichkeit, in ihre Haut zu schlüpfen. Oder in ihren Schuh. Für ihre Kollektion hat Millie zehn verschiedene Pastell-Farben und Muster zur Verfügung gestellt, die von ihrer Liebe für den Ozean inspiriert sind. Ob High-Top oder Low-Cut, jeder Schuh kann individuell gestaltet werden. Und für diejenigen, die ganz besonders picky sind, haben Millie und Converse auch an die kleinsten Details gedacht: Selbst das Etikett und die Zunge der Sneaker könnt ihr individuell anpassen. Trifft sich gut, denn so wählerisch waren mit 15 definitiv – und sind es vielleicht immer noch. Feel you, Millie.
Bye, bye, classic Front Row: Erste rein virtuelle Fashion Show in Paris
Sieh dir diesen Beitrag auf Instagram an
Ein Triumph für Internet Culture, ein Schock für die Front Row Liebhaber: Nach virtuellen Influencern à la Lil' Miquela & Co finden jetzt auch Fashion Shows virtuell statt – jedenfalls wenn es nach dem Künstlerinnenduo Trashy Muse aus Berlin geht. Im Rahmen der Paris Fashion Week haben sie in der Galerie EP7 ihre erste Augmented Reality Modenschau inklusive virtueller Avatare als Models präsentiert. Wie Gunseli Yalcinkaya in einem längeren Feature für Dazed berichtet, haben dazu circa hundert Collab-Partner aus dem Netzwerk des Duos beigetragen – darunter auch Marcel Constantin Wilkens aka @e.memories, der für uns schon Traumwelten mit Sneaker-Styles umgesetzt und die Insta-Community mit verschiedenen Face-Filtern versorgt hat, oder das Pariser Studio NDA oder Samy La Crapule (Video oben). Auf dem virtuellen Laufsteg, der in Paris auf mehreren riesigen Bildschirmen gezeigt wurde, trugen die Avatare dann die ausgewählten Designs von zehn Künstlern, darunter Trashy Muse selbst. Absoluter Bonus: Obwohl einzelne Entwürfe an echten Kleidungsstücken orientiert waren, sind in den virtuellen Designs in Sachen Material, Farbe und Wearability keine Grenzen gesetzt. Und noch was: So ganz nebenbei räumt das Konzept der digitalen Modenschau doch auch Front-Row-FOMO aus dem Weg, oder nicht? Alle teilnehmenden Künstler findet ihr in einem Video im oben verlinkten Beitrag von Dazed.
Fresh Kicks: Das sind die 5 beliebtesten Sneaker aus "Fresh Prince of Bel Air"
Zugegeben, wären zur Serie "Fresh Prince of Bel Air" zuallererst seine Sneaker eingefallen? Ja? Okay, our bad. Nicht etwa, dass wir die Schuhwahl des jungen Will Smith als total irrelevant einordnen würden, aber die Serie beweist eben auf so ziemlich allen Levels Kult-Status. Und scheinbar haben wir den Prince in Sachen Sneaker unterschätzt: Die Resell-Plattform StockX hat gleich die fünf beliebtesten Modelle der Serie zusammengestellt. Spoiler Alert: Darunter sind ausschließlich Nike Air Jordans. Den Anfang macht traditionell das Modell, das Will Smith schon in der allerersten Folge trug: Der "Jordan 5 OG Black Metallic". Weiter geht's mit dem "Jordan 5 Retro Grape Prince" (zu Will Smith 50stem Geburtstag neu aufgelegt), dem "Jordan 7 OG Hare", dem "Jordan 7 OG "Cardinal" und dem "Jordan 11 OG Columbia" aus Folge 143. Und wenn wir uns die Modelle mal so ansehen, hätten wir nicht nur Bock, direkt am Wochenende nochmal alle Staffeln der Serie zu bingen – sondern den Fresh Prince auch mit in unser Styling-Moodboard aufzunehmen.
Date mit dem Laufsteg: Stine Goya x Bumble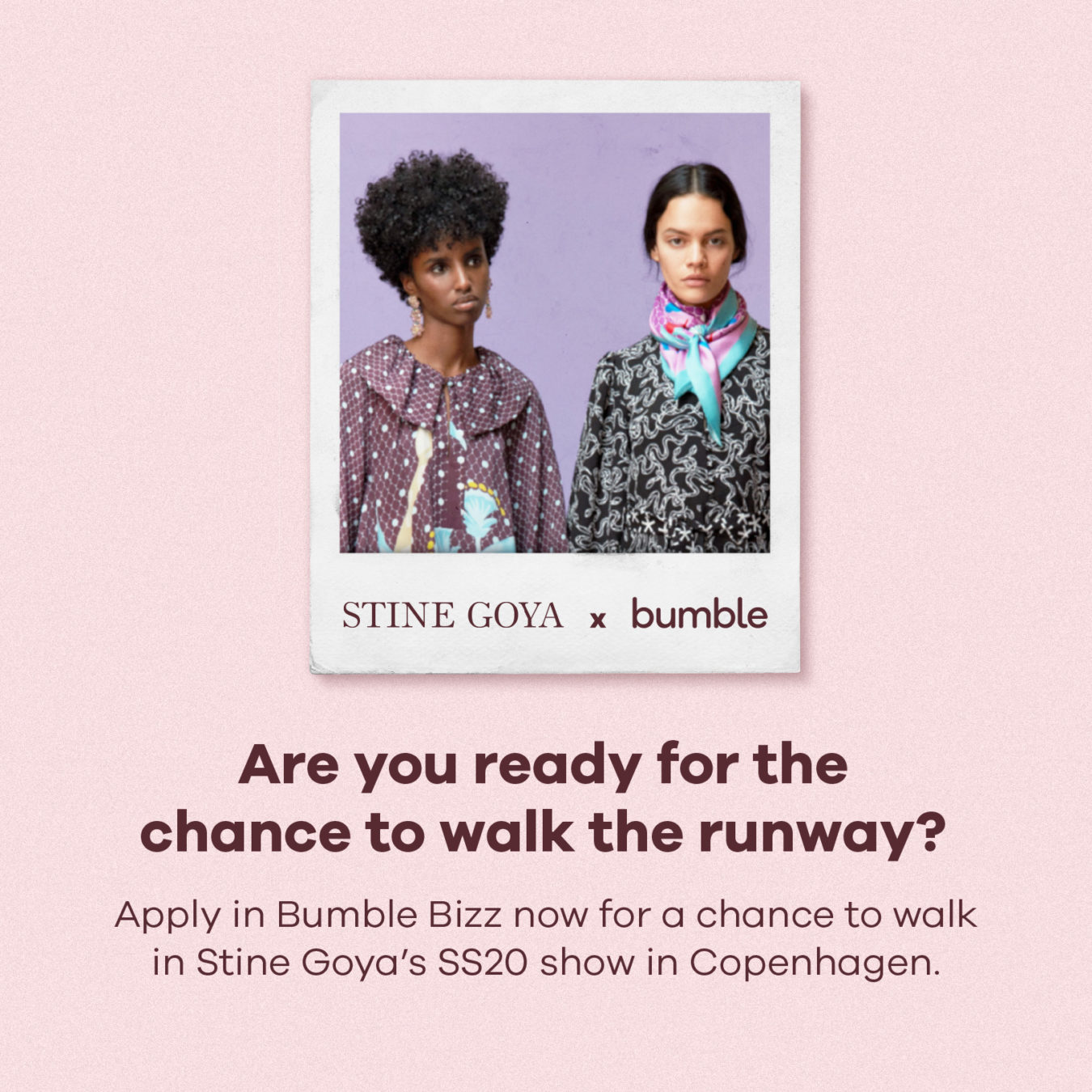 Und hier noch so ein Fall aus der "wer-hätte-das-gedacht"-Kiste: Die Anmeldung bei einer Dating-App könnte euch nun ziemlich schnell auf den internationalen Laufsteg befördern. Wer sich jetzt schon in Pose wirft und panisch die eigene Bildauswahl noch einmal über den Haufen wirft, darf sich aber entspannen. Bei der Collab des dänischen Modelabels Stine Goya mit der Dating- und Networking-App Bumble geht es nämlich vor allem um folgende Buzzwords: Mehr Diversity, mehr Gleichberechtigung und ein neuer Status Quo von Schönheit.  Zur Kopenhagener Fashion Week im August erhalten fünf Bumble-Nutzerinnen aus sechs europäischen Ländern die Möglichkeit, bei der Spring/Summer 2020 Show von Stine Goya am 8. August mitzulaufen. Wer also den Schritt auf den Catwalk kaum erwarten kann, muss über die Bumble App bei Bumble Bizz lediglich ein kurzes Formular ausfüllen und die eigenen Ansichten zu Divsersität in der Modeindustrie schildern. Die Bewerbungen laufen vom 16.-23. Juli, zu gewinnen gibt es neben dem Laufsteg-Auftritt noch einen Besuch im Showroom und ein komplettes Outfit der Marke. Und wer weiß, vielleicht ergibt sich obendrein ja noch ein dänisches Date? Fingers crossed.
Von Muschel-Schmuck zu Flammen-Sneaker: WALD x DJINNS
Wenn man schon einen Store in Berlin-Mitte hatte, daraus einen Online-Shop gemacht hat und zu (nachhaltigem!) Schmuckdesign übergangen ist, was fehlt dann noch auf der ultimativen Bucket-List von Designer-Duos? Eine Frage, die sich auch das Duo hinter dem Label WALD Berlin stellen könnte. Die Antwort für Stylistin Dana Roski und Model Joyce Binneboese lautet: 'Ne Collab. Für ihren neuesten Coup verlassen die Beiden deshalb erneut ihre Comfort-Zone und widmen sich mit dem Sneakerhersteller DJINNS dem Thema Schuhdesign. Dabei entstanden ist ein High-Top-Sneaker, der den sportlichen Style des Schuhs mit mehr Fashion-Appeal verbinden soll. In der Praxis bedeutet das einen transparenten seitlichen Einsatz mit aufgenähter Flammenapplikation plus Sohle eines Männersneakers. Releast wurde das Schuh-Unikat schon zum Ende der Berlin Fashion Week, gleichzeitig hat es für die Mädels hinter WALD Berlin aber grundsätzlich neue Türen geöffnet. Dann wäre der nächste Punkt auf der Bucket List vielleicht eine ganze Sneaker-Kollektion? Pls update us.