"Lady Bird" zeigt, warum Filme über junge Frauen für alle sind
Können wir jetzt aufhören, diese Filme "Chick Flicks" zu nennen? Kleine Meisterwerke wie "Lady Bird" sind für alle gedacht – Männer und Frauen.
Text: Andrea Kinnison // Foto: Getty Images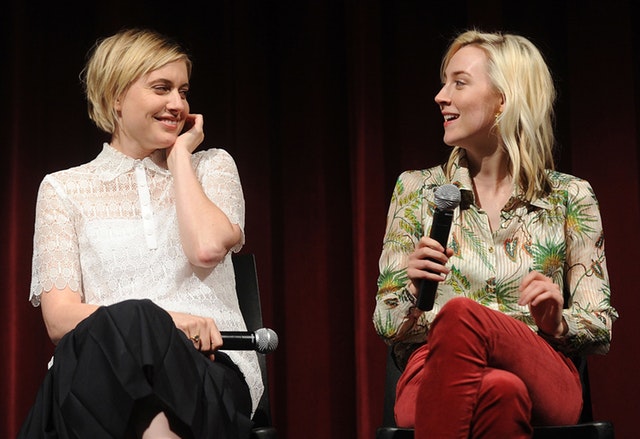 Nicht nur, dass Greta Gerwigs Film "Lady Bird" eine Nominierung in der Kategorie "Filme die euch dazu bringen eure Mutter anzurufen und ihr zu sagen, dass ihr sie liebt'' erhalten hat (von uns), er hat sich auch in der Rezension von Rotten Tomatoes gegen "Toy Story 2" durchgesetzt und ist einer der bestbewerteten Filme aller Zeiten.
Aller Zeiten! Dieser Meilenstein bedeutet – im Gegensatz zur verbreiteten Meinung in Hollywood – dass jeder daran interessiert ist, Filme von und mit Frauen zu sehen.
Niemals zuvor hat ein Film über eine heranwachsende junge Frau so viel Aufmerksamkeit und Anerkennung erhalten.
Genau in dem Moment, als man davon ausging, Hollywood würde weiterhin ausschließlich traurige, weiße Männer ermutigen, ihre Geschichten zu erzählen (500 Days Of Summer, Manchester By The Sea, Inside Llewyn Davis, Her… wir hören hiermit mal auf, es sind zu viele), kam dieser Film heraus, der sich nicht nur auf schöne Art und Weise mit einer weiblichen Coming-Of-Age Geschichte befasst, sondern auch von Kritikern gelobt und vom Publikum geliebt wird.
Die Bewertung von Rotten Tomatoes ist nicht nur ein Anzeichen dafür, dass es sich um einen wirklich guten Film handelt, sondern auch dafür, dass Menschen endlich realisiert haben, dass Filme über Frauen von Frauen für alle gedacht sind.
Natürlich war Gerwigs Reaktion auf die Neuigkeiten genauso charmant wie sie selbst:
"Es ist so aufregend, denn du steckst so viel in diesen einen Film … dass du dann am Ende diese Reaktionen reflektiert bekommst, ist atemberaubend."
Es ist atemberaubend. Vor zehn Jahren (ehrlich gesagt sogar weniger) hätte ein Film über eine Teenagerin, die zum ersten Mal ausgeht, sich verliebt und sich mit ihrer Mutter streitet, voreilig den Stempel eines "Chick Flicks" erhalten. Während Filme mit männlichen Protagonisten so eingestuft werden, dass sie für alle, Mann und Frau, sehenswert sind, wurden Filme mit dem Fokus auf die weiblichen Protagonistinnen in der Vergangenheit als "Frauenfilme" deklariert. Auch die erfolgreichen (und lustigen) Filme wie "Brautalarm" konnten keine Daseinsberechtigung als Komödie erzielen, sondern mussten sich damit abfinden, in der Kategorie "Frauenfilme (Chick Flicks) für Männer" zu landen.
Hollywood bewegt sich. Die Industrie braucht in vielerlei Hinsicht natürlich noch Veränderung und Fortschritt, aber der Erfolg von "Lady Bird" ist trotzdem ein Schritt in die richtige Richtung, weil man sich endlich dafür interessiert, was Frauen zu erzählen haben.
"Wonder Woman" hat bewiesen, dass das Publikum Frauen in starken Rollen sehen möchte; "Lady Bird" geht noch einen Schritt weiter. Die Reaktion auf den Film zeigt auf, dass Menschen sich auch für zurückgezogene Szenen, die die Entwicklung einer jungen Frau zeigen, begeistern können.
(Oh, und nicht, dass wir es vergessen: Ruft eure Mutter an.)