Welche Figur aus Gilmore Girls passt zu euren Sternzeichen?
Fühlt ihr euch in eurer Familie wie ein Alien, so wie Lorelai? Seid ihr organisiert, aber auch wild, so wie Rory? Oder seid ihr ständig in Arbeit versunken, ganz wie Suki? Wir haben analysiert, welche Figur aus Gilmore Girls zu welchem Sternzeichen passt. Ab nach Star's Hollow!
Als ich anfing, diesen Artikel darüber zu schreiben, welche Figur aus Gilmore Girls welchem Sternzeichen entspricht, hatte ich bereits mit einem gründlichen Re-Watching der Serie begonnen. Im Nachhinein kann ich dafür nur psychische Gründe nennen und natürlich, dass die erste Folge der Serie in diesem Jahr in 20-jähriges Jubiläum feiert. Um des Genres willen habe ich die Figuren mit einem der 12 Tierkreiszeichen gepaart. Ohne Wiederholung, versteht sich. Da ich aber Perfektionistin bin, ist es meine Pflicht, euch zu sagen, dass diese Zeichen genauso gut in Gruppen zusammengefasst werden können. Heißt, manche Zeichen könnten durchaus mehrfach vorkommen. Zwillings- und Waage-Energien sind in dieser Serie, wo geistige Energie auf fast unnötigem Level verbraucht wird, im Überfluss vorhanden. Auch der Steinbock spielt bei all dem Fokus auf altem Geld und dem Wirbel um "Society" eine große Rolle. In einigen Fällen werde ich aus genau diesem Grund mal auf den Aszendenten oder das Mondzeichen ausweichen müssen.
Eine Figur aus Gilmore Girls, eine Wahrheit: Diese Charaktere passen zu euren Sternzeichen
Nach sieben Staffeln und der Mini-Verlängerung "Gilmore Girls: A Year in the Life" von 2016 bin ich immer noch verwirrt darüber, warum eine Show mit so vielen intelligenten Figuren so viele homophobe Bemerkungen und einen Mangel an POC-Figuren haben sollte. Dennoch bin ich bereit, euch die Astro-Wahrheit zu präsentieren. Hier sind die Sternzeichen für jede Figur aus "Gilmore Girls".
Wassermann: Lorelai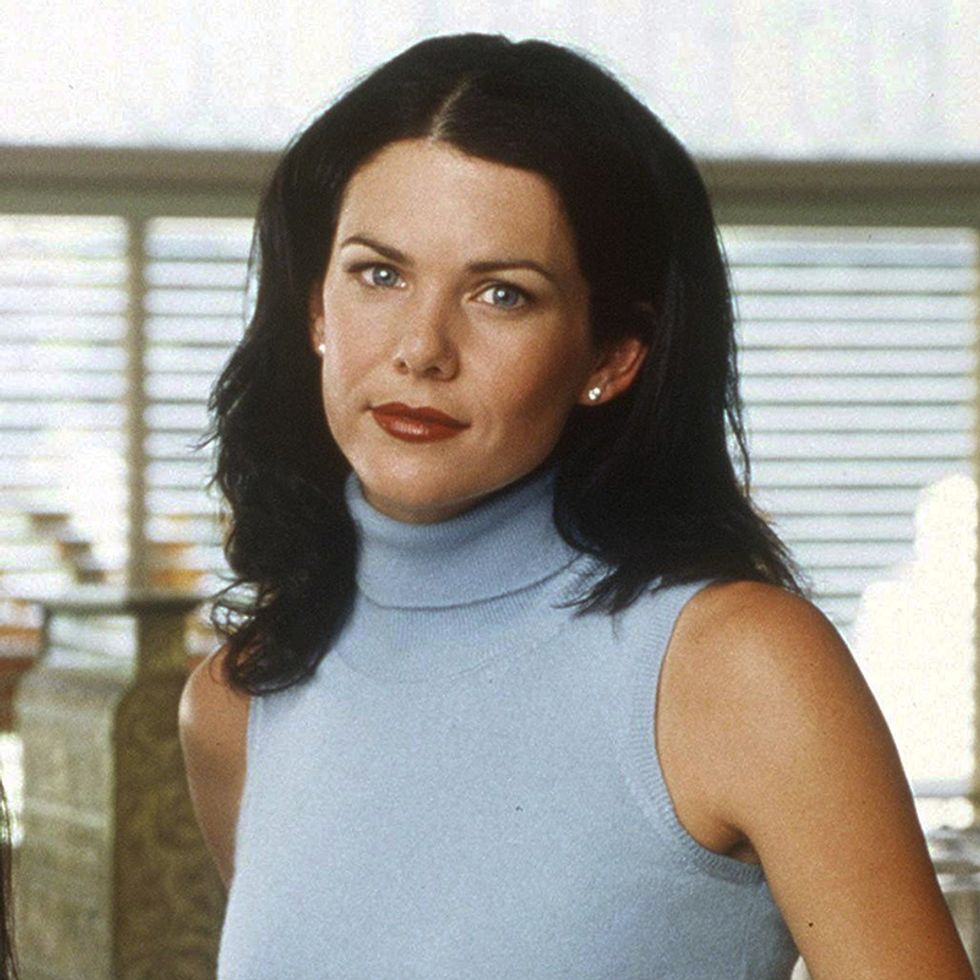 Foto: Frank Ockenfels/Warner Bros. TV/Kobal/Shutterstock via NYLON.com
Jeder weiß, dass Lorelai als Figur aus Gilmore Girls ein fest gesetztes Zeichen sein muss, denn es ist klar, dass sie mit einer starken Persönlichkeit geboren wurde, die sich mit zunehmender Reife nur noch gefestigt hat. Sie muss die Art von Zeichen sein, das keine Ahnung hat, wie es Emotionen mitteilen soll, bis es zu spät ist – wie fast alle ihre romantischen Beziehungsdramen zeigen. Lorelai fühlt sich in ihrer Familie wie en Alien. Außerdem hat sie viel Ärger dabei, herauszufinden, ob sie trotz ihrer hochtrabenden romantischen Persönlichkeit allein besser dran ist. Lorelai ist die Art von Zeichen, das die Details des Kleinstadtlebens auf distanzierte Art und Weise spannend findet. Sie ist Teil des Geschehens, aber immer Kritikerin, Beobachterin. Hier deuten alle Zeichen auf Wassermann! Sogar – und vor allem – ihre Beziehung zu Rory: "Erst Freundin, dann Mutter". Ihr endloser Strom an Witzeleien ist dann schon eher das Gebiet vom Mondzeichen Schütze.
Jungfrau: Rory

Foto: Frank Ockenfels/Warner Bros. TV/Kobal/Shutterstock via NYLON.com
Rorys babyblaue Augen lassen euch vielleicht denken, sie wäre Wasserzeichen. Und es mag wahr sein, dass sie Wasser in ihrem Aszendenten – vermutlich Krebs – hat. Rory aber ist ganz sicher ein wandelbares Zeichen mit einem sehr privaten Ordnungssinn. Je mehr ihr sie kennenlernt, desto offensichtlicher erscheint Rorys Jungfrau-Daein. Von ihrem wilden, aber hochgradig systematischem Bücherregalsystem über ihr enzyklopädisches Gehirn voller Referenzen zu Rockhymnen der 90er oder Philosophen der Antike. Rorys Unfähigkeit, Nein zu neuen gesellschaftlichen Möglichkeiten zu sagen, macht die Sache perfekt: Ihre Rolle als Jungfrau von Stars Hollow ist gesichert. Ehrlich gesagt habe ich nach diesem Text herausgefunden, dass die Schauspielerin von Rory – Alexis Bledel – im wahren Leben Sternzeichen Jungfrau ist. Jetzt ehrlich. Noch Fragen?
Zwilling: Lane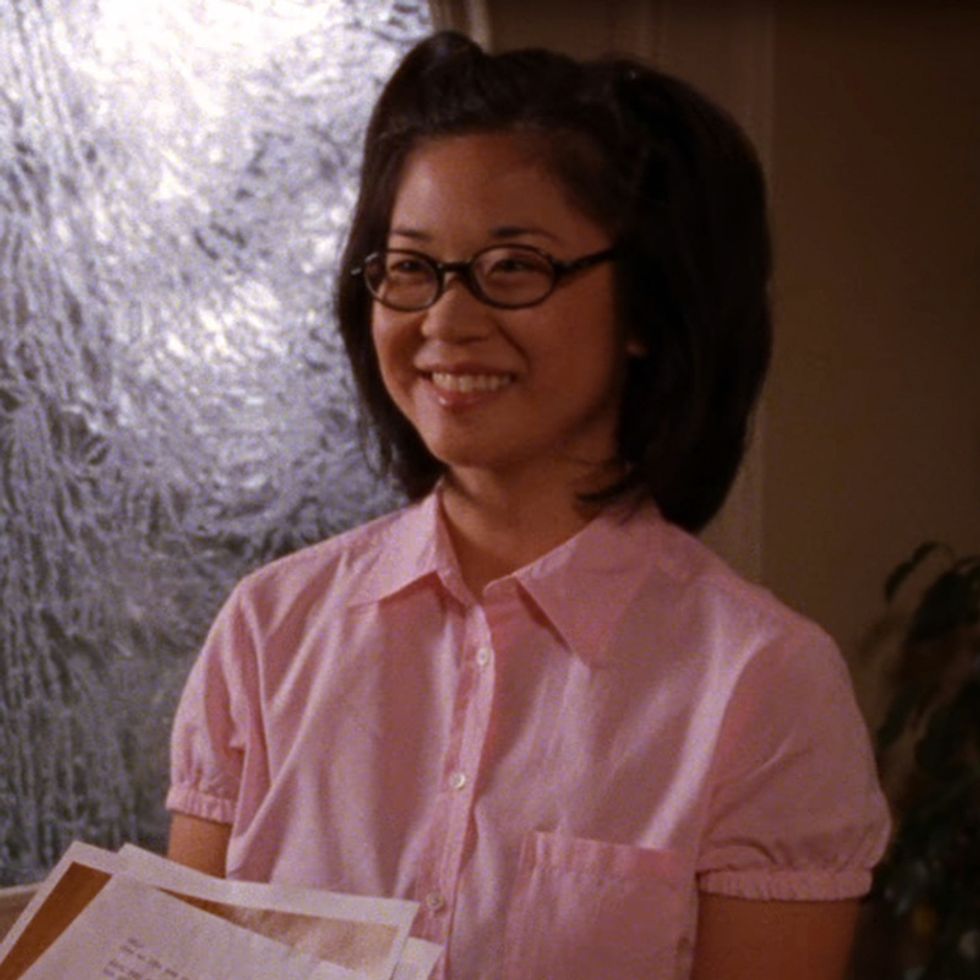 Lane ist eine zutiefst unterschätzte Figur und ihre Geschichte bietet eine Art Parallele zu der von Lorelai und Rory. Deren Beziehung zeigt ein wahnsinnig enges Mutter-Tochter-Gespann gegen den Rest der Welt. Lane und ihre Mutter hingegen übernehmen die Rollen einer Mutter und Tochter, die von kulturellen Unterschieden und Distanz geplagt sind. Dass auch Lanes Vater nicht im Bild zu sein scheint, verstärkt die Parallele zu Lorelai und Rory nur noch. Als Immigrantin, die sozusagen bei einer übermächtigen Mutter aufgewachsen ist, habe ich mich mit Lanes Realität in hohem Maße identifizieren können. Aber als Zwilling, der zwei Leben in einem lebte, tat Lane oft ihr Bestes, um sich nicht mit dieser Rolle zu identifizieren. Als musikalische Universalgelehrte und scharfe Beobachterin ist Lane genauso von Merkur gesegnet wie Rory und ebenso wandelbar. Aber während Rory die Informationen, die sie sammelt, hortet, ist Lane bereit, alles zu riskieren, um es zu genießen und zu teilen.
Skorpion: Luke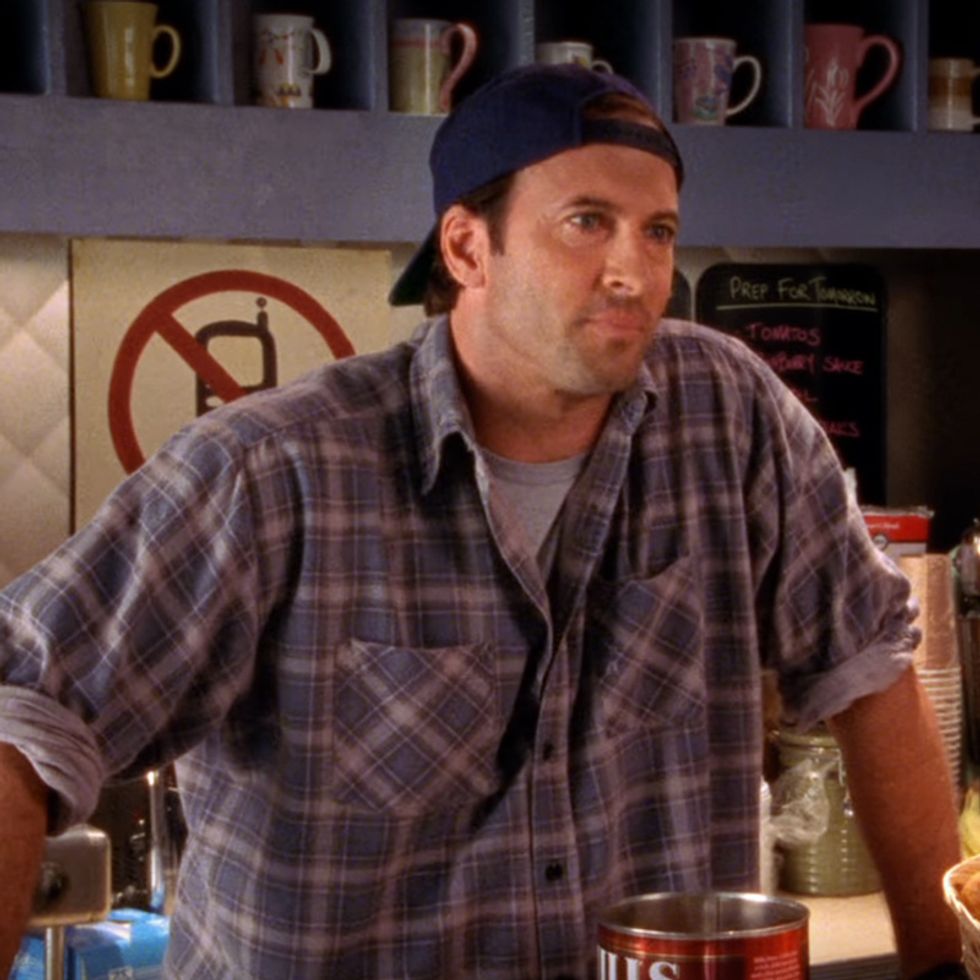 Ich wusste von der Szene an, dass Luke ein Skorpion war, als er zum ersten Mal auftrat und nach allen Arten von Bestätigung suchte, bis zu der Szene, in der er bei seinem ersten richtigen Date mit Lorelai ein Skorpion-Horoskop herausholt, das sie ihm beim ersten Treffen gegeben hat. Die Autor*innen von "Gilmore Girls" müssen Astrologen konsultiert haben, als sie entschieden, welches Zeichen sie Luke aufgrund seiner Charakterdarstellung geben wollten. So eine Genauigkeit! Luke grummelt den größten Teil der Show und ist unglaublich geheimnisvoll mit seinen Gefühle zu so ziemlich allem – von seiner Bindung zu Jess bis hin zu seiner Liebe zu Lorelai. Ganz im Sinne des Skorpions ist Luke aber trotz der Tiefe seiner Gefühle und des Ausmaßes seiner Verschwiegenheit immer noch besitzergreifend und emotional selbstermächtigt im Bezug auf Beide. Luke jagt Jess' Vater aus der Stadt, ohne es Jess überhaupt zu sagen, und bleibt unerbittlich in Lorelais Leben – auch nachdem er mit ihr Schluss gemacht hat. Er ist auch unglaublich besitzergreifend und beschützerisch gegenüber Rory und bricht bei jeder Gelegenheit in väterliche Wut aus, die sich ihm gegenüber Männern in ihrem Leben bietet – von ihren Dates bis hin zu ihrem biologischen Dad. Auf der anderen Seite ist Lukes Zuneigung dauerhaft und seine Loyalität unvergleichlich.
Widder: Jess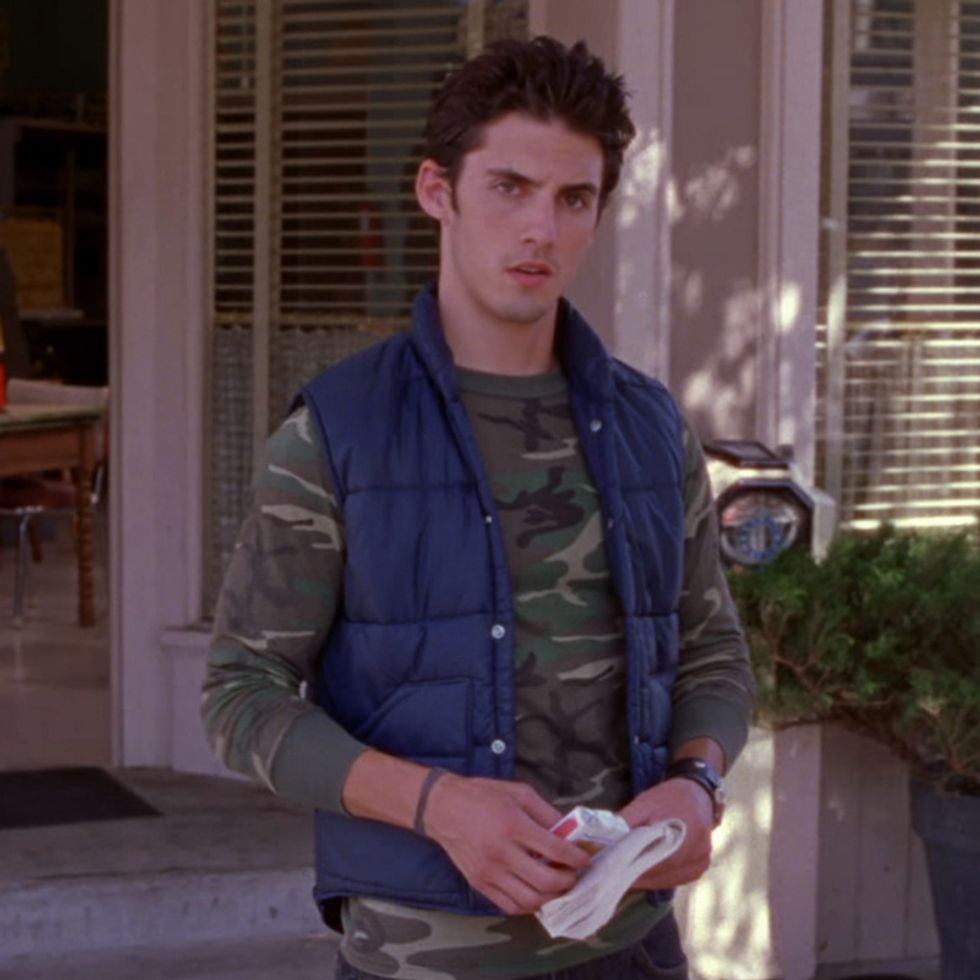 Zunächst einmal muss ich euch unbedingt mitteilen, dass Jungfrauen oft eine unglaubliche sexuelle Energie mit Widdern haben. Wahrscheinlich hat das etwas damit zu tun, dass hierbei der geheime Freak des Tierkreises und der horny (sorry!) Widder zusammenkommen. Jess und Rory scheinen das perfekte Beispiel für einen Widder und eine Jungfrau zu sein, die's unbedingt miteinander treiben wollen und fast nichts anderes gemeinsam haben. Ich meine, okay, sie sind beide brillant. Aber während Rory die Welt der Literatur schätzt, trägt Jess seine Intelligenz wie eine Last auf seinem Rücken. Rory, wandelbar und daher sozial, will gute Eindrücke hinterlassen und sich bei den Institutionen, denen sie beitritt, beweisen. Jesse, fundamental und gleichzeitig feurig, ist bereit, jede seiner Verbindung abzubrennen, wenn das bedeutet, dass er sich allein auf den Weg machen kann, um sich ein neues Leben aufzubauen. Er ist charmant, aber er versteht nicht, wie Gefühle funktionieren. So viel Kampf! Es ist schwierig, keine Komplexe zu haben, wenn man vom Gott des Krieges regiert wird.
Steinbock: Paris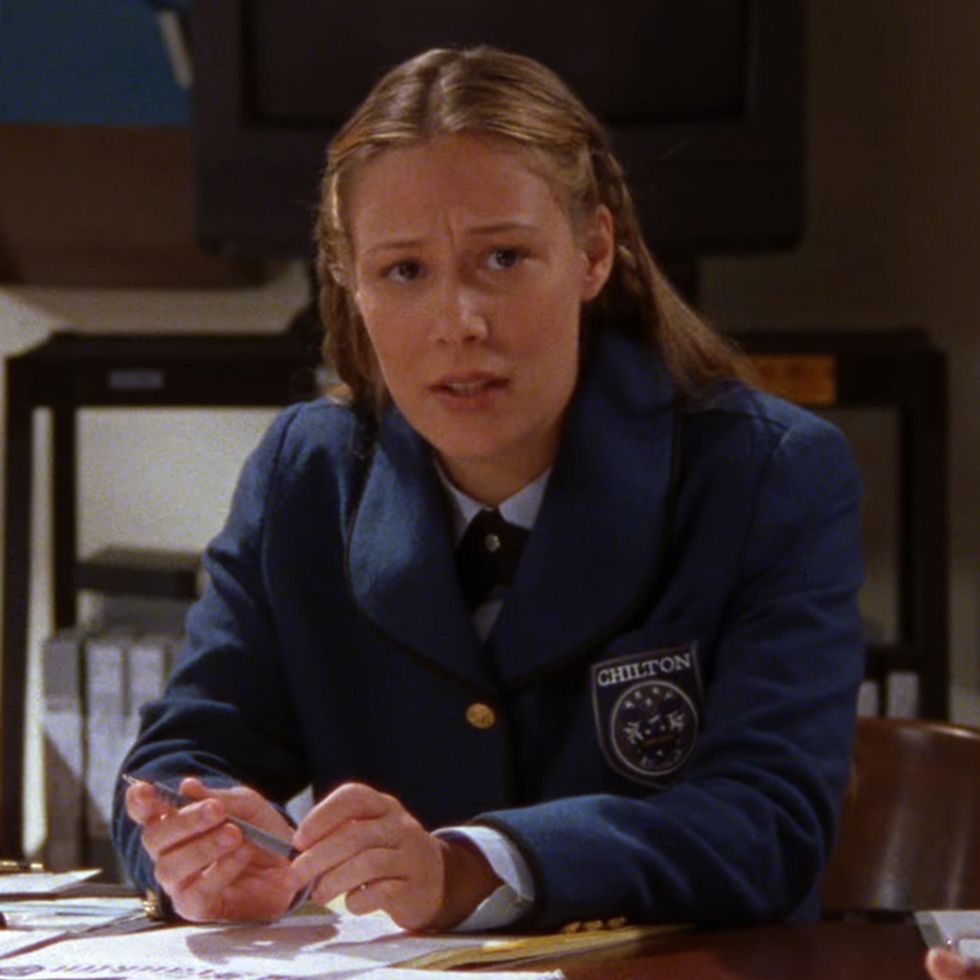 Okay, entweder ist Paris der Steinbock in dieser Zusammenfassung Paris – oder Emily. Und das ist keine leichte Entscheidung. Ich verrate euch aber, wie ich das Entscheidungsproblem gelöst habe: Paris liebt Regeln. Sie liebt Traditionen. Sie liebt es, Recht zu haben, und sie glaubt, dass sie in 150 Prozent der Fälle weiß, was richtig ist. Trotz all ihrer Privilegien ist Paris aber nicht über harte Arbeit erhaben. Sie ist bereit, nie wieder zu schlafen, wenn sie dadurch an die Spitze gelangt. Wenn Paris eine Affäre mit einem etwa 40 Jahre älteren Professor hat und dieser plötzlich stirbt, dann ist sie diejenige, die sich um all seine literarischen Angelegenheiten kümmert. Denn wenn man einem Steinbock etwas zutrauen kann, dann, sich um Angelegenheiten zu kümmern, egal wie sehr er verletzt wurde.
Stier: Dean
Dean nimmt genug Platz bei "GG" ein, um hier ein eigenes Zeichen wert zu sein, obwohl ich eigentlich eine Dean-Haterin bin. Das bedeutet aber nicht, dass ich eine Stier-Haterin bin. Tatsächlich liebe ich die Stiermenschen, und das ist wahrscheinlich das Netteste, was ich über diesen Mann sagen kann. Bei Rory hat er sich wohl gefühlt, weil auf dem Stier-Rad die Hauptgeschwindigkeit langsam ist. Er ist verlässlich, loyal und fleißig. Er mag keine Veränderungen, will nicht wirklich aus seiner Kleinstadt herauskommen oder seine allgemeine Lebenseinstellung ändern. Außerdem will er lieber seinen Stolz schützen, als sich mit Rorys Schwachsinn abzufinden. Wenn sein Zorn ausgelöst wird, ist er ein Stier, der bereit ist, sich zu entladen – wie die Szene beim Ball mit Tristan.
Krebs: Suki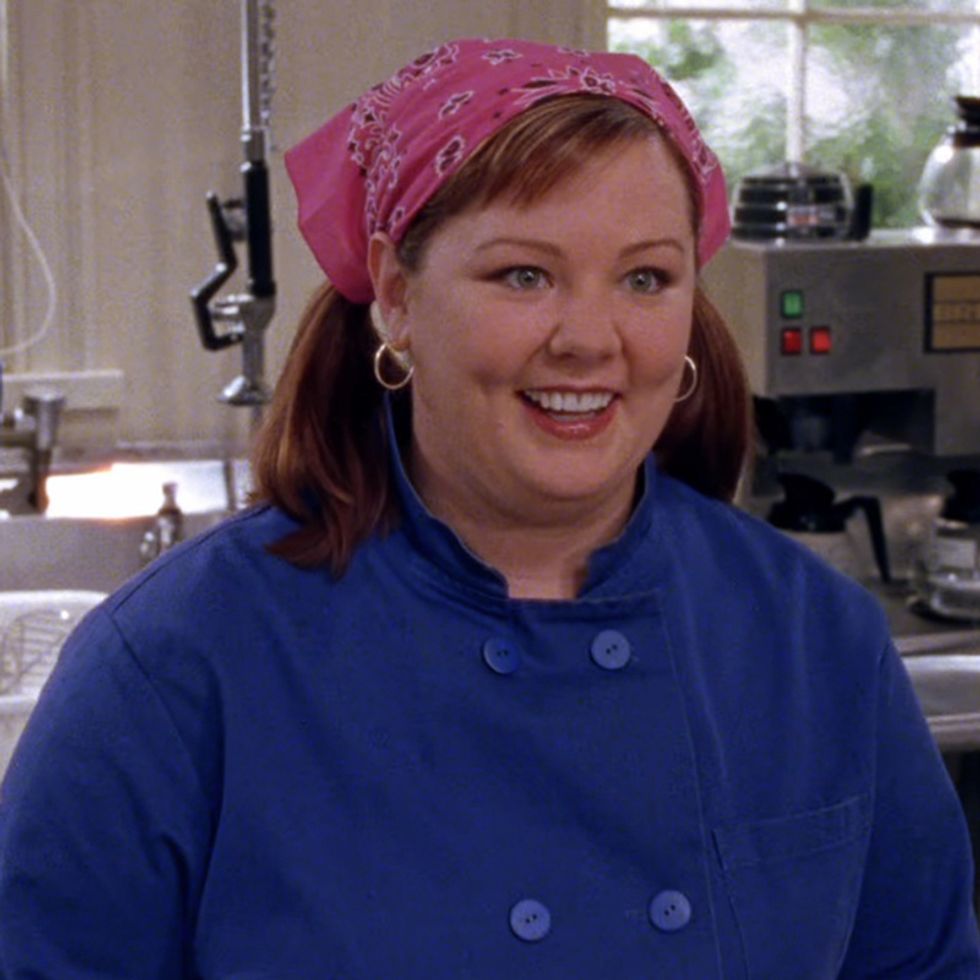 Suki ist wahrscheinlich ein Krebs, denn die meisten Menschen, die in Restaurants und im Dienstleistungssektor arbeiten, sind Krebse oder haben eine schwere Krebs-Tendenz. Krebse arbeiten gerne für Menschen, die sie als Familie betrachten (sie sind die geborenen "Home-Maker"). Krebse können sich leicht davon überzeugen, dass die Menschen, für die sie arbeiten, ihre Familie sind, und strengen sich dann für ihre Leute bis zum Äußersten an. Hier kommt Suki ins Spiel, die fast nie nicht arbeitet. Suki ist leidenschaftlich und kreativ und sehr süß. Sie ist auch emotional, leicht aufzuwühlen und schnell gerührt. Suki ist zwar eine wunderbare Freundin, die immer da ist, wenn Lorelai in Schwierigkeiten steckt, sie hält sich aber auch damit zurück, sich jemals für Fehlverhalten zu entschuldigen. Die Episoden, die zur Eröffnung des Dragonfly Inn führen, sind ein Alptraum: Nichts ist jemals Sukis Schuld. Wie bei vielen Krebsen übertrifft Sukis Liebenswürdigkeit jedoch jeden ihrer Fehltritte.
Löwe: Michel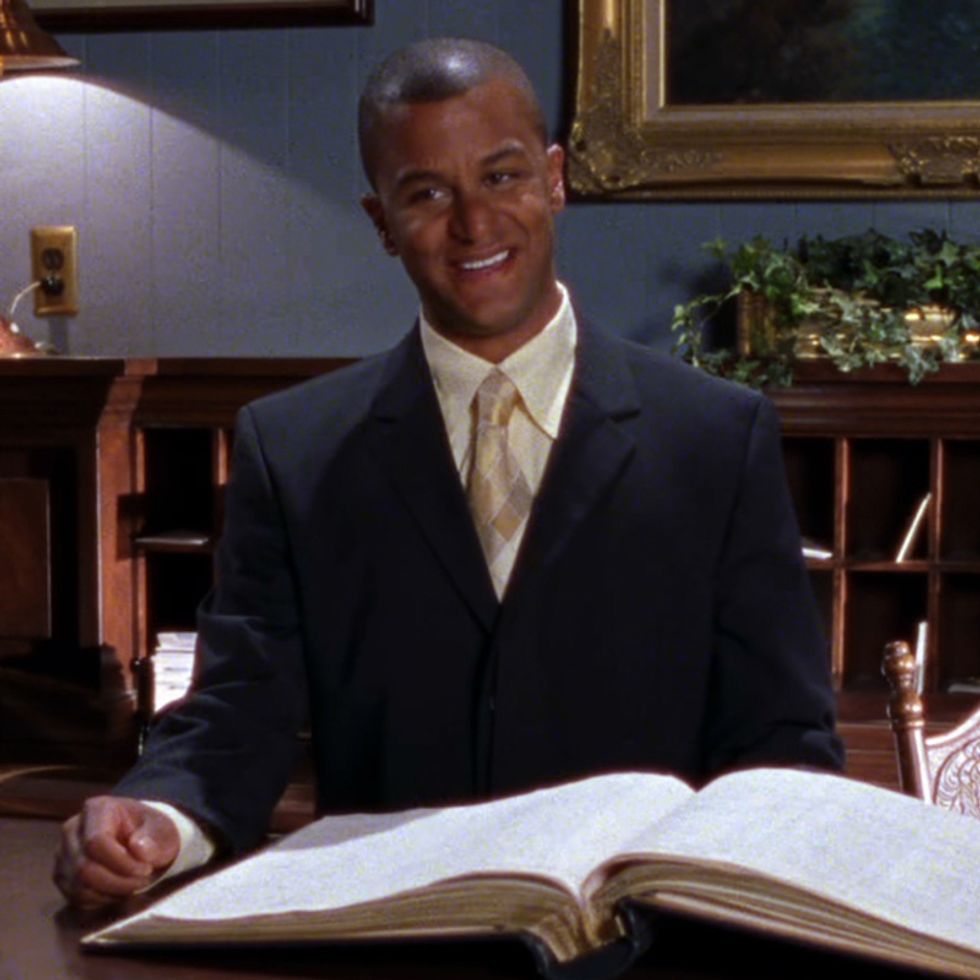 Michel ist mir ein Rätsel, denn er ist kein sehr ausgeprägter Charakter. Er ist jedoch eine konstante Figur, die eine Hauptstütze in Lorelais Leben ist. Er ist auch die einzige wiederkehrende Person of Color in der Serie, was seine eindimensionale Rolle umso enttäuschender macht. Trotzdem kann ich nicht umhin, Michel als Löwe zu betrachten. Nicht die Art von Löwe, die sich ins Rampenlicht drängt, nein. Eher die Art von Löwe, die ganz natürlich glaubt, einen besseren Style und bessere soziale Fähigkeiten zu haben als jeder andere. Michel ist die Art von Löwe, die ihm "unwürdige" Arbeit ablehnt und lieber Celine Dion hofieren würde, als Lorelai zur Hilfe zu kommen. Er ist die Art von Löwe, der austeilen, aber nicht einstecken kann und hat ein Ego, das leicht verletzt wird. Michel ist aber auch die Art von Löwe, die archetypisch sehr gut mit Kindern umgehen kann. Schließlich fordert er bei aller Verachtung und Stolz, immer eingeladen, einbezogen und geschätzt zu werden.
Waage: Emily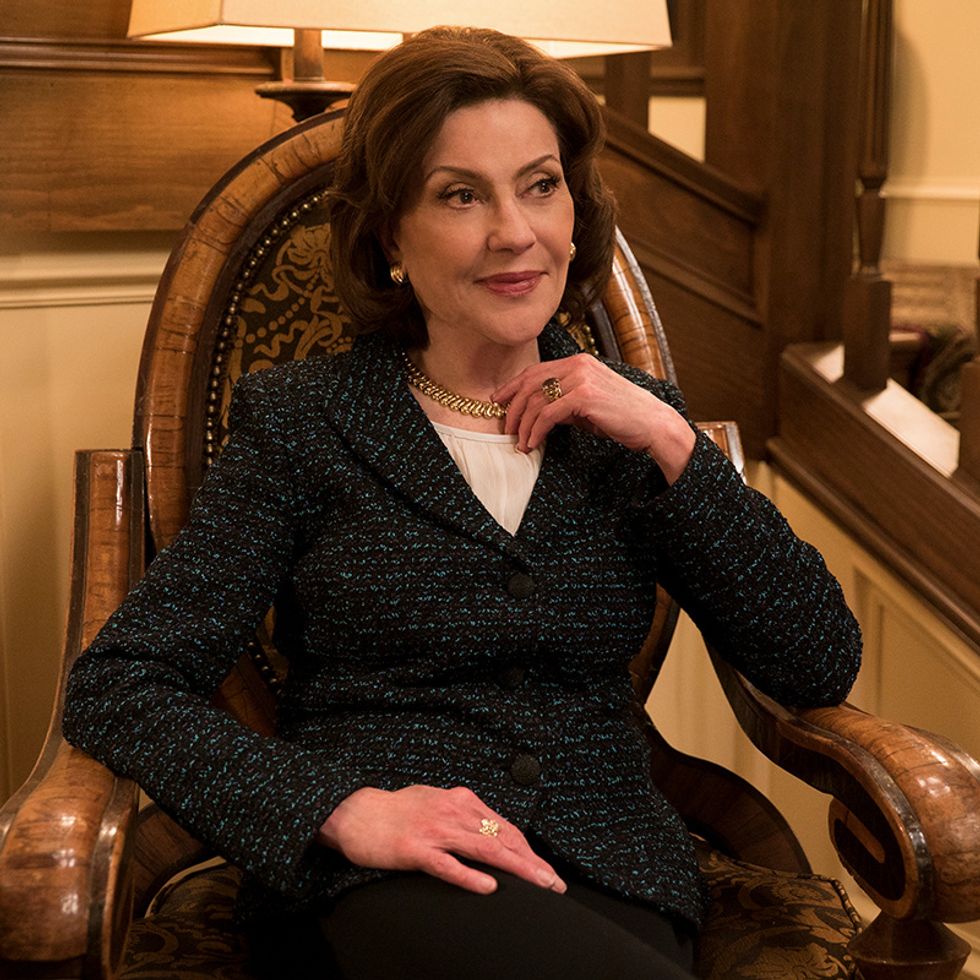 Foto: Netflix via NYLON.com
Ja, Lorelais Mutter ist die Waage unseres Tierkreiszeichens. Klar, sie hätte auch Steinbock sein können. Tatsächlich könnte sie im Azendenten Steinbock sein, da sie in Blazern besser aussieht als jede männliche Figur aus Gilmore Girls. Aber im Gegensatz zu den meisten Steinböcken schert sich Emily sehr darum, was Leute von ihr denken. Emily glaubt an Regeln, an Klasse und Klassenhierarchie. Sie ist eine Frau, die viel in ihre Beziehungen investiert und von ihnen beeinflusst wird. Emily will, dass die Frauen des DAR sie respektieren, damit sie ihre erste Tasse Tee in Ruhe genießen kann. Emily verlässt Richard (den ich hier nicht mehr beschreiben wollte – vermutlich ist er ein Krebs), als er ihre Bemühungen (die Abendessen, die Danksagungen, die Garderobe) nicht mehr würdigt. Emily glaubt, wie alle Waagen zu wissen, was RICHTIG ist. Und wenn sie dann lediglich aus "Sorge" handelt, weigert sie sich zu glauben, dass auch mal andere Perspektiven in Betracht gezogen werden sollten.
Schütze: Logan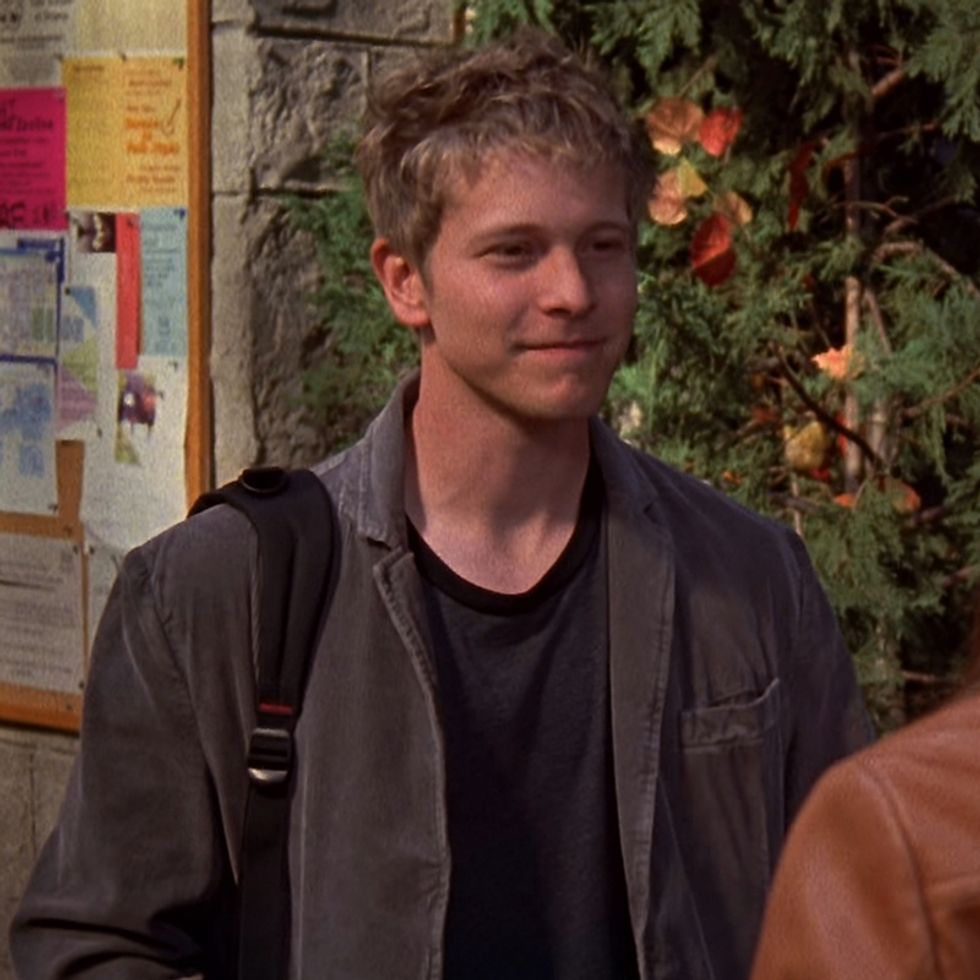 Logan ist wahrscheinlich Rorys süßester Freund. Oder vielleicht gefällt mir einfach, wie er sie "Ass" nennt und zu einem cuten Anwalt in der Serie "The Good Wife" heranwächst. Logan ist klug, er kann fast jede Anspielung von Rory aufgreifen und mit ihr spielen – was wirklich eine Leistung ist. Außerden ist er hungrig nach Erfahrungen und bereit, alles mindestens einmal auszuprobieren. So überzeugt er Rory, mit nur einem Regenschirm von einem Metallturm zu springen, der an einem von einem Teenager montierten Seilsystem befestigt ist. Logan denkt, er möchte mit Rory zwanglos sein, aber eigentlich ist er das nicht. Er liebt es, Diskussionen zu provozieren und ist manchmal eher stumpf. Trotzdem ist er auch manchmal umgänglich und gutmütig. Es ist eine Schande, wie Geld alles verändern kann.
Fische: Chris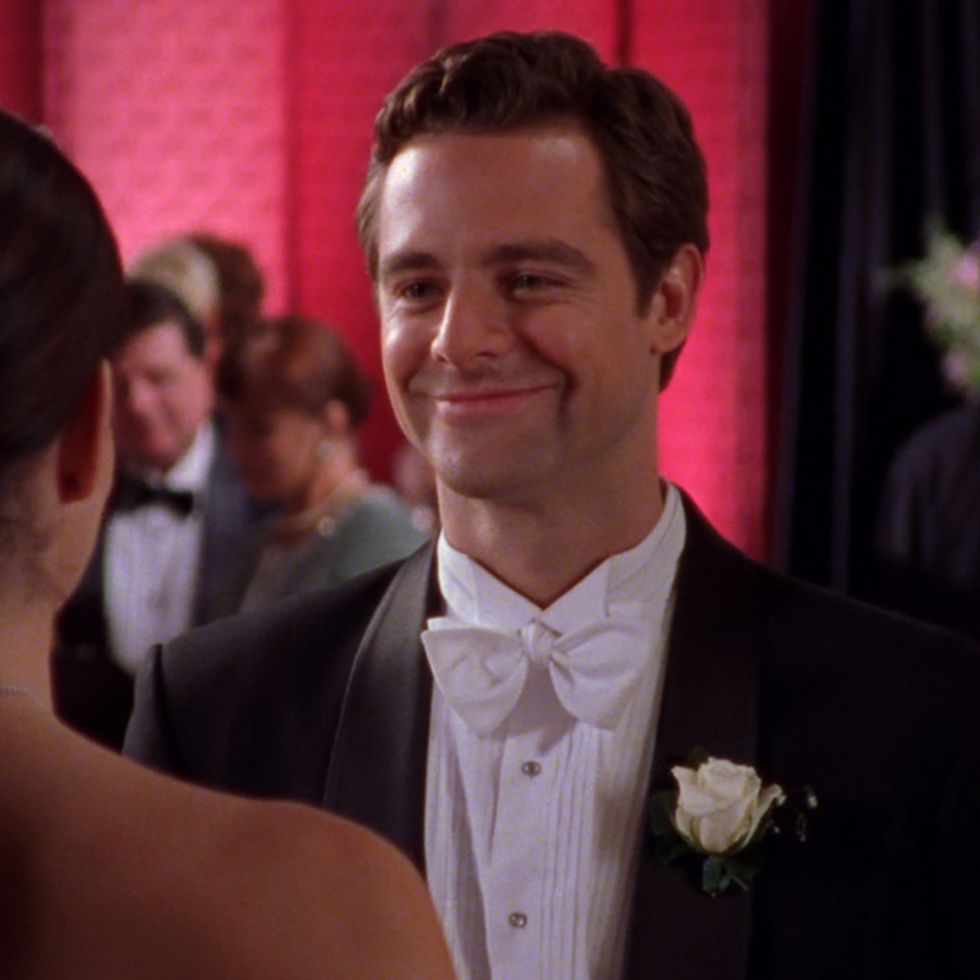 Rorys Vater Chris ist wahrscheinlich der am häufigsten vorkommende Fisch in "Gilmore Girls" (obwohl ich zugeben muss, dass eigentlich Lukes Schwester die noch stärkere Fische-Figur ist). Chris ist die Art von Fische-Mann, dessen Aszendent wahrscheinlich Löwe oder sowas in der Art ist. Ein Zeichen, das selbstbewusst und befehlend genug ist, um seine ganze Wischiwascherei zu verdecken. Wie die meisten Fische weiß Chris nicht, was er will, aber er will einfach alles. Chris ist ein wandelbares Wasserzeichen, seine Emotionen und Ideen lassen sich leicht von den Menschen beeinflussen, die ihm wichtig sind. Rory kommt vorbei und sagt ihm, er solle Lorelai nicht anrufen? Er hört auf, Lorelai anzurufen – keine Notwendigkeit, die Wünsche seiner jugendlichen Tochter zu erklären oder infrage zu stellen. Emily kommt vorbei und sagt ihm, er solle Luke und Lorelai zur Trennung bringen? Ja, das klingt auch nach einer guten Idee für Chris, der zuvor keine Anstalten gemacht hat, so etwas zu tun. Chris ist leider auch die schlimmste Art von Fische-Vater, der abwesend ist, weil er sich schlecht fühlt – als ob seine Gefühle wichtiger wären als sein Kind.
Text: Gala Mukomolova // Bilder: Screenshots via NYLON.com, sofern nicht anders vermerkt
Was sonst noch so in Sachen Streaming & TV passiert: 
Von Beyoncé-Videos zu "Queen & Slim": Melina Matsoukas über die Bildwelt ihres Kino-Debüts
"Hair Love": Wie der Oscar-Kurzfilm für Diversity in der Animationswelt sorgt
"Sex Education" bei Netflix: Warum die Teenie-Serie nur das Vorspiel ist