Cardi Bs Kollektion, Halluzinationen und Augmented Shopping: Fashion-News der Woche
Wir präsentieren euch jeden Freitag die heißesten Mode-News – kompakt zusammengefasst im Überblick. Diese Woche mit virtuellem Shopping, Cardi Bs erster Modekollektion und Traumwelten bei Gucci.
Cardi B x Fashion Nova
Cardi B ist gerade die absolute Person of the Moment. Ihr krasses Debütalbum "Invasion Of Privacy" steuert auf Top-Nominierungen und massiven Charterfolg zu und die Videos ihrer Talkshow-Appearances und Live-Auftritte gehen auf der ganzen Welt viral. Die Eroberung der Musikwelt scheint der New Yorkerin aber nicht genug zu sein: Mitte der Woche hat Cardi ihre Fashion-Collab mit der von ihr schon lange unterstützten Marke Fashion Nova bekannt gegeben. Und es wäre nicht Cardi, wenn sie das neben einem öffentlichen Announcement nicht auch in einem witzigen, spontan gefilmten Insta-Video getan hätte. "Fashion Nova bietet mir gute Qualität für meine Herbst-Kollektion und ich freue mich so darauf, Frauen wunderschön und stilvoll gekleidet zu sehen", berichtet die Rapperin im Video. Laut Fashion Nova soll die Kollektion aus 80 bis 100 Teilen bestehen und ab Oktober 2018 erhältlich sein.
ZARA Augmented Reality
Es ist soweit, das Shopping der Zukunft ist auch auf der High Street angekommen: Zara präsentiert für die nächsten zwei Wochen eine erste Form eines Augmented-Reality-Erlebnis. Was das bedeutet? Virtuelle Kleider-Vorführung im Store – von Models, die gar nicht da sind. Wer sich also in diesen Tagen wundert, weil er an leeren Zara-Schaufenstern vorbeischlendert, sei angewiesen, das Smartphone zu zücken und die Zara-App runterzuladen. Über eine klare Ausschilderung kann dann ein Feld gescannt werden, und schon erscheinen auf dem Handydisplay die Models Fran Summers und Léa Julian, die in 7-12 Sekunden posieren und Teile der Zara Studio Collection präsentieren. Passend dazu erzählen sie auch noch eine kleine Story zum Look. Die Aktion funktioniert natürlich nicht nur im Schaufenster, sondern auch an Podien im Store, durch Lieferboxen oder einzelne Bilder auf zara.com. Das letztendliche Shopping-Erlebnis ist trotzdem gegeben: Alle gezeigten Looks können mit nur einem Klick per App oder in der Filiale gekauft werden. Wer dann aus dem Laden rausgeht, wird sich sicher sein: der Shopping-Trip ist mehr als nur ein Einkauf – und seine Zukunft ist schon unter uns.
Levi's Customized Trucker Jacket zur Unterstützung von L.A.s Water Week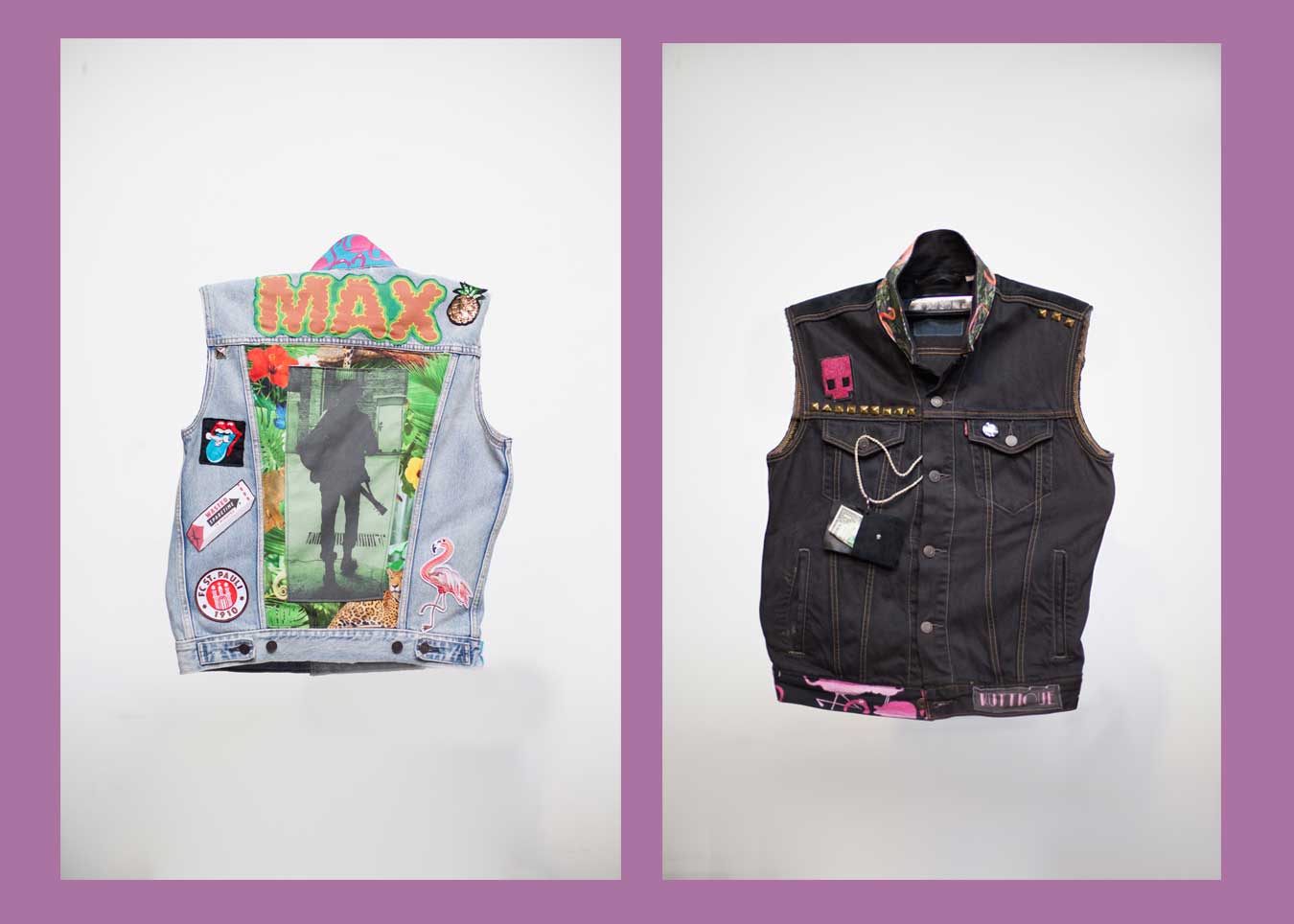 Wer bietet mehr? Diese Frage stellt Levi's den Fans von Superstars der Popszene. In Kooperation mit der Organisation Viva con Agua versteigert die Marke pünktlich zum Start der ersten Water Week in Los Angeles speziell angefertigte Modelle der berühmten Trucker Jacket. Diese Modelle sind aber nicht einfach nur irgendwelche Unikate: Sie wurden von den Künstlern Gigi & Amando feat. Cptn. Clepto und Lotta Continua exklusiv für Musiker wie Pop-König Ed Sheeran, Clueso, Joy Denalane oder Milky Chance angefertigt. Jedes Jackendesign bildet ein Set, in dem eine Jacke speziell für den Künstler angefertigt wurde und ein weiteres, signiertes Exemplar auf Ebay an Superfans versteigert wird. Die Einnahmen werden zugunsten der Arbeit und Wasserprojekte von Viva con Agua eingesetzt. Also, los, keep bidding!
#GucciHallucination by Ignasi Monreal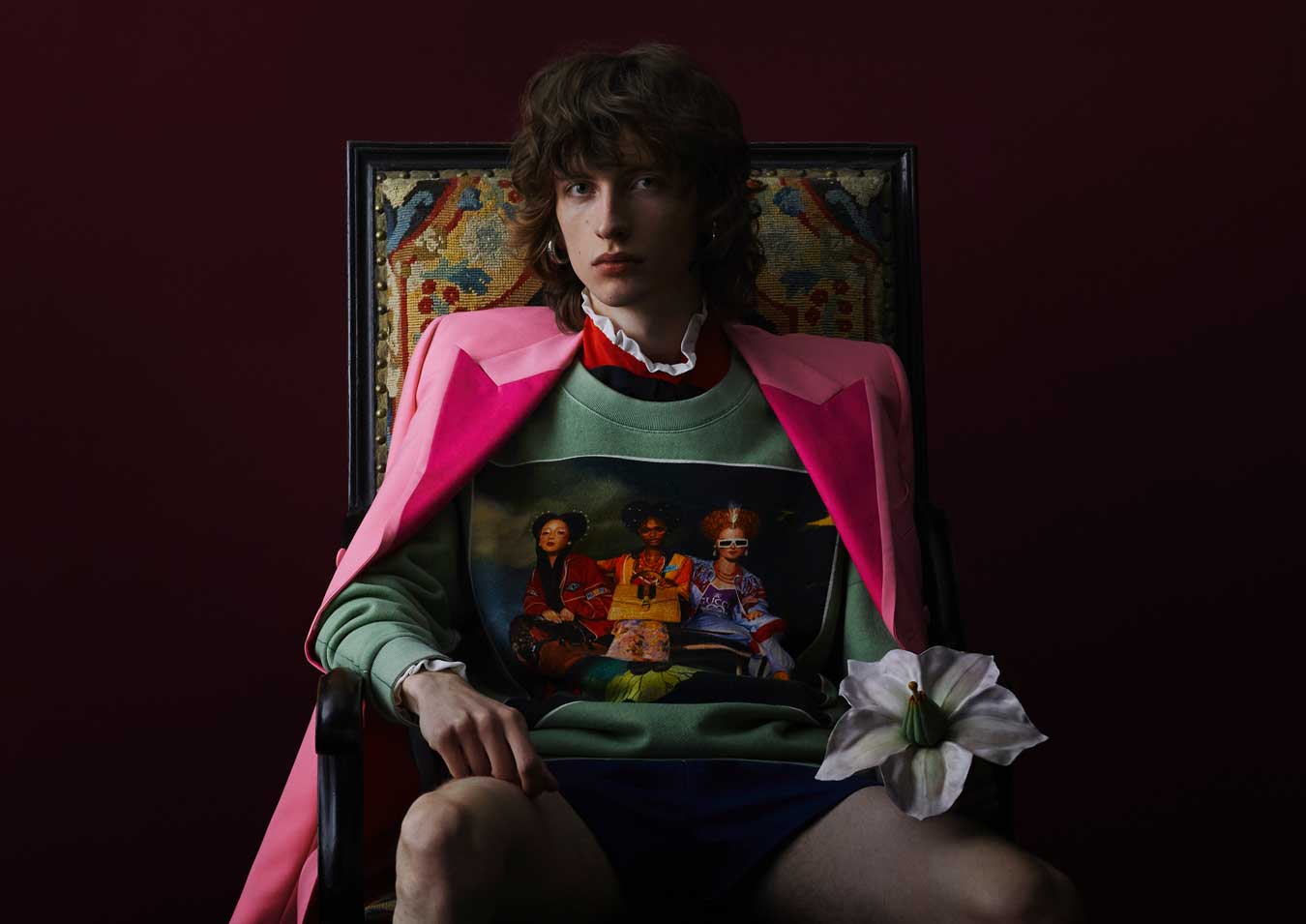 Wenn ihr euch gefragt habt, womit uns Alessandro Michele und Gucci als nächstes begeistern können, ist diese Kollektion vermutlich die Antwort. Im Rahmen von #GucciHallucination stehen hier die Artworks vom jungen, spanischen Künstler Ignasi Monreal – der bereits schon die jüngsten Werbekampagnen der Marke realisiert hat – im Zentrum. Monreal führt uns mit seinen auf jeweils neun Sweat- und T-Shirts gefeatureten Kunstwerken in träumerische Welten und setzt damit seine surreale, digital erzeugte Ästhetik fort. Neben seiner Arbeit für Gucci (Monreal arbeitet schon seit 2015 und der #GucciGram-Kampagne mit Michele zusammen) hat der Künstler seine Vision übrigens auch in anderer Form in die Außenwelt getragen: Die Firma Urban Vision hat seine Interpretation eines Kunstwerkes auf eine Mauer in der Nähe der Londoner Brick Lane übertragen. Wer es nicht bis dort hin schafft und trotzdem ein Kunstwerk sein Eigen nennen möchte, sollte schnell sein: Die Limited Collection ist auf 200 Shirts und 100 Sweatshirts limitiert, die in eigens designter Verpackung verschickt werden.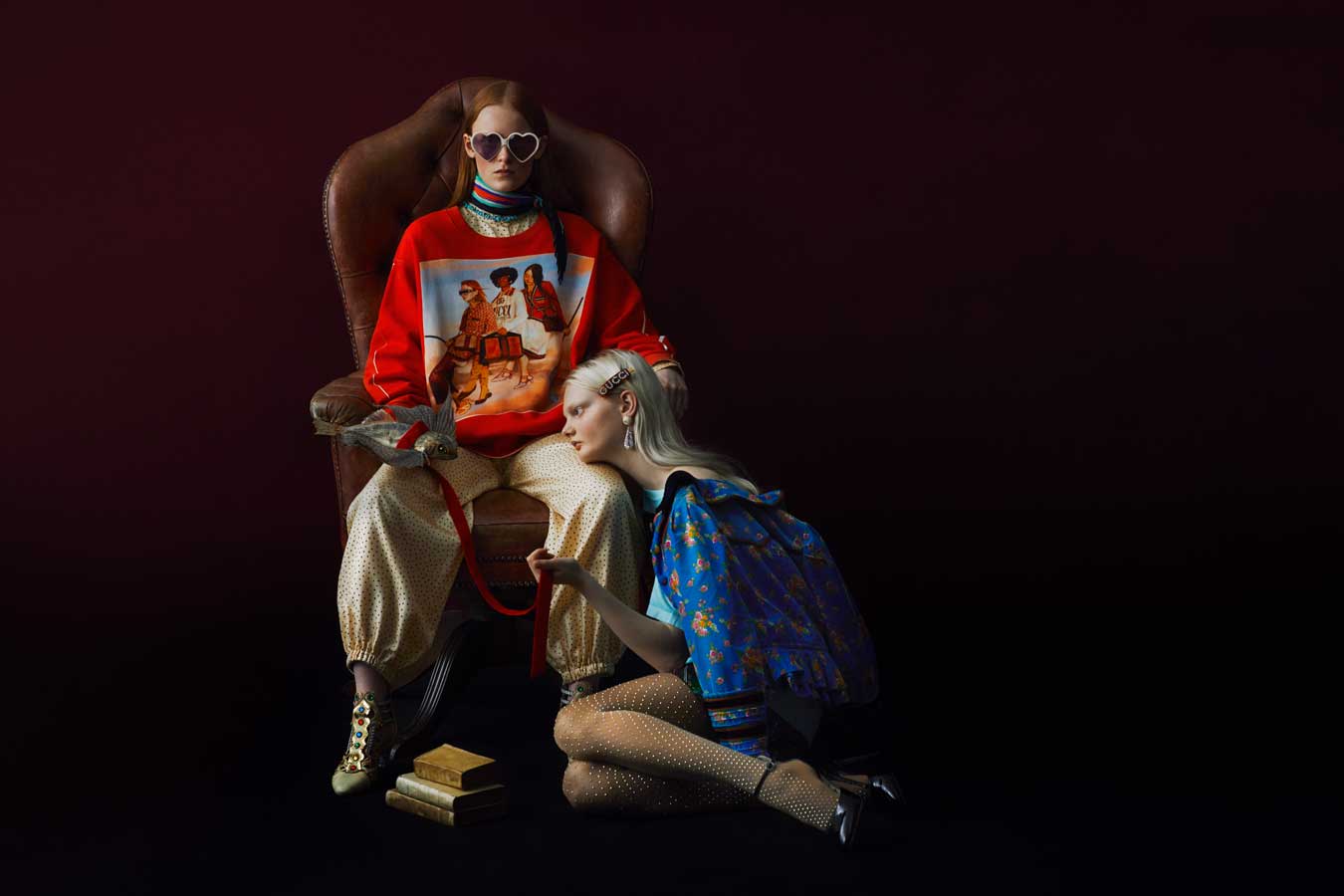 Fendi FF Capsule Collection auf Net-A-Porter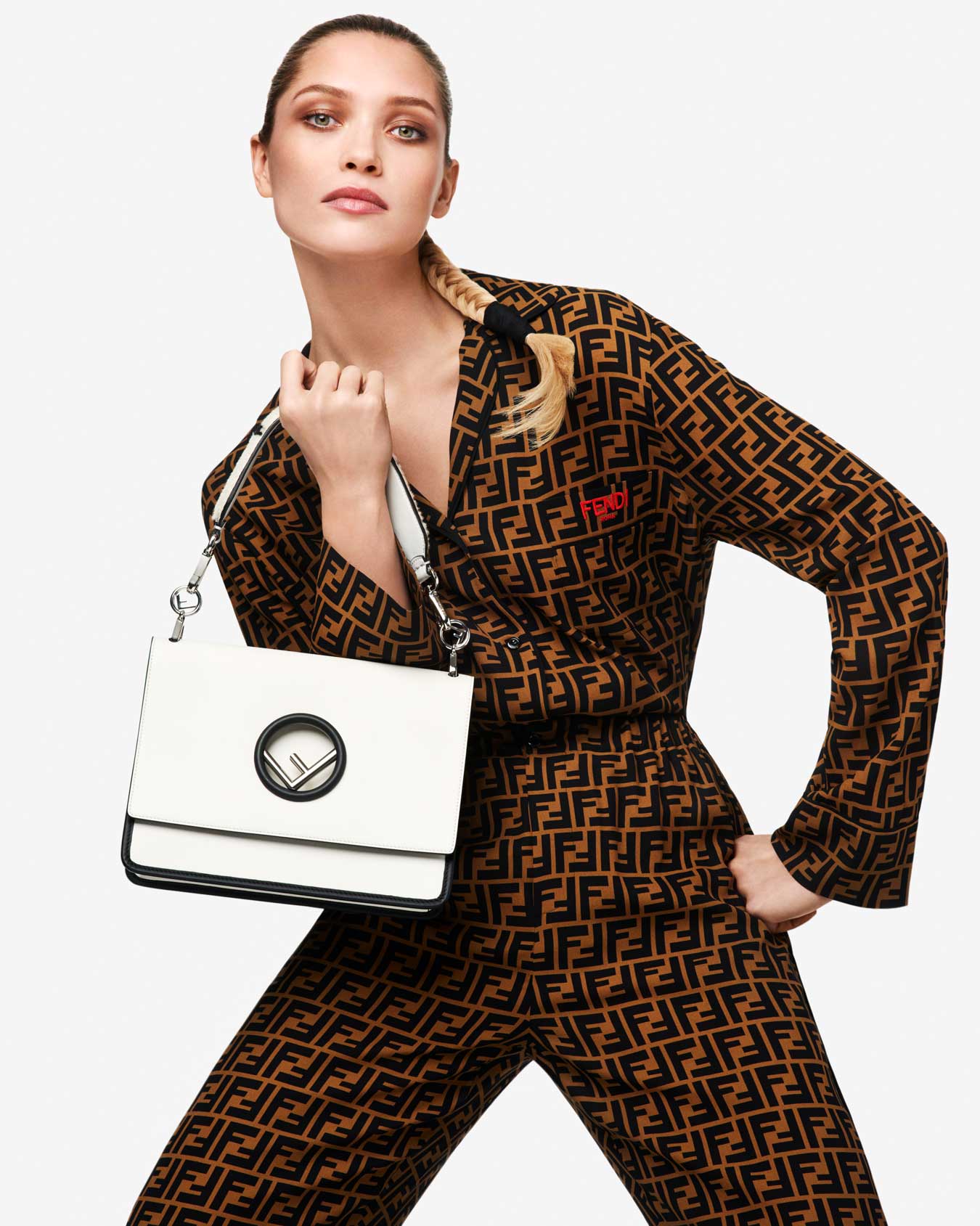 Ja, wir sehen das Fendi-Logo gerade überall – zum Beispiel in einer, ähem, sehr präsenten Version auf dem Cover von Nicki Minajs neuer Single "Chun Li". Zwar hat die nichts mit dem Preview-Launch der neuen Fendi FF Capsule Collection auf Net-A-Porter zu tun – ein ganzer Zufall kann diese neue Logo-Mania aber auch nicht sein. Schließlich ist in besagter Kollektion genau das legendäre FF-Logo das Herzstück und feiert damit die Geschichte und das Bestehen der italienischen Marke. Das doppelte F gibt es in dieser Form übrigens schon seit 1974; bis heute ist es auf Sneakern, Parkas, Hoodies, Accessoires, und na ja, eben auf Nicki Minajs Cover vertreten. Für die neue Kollektion wurde seine klassische Rechteck-Form jedoch geupdatet und erstreckt sich nun in starken Arrangements über jedes einzelne Teil. Außerdem gab es noch ein kleines Farb-Touch-Up: Statt der traditionellen Tobacco-Schwarz-Kombi erscheint das Logo nun auch in Schwarz-Weiß. Eine Preview der Kollektion feiert genau heute ihre Premiere bei Net-A-Porter, bestellen könnt ihr die einzelnen Pieces dann ab dem 14. Mai. Just like Nicki would.