Die fabelhafte Welt der Parfüm-Werbung
"In der Welt des Duftes geht es nicht um einen höheren Sinn. Es geht um sexy Gesichter."
Text: Taylor Bryant // Foto-Collage über Getty Images, Kenzo, Dior & Gucci via NYLON.com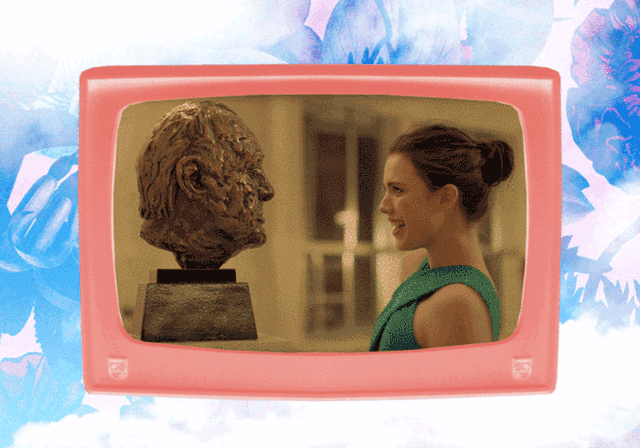 Es gibt einen Grund, weshalb Online-Inhalte zum Thema Duft bekanntermaßen nicht gut funktionieren. Zum einen haben sie keinen wirklichen Service-Charakter. Düfte klären nicht die Haut, glätten nicht das Gesicht oder hellen dunkle Flecken auf. Sie lassen euch gut riechen. Aber wenn ihr nicht gerade die Parfüm-Experten Luca Turin und Tania Sanchez seid oder die Mitbegründer von "The Dry Down" Helena Fitzgerald und Rachel Syme – die sehr poetisch über Düfte schreiben – können Leser mit Sätzen wie "Es hat Kopfnoten von Bergamotte und Zitrusfrüchten" einfach nicht allzu viel anfangen. Man kann einen Duft nicht wie einen Lippenstift testen, um die Pigmentqualität zu zeigen. Das gleiche Problem gilt für Parfümmarken. Herausnehmbare Proben in Magazinen gehören der Vergangenheit an, während Testspritzer in Kaufhäusern nerven. Bis duftende Bildschirme Wirklichkeit werden (Willy Wonka hatte bereits 1971 duftende Tapeten, worauf warten wir also noch?), sind die Marken gezwungen, sich auf Abstraktes zu stützen, um ein Statement zu machen.
Als ich jünger war, spielten meine Schwester und ich häufig ein Spiel. Wenn im Fernsehen Werbung kam, versuchten wir vor Ende des TV-Spots zu erraten, um welches Produkt es ging. Autos waren natürlich am einfachsten. Haarprodukte auch. Aber Parfüm-Werbung… Parfüm-Werbespots brachten uns immer völlig aus dem Konzept. Als wir jedoch schließlich das Prinzip dahinter verstanden, wurde es leichter. Wenn eine Person einen ganz bestimmten Gang hatte (etwa dramatisch über den Laufsteg schwebend, zu einem unbestimmten Ort laufend oder durchs Gras stolzierend), auf eine ganz bestimmte Weise sprach (flüsternd, seufzend, stöhnend oder wenn nur Musik zu hören war), handelte es sich höchstwahrscheinlich um eine Parfüm-Werbung. Es gab einige Ausnahmen, wo wir erst dann verstanden, dass es um Duft ging, wenn das Fernsehbild von einem Promi zum Duftflakon wechselte. Doch was wir damals nicht realisierten: Noch mehr als der 100 Euro teure Flakon duftender Flüssigkeit wurde hier eine Fantasie beworben.
Der durchschnittlichen Phantasie des Konsumenten zufolge sind Sex und Romantik für gewöhnlich involviert. Und Marken spielen damit. "Sich auf die Darstellung des sexuellen Körpers zu stützen, ist für Parfüm-Werbung zumindest teilweise legitim, weil Parfüm mit Sinnlichkeit und nackter Haut verbunden ist", sagt Leena-Maija Ross, Professorin an der "Swedish School of social science" in Helsinki. "Sie können es nur spüren/riechen, wenn Sie nah genug an der Person sind, die es trägt. Deshalb ist es an Intimität gebunden." Was erklärt, warum wir so viele übermäßig sexualisierte Szenen in Werbespots sehen. Einfach gesagt: Sex sorgt für Aufmerksamkeit. "Geruch ist der häufigste Köder in der Tierwelt. Sex ist die häufigste Aktivität", so Steven Heller, Autor von "Sex Appeal: The Art of Allure in Graphic and Advertising Design". "Addieren Sie das zusammen, und was haben Sie dann?" Eine erfolgreiche Kampagne.
Schätzungen zufolge erreicht die Duft-Industrie im Jahr 2021 einen Wert von 43,6 Milliarden Dollar. Im Moment liegt sie bei etwa 40,8 Milliarden Dollar. Unternehmen geben rund 800 Millionen Dollar für Werbung aus, die – laut Bloomberg – nicht sehr effektiv ist. Mögen die Konsumenten einen Duft, bleiben sie bei ihm und wechseln selten. Die Top-Seller der Branche sind Dolce & Gabbanas "Light Blue", gelauncht 2001, Chanels "Coco Mademoiselle" (2001) und "No. 5" (1921) sowie Marc Jacobs "Daisy" (2007). TV-Spots sind die teuerste und prominenteste Marketing-Taktik, doch Berichten zufolge begründen nur sechs Prozent der Verbraucher ihren Parfümkauf mit Werbung. Doch ganz so fragwürdig ist das ausgegebene Geld nicht. Es könnte auch nur eine Strategie sein. "Diese Art von Werbung dient dem längerfristigen Ziel, Marken aufzubauen und in den Köpfen der Verbrauchern zu verankern", präzisiert das New Yorker Medienunternehmen Bloomberg.
Nehmen wir Brad Pitts "Chanel No. 5"-Werbung von 2012. Sie kostete 7 Millionen Dollar und wurde mindestens fünf Mal parodiert (zu Recht, denn sie ist sehr seltsam!). Doch auch das YouTube-Video hat neun Millionen Aufrufe. Das Marketing hat hier also einen verdammt guten Job gemacht, weil es die Leute dazu brachte, darüber zu reden (auch wenn es auf Kosten von Pitt ging). Und wenn die Leute reden, erinnern sie sich. "Ich hab bereits ein paar Spots gemacht, die parodiert worden sind. Und immer wenn das passiert, weißt du, dass du alles richtig gemacht hast", so Glenn O'Brien, Drehbuchautor der "Chanel No. 5"-Werbung, gegenüber dem "New York Magazine".
Was die meisten Parfüm-Werbungen gemeinsam haben, ist ein weltberühmter Star. Dies hilft, um im Gedächtnis der Kunden zu bleiben, sagt Helena Fitzgerald von "The Dry Down". "Ich glaube, die Parfüm-Werbung funktioniert dann, wenn Leute auf den letzten Drücker Geschenke kaufen. Und das gilt, um ehrlich zu sein, für einen großen Teil der Parfümkäufe. Dort ist der Promi-Faktor ausschlaggebend, weil die Leute eher etwas kaufen, wenn sie sich daran erinnern, und Stars machen die Dinge einprägsamer." Marken hoffen also, dass ihr deren Produkt kauft, weil ihr für die Person schwärmt, die damit verbunden ist. Wenn Beyoncé wie "Armani Diamonds" duftet, will ich verdammt noch mal auch nach "Armani Diamonds" duften.
Und es ist kein Zufall, dass Promis uns ebenso an Reichtum erinnern. "Düfte tragen auch einen Hauch von Luxus und sind auf gewisse Weise mit bestimmten Klassen verbunden, beispielsweise der 'Geruch von billigem Parfüm', erklärt Leena-Maija Ross. "Das ist ein Grund, weshalb die Umgebung der Werbung oft so fantasievoll ist, voller Reichtum-Zitate. Wie die Perlen und das Kleid in der 'J'ádore-Werbung' oder die Reise an entfernte Orte in 'Gucci Guilt'. Es ist erstrebenswert für die Zuschauer."
Vielleicht gehört ihr zu denen, die nicht in die Fallen der Werbespots tappen, und das ist auch gut so – Helena Fitzgerald tut es auch nicht. "Ich denke, eine Menge Parfüm-Marketing, zumindest bei Mainstream-Düften, ist sehr dämlich und oft in einer geschlechtsspezifischen Weise, die klischeehaft, aggressiv, langweilig und extrem augenrollend ist", sagt sie. Und fügt hinzu, dass sie Indie-Marken bevorzugt, die sich entweder diese Form der Werbung nicht leisten können oder sich einfach gegen derartige Kampagnen entscheiden. "Doch je mehr ich mich für Parfüm interessiere, und je sicherer ich in der Erforschung verschiedener Düfte und Aspekte werde, umso mehr fühle ich mich albernem Mainstream-Parfüm-Marketing zugeneigt."
Es ist oft die unsinnige, voyeuristische Natur dieser Kampagnen, die sie so faszinierend machen. Sie wollen nicht die tatsächliche Welt widerspiegeln, die wir kennen. Schließlich ist die Außenwelt oft gar nicht so toll. Wir sollen gar nicht an die Realität denken. Es ist nichts falsch daran, sich von Zeit zu Zeit in eine Fantasie einzukaufen. Und wenn eure Flucht vor der Wirklichkeit in Form einer warmen floralen Melange daher kommt, dann sei es so.