10 Jahre Lady Gaga: Wie sie die Popmusik verändert hat
Vor kurzem hat Lady Gagas erste Single "Just Dance" ihren zehnten Geburtstag gefeiert – ob euch klar war, wie sehr sich Pop seitdem verändert hat? Findet es heraus!
Text: Hayden Manders // Bilder via NYLON.com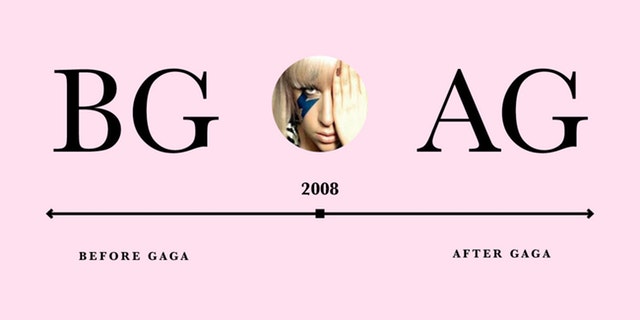 Die Geschichte der Popmusik im 21. Jahrhundert lässt sich in zwei Abschnitte unterteilen: Before Gaga (BG) und After Gaga (AG). Die Veröffentlichung von Stefani Joanne Angelina Germanottas (so Lady Gaga mit bürgerlichem Namen) Debüt-Single "Just Dance" am 8. April 2008 hinterließ einen Schimmer von Glitzer, Haarspray und euphorischem Dance über der Pop-Landschaft. Nach diesem Über-Nacht-Erfolg fühlte sich nichts mehr so an wie früher. Der Zugang, den Fans zu ihren jeweiligen Favorites hatten, verlagerte sich; sie führten Gespräche über die eigene Identität, und fühlten sich inspiriert, offen mitzumachen. Die Musik, die die US-amerikanischen Billboard Top 100 und Radio-Playlists zu dominieren begann, war eine andere. Es war ein wichtiger Moment, der Wellen auslöste, die wir heute noch spüren.
Und in vielerlei Hinsicht begann diese Entwicklung mit Lady Gaga und ihrer Dance-Revolution. Nun war Lady Gaga nicht der erste Popstar, der Dance-Elemente in ihre Musik einbrachte. Kylie Minogues Album "X", erschienen im November 2007, ist ein klarer Vorläufer von Gagas Sound. Beide tragen ihren Euro-House-Einfluss offen nahc außen und spielen mit sexuellen Anspielungen, à la Gagas, "I want to take a ride on your disco stick", was nicht gerade subtil, aber deswegen nicht weniger sexy ist.
Kylie Minogue – und ja, bis zu einem gewissen Grad auch Pop-Queen Madonna, deren 2006er Album "Confessions on a Dance Floor" auch für das Genre wichtig ist, wurden jedoch nicht wie Gaga in die wachsende Präsenz von Social Media eingeweiht. Das liegt zweifellos am Unterschied der Generationen; sowohl Minogue als auch Madonna waren zu der Zeit, als "Just Dance" herauskam, lebende Legenden und hatten bereits massive, stabile Fanbases. Im Jahr 2007 hatte außerdem Britney Spears die Bubblegum-Pop-Tage von Christina Aguilera, Jessica Simpson und anderen in Stücke gerissen und ein großes Fragezeichen hinterlassen. Und weil Britneys Breakdown oft auf die ewige Präsenz von Kameras und Medien in ihrem Leben zurückzuführen war, schien es erst einmal widersprüchlich, dass die nächste aufsteigende Pop-Ikone diese Dinge wiederum feiern würde. Doch genau das geschah mit Lady Gaga, einer Künstlerin, die mit Einflüssen von Madonna und Minogue aufgewachsen ist und so smart war, eine Marke für das beginnende Social Media-Zeitalter aufzubauen. Nachdem "Just Dance" herauskam, verlagerte sich die Pop-Landschaft in Richtung der wilden, Insta-und-Twitter-gesteuerten, what-in-god's-name-is-that-person-wearing-Zukunft.
Damals reitete Katy Perry auf der Welle ihrer problematischen MySpace-Hymne "Ur So Gay" weiter und veröffentlichte das (im Nachhinein!) ebenso problematische "I Kissed A Girl". Christina Aguilera, die diesen Wandel zum futuristisch anmutenden Dance-Pop sah, veröffentlichte "Keeps Getting Better" und enthüllte damit ihren neuen Look, der Lady Gagas platinblondem Fransenpony und glattem Haar leider allzu ähnlich war. Und dann präsentierte Beyoncé, eine der wenigen Künstlerinnen, die Gaga übertreffen konnten und umgekehrt, ihre Alter Ego Sasha Fierce. Dieser Schritt fürte Queen B schließlich für zwei Songs, "Telephone" und "Video Phone", mit Gaga zusammen.
Kurze Zeit später sollte sich dann auch Kesha davon befreien, nur die Stimme auf Flo Ridas "Right Round" zu sein und brachte im August 2009 "TiK ToK" raus. Nur wenige Wochen zuvor hatten The Black Eyed Peas mit "I Gotta Feeling"  nicht nur einen Mix aller elektronischen Dance-Einflüssen der damaligen Zeit veröffentlicht, sondern auch den Song des Jahres geschaffen. Die Finanzkrise und ihre Auswirkungen hatten Träume und Lebensstile platzen lassen und die Menschen sehnten sich verzweifelt nach etwas, durch das sie diesem Wandel entkommen konnte. Diese poppige Dance-Musik, die auch endlich ihren Timbaland-Einfluss stolz präsentierte und die neu vermarktbaren iTunes-Charts erklomm, ist eine direkte Folge eines solchen Wunsches.
Gleichzeitig wurden neue Communities online gebildet. Soziale Medien förderten einen neuen Typ von Fan, heute online bekannt als der "Stan", mit denen Popstars interagierten und ihnen Inhalte gaben, Hinweise und tägliche Updates, die es in den frühen 2000er Jahren noch nicht gab. Wo Popmusik früher vor allem allein, im Auto und im Radio zu hören war, wurde sie 2008 mobil und wuchs zu vollen Online-Bewegungen. Durch all das Chaos in der Erwachsenenwelt kam ein Mittel zur Flucht und Verbindung für die junge Generation. Die Vibes, die einst den altersbeschränkten Clubs vorbehalten waren, wurden für die Massen zugänglich, und das Tanzen wurde zu einer Community-Sache, wie es einst bei anderen wirtschaftlichen Niederlagen der Fall war, wie zum Bespiel in den discolastigen 70er Jahren und der Electronica-Welle in den 90er Jahren. Gaga hat ihre Welle nicht selbst gemacht, aber sie gab Tausenden von jungen Menschen das Okay, loszulassen. Also war unser Motto: "Just Dance". Und wir tanzen seitdem.